Green nails are fashionable that'll get you instant attention wherever you go. And olive green nails are unique and bold! Every girl wants to embrace the freshness and the good vibes that this beautiful nail color brings along!
You can adapt this color to your mood, make it more intense or pale, and it will suit any outfit! What are you waiting for, check out these olive green nails and book an appointment at your nail salon!
1. Matte Olive Green Nails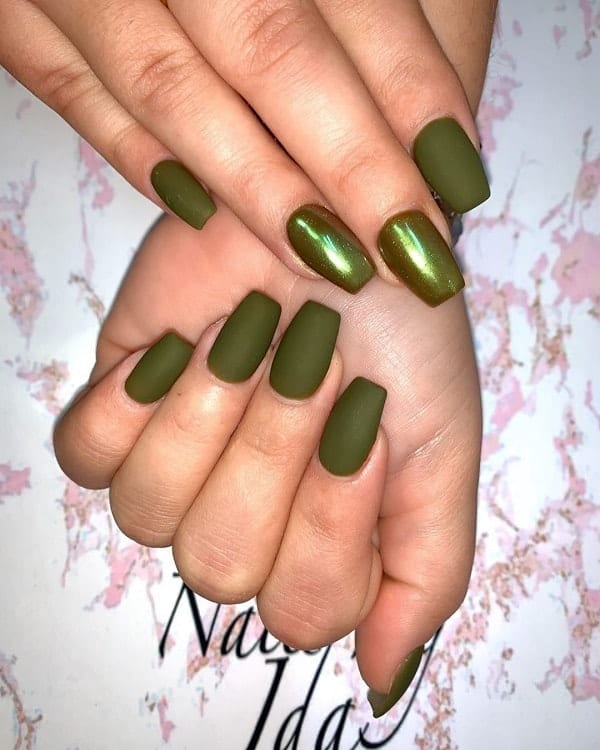 A matte green nail color looks fantastic on square-shaped nails, especially if you choose to use some chromed powder. The combination of matte and shiny glossy effects is undoubtedly mesmerizing!
How to Do Chrome Nails with Glitter
2. Olive Green + Acrylics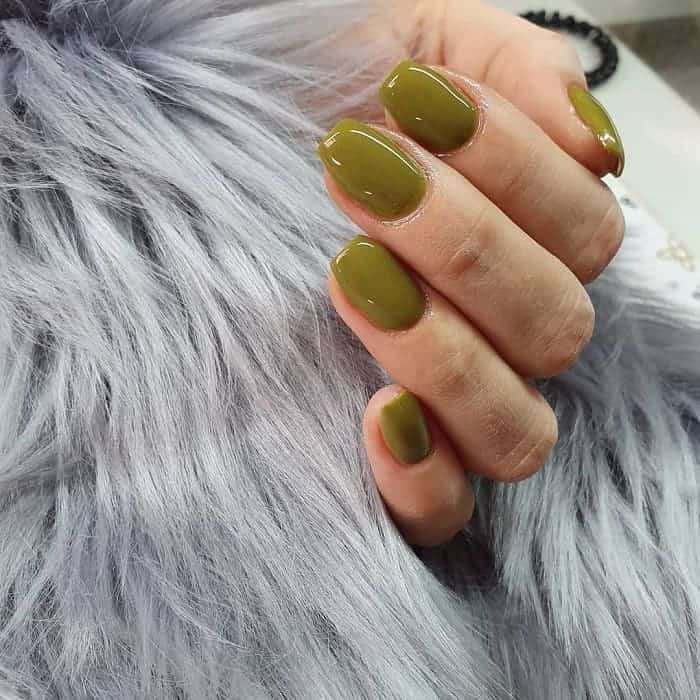 Green acrylics are classy and unique. If you want an earthy color inspired by those delicious Greek olives, make your nails long-lasting by building them with acrylic gel and paint them in that gorgeous shade. Don't forget to add a shiny topcoat.
3. Light Olive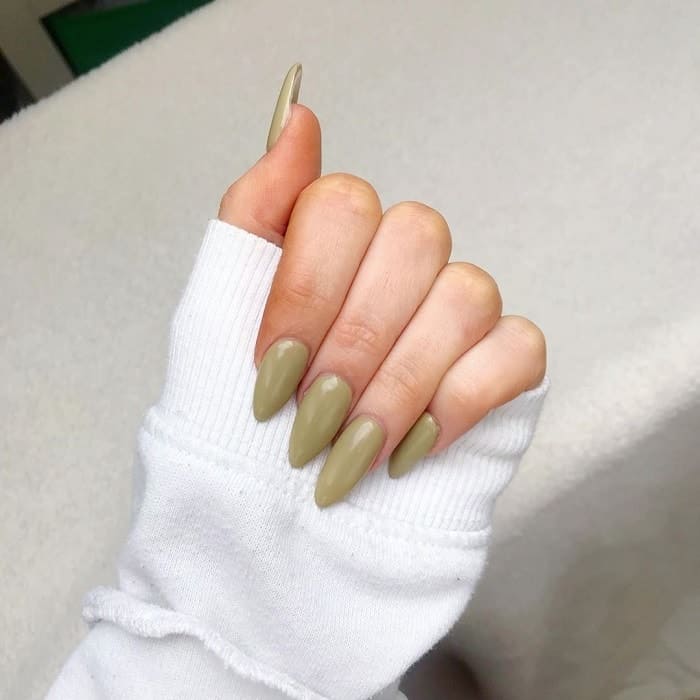 Pale green draws attention, mainly thanks to its simplicity! Make your nails look pointy and long, and you will feel like an Earth Queen!
4. Dark Olive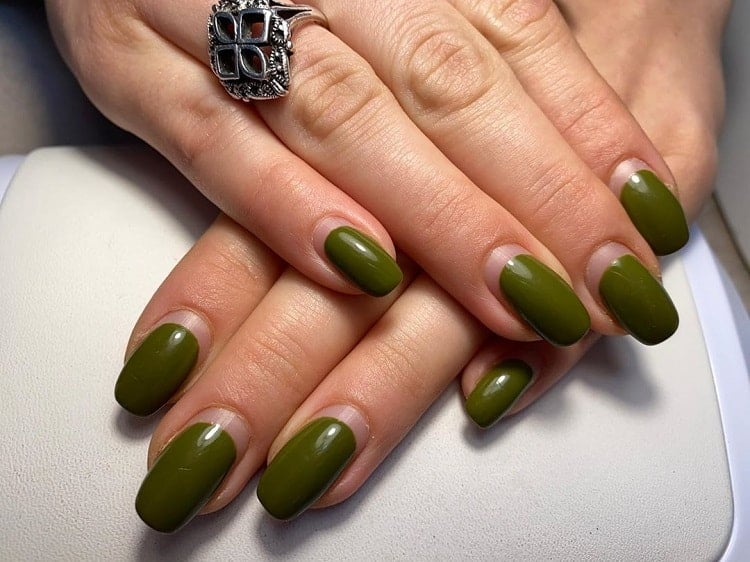 If you want an awesome mani, paint only a part of your nail in a gorgeous green color. Leave an unpainted spot near your nail base, as the nails have already grown.
5. Olive Nails for Dark Skin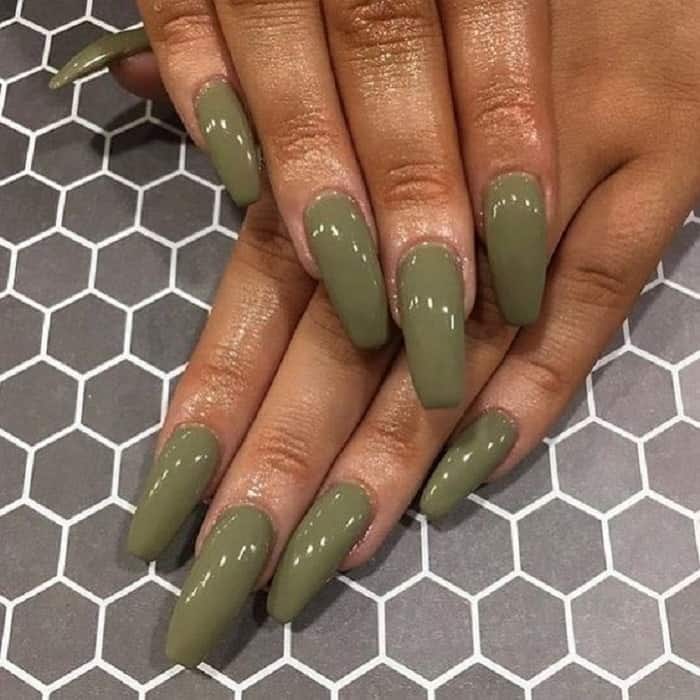 You are a real diva, and your nails must show it! You need to keep nails in a coffin shape and paint them in a gorgeous pale olive green shade. Add a top coat to make them shine bright!
6. Olive Green on Brown Skin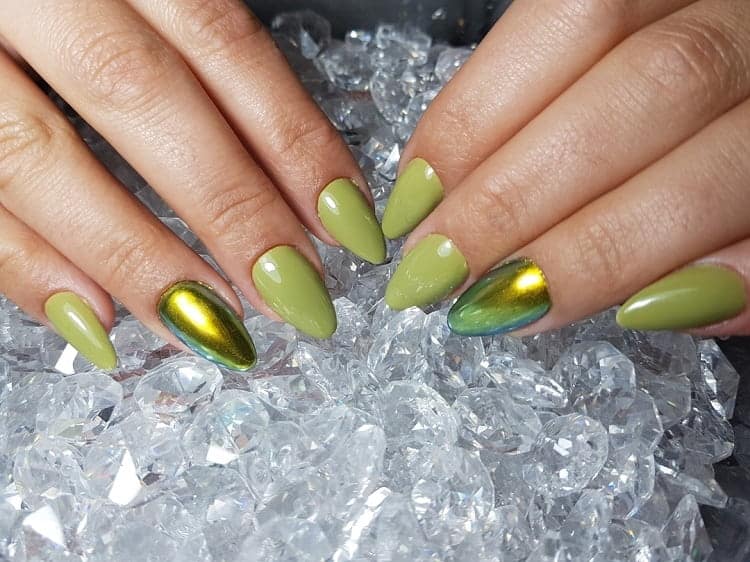 If you want a tremendous effect on your nails, you have to try this mani! Use a pale green for your medium pointy nails and some chromed powder on your ring fingernails.
7. Olive Green + Ombre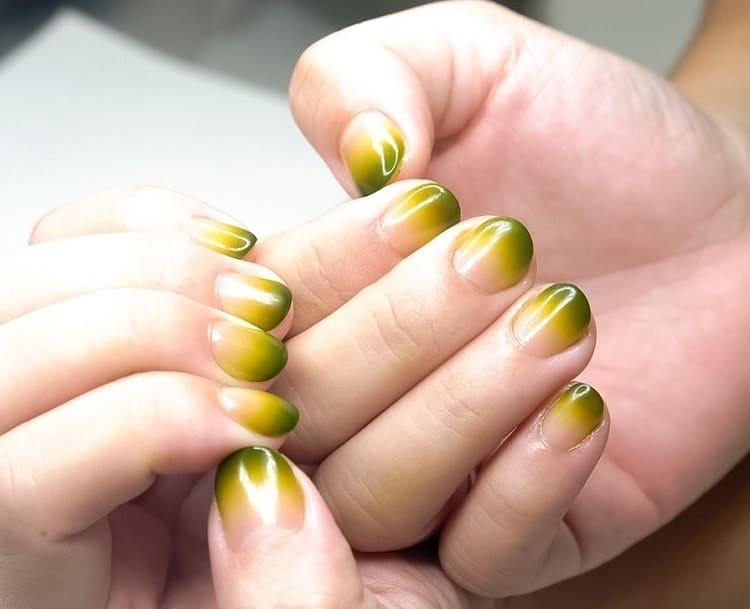 This green and ombre combo is undoubtedly mesmerizing. It starts from a nude base, brightens into a yellow shade, and transforms into a dark green hue. You definitely try this green nail design!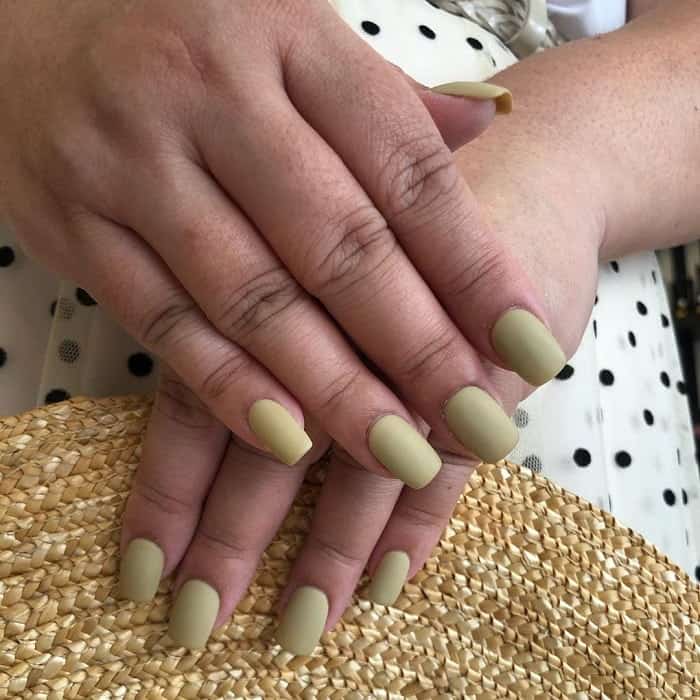 Make your mani look impeccable with an olive green, pale matte color! Use a square shape for your short nails and take your style to a whole new level of simplicity and sophistication!
You can rock the coffin nails trend with an olive green color and a matte topcoat. That earthy nuance will look great for women with any skin tone, and you can decorate them with a simple black letter on a ring finger.
10. Olive Green + Golden
These Egyptian olive green nails need no introduction. Inspired by Cleopatra and patterns that remind you of ancient times, these nails are truly breathtaking. You can ask your nail tech to apply the 3D stickers or order them online and do this at home.
If you want shorter nails that feel more practical, almond-shaped nails are probably one of the cutest choices. Create a leaf pattern for the ring fingernail to make them look fabulous.
Green colors are taking ground so fast because this shade inspires growth, harmony, and freshness, and it's the perfect color for the soon-to-be-here spring! This color looks mesmerizing in a dark or pale shade, olive or khaki, chromed, or with golden glitter! Let us know which is your favorite way to use it!