There's no better way to get a pick-me-up than from a fresh manicure in a beautiful shade, so this weekend, hit the salon or your couch and polish those nails with a dark purple color!
While long nails have the most space to display dark purple beautifully, the color is just as beautiful on short nails. It's all about the type of dark purple and what, if any, design you pair with it.
A couple lighter shades of purple will make a dark purple nail look jewel-like, gold glittered tops will make it sparkle, and matte dark purple is sophisticated and chic in its own way.
Beautiful Dark Purple Nails
With dark purple nails, you'll always feel beautiful and elegant. Choose from one of these 8 dark purple nail designs for instant style.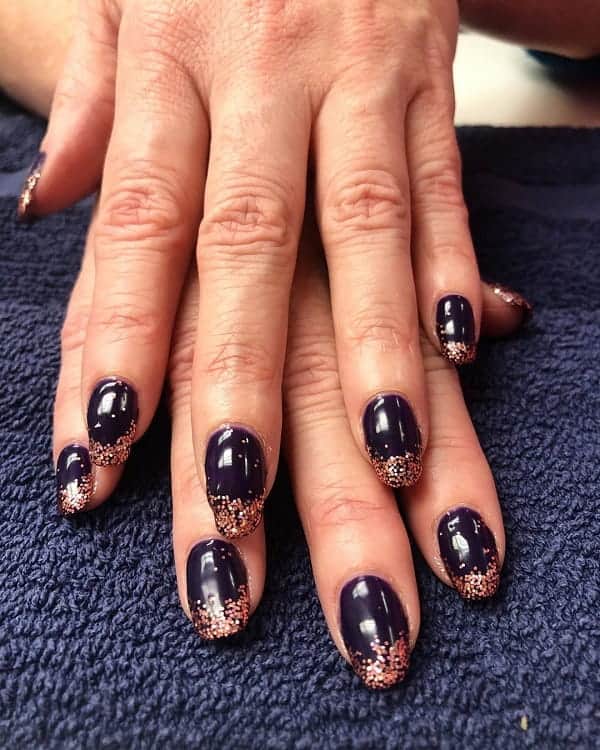 After you've finished painting your nails dark purple, add a gold, silver, or copper glittered tip! You can also try adding multi-colored glitter ombre nail polish for a fun tip!
2. Dark Purple Coffin Nails with Gold Glitter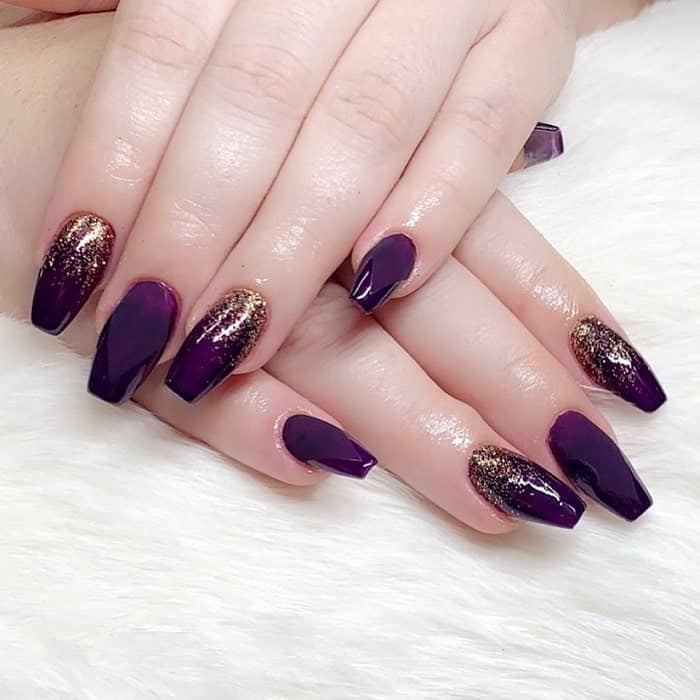 Can you tell we love glitter on nails? These coffin nails in matte but the edges are shiny, creating a jeweled look. At the tops of every other nail, paint on gold glitter for a pop of sparkle.
3. Matte Dark Purple Nails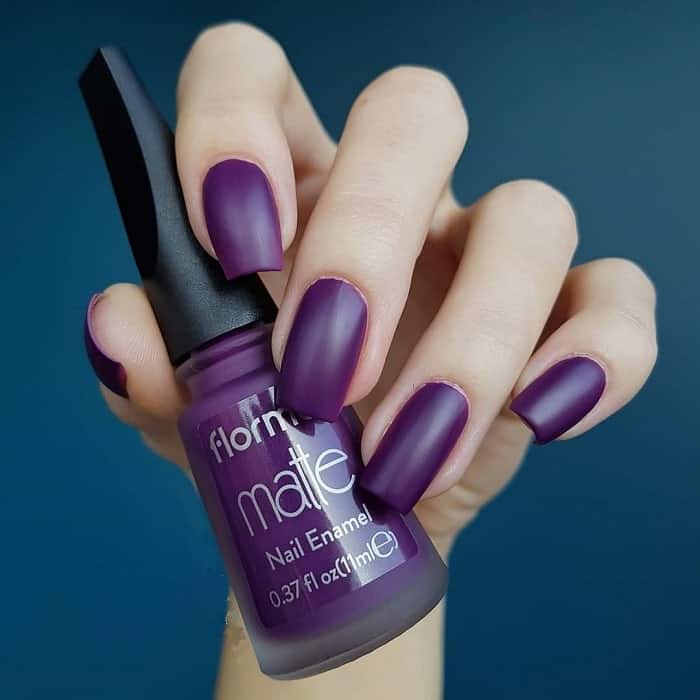 To make a matte dark purple look its best, go with long square nails. They have the most space to show off the color. Dark purple will also look stunning as a stand alone color against light and pale skin tones.
4. Dark Purple Gel Nails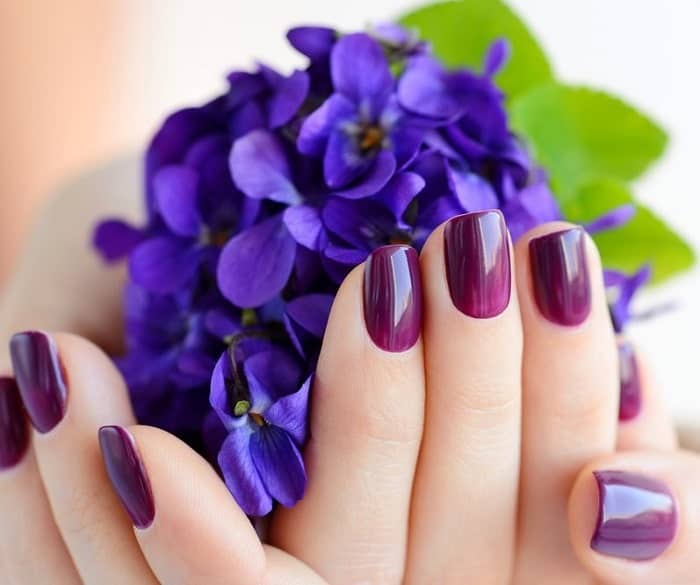 These short squoval nails feature a shiny dark purple gel polish. Gel polish is a more lush and longer-lasting polish rich in color, perfect for those dark purple nails.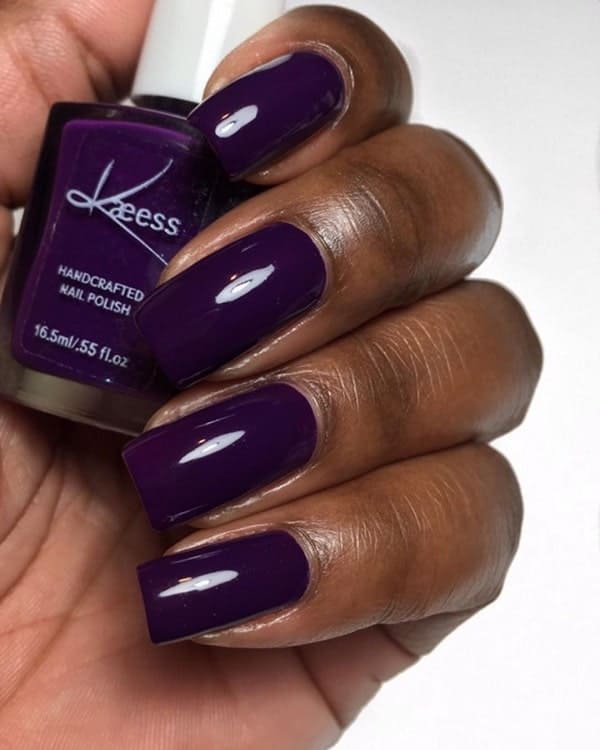 Do you have a dark skin tone? Let dark purple complement it in a beautiful way by polishing long square nails with the color. A clear top coat will make them extra shiny.
6. Dark Purple Nails for Autumn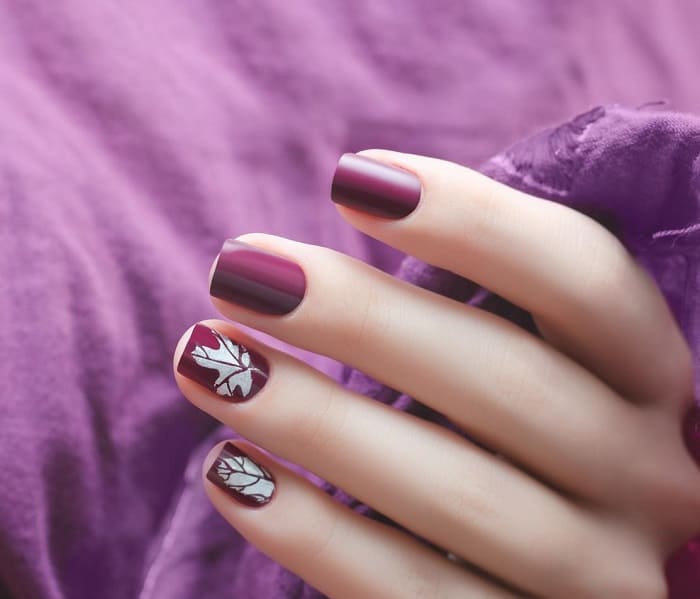 While everyone else will be wearing orange, yellow, and red nails for fall, you can embrace the season in a bold dark purple on short square nails! Use metallic silver to draw on little leaves for detail.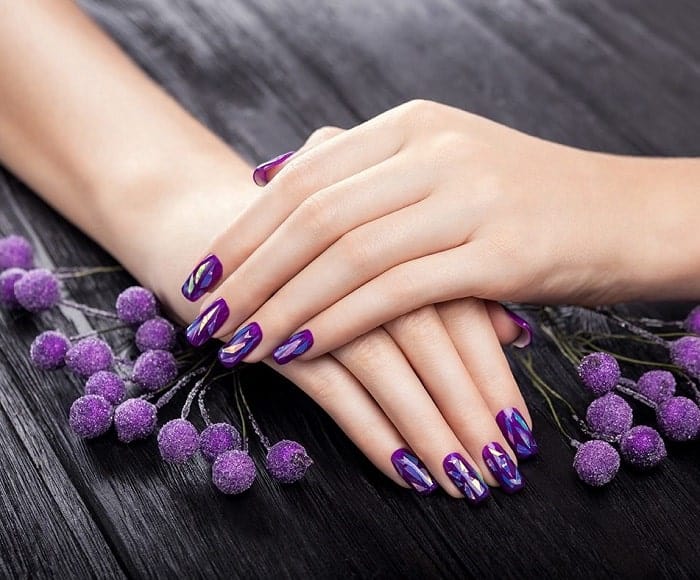 Give a jeweled look to long dark purple acrylic nails by drawing uneven diamond and square shapes. Using lighter shades of purple will make the nail really look like a shiny gemstone.
For a softer nail shape, file your nails to a round edge. A  dark purple metallic nail color will make your manicure bold and shiny. No need for fancy stones or brush detailing, leave the dark purple to shine on its own!
No matter how you design your dark purple nails, there's no way to mess them up! The color is actually quite versatile and the fact that you can purchase it in matte, shine, and glitter polishes only makes it even more so! So embrace your creativity for the ultimate dark purple manicure!