Maroon coffin nails can put your creativity on the move because there are multiple ways to make your nails look fantastic this winter. Mix and match gold and silver glitter, ombre techniques, or rhinestones, and you'll get fabulous designs.
Check out below the best maroon coffin nails that will style your mani and make your hands yell perfection and total finesse!
1. Matte Maroon Coffin Nails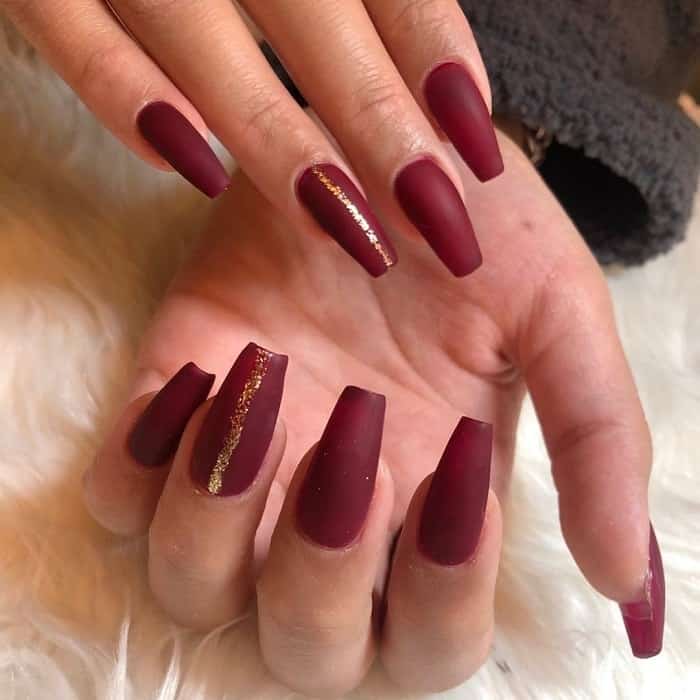 For these long coffin nails, you need to select a matte nail polish. Give them a touch of glow with a subtle thin line of golden glitter applied on your ring fingernail.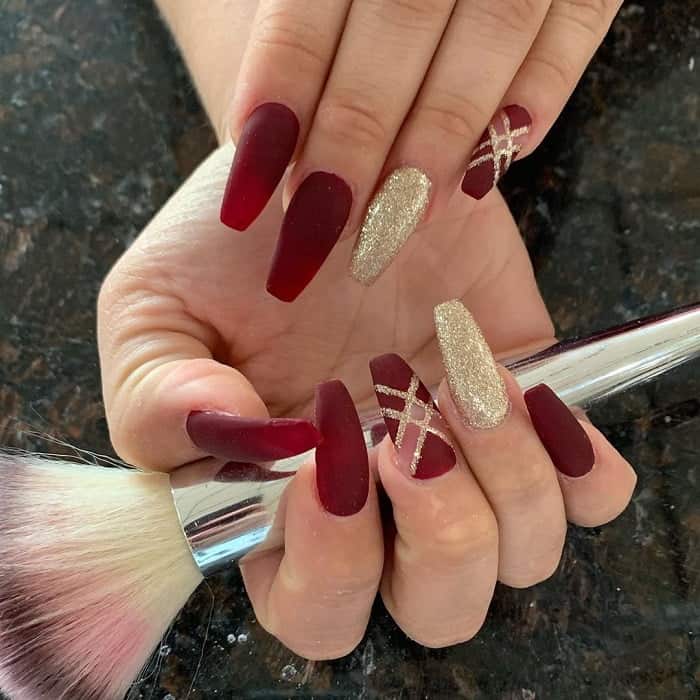 Make your nails look imperial with a mani that inspires sophistication and elegance. Choose a matte maroon nail color and combine it with some gold glitter line designs.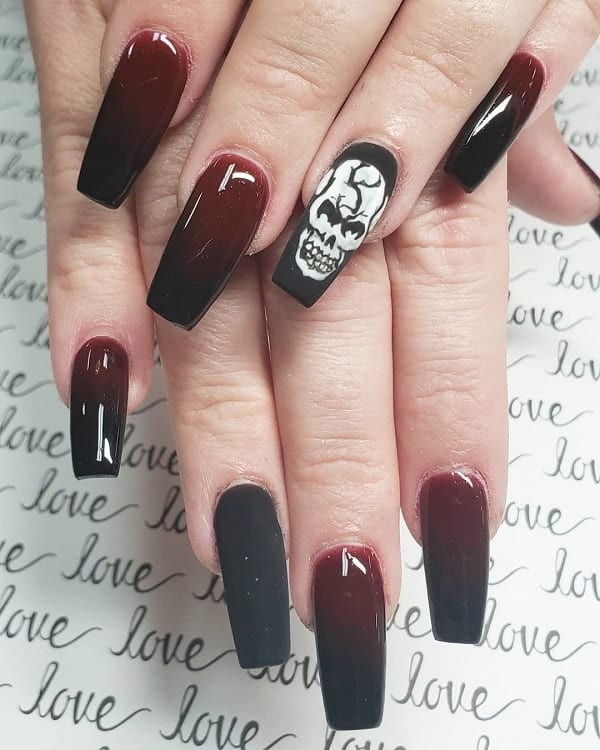 If you are a girl that facies rock and punk designs, this a style worth trying! Make an ombre and paint a skull on one of your nails. Also, you can use a black matte coffin nail design for your ring fingernail.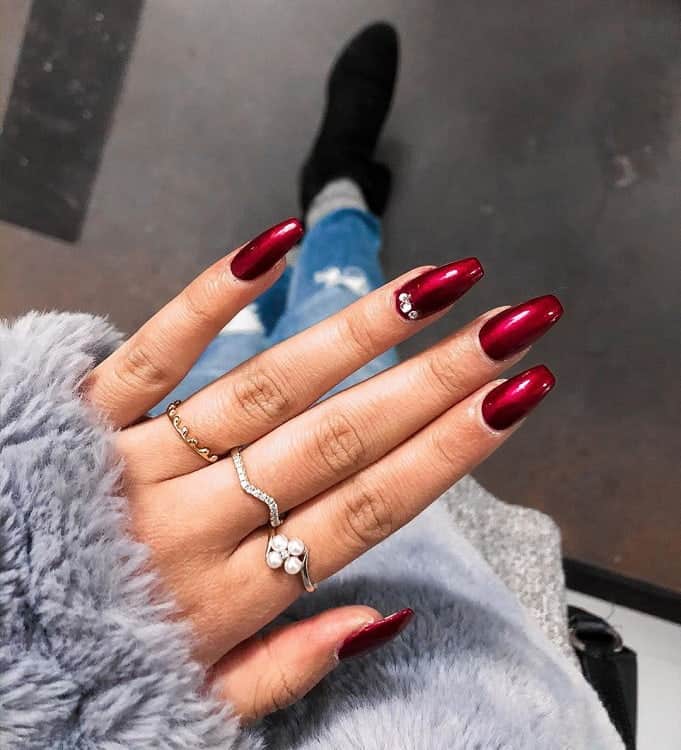 Recreate this look using acrylic gel and a shiny topcoat over the maroon base. Decorate your nails with some small and subtle rhinestones.
If you love to keep your nails short, create a coffin shape, and use silver glittery nail polish for one of your fingers. This art will undoubtedly make your mani noticeable wherever you go.
6. Coffin Nails with Maroon Tips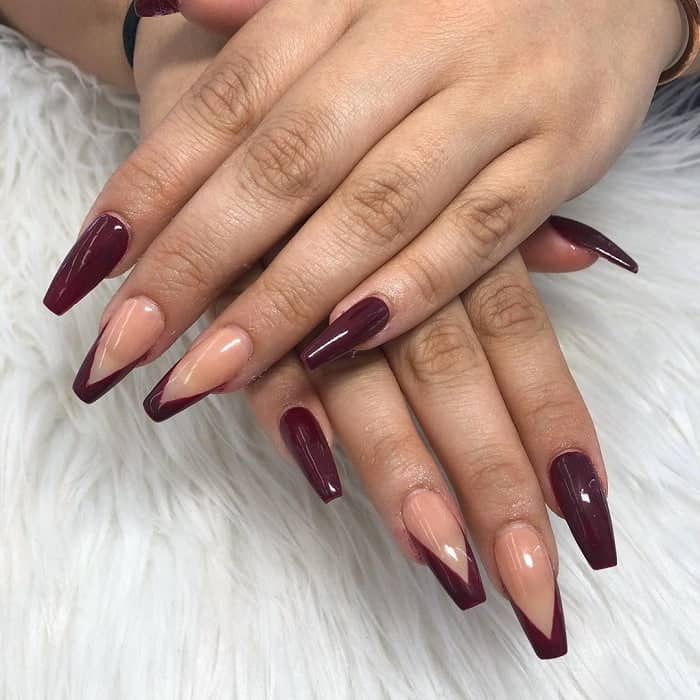 Take the French tip manicure to a whole new level! Combine a nude nail polish with this royal maroon color and paint your tips in a pointy style.
7. Maroon Nails with Diamonds
Give these astonishing nails an imposing look by contouring half of your nails with diamonds. To make them look striking, use a shiny maroon polish.
8. Maroon Coffin Nails with Glitter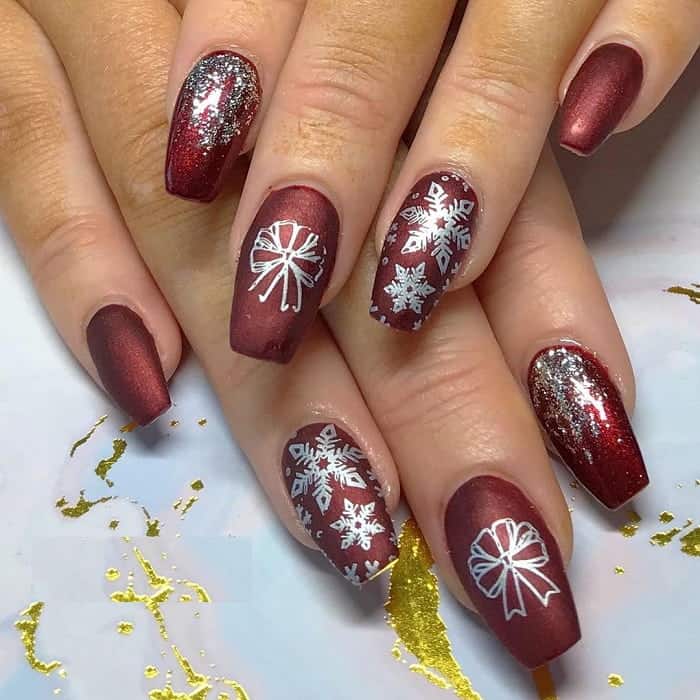 Is winter your favorite season? Then show it! Use a silver glitter polish to decorate your nails with ribbon and snowflakes designs!
Make your nails stand out wherever you go with gorgeous fashionable maroon nail polish. Use a coffin shape to inspire elegance and glamour and create a various decoration that resembles your mood. Which is the example you will try first? Leave us a comment below!