Press on Nails: The Ins And Outs + 5 Classy Designs
If you don't have the patience to sit idly in a beauty salon for a long time to get your nails done, press on nails are the best solution for you. These could be the best nail extensions you have ever tried! Artificial nails are of many kinds and differ from each other in terms of the materials and application process. Press on nails are the quickest among the likes of gel nails, acrylic nails, solar nails etc. Besides, these comparatively cheap nails come in a variety of designs with step-by-step directions. You can easily apply them to your nails by following the instructions.
How to Apply Press on Nails
The process is pretty much easier if you can buy the right press on nails kit. A quality kit has fake nails of different sizes, a nail file and of course a glue. If you have access to these supplies, press on nails are just one step ahead of you. At first, trim your nails shorter because press on nails stick well to the short nails. Then pick an appropriate fake nail which suits the size of a certain nail of yours. Apply some nail glue onto the back side of the fake nail. Don't go overboard. Then place the nails carefully onto your natural nail. Squirt the nail glue all around the nail. Hold it for a minute or so. There is a little tab attached to the nails. Leave the tab now, you can file it off at the end of the whole process.
Check The Video Below to Know More
 NexGen Nails: Upgrade Your Persona to Another Level
How Long Can You Keep on Press on Nails?
The main idea of press on nails is to press the fake nails on your natural nails and let them go as they go on. A quality glue can give you at most two weeks hold of press on nails. That doesn't mean you have to apply press on nails regularly after each two-weeks. Give your nails space to breath. Take a break for two weeks then apply the fake nails again.
Can Press on Nails Damage Your Nails?
If you can remove the fake nails in the right ways, there is minimal chance of any harm. The only thing you are applying to your natural nails is glue here. So, any possible damage depends on the appropriate removal of the nails. Never pull or pry the fake nails, it may cause injury to the underlying skin of your nails. Use acetone or nail polish remover to avoid any sort of damages.
How Do You Take off Press on Nails?
The process of removal is almost same for all kind of fake nails. Using acetone is the safest way. But, before that, you may try the non-acetone process. Soak your nails in soapy water for a few minutes. Then gently try to remove the fake nails by rocking them back and forth. If this doesn't work, go back to the nail polish remover or acetone. Never ever pull off the artificial nails forcefully. Have patience, and take off the press on nails softly.
Remove Nail Polish Without Damaging Nails
Press on Nails to Look Trendy Easily
Press on Nails are the easiest and quickest nails you will ever get. If you are a busy bee and don't have enough time to spend in a beauty salon, press on nails are your long lasting companions for sure. Some samples of press on nails are as follows.
#1. Blue Matte Press on Nails

Buy a blue matte kit to have nails like these ones. The blue matte looks delicate with the simple stripes of gold.
These Blue Nails Will Blow Away Your Monday Blues
#2. Glittery Designs
You can apply readymade glittery nails to your fingertips to have press on nails. There might be a set of accent nails too if you buy the kits accordingly.
#3. Press on Stiletto Nails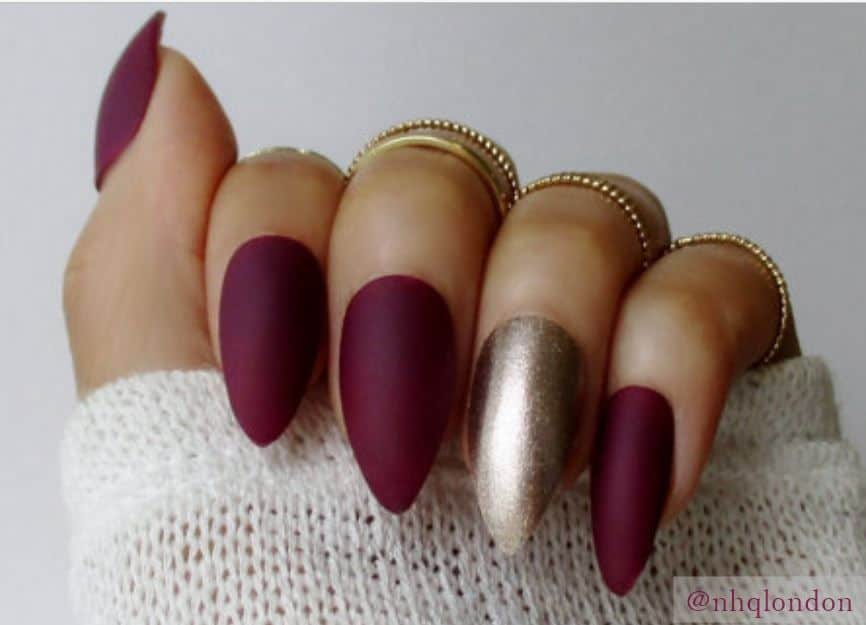 You can have the charm of stiletto nails on your natural nailbeds within a minute with the help of press on nails. Just make sure you will find perfect fake nail sizes compatible with your nails.
#4. More Than One Design
There is no limit to press on nails. They come with a variety of nail designs. You can apply two or more designs if you want.
#5. Fancy Press on Nails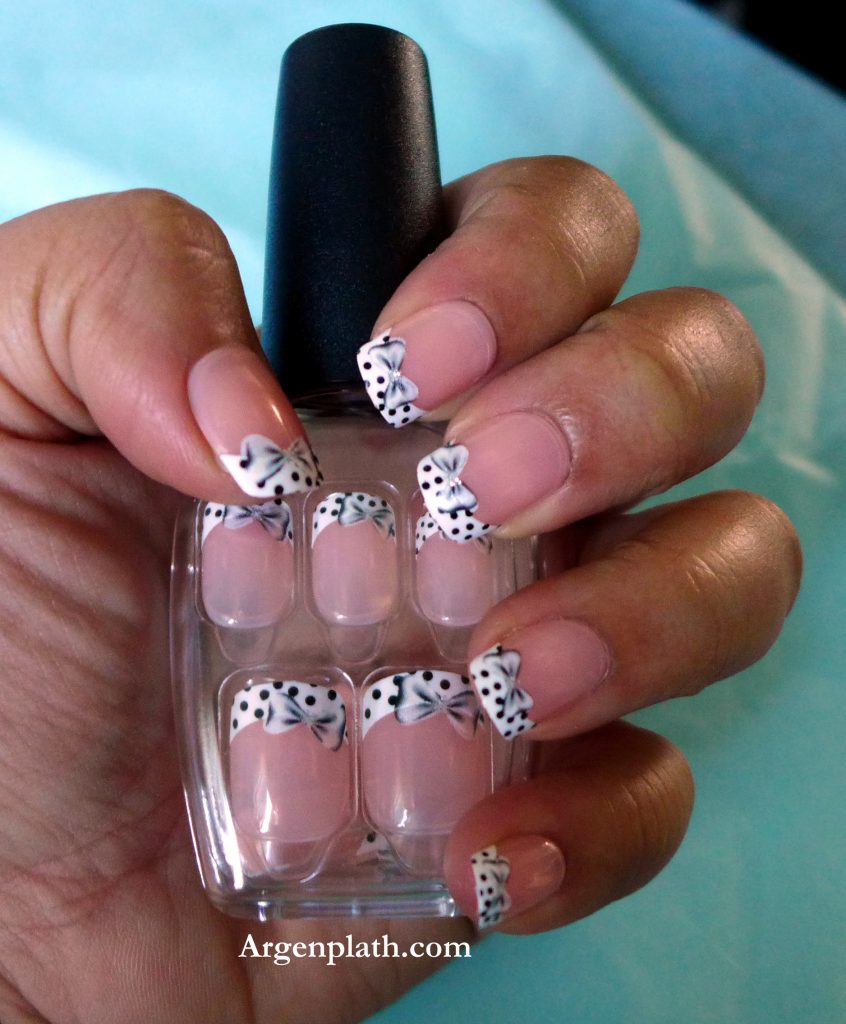 There are hundreds of fancy press on nail designs available in the stores. You can apply any of those as per your choice and the events which you are going to attend. These press on nail design with polka dots and bow is cute as a button.
Fake Nail Designs for Real Pretty Nails
We all are more or less busy in our day to day life. Press on nails are like a blessing for the busy fashionistas. Now, they can easily get a trendy look on their fingernails. Use press on nails which are convenient for you and compatible with your nails.