Ladybug Nail Designs: 15 Ideas to Carry Good Luck
A large number of fashion designers have been inspired by different natural entities. The colors and patterns of both flora and fauna have a great impact on the fashion industry. I am going to talk about a very renowned nail designs known as ladybug nail designs. This design consists of the black dots on red, yellow, or orange base coat. Because lady beetles aka ladybugs have black spots on their red, yellow or orange wing covers. Ladybug designs have become popular for the vibrant display of the colors associated with black dots. These designs look beautiful and express the femininity of your nails.
Stunning Ladybug Nail Designs to Try
Ladybugs are considered good luck in some cultures. While other insects are harmful to crops and can cause damage to human body, ladybugs are harmless and useful. It is believed that when a ladybug sits on something, it gets replaced by a better version of the previous thing. And a superstition is in order that if you kill a ladybug it will bring bad luck for you. So, if you want to carry good luck, try out ladybug nail designs. The conventional ladybug nail design refers to using black to draw the spots on red base which represents the wing covers of the ladybugs. Then again using black to draw the body parts of the ladybugs and white to draw their eyes is the most commonly practiced ladybug nail designs.
Check Video Tutorial Below to Create Ladybug on Your Nails. Have a Read Through Our Articles for More Ideas.
I hope you enjoyed the video and please give it a THUMBS UP if you did 🙂 xoxo I used Orange Crush by Inance Nails to create this look. Find their products at, http://www.inanceskin.com Please Subscribe to my channel if you haven't already!
#1. Ladybugs on Grass

Draw red ladybugs on the green base coats of your nails. Use glitters to make the green surface shine. Paint the bugs carefully so that it doesn't represent other bugs except for lady beetles. Draw the wing covers with red or orange and the spots and legs with black.
Love Green? Click here for More Designs
#2. Colorful Nudes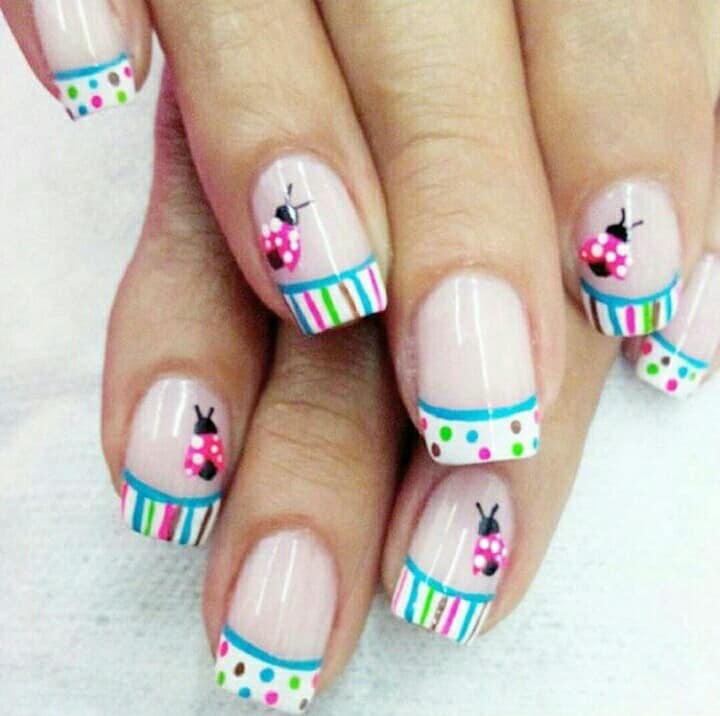 This colorful design is very attractive yet simple. Draw your nude nails in different colors. Paint the upper nail bed of your nails with colorful stripes or polka dots. Then draw pink ladybugs on your nude nails. Use white to draw the spots on pink ladybugs. That's it, colorful nudes are adorned with colorful ladybugs.
This is an interesting design for ladybug lovers. Draw hello kitty in between the nails painted with black spots on red base. The face of hello kitty resembles a kitty but the body is identical to ladybug patterns. So, ladybugs themed hello kitty designs are ready.
#4. Lonely Ladybug
Draw a lone ladybug on your nails to have this design. Paint all the nails except one in red then put the black polka dots as they are reminding us of ladybugs. Now draw a ladybug design on ring finger nail. Lonely ladybug nail design is ready.
#5. Love for Ladybugs

Draw love shapes on lemon green base coats. Then paint a ladybug on one of the nails. The heart shapes drawn on your nails will express your love for the ladybug nail designs.
#6. Friends of Ladybugs
Imagine there is a close friend circle of the ladybugs. They are wearing same designed outfits in different colors. This design is like that. Same pattern and same design but they are applied in different colors.
All Ready for 2018? Don't Forget The Nails
#7. Purple Bugs

This design is really cool. Draw purple ladybugs on white base of your nails. And draw only the eyes and the antennas of ladybugs on the upper edges of your nude nails. These two types of ladybugs art and the use of purple color complement the whole design.
#8. The Trio
This design is especially for a lady group consisting of three ladies. If every member of the trio has this same design, that will make a lot of people envious of your bindings. Draw three ladybugs along with three flowers on your greenish and glittery base for this ladybug nail design.
#9. Black And White

The eternal bond of black and white can be used in ladybug nail designs too. Draw white dots on a black base color and black dots on red base color. Then use white color to paint flowers and red ladybugs.
#10. Honey Beetle

This design looks outstanding on nude nails. Paint the upper part of your nails with red acrylic then draw white dot like spots on them. Draw a nice looking flower on the nude part. Then paint the images of ladybugs as if they were absorbing honey from the flowers. Honey beetle ladybug nail designs are ready.
#11. Ladybugs on White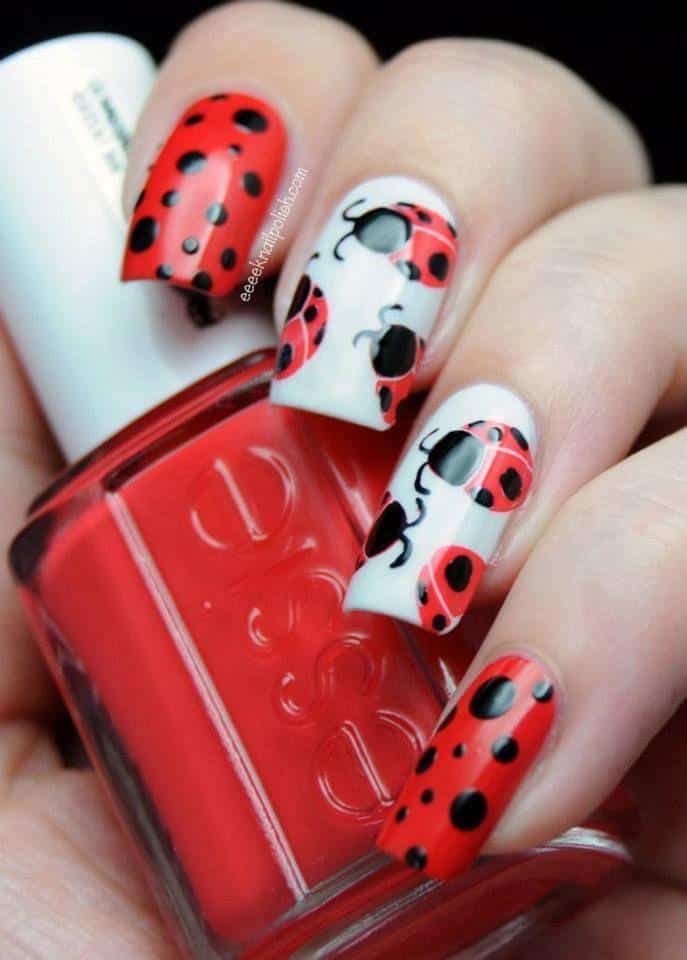 Draw some ladybugs on the white base coats of your nails. You can use red base colors and paint black spots on them which will resemble conventional ladybug designs.
Some Turkey Nail Art We Swear By!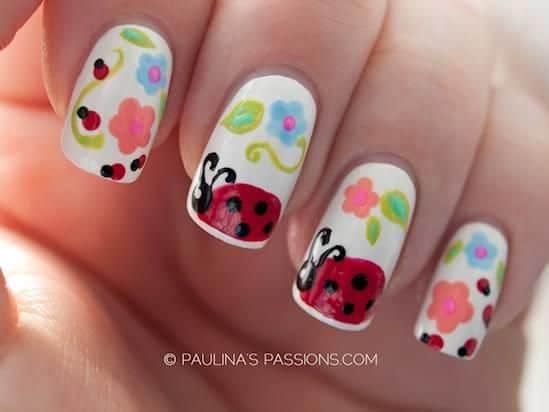 It is a simple floral design associated with the images of ladybugs. Draw some colorful flowers and ladybugs like the picture to have your ladybug nail designs done.
#13. Just Ladybugs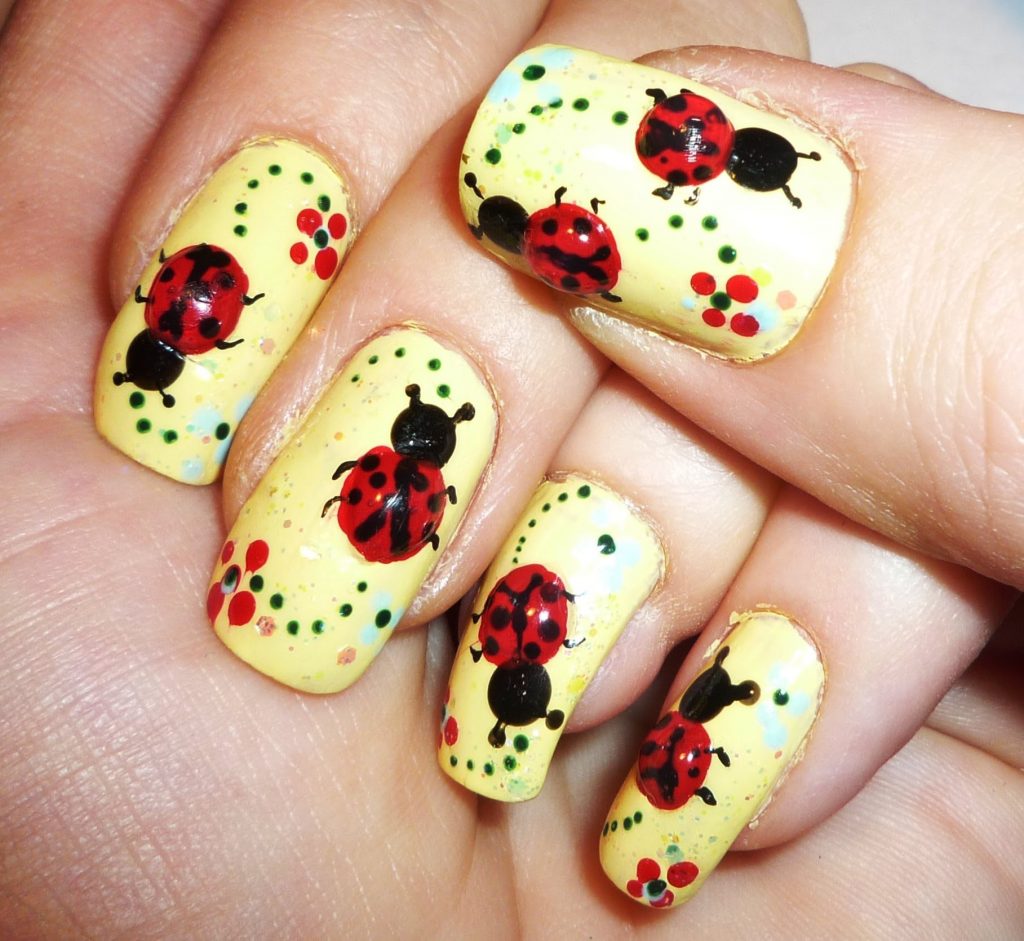 This is a simple design. Draw some red ladybugs having black spots on the wing covers. The base color is different here. You can use colors as your choice.
#14. Neon Edges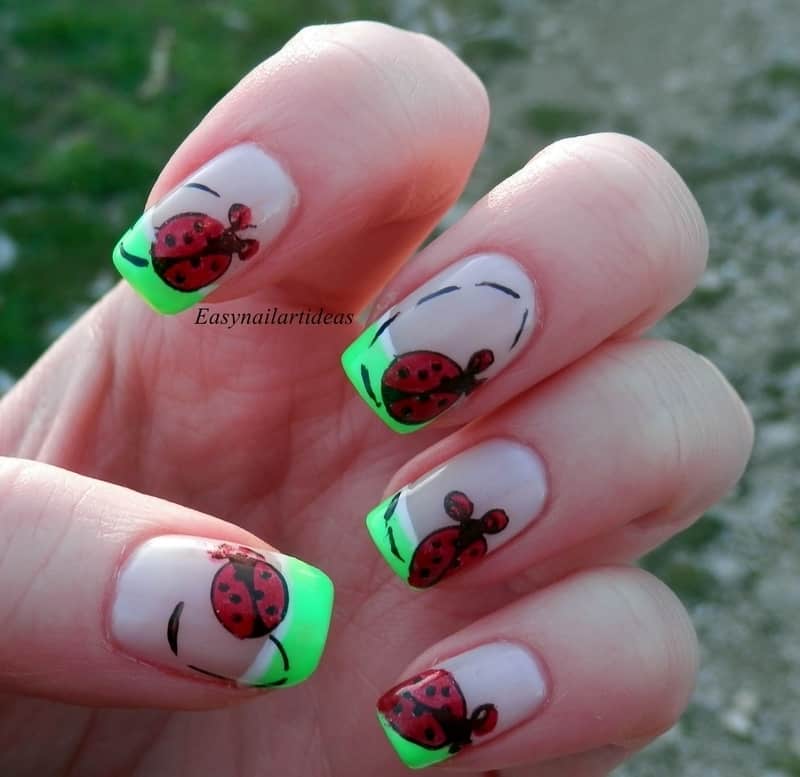 Neon lime color is used to paint the edges in this design. Now draw some ladybugs keeping them close to the edges. That's it, your neon edged ladybug nails are ready. Get inspiration from our list of captivating neon nail arts.
#15. Classic Ladybug Nail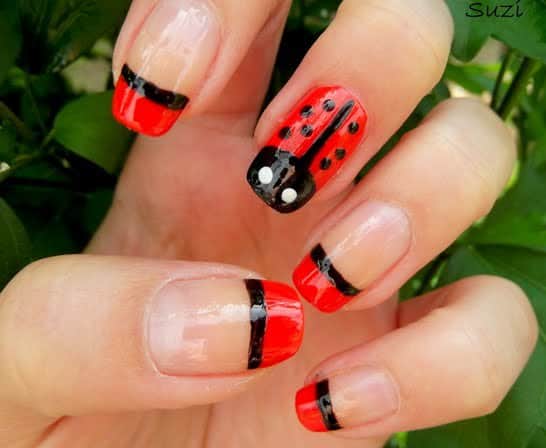 This design tells the theme of this article. Ladybug designs are mainly the combination of crimson red color and black spots. You don't have to draw the exact images of ladybugs, you can also draw ladybug patterns as depicted in the picture to have your ladybug nail designs done.
Rudolf The Red Nose Reindeer Nail Designs
Ladybug nail designs are inspired by the color and spots on their wing covers. If you want to design your nails with ladybug nail designs, you can just simply follow ideas and designs we have illustrated in this article. Hope you will find the right fit for your nails to carry the good luck on your fingertip.