Most people have a weak point for dolphins. They are very peaceful and their attitude to the human being is so friendly. They don't hesitate to come close to the humans, unlike other sea creatures. Thus, dolphins have created a lovely bridge of connection between mankind and nature. You can't ignore the playful activities of dolphins if you ever visit a sea.
These animals are so lively and smart that you love them from the very first moment you see them. Besides, the legend of dolphin saving people from dying is very popular. Many stories mention dolphins as saving humans from shark attacks or drowning.
Dolphins have mythical significance too. According to Greek mythology, Dolphin Spirit helps the dead spirit cross the long path to the next reality. So, it will not be foolish to have dolphin nail art as they have both beautiful and symbolic aspects.
Dolphin Nail Art for Beach Vibes
Dolphins are obviously related to the sea, so it's better to have them when you are going to visit the beach or on a voyage. Everything needs the right context to flourish its original beauty. Dolphin nail art looks best if you pair it with other sea themes.
For example, drawing images of dolphins on a blue base will resemble the sea. Other colors will look good too if you can apply the dolphin nail art correctly. Here are a few ideas for effective designs.
#1. Gel Nails with Fin Art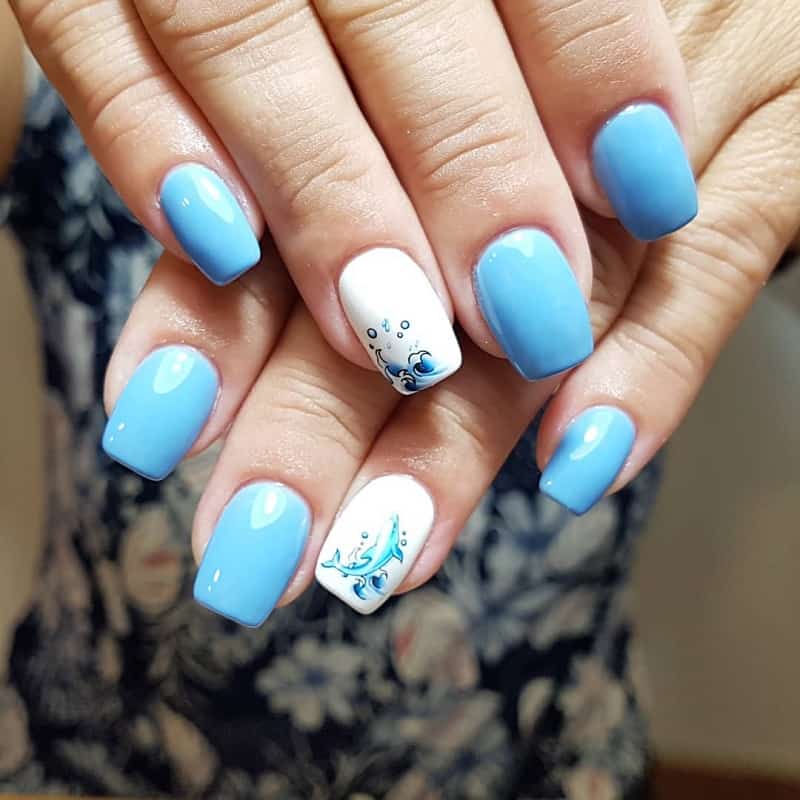 Alternate light blue and white on gel nails to get started on this cheerful design. Then add a cute detailed dolphin on the ring finger of one hand and a few splashing fins with bubbles on the opposite hand.
#2. Tropical Stickers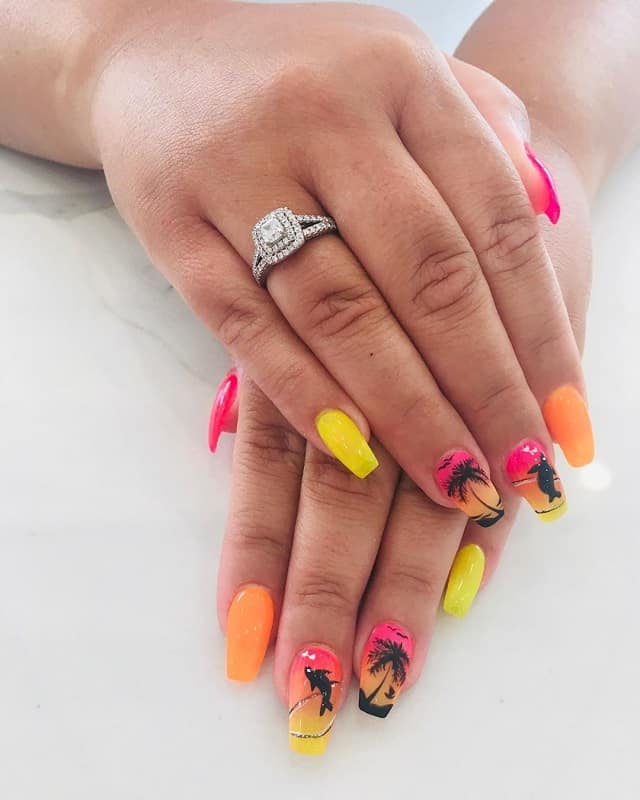 We love the stickers that make black shadow outlines of dolphins and palm trees on these sunset-colored nails. The yellow, orange, and pink mean you can stare at the sunset longer than a few hours.
#3. Sparkly Dolphins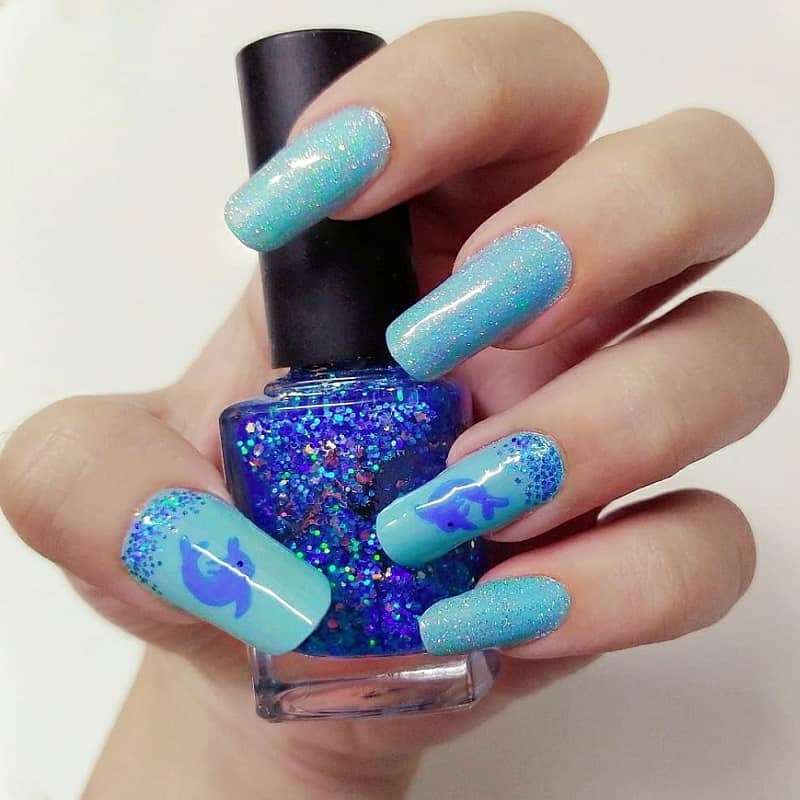 Color a few nails with a glittery blue nail polish and leave the others matte so dolphin art can peek through. You can even add a few tiny jewels near the nail bed.
#4. Ocean Pedicure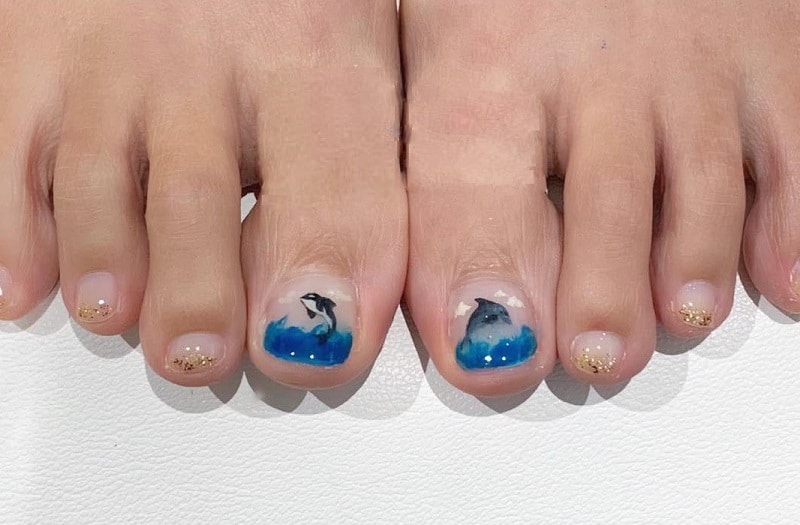 On just the big toes, it's sometimes fun to play with unexpected nail art. Pick two dolphins or one dolphin and one whale to "splash" over a blue ocean. Use sparkly golden nail polish on the tips of the rest of your toes.
#5. Rhinestone and Rainbows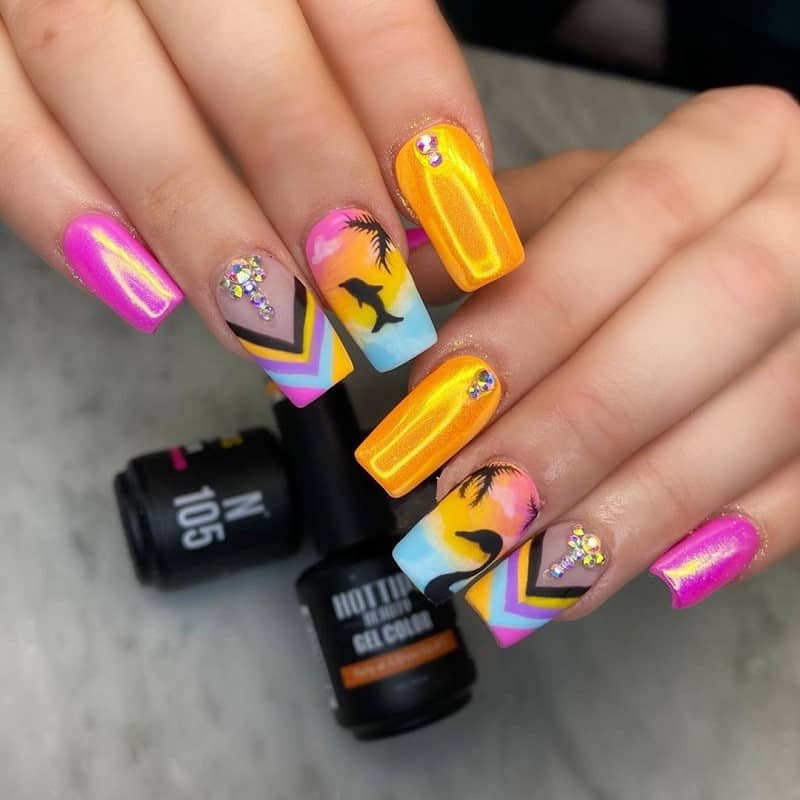 These bright tropical colors will liven up any woman's nails. Decorate nail beds with jewels, add colorful chevron patterns, and top it off with a few black dolphins.
#6. Peeping Dolphin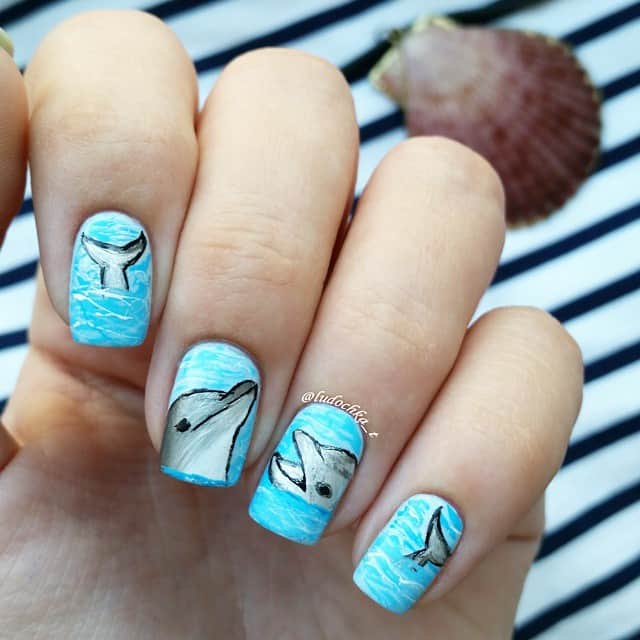 This nail art is illustrated in such a way as if the dolphin was peeping through the nails. This dolphin nail art is so realistic that your nails will look like a small piece of the sea.
Cutest Panda Nail Design for 2023
#7. Sea World
This design is depicting the underwater realm of the sea. Dolphins are swimming deep in the sea, bubbles are floating around them. black dolphin painted ombre blue nail using different shades.
#8. Playful Dolphin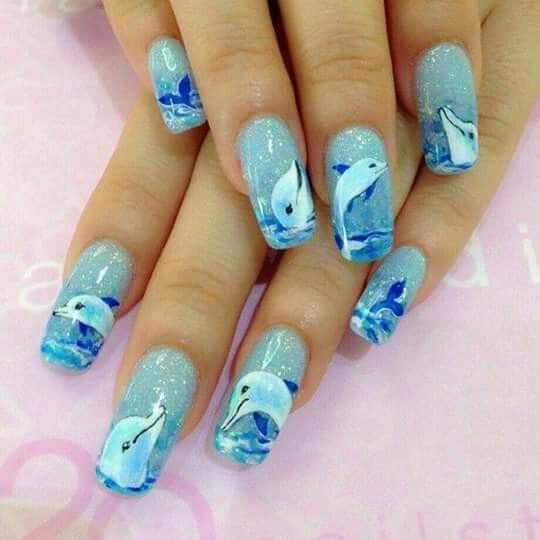 The exact nature of a dolphin is depicted in this design. Dolphins are so amusing to see in nature. You can picture these fun-loving dolphins on your glitter based tiffany blue nail.
#9. White Dolphins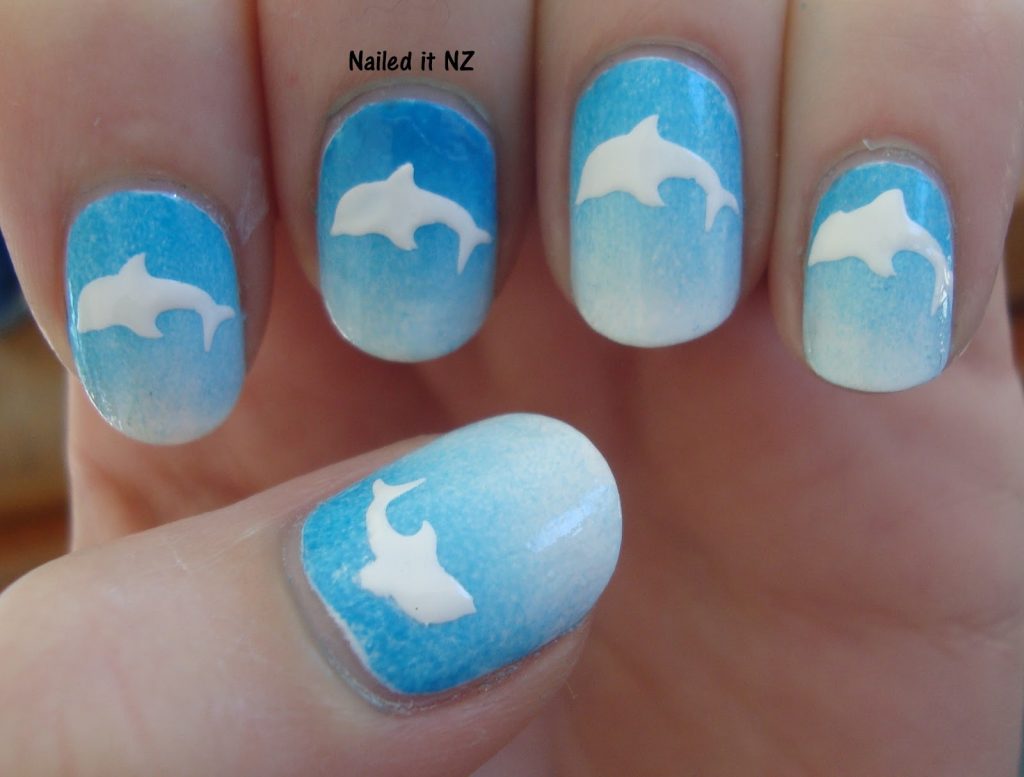 White dolphin diving on each nail of your hands in this dolphin nail art. White dolphin on sky blue base looks really good.
#10. Tropical Twilight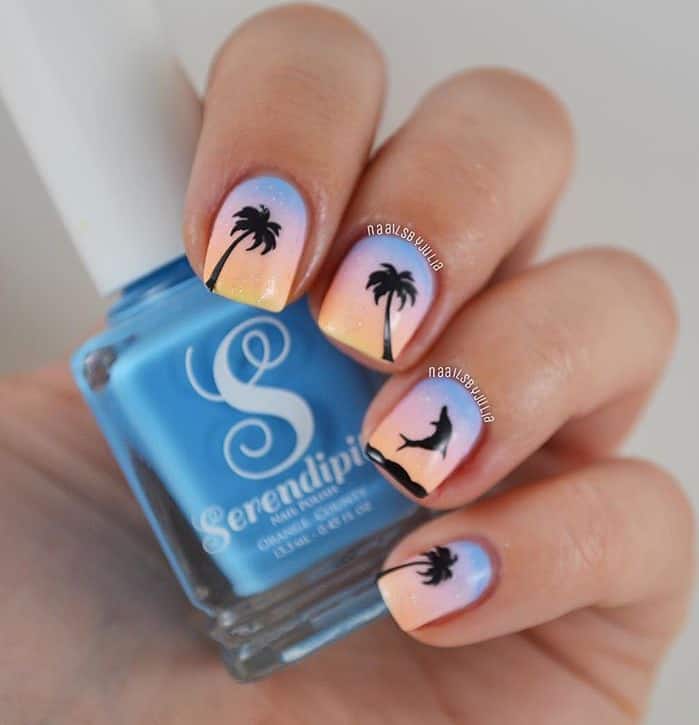 A twilight is the most well spent on a sea beach. And witnessing the activity of dolphins adds extra delight to the mind of the beholder. You can depict a twilight on the beach and an image of a dolphin jumping out of the sea for this tropical nail art.
#11. Miami Dolphins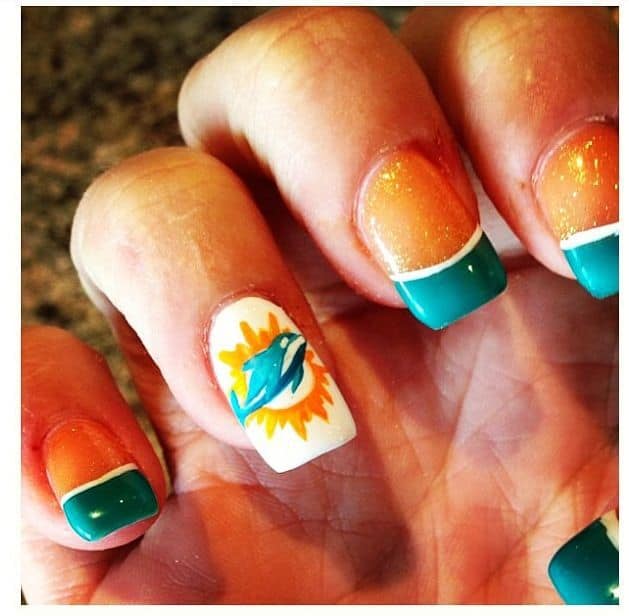 If you are a fan of NFL club Miami Dolphins, this is a must try design for you. This will cover both dolphin nail art and football nail art for your nails.
#12. Dolphin And Fish Scales

This is a bit different design with teal blue color. You can paint dolphins along with other fish on your nails. Stencils have been used in this design. The images of dolphins look good in between the fish scales.
#13. Golden Dolphins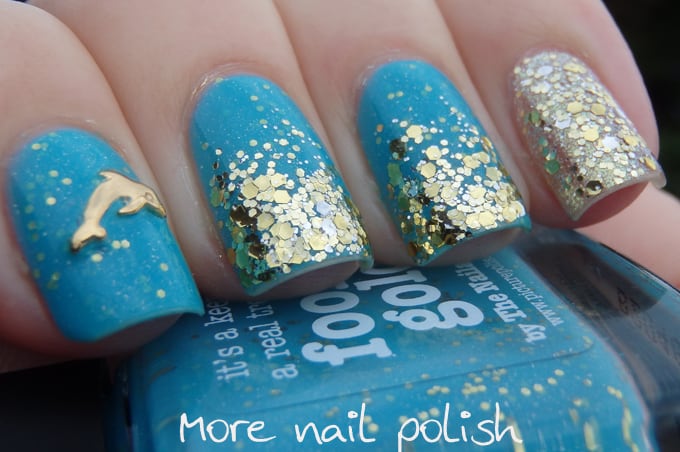 This is a simple dolphin nail art. Attach a dolphin to one of the blue nails. Use golden glitters on the others. The lone dolphin will accentuate your nail art and glitters will give glitzy look to dolphin nail.
#14. A Pod of Dolphins
A group of dolphins is also known as a pod of dolphins. Generally, each pod consists of up to twelve dolphins. You can draw a pod of the dolphins on your long square nails to create dolphin nail art.
Mermaid Nail Design for The Real Princess
#15. On the Beach
The image of a beach along with coconut trees and dolphins look so real that you may feel a beach on your nails. This could be a good choice for dolphin nail art.
#16. School Of Dolphins
Dolphins normally roam around in groups. You may always see a group of five to six dolphins playing and jumping in the sea. This group of dolphin is called a school of dolphin. You can use some dolphin images for this dolphin nail art.
#17. Abstract Dolphin Nail Art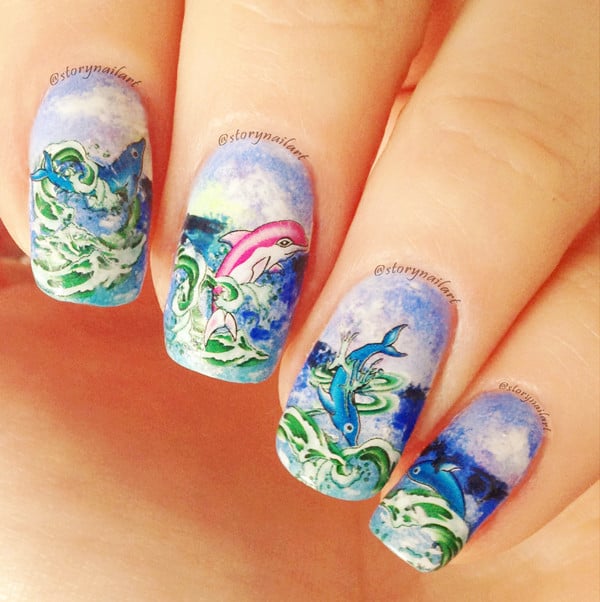 Abstract nail art is astonishingly beautiful because they create the scope to think beyond the reality. You can paint a pink dolphin too, there is no limitation in abstract nail art. Paint the dolphins of your imagination to have this dolphin nail art.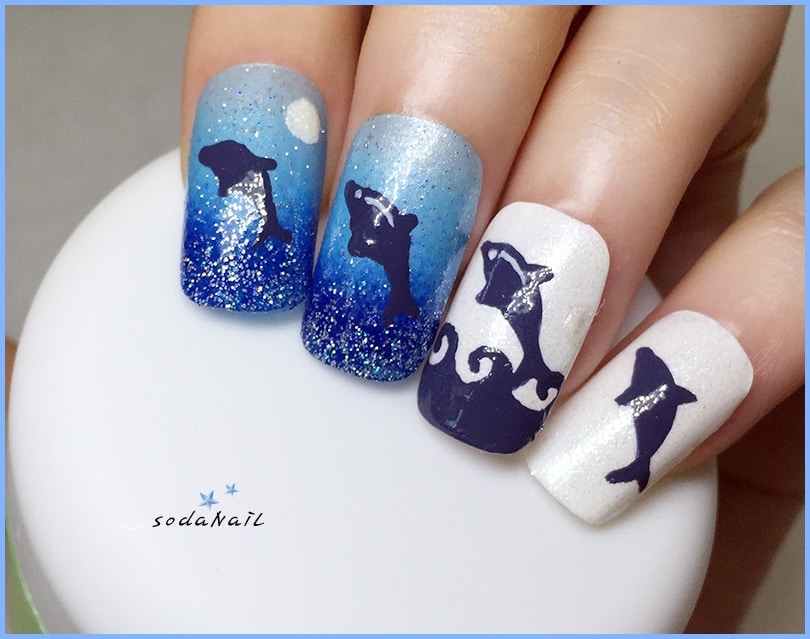 You can use glitters to make your dolphin nail art joyful. That extra shine adds extra beauty to these nail art. You can paint dolphins on glittery blue base to have this dolphin nail art.
#19. Celestial Sunset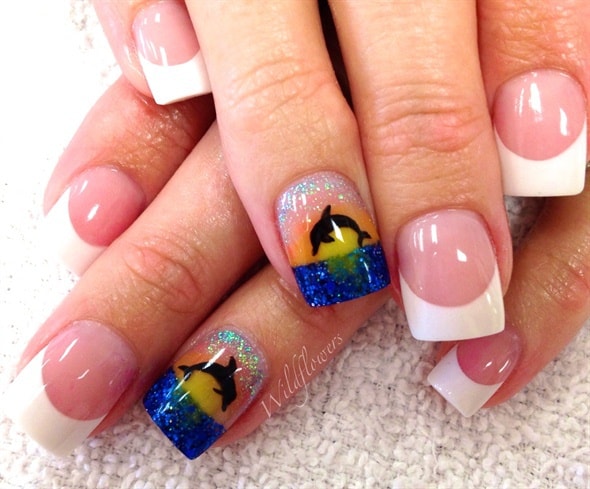 Imagine a sunset on the beach when you will see the dolphins jumping out of the sea covering the setting sun. This will surely be a heavenly scene to watch. You can illustrate this celestial beauty of dolphin art on your natural solar nail. Keep all the nail blank and print your ring finger to give that extra punch.
#20. Out of the Box
Break free from the conventional ideas. Think out of the box. You can have this different dolphin nail art for your nails. Don't bother thinking about having the blue base all the time, a black base will look stunning too. You can draw dolphin images by using blue paint on black base to have this dolphin nail art done.
Festive Winter Nail to Embrace The Season
Dolphin nail art looks gorgeous if you can paint the images perfectly. Having a specific image drawn on the nails is tough. If anything goes wrong, you will lose the shape of that certain figure. That's why do the dolphin nail art carefully otherwise your dolphin image may turn into the images of other fish. You can try the designs discussed in this article. I have tried to gather a wide range of designs in a single place.