Coral-colored nails are the go-to manicure idea for ladies who are bored of sporting the usual nail shades. They are perfect for the spring and summer seasons and can add warmth to your fingertips during the winter too.
Coral is a pink-orange to a red-orange hue that has a number of tones to go with all skin complexions. It is often associated with femininity, youthfulness, liveliness, and positivity. Coral can be vibrant or neutral depending on the shades your couple with it.
Try any of the following coral nail designs without worry to please your eyes every time you look at your hands.
Coral-Colored Nails
Add some white, blue, black, and gold to your peachy coral nails for a pop of color on the hands.
1. Coral Flowers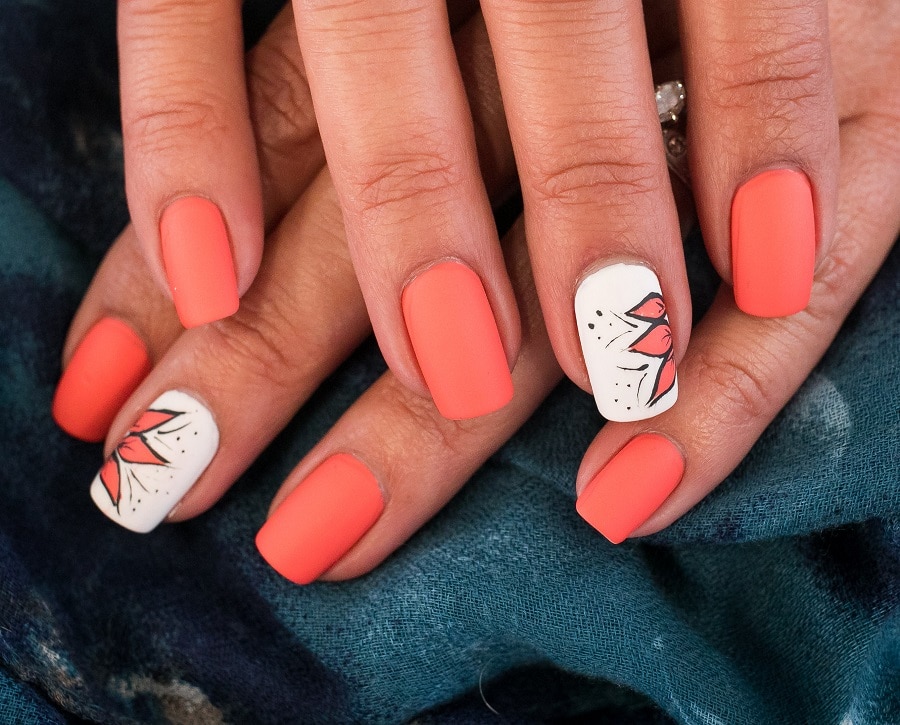 Balance out the warmth of your matte coral-colored nails with cool white accents. Draw petals along one side of the nail bed and fill them in with coral to achieve a simple yet stylish half-flower design on short square nails. Finish off with a few random dots and lines.
2. Glittery Almond Nails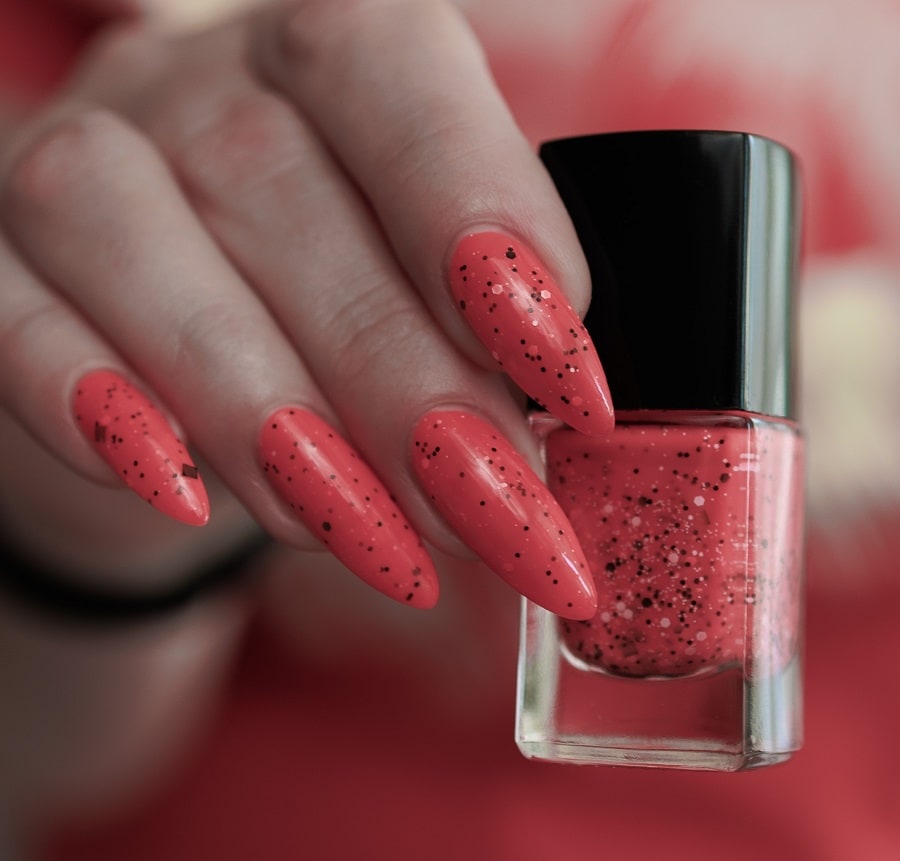 A tiny bit of glitter always goes a long way when it comes to pampering your nails. Try long almond-shaped ones to make your fingers appear delicate and slim. Opt for a coat or two of coral pink with a single coat of glitter polish on top. Super easy!
3. Metallic Foil Accents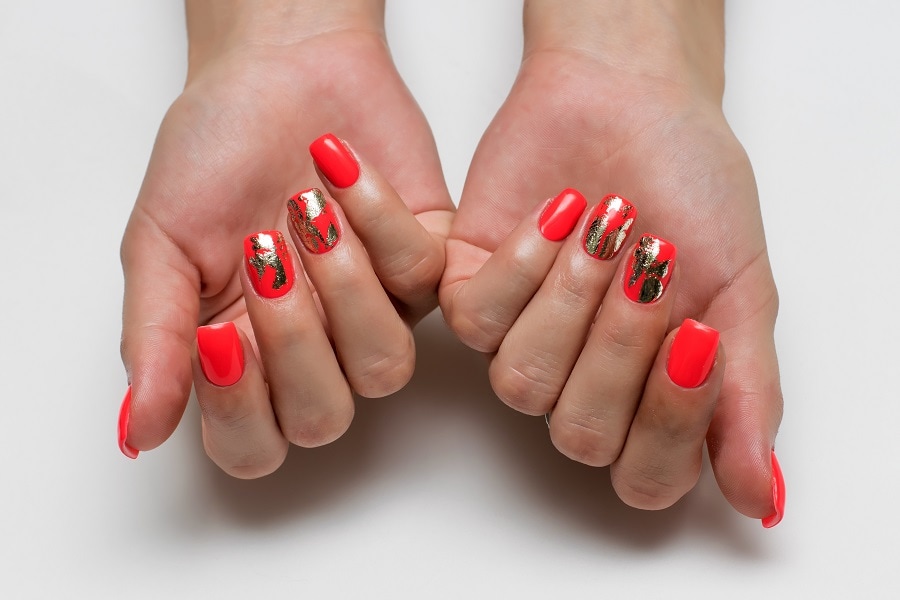 An effortless way to spice up those neon coral nails is by using some nail foil. Place pieces of the foil on top of your base coat when still tacky. Go with gold foil to stay on the warmer side or silver flakes for a more contrasting look.
4. Solid-Colored Squoval Nails
Show off your beautiful fair hands with a solid light coral manicure. A squoval nail shape works best for medium to short nails and is ideal for ladies who like a square shape but want to skip the box-like part. Also, try solid-colored matte nails and you won't regret it.
5. Beachy Coral Pedicure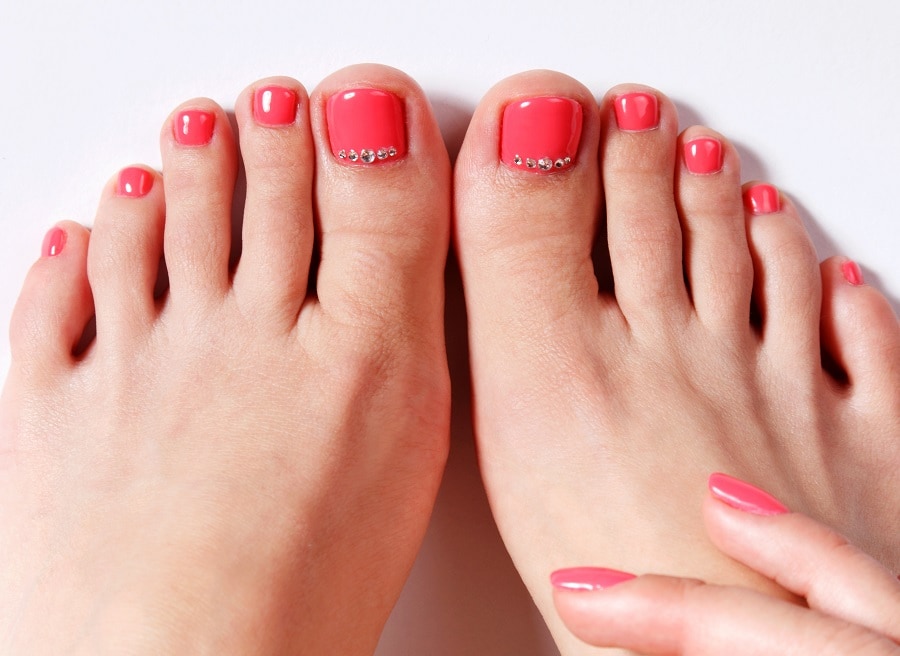 Your toenails deserve as much love as your fingernails. File and shape the nail beds before painting them in a peachy pink hue. Use gel polish for a long-lasting pedicure and add a few rhinestones for a fancy finish. Now you are ready to run on the beach!  
6. Tropical Vibes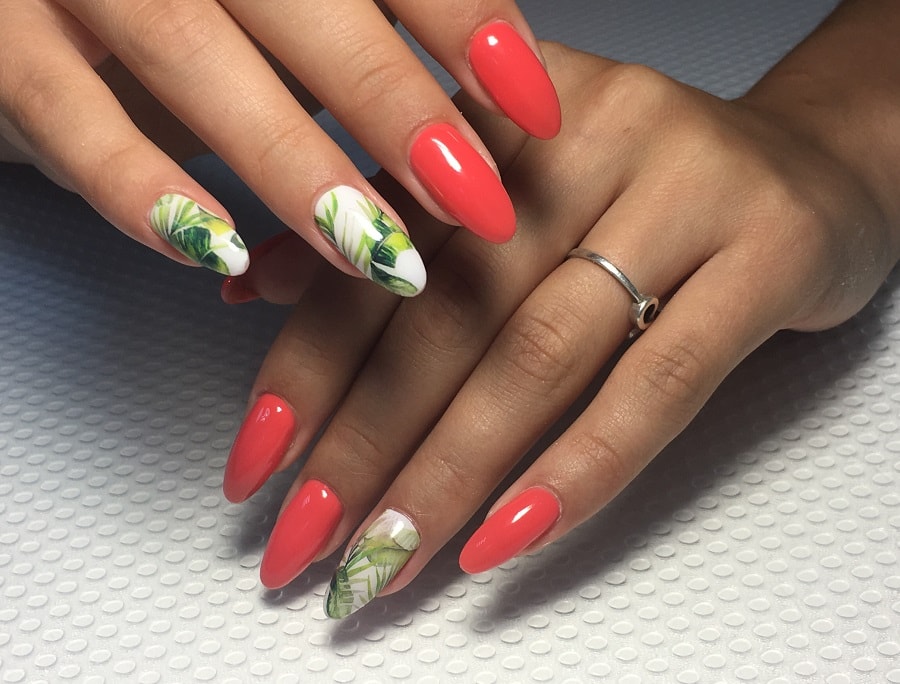 Another coral nail design that is a must-try on your tropical getaway. Experiment with a deep coral color that leans more towards the orange-red side with some white nails in between. Use a stamping kit to transfer a few jungle leaves on the nails. That's it!
7. Gold Glam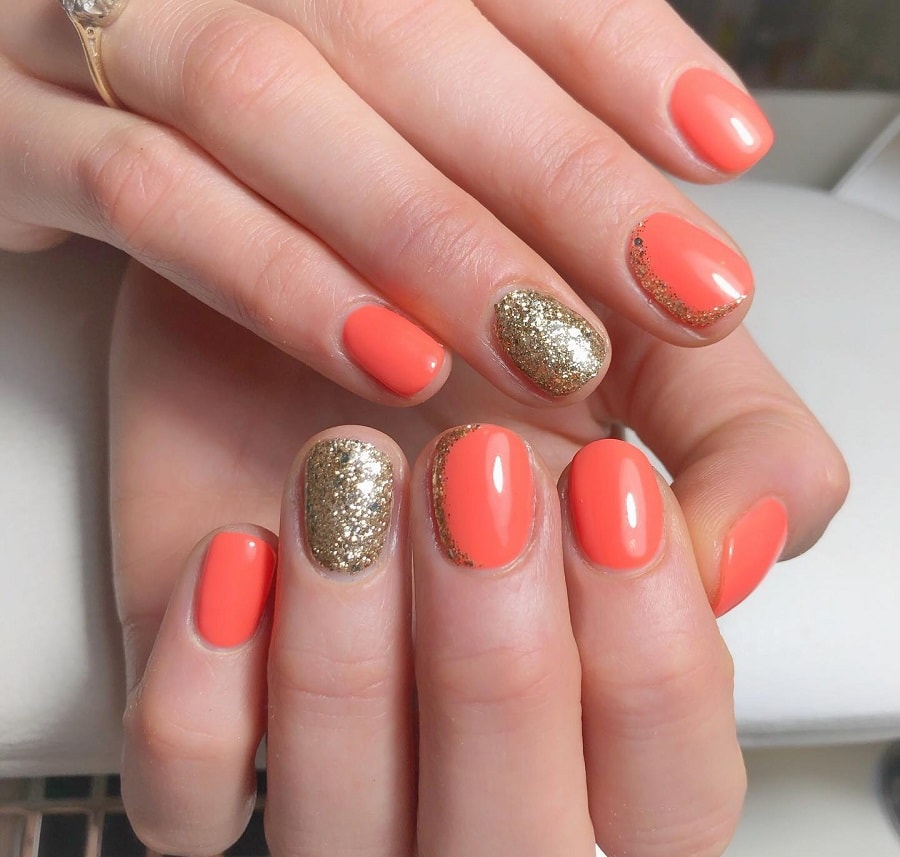 Grab a gold glitter polish or loose chunky glitter instead to turn your basic boring manicure into a super glamorous one. Cover one or two nails completely in gold and add a tiny bit of sparkle along one side of the neighboring nails too. Short round nails will look cute.
8. Teeny Tiny Flowers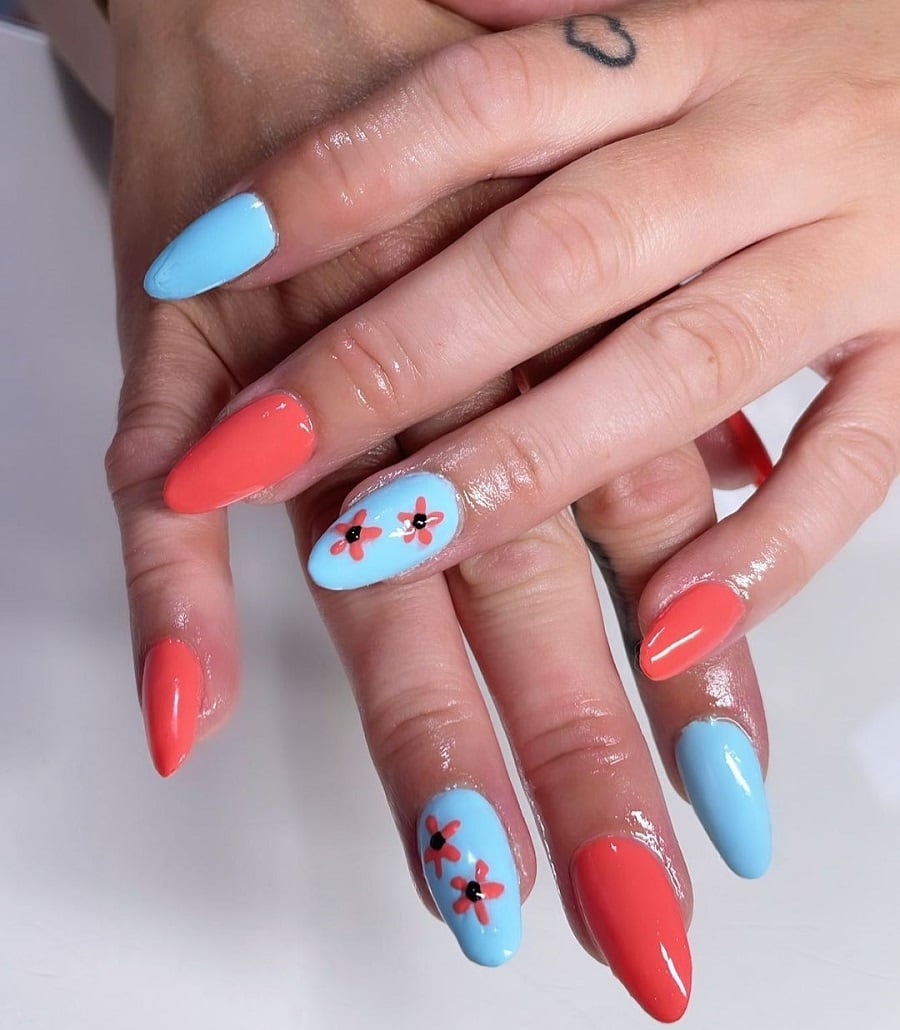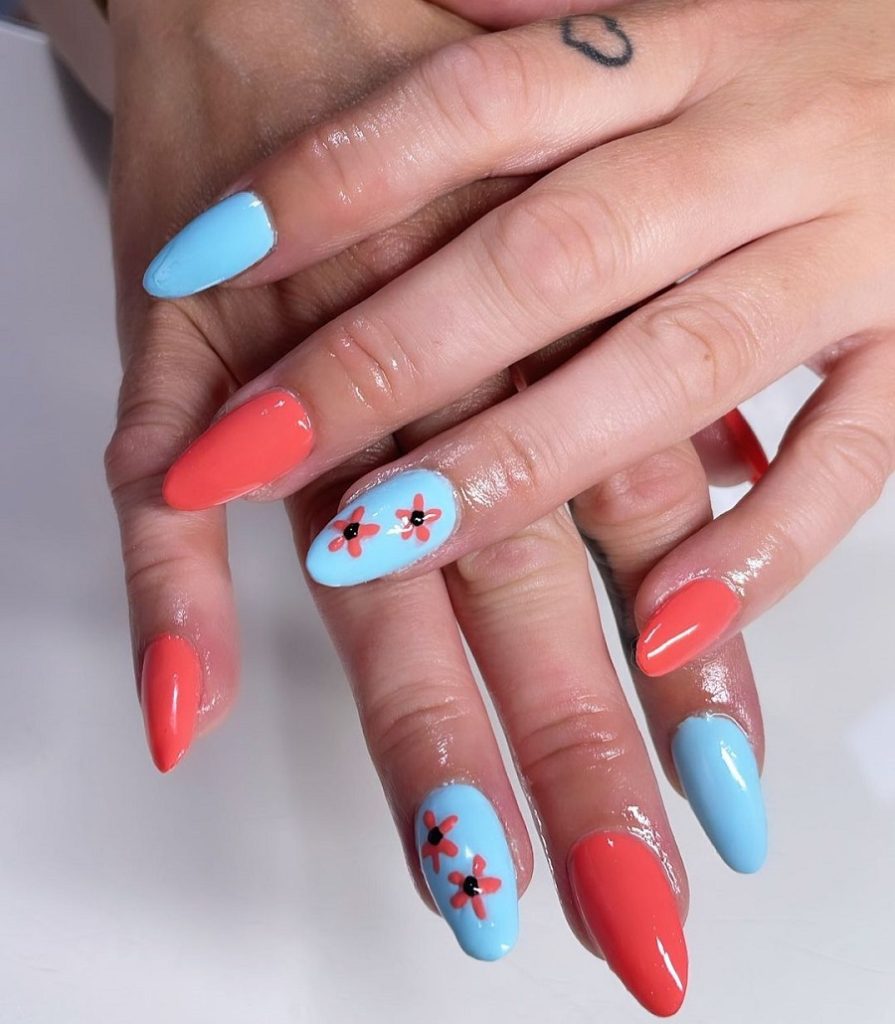 Any tone of blue can make a peachy coral tinge pop on the hands. Recreate these adorable teeny tiny flowers by placing five to six dots around a central point and dragging them inward. Try coral blossoms on a light blue base and vice versa.
9. Black Abstract Design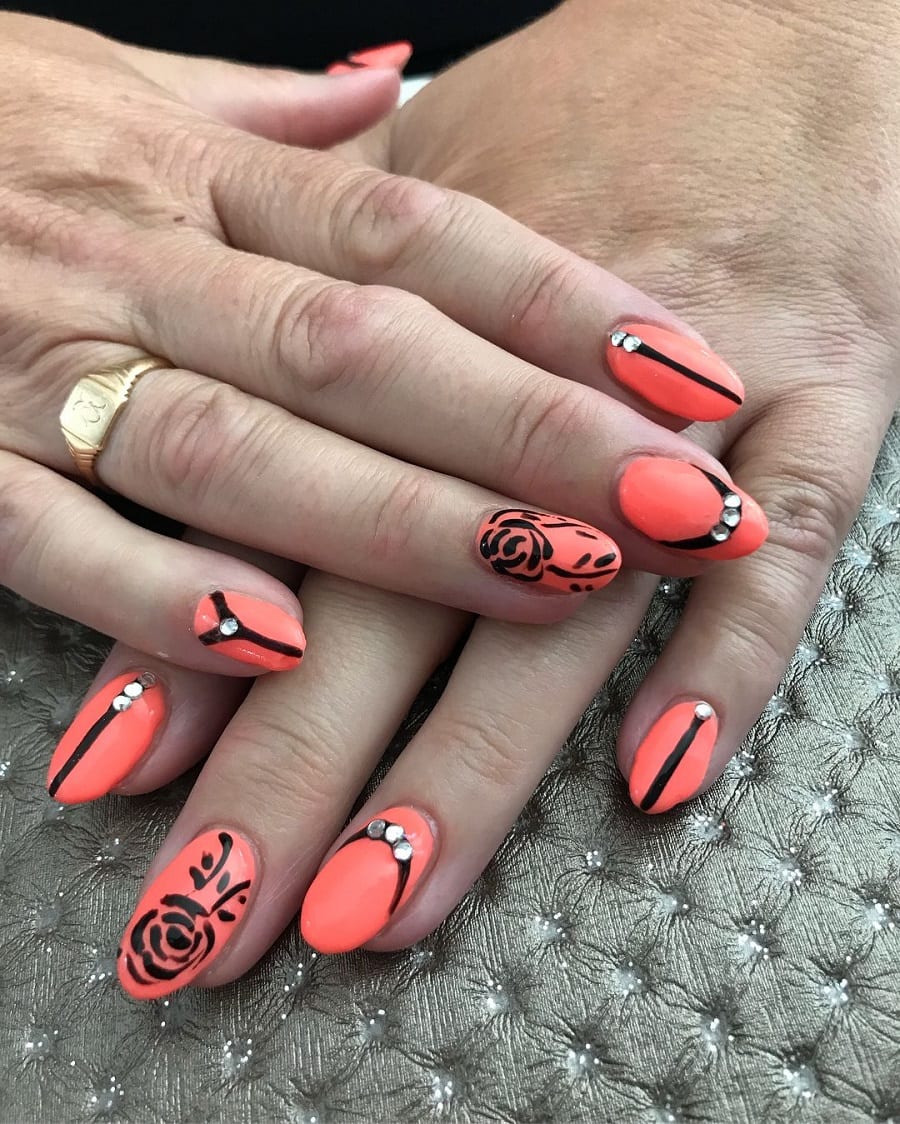 Couple coral with black for a playful dark and light color contrast. Add random black lines and accent them with some sparkling nail gems. To achieve the abstract rose design, draw disconnected short swoops in a circular pattern. An almond nail shape never disappoints.
10. Sexy V-Tips on Square Nails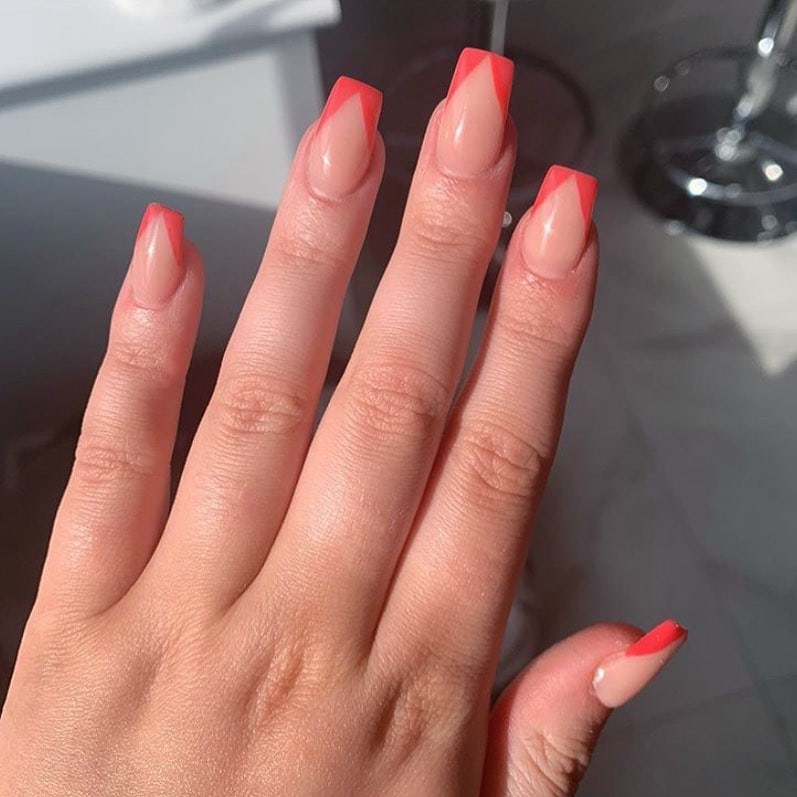 Stand out from the rest by getting sharp V-tips on your perfectly tailored square nails instead of the usual French tips. Opt for a nude base and add strokes of coral along the corners to end up with a triangle in the middle. Delicate silver or gold outlines can make a big difference.
11. Love Letter Oval Nails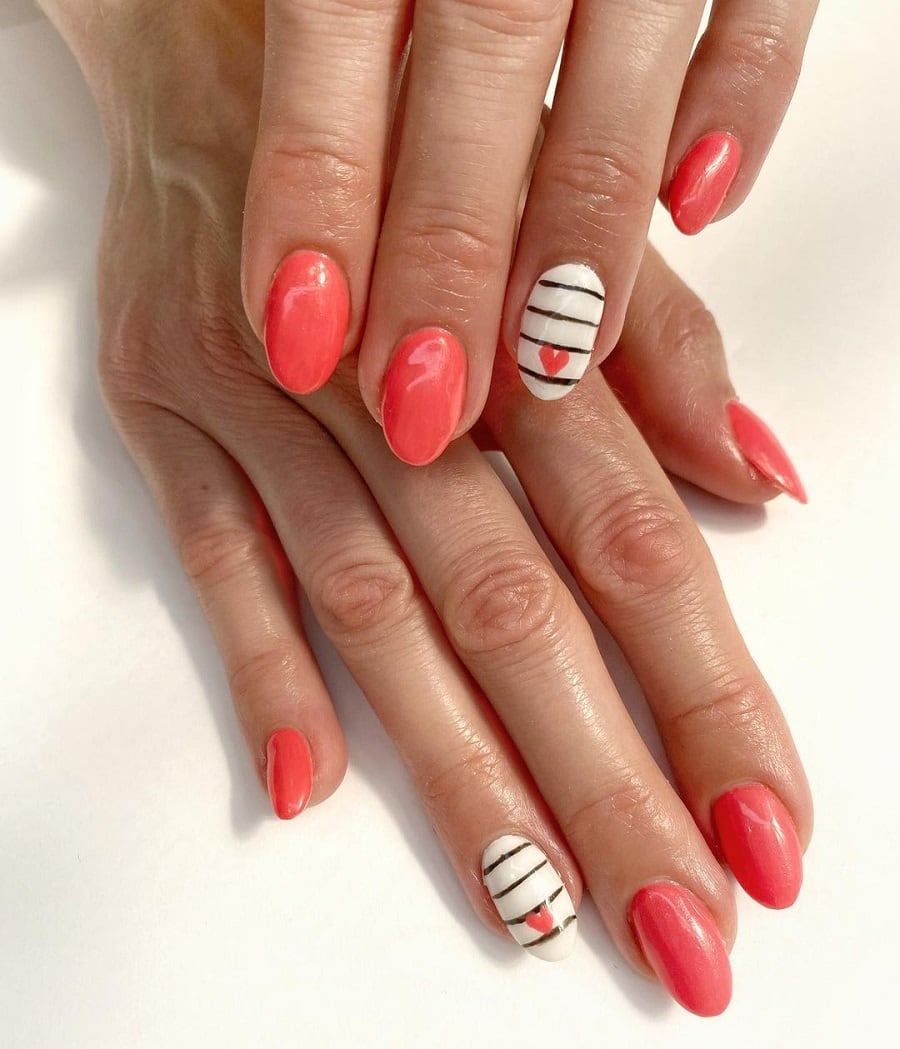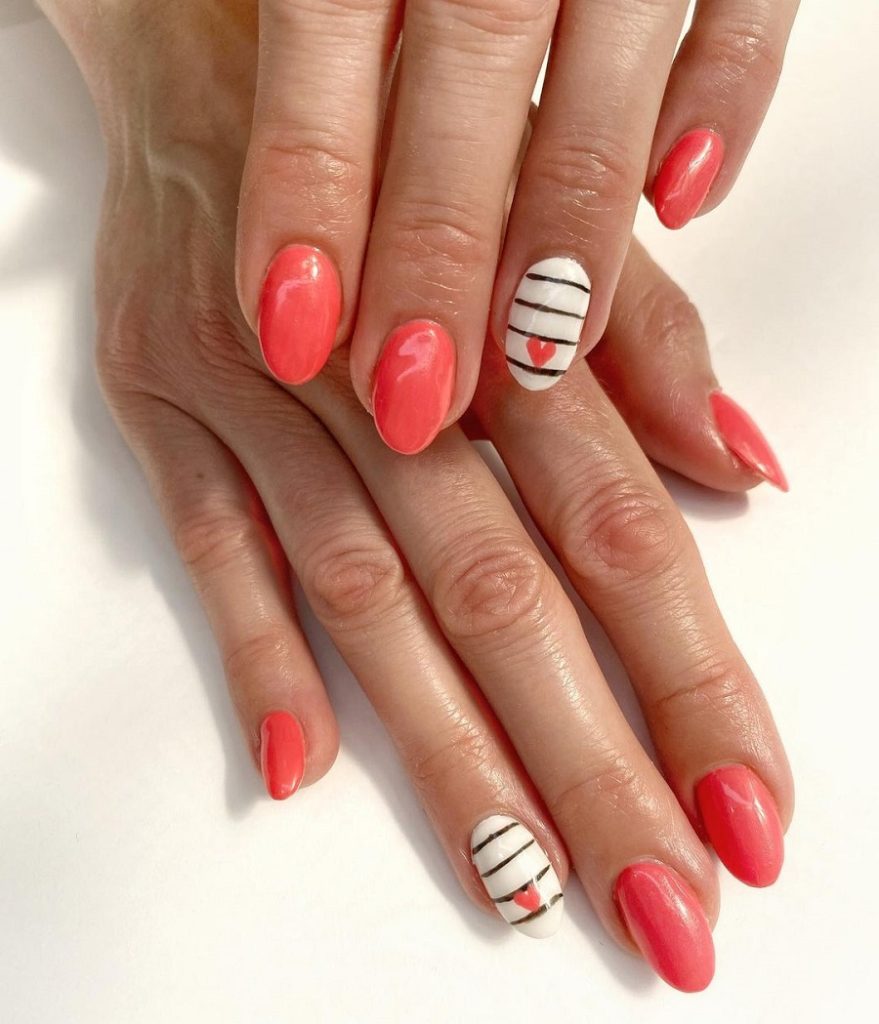 Celebrate Valentine's Day with this lovely coral nail design. Draw two parallel triangles with a heart in the center to look like an unopened love letter. You can also draw black lines on a white base with another tiny heart to appear like the page of your letter.
12. Peachy Gradient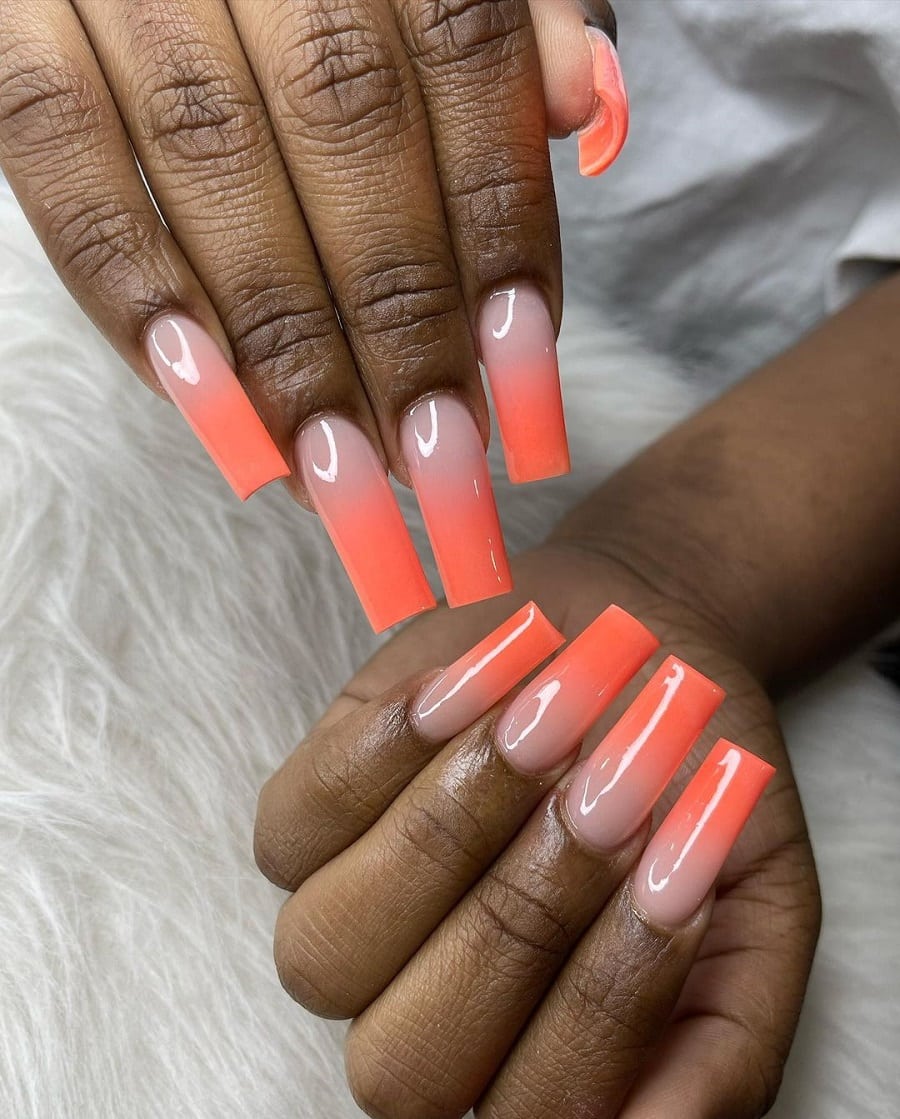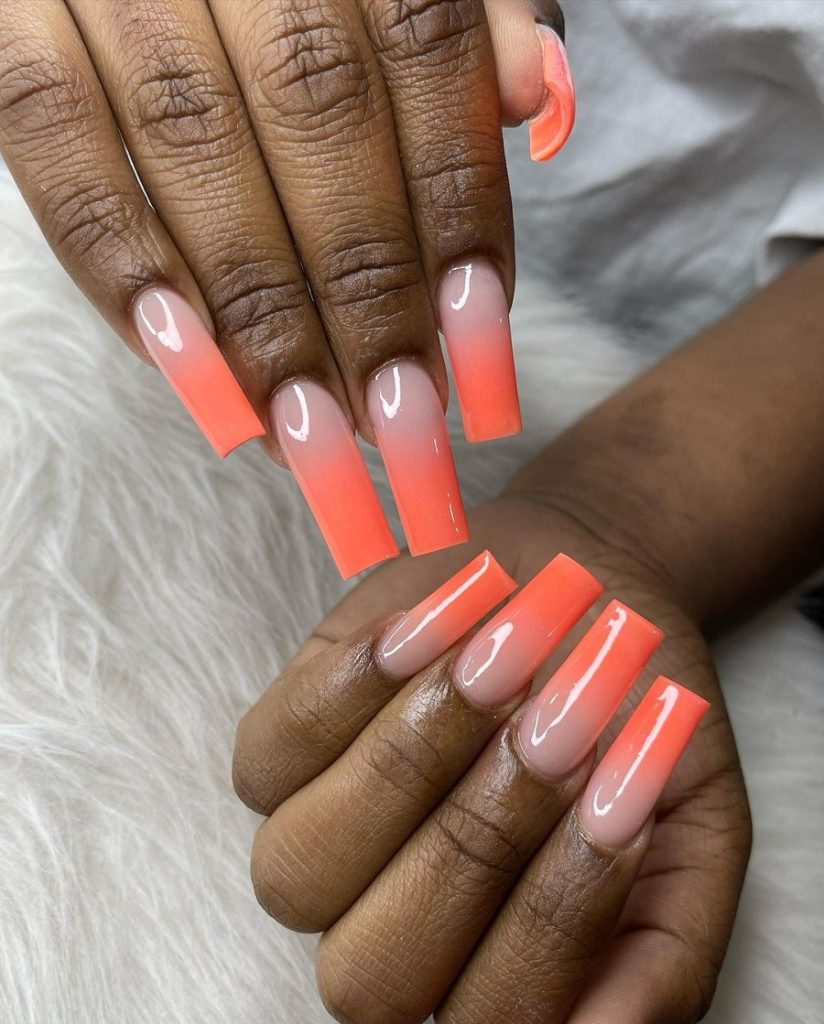 A soft gradient on tapered square nails is just what you need this season. Couple a nude pink hue with an orange coral nuance for a dreamy appeal. The key to a flawless ombre lies in merging both colors seamlessly together using a sponge or fine brush.
13. Classy Polka Dots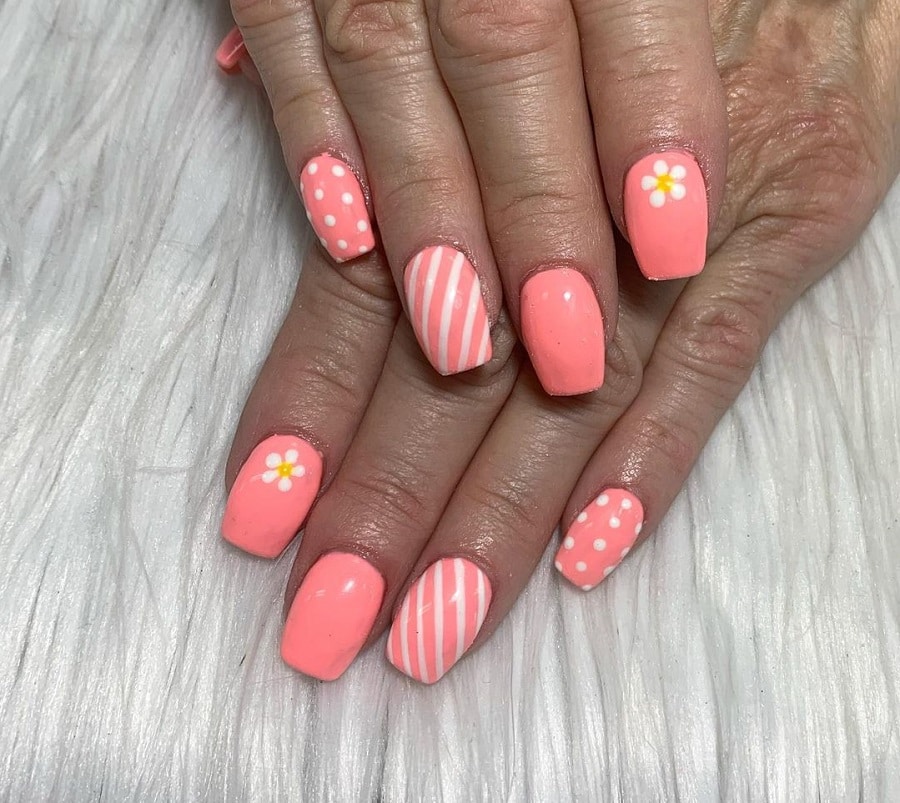 Polka dots never get old. Make your warm skin tone pop with a light coral tinge that looks more like a pastel peach. Use white polish to add symmetrical dots and diagonal lines. A tiny white flower will look cute too. Use a toothpick to drag your dots into flower petals.
14. Neon and Nude Moment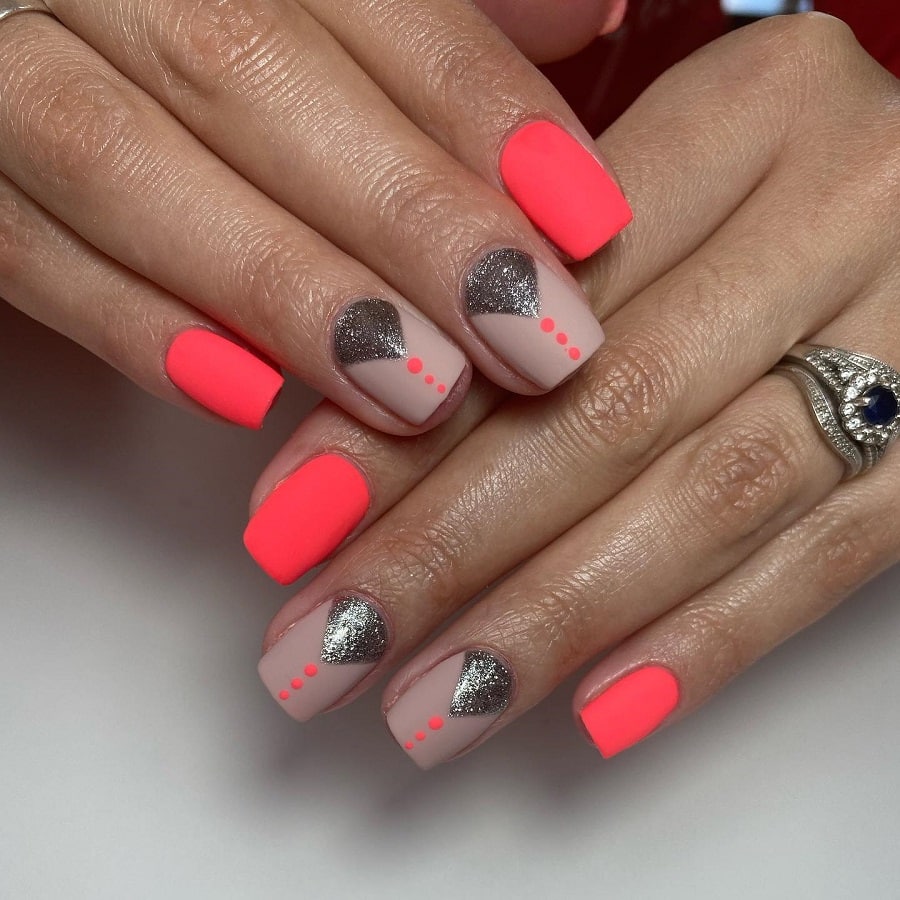 Set your neon coral nails on fire by accentuating them with a nude pink polish. Opt for silver triangles with a few dots on a nude base keeping the neon nails plain. You can play around with any other designs of your choice and this color combo will make them all pop.
15. Fancy Stilettos
Every lady deserves picture-perfect pointy stilettos once in a while. Paint them in the lightest tone of coral pink available with shimmery accents covered in iridescent glitter. Don't stop here. Decorate your edgy nails further with sparkling rhinestones. Simply wow!  
16. Coral-Pink Ocean Waves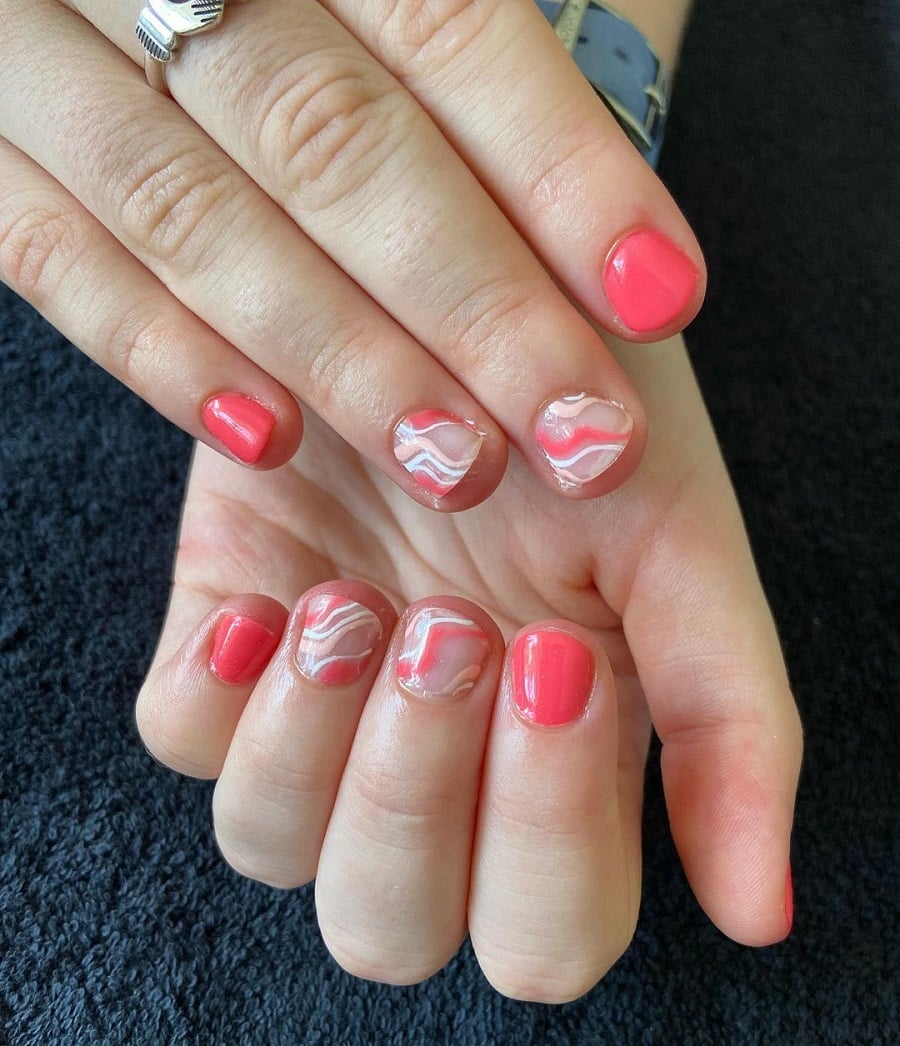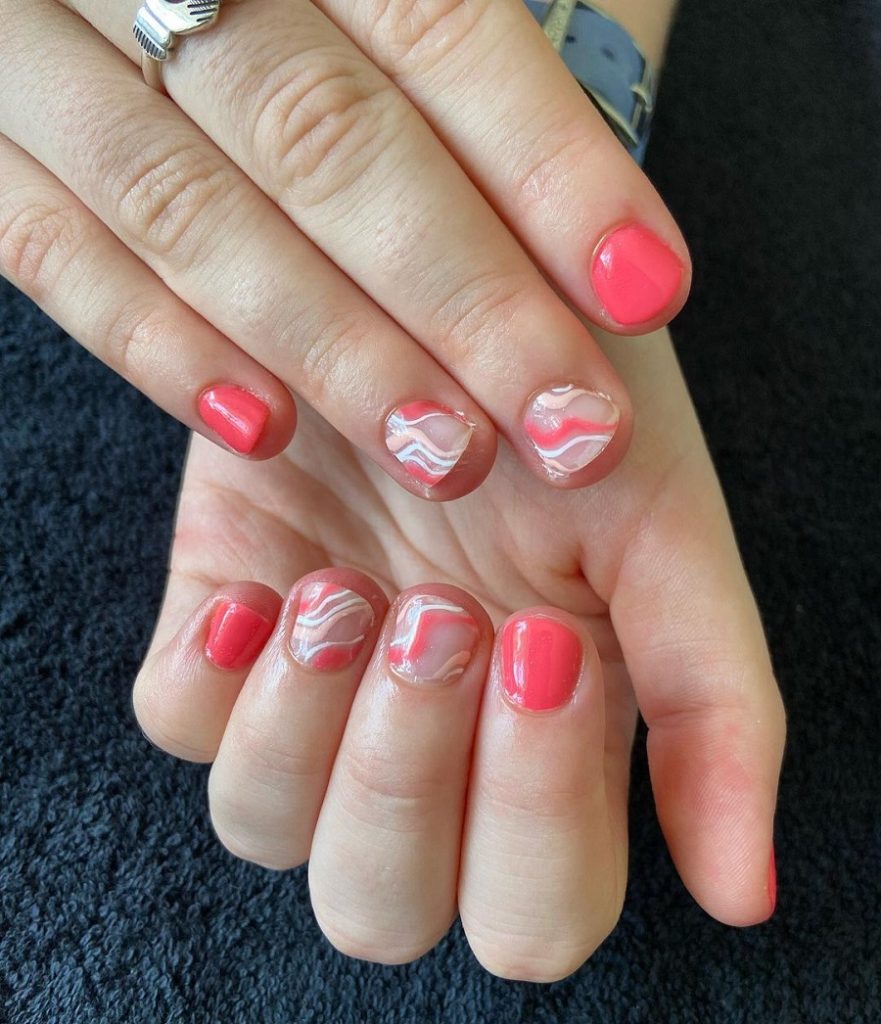 Ocean waves are blue but they can be coral-colored too! Grab coral pink, nude peach, and white lacquers to draw soft S-shaped lines on bare nails. Top off with a transparent polish keeping the remaining nails plain coral. Your short nails can't look any better.
17. Tapered Square French Tips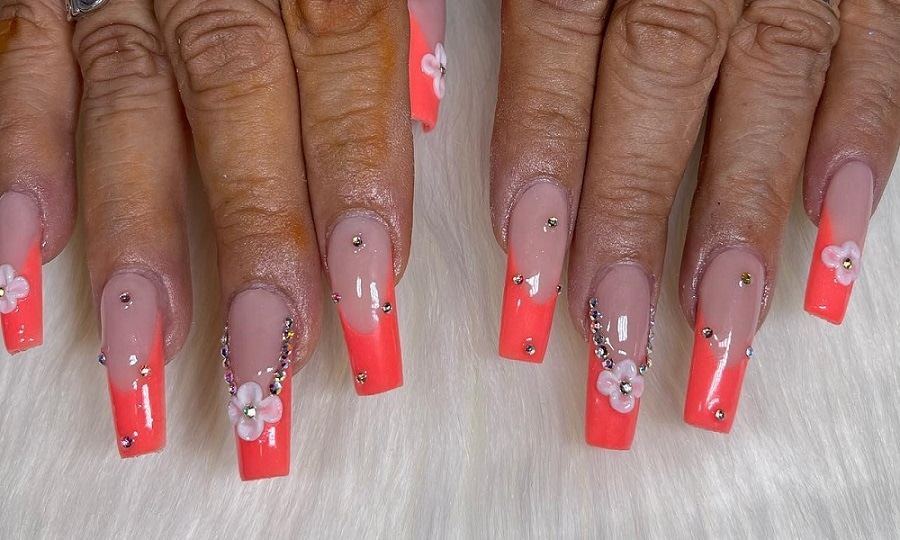 Keep it classy with the good old French tips. Recreate this coral nail design by going for a nude base with orange-red tips. Opt for 3D acrylic flowers in white on some of the nails along with tiny gems for more of a festive look.   
18. Dreamy Butterflies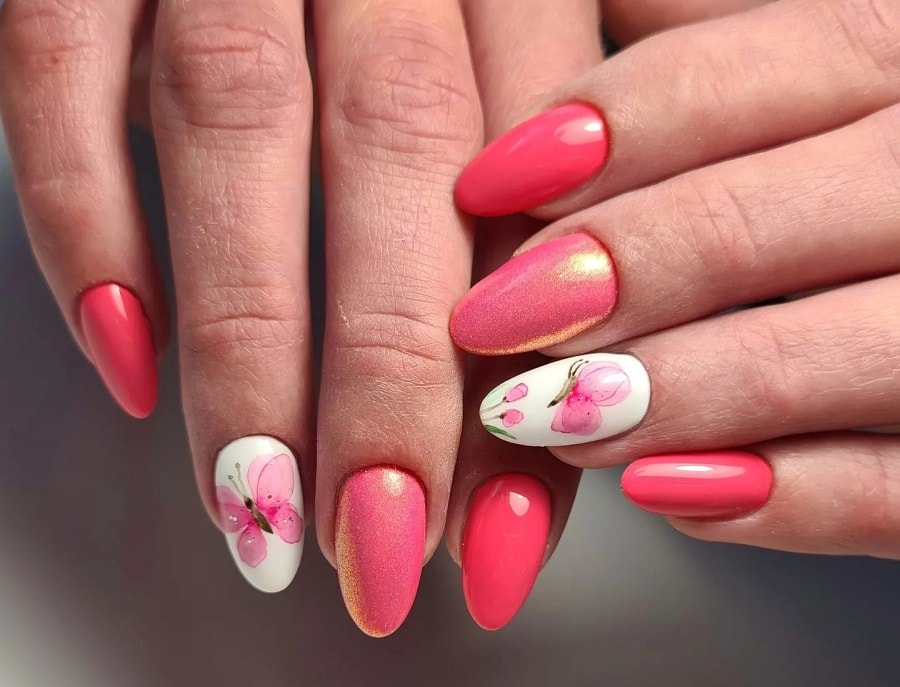 Express your girly side with a cute butterfly-themed manicure. Choose a coral shade with a dominating pinkish undertone. Get hold of delicate butterfly nail stickers or decals and place them on your white accents along with a few flowers. Dreamy, isn't it?
19. A Little Sparkle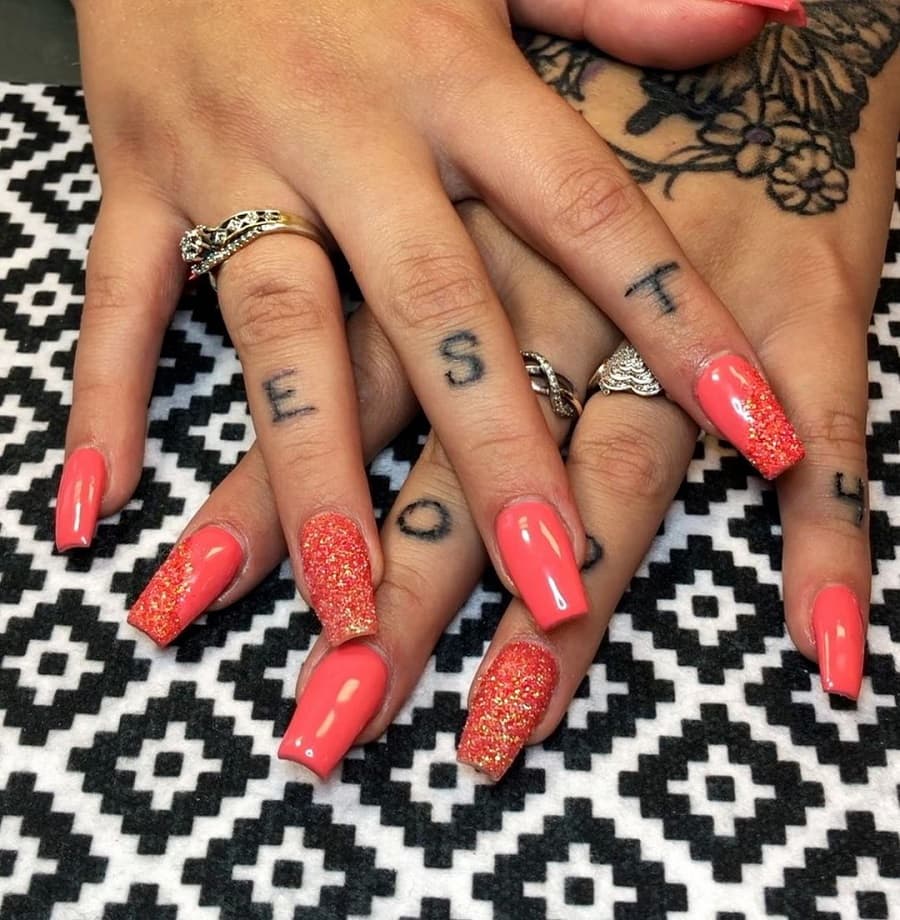 An easy way to make a style statement with your square nails is by opting for coral-colored glitter. Experiment with an accent nail design, glittery French tips, or a split nail look instead. Create any pattern by drawing it with transparent polish and sprinkling glitter on top.
20. Pop of Blue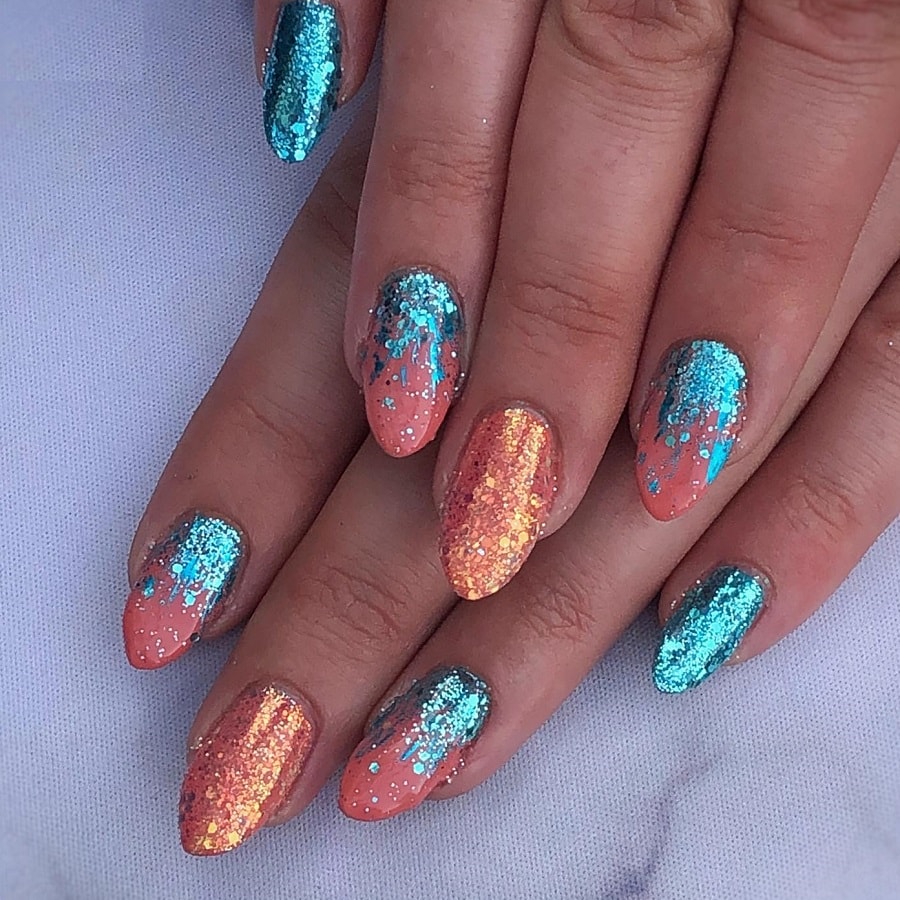 Talking of sparkle, if same-colored glitter looks too basic try getting one in a contrasting color like aqua blue.
Try creating a gradient on some of the nails by placing glitter polish on a sponge and dabbing it on. Though blue looks the best, you can copy this look using any other color combination.
21. Diagonal Frenchies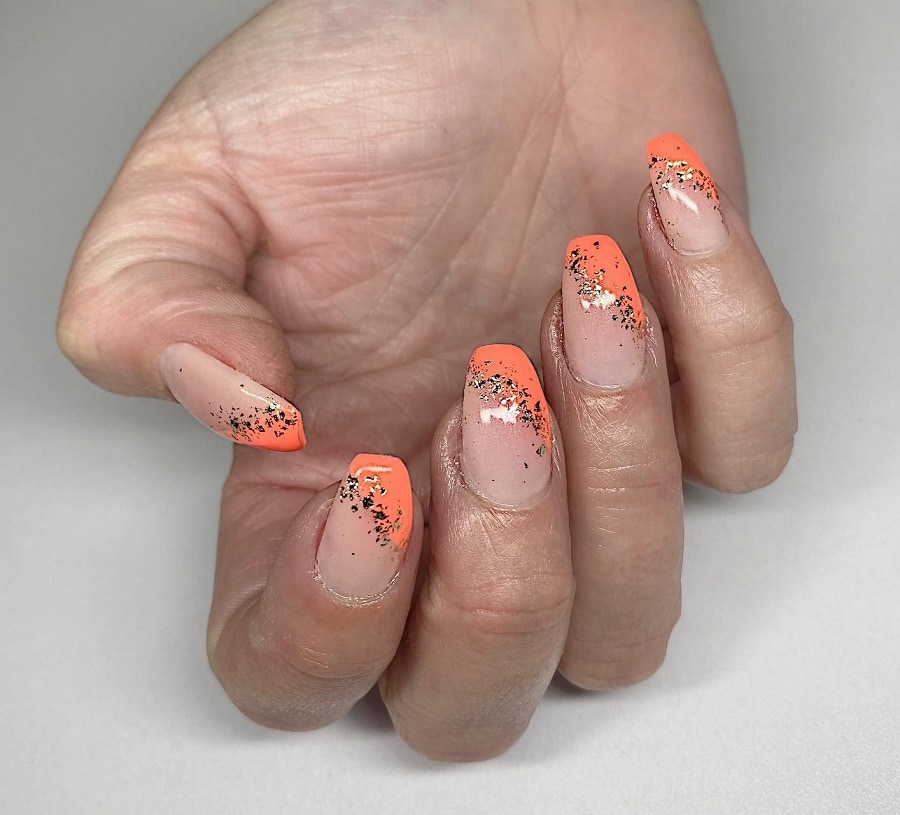 Diagonal French nails look quirky and fun. Use nail tape to achieve a flawless diagonal division keeping one part nude while painting the remaining one in a coral tinge. Sprinkle gold glitter along the borderline and you are all done.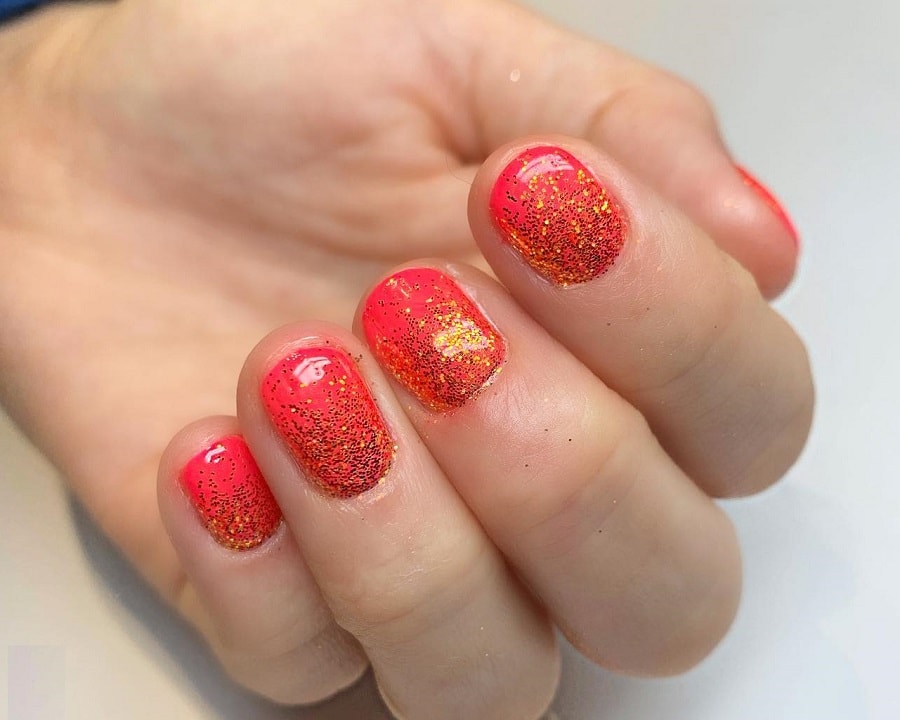 Flaunt your super short nails with a suitable shade of coral gel polish that will last for some weeks. Create an ombre effect using glitter that disappears while moving from the base of the nail toward the tips. A sponge will be of great help.
23. 3D Acrylic White Blossoms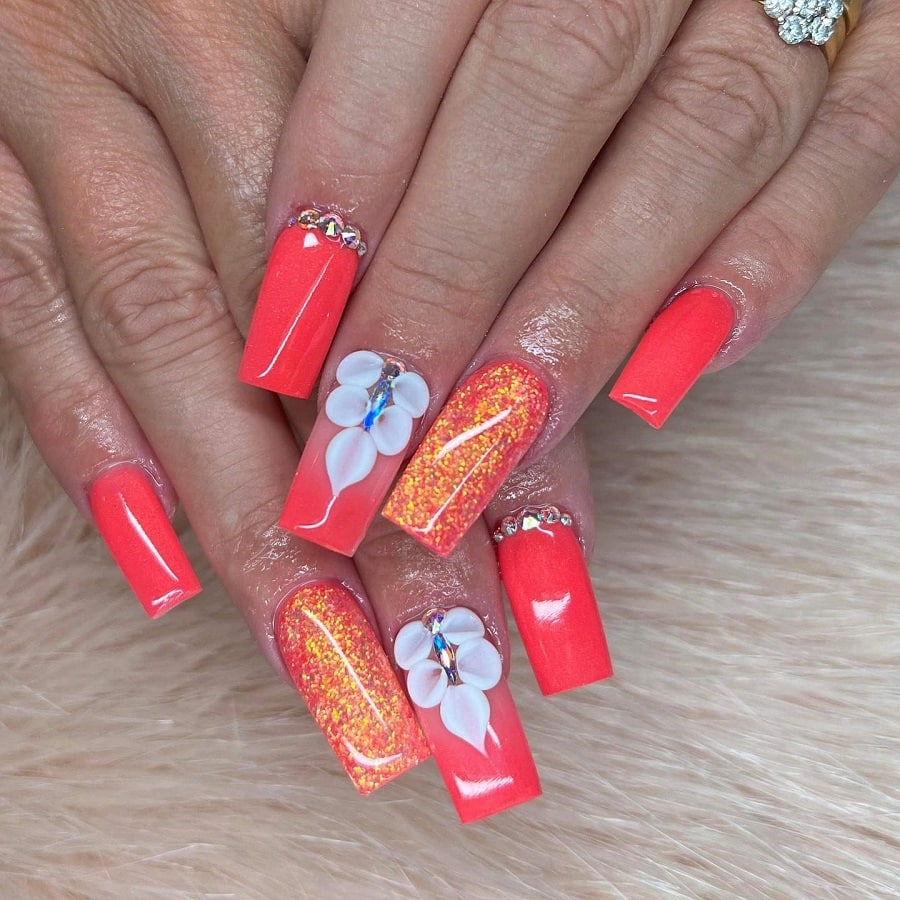 This coral nail design is ideal for ladies who like to go a little extra on their nails. Place acrylic beads and push them down to achieve beautiful flower petals in white to stand against a pink-to-coral ombre base. Adorn with rhinestones and glitter.  
24. Matte Ballerina Nails with Gems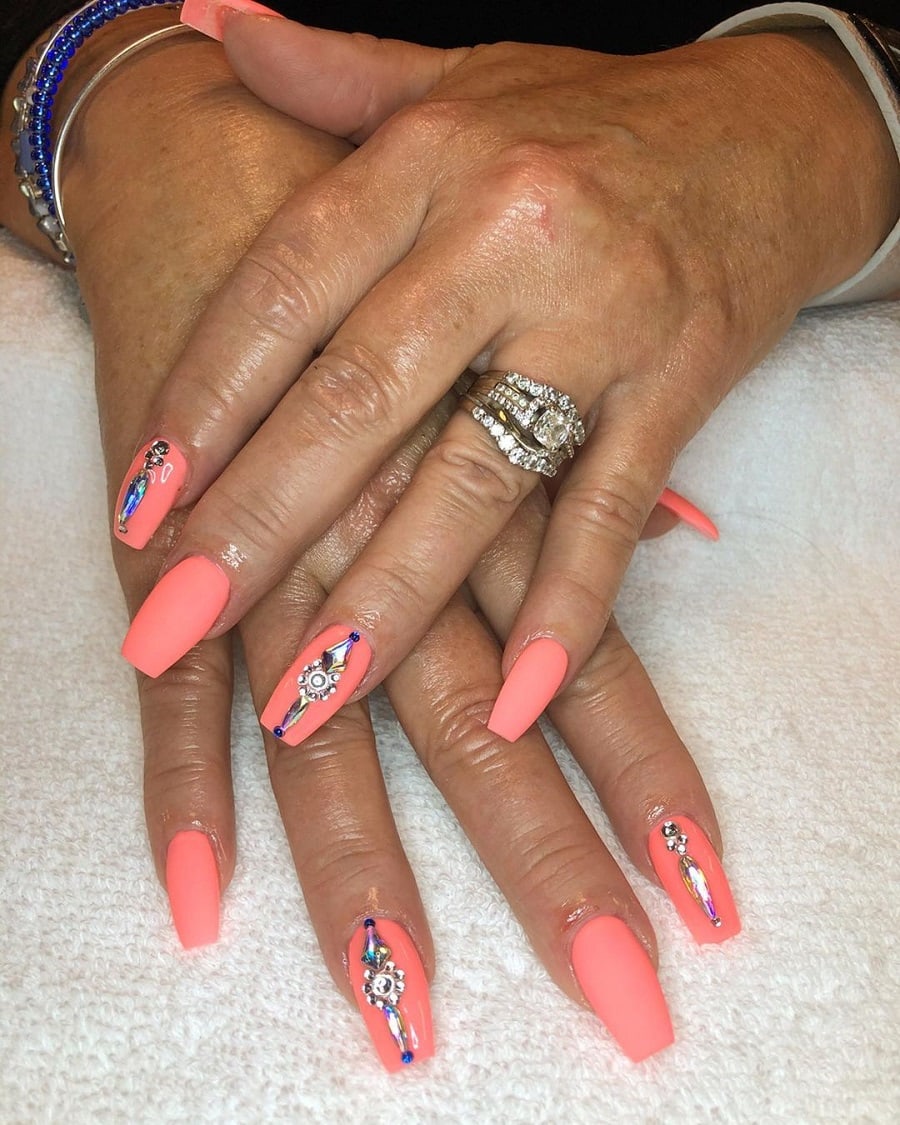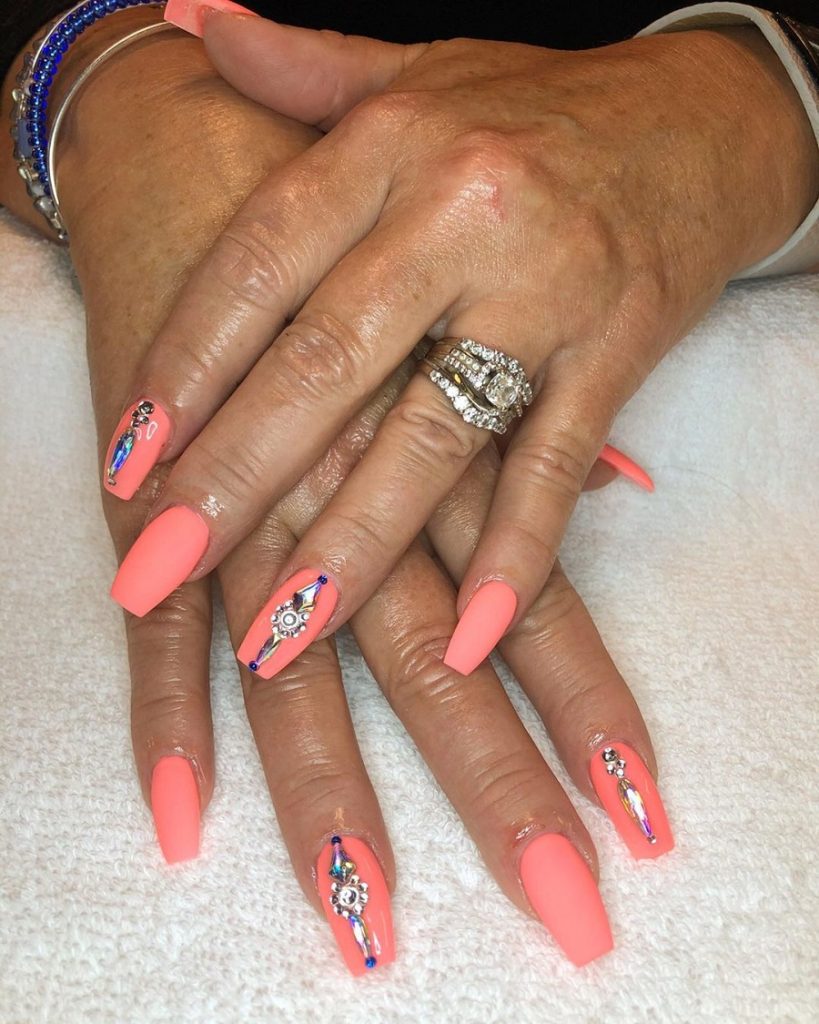 Nail designs don't need to be complicated all the time. Some can be achieved in a flick and look equally stunning like the one depicted here. Ask for matte pinkish coral nails and embellish them with flickering rhinestones or even nail studs.
25. Seashore Theme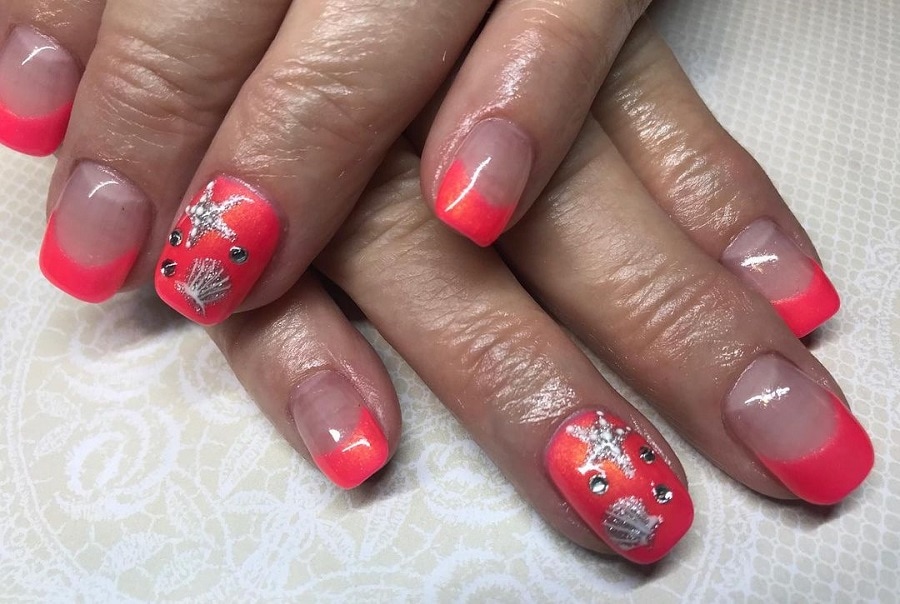 Get your nails ready for the beach with this cute French manicure. Draw sea stars and sea shells on the accent nails. For a more eye-catching look, try drawing blue ocean waves or a blue-to-coral ombre for some realistic seashore vibes.
Coral nail designs do not end with the list mentioned above. You can experiment with numerous other patterns and color combinations to make this peachy orange hue stand out on your fingertips. Throw on some glitter and gems for an embellished look or keep it basic depending on the occasion.