Are you looking for black nail tips? Well, you should be as it's in-trend right now! The trend of nail fashion is changing every year.
The same design is modified in many ways to add a new look to the existing design. So, having only a single color on your nails is kind of old fashioned.
Girls are using a different color on the tip of nails whereas the base is another color. In this regard, black is one of the most dominating colors for being used on the tip after the French tip.
The elegance of black can be used very efficiently on the fingertips. You can have black tip nails easily by following the guidance of our website.
Amazing Black Tip Nails to Look Gorgeous
Black tip of any nail complements the whole nail color and design together. If you can have the right type of black color and the right pattern designed with them, it will look stunning for sure.
That's why choosing color type is very important as the look of acrylic, matte, and gel differ from each other to a great degree. Getting black tip nails is very simple.
All you have to do is paint the tip with the right angle and pattern which will suit the shape and design of your nails. Have a look at the following designs for inspiration.
#1. Dusty Blue
A dusty blue or light grey will give you these edgy black tip nails. These colors will look great on medium length oval nails.
#2. Clear Nails with Dots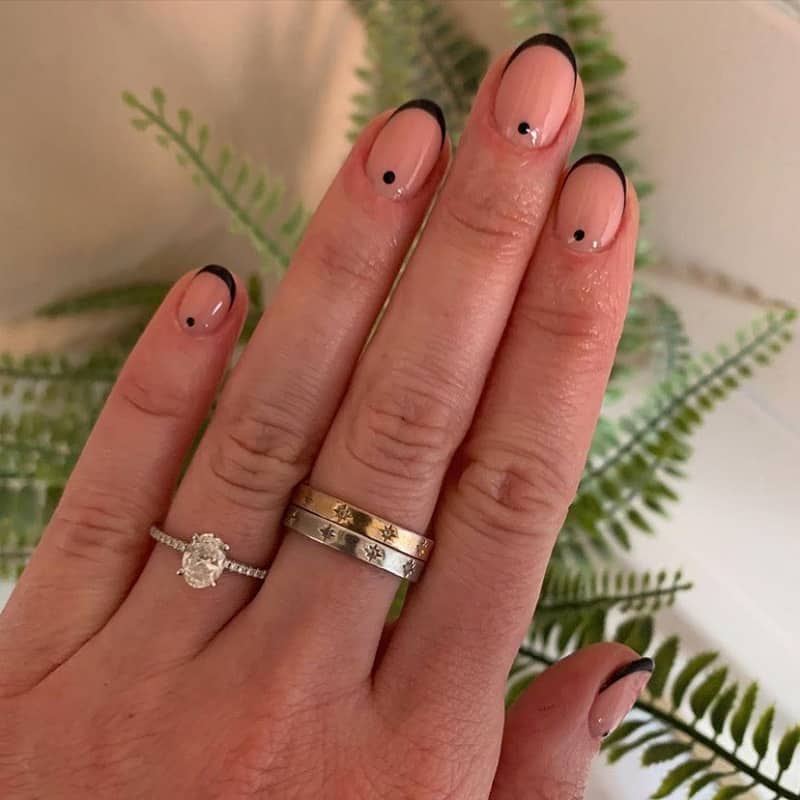 Your clear nails need a little bit of detail besides their black tips. Make a large or small black dot up near the cuticle for a peek of detail.
#3. Black Tip Stiletto Nails
All those fellow Halloween lovers must try these stiletto nails! Their thick black tips are super dramatic, perfect for a memorable, spooky night!
#4. Long Nails with Thick Tips
An ultra thick black tip nail is even more dramatic than thin tips. Your long square-shaped nails are practically begging for this statement nail design.
#5. Light Pink with Hearts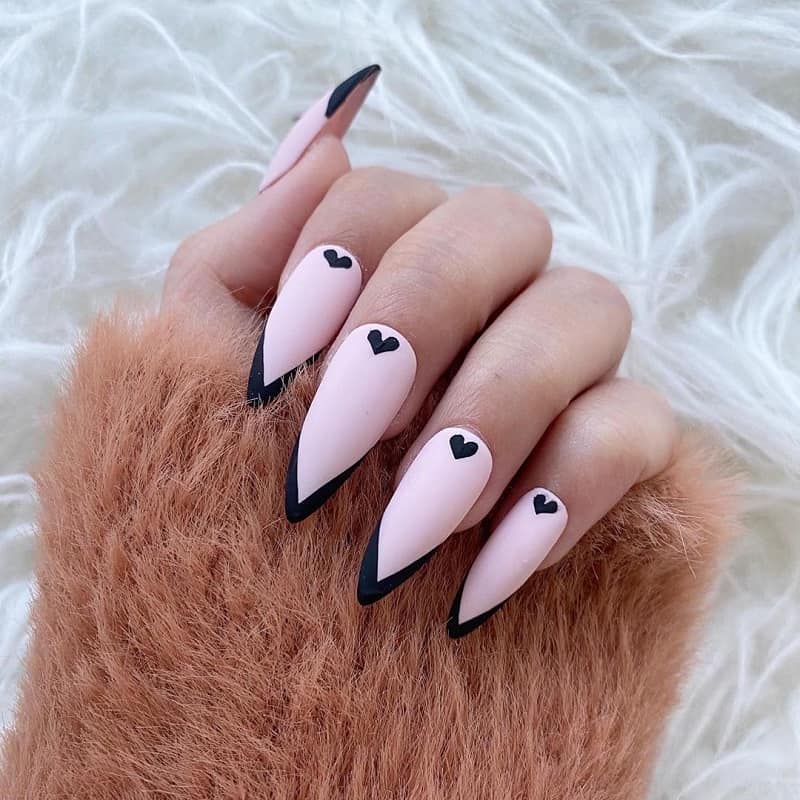 If you're expecting every black tip nail design to be edgy, you'll see another thing coming with soft baby pink nails! A tiny black heart is just the detail to add near the cuticle.
#6. Black Tip Coffin Nails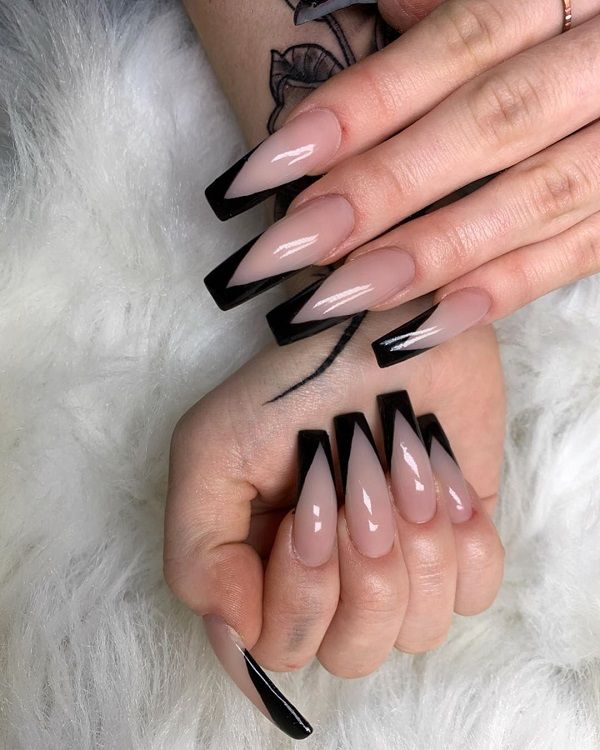 With clear nail polish, the pointed shape of black tip coffin nails really stands out. Make sure the tips are thick and not too skinny to balance out the nail.
#7. Almond Nails with Black Tips
Minimalistic black lines are perfect for almond nails polished with clear or opaque. Follow it up with pink floral designs on the ring fingers.
#8. Square Shaped Black Tip Nails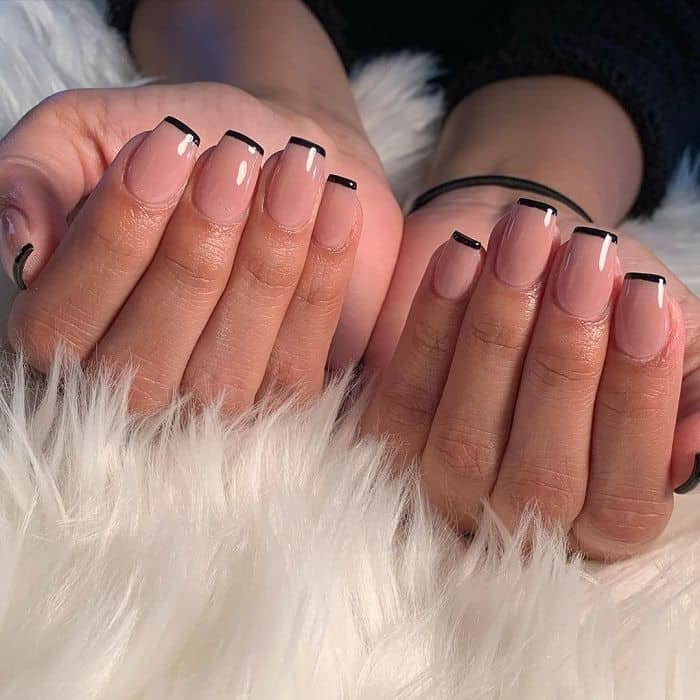 There's something very sophisticated yet pretty about square shaped nails with black tips. Choose a beige polish that matches your skin tone.
#9. Black Tipped Stiletto Nails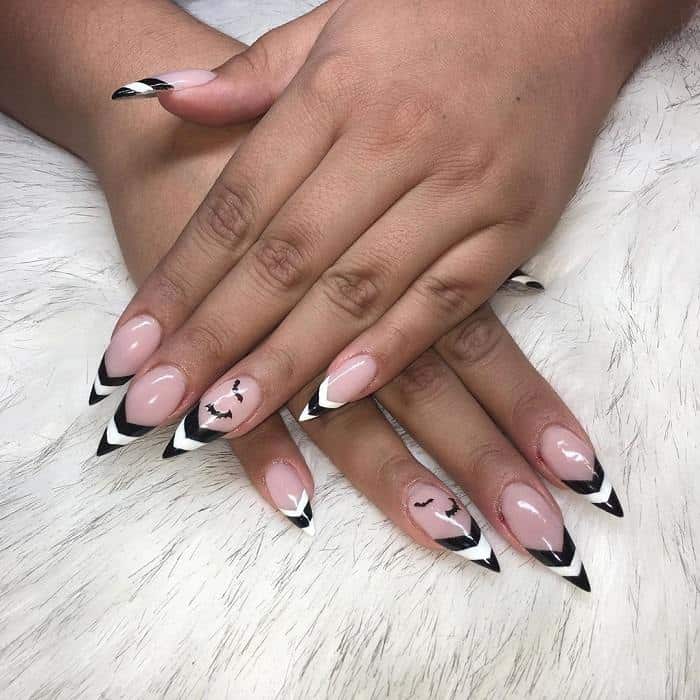 Black and white is always in, especially on black tip stiletto nails with a striped pattern. Make it a Halloween design easily by sticking on tiny black bats.
#10. Gold Nails with Black Tips
Black tips become glitzy and perfect for New Year's Eve when blended with gold nail polish. Flaunt this look on extra long square-shaped nails.
#11. Beige Nails + Black Tips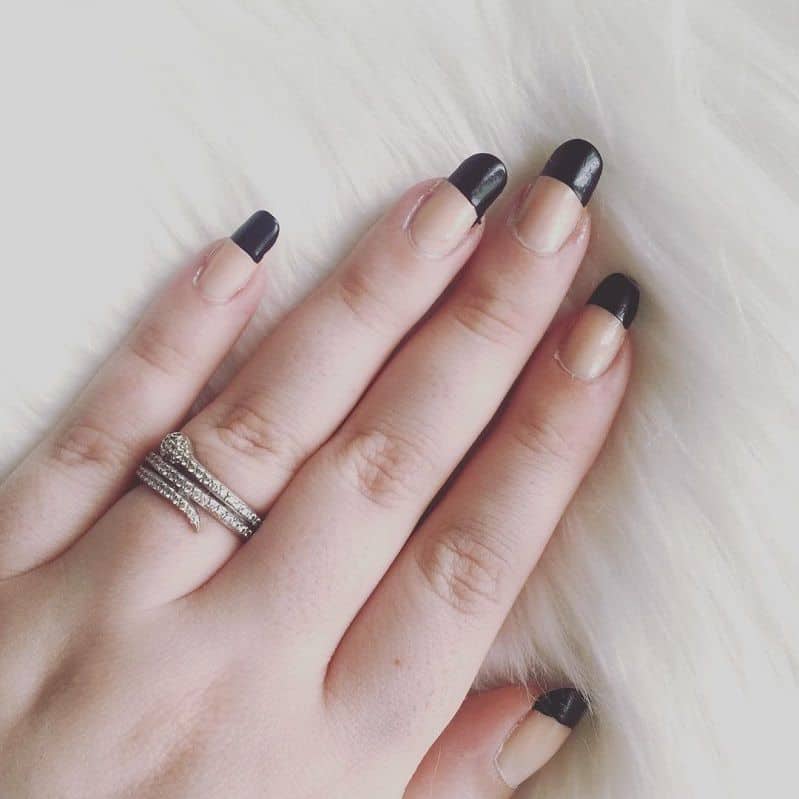 We love the illusion the use of beige polish on the above design creates on black tips, making them look like the tips are just stuck on instead of being part of the natural nail.
#12. Black Sparkle Tip Nails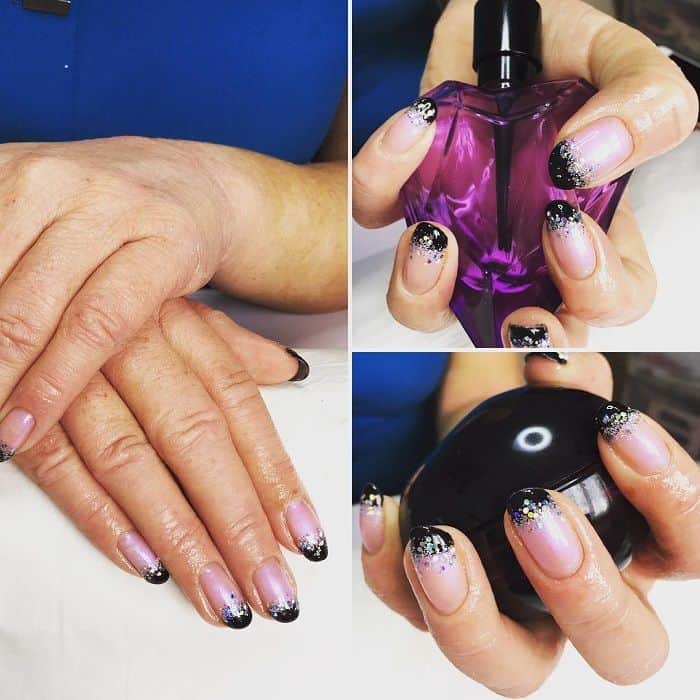 Another gorgeous design perfect for NYE or that special party. On short rounded nails, paint a clear coat, then add the black tips and gloss over the ends with glittered polish.
#13. Black Tipped Gel Nails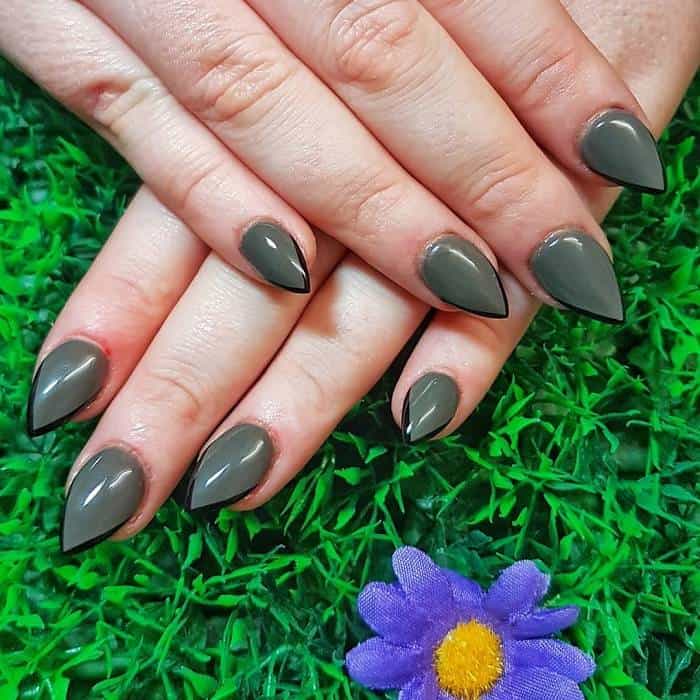 A soft sage green is just what spring calls for. Line those pointed nails and their tips with a thin black line to pull it all together.
#14. Black Tip on Acrylic Nails
These long nails may really be square shaped, but the illusion created by black tips on nude polish make it look like another shape entirely.
#15. Matte Black Tip Nails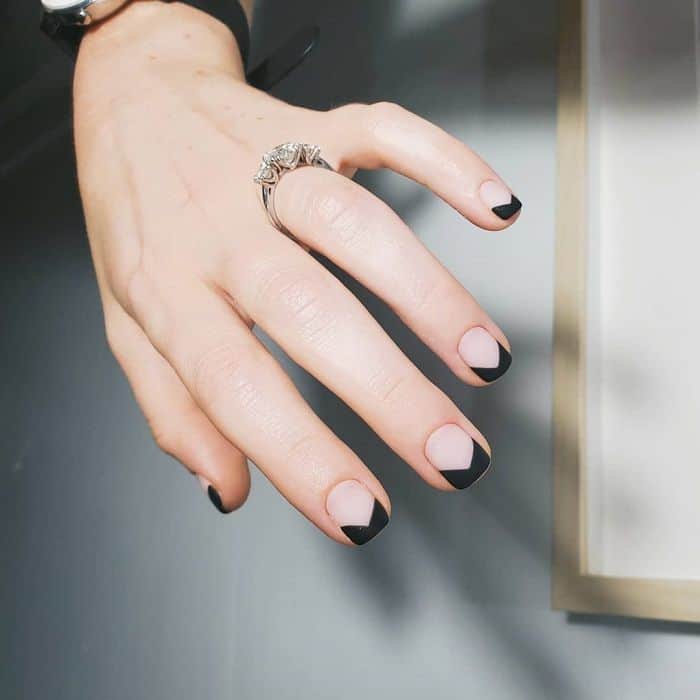 You can have black tips on short nails too. We love these minis that are shaped into rounded squares featuring a thick V shape.
#16. Little Flower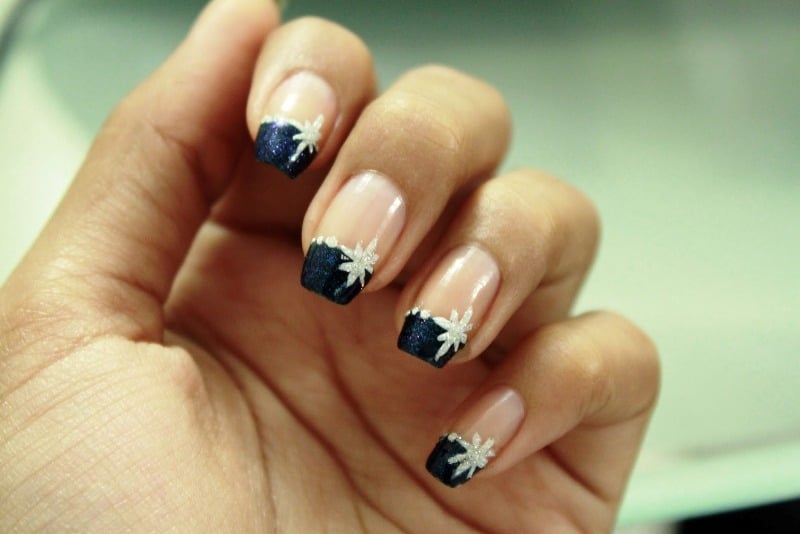 A simple black tip nail design for you. Use clear polish for the first coat, then paint a thick line of black at the tips of the nails.
You can use some thin glitters to make it shine. Draw little flower-like shapes on the black tip, feeling free to dot the black tips with white as a border.
Amazing White Tip AKA French Nail Design
#17. Black Dots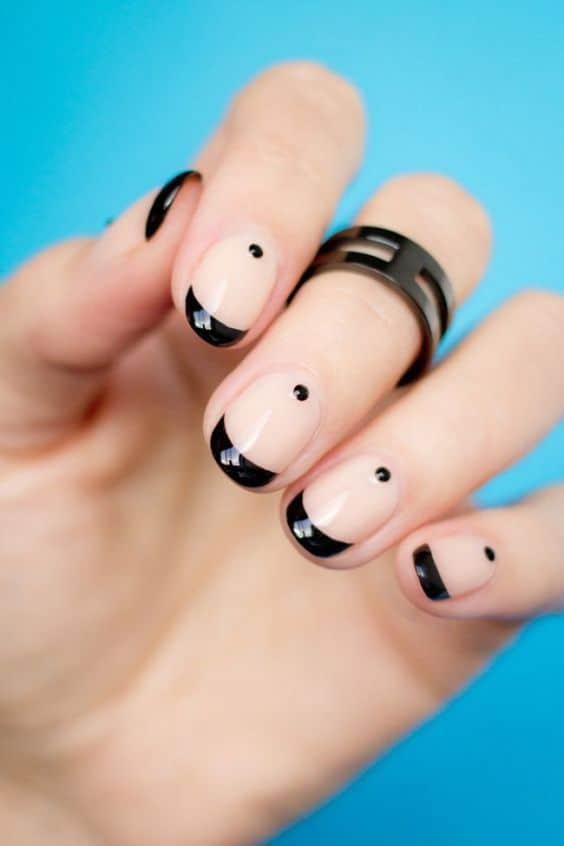 A very easy design to accomplish that looks gorgeous afterward are these black tipped nails with a nude base. A small black dot near the cuticle is a cute touch.
#18. Black Tip Nails with Glitter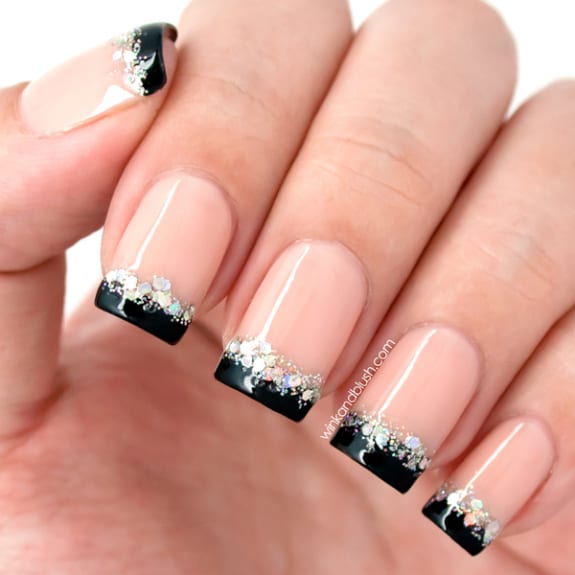 You can use black edgy lines on silver glitter tips of nude nails. At first, use silver glitters on the tip of your nails then give it the charm of black stain. Black tip solar nails will look beautiful in between silver color.
#19. Chevron Black Tips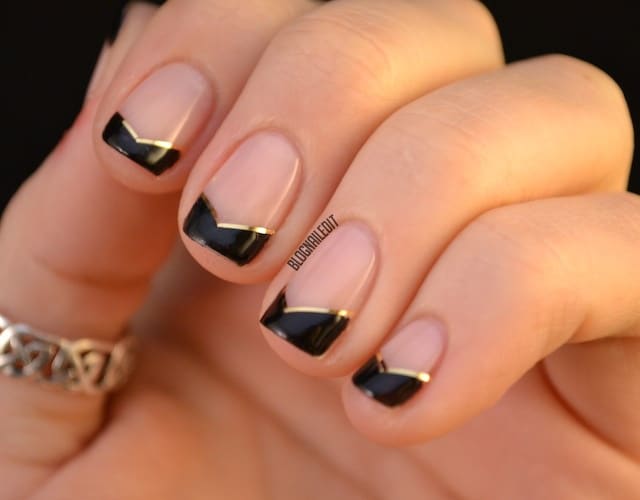 These nails are gracefully designed with a golden touch at the black tipped edge. Draw an M-shaped black pattern on your nail tips.
Then use gold to draw a narrow stripe touching the edges of the black.
#20. Rhinestones Enchantment
Rhinestones can enhance the beauty of your black tip nails within a minute of their presence.
You can use rhinestones among black patterns for contrast. Then paint the ends of your light pink nude nails black.
#21. V-Shaped Black Tips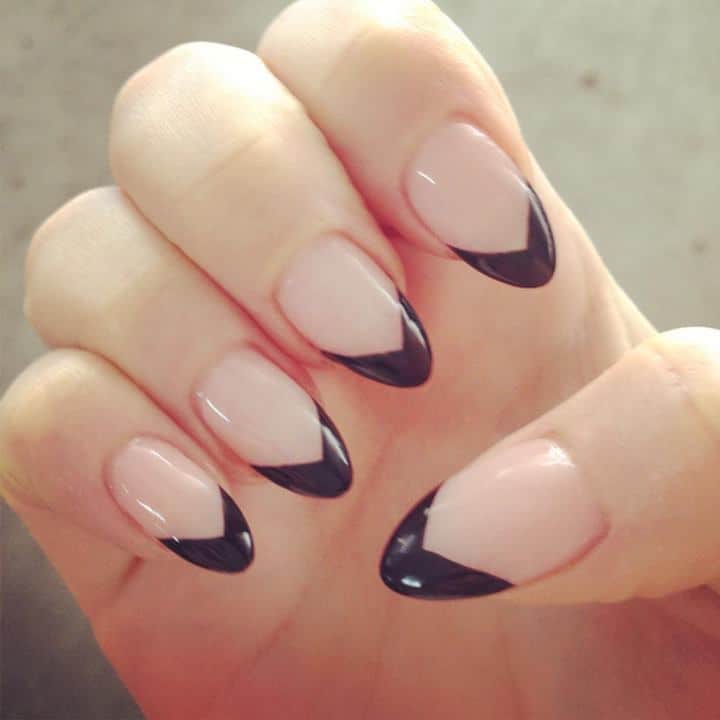 V-shaped tips are largely popular among women. These tips suit only oval, squoval, almond, stiletto shaped nails.
Short nails will look odd with V-shaped black tip nails. Line the edges of your nails in black so that they form a V shape.
#22. Keep It Simple
Keep it simple. Just paint your solar nails' tip with pure shiny black to dazzle the eyes of your friends right away.
This simple nail designs will do the trick for your black tip nails.
#23. Silver Sensation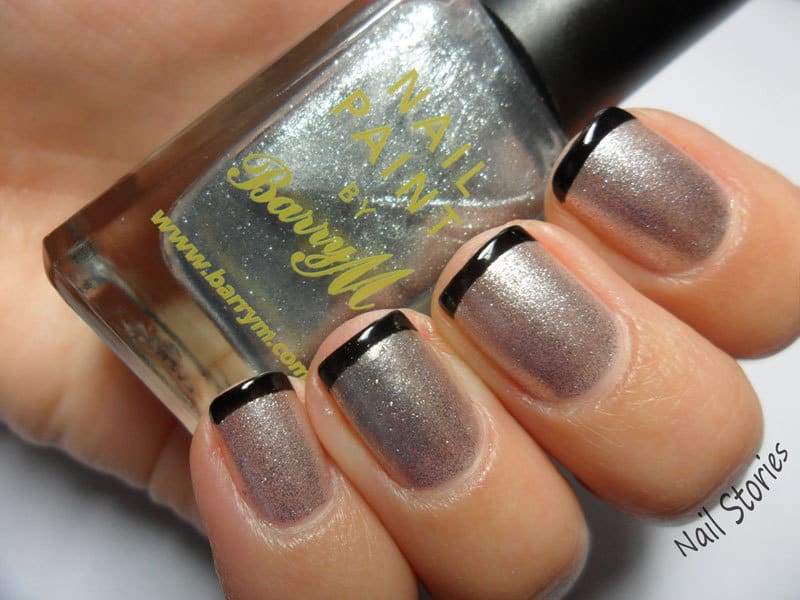 Fill the surface of your square-shaped nail bed with silver shiny base nail polish. Then paint the tips with black for edgy beauty.
#24. Negative Space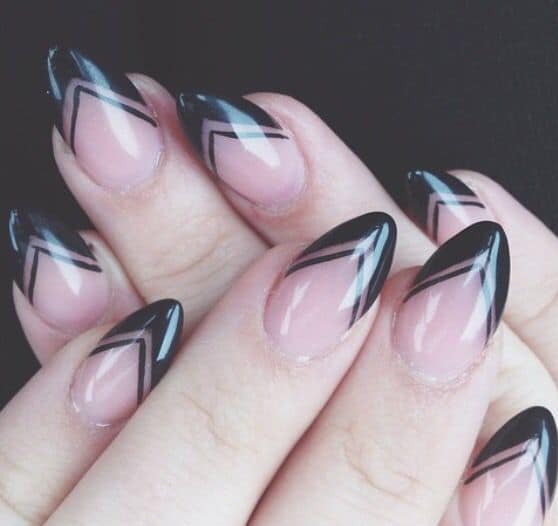 Keeping negative spaces in between V-shaped black tips is a popular design. Draw the nails with thick V-shaped black tips first, then keep a space and draw another narrow v-shape.
No need to keep a black tip simple and plain every time. If you have an artistic mind and want to design your nails with something fashionable, paint the tip of your nails black but apply nail art as well, like the lacy design above.
#26. Pointed Black Tips
If you have nude stiletto nails and want to have black tips, the above design is for you. Black tips alternate as the cap to nude and white pointed nails.
#27. Passionate Purple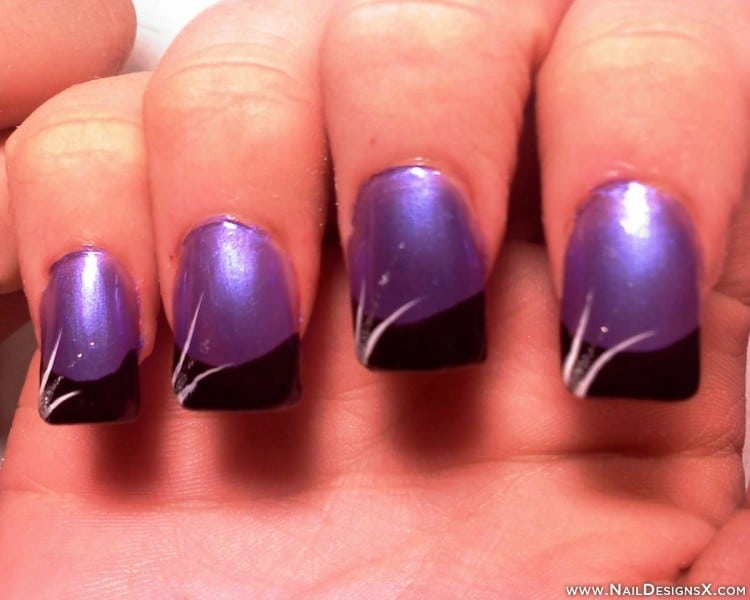 A medium shade of purple is very pretty on squared black-tipped nails. Two thin white lines frame a single glittered line. Here are some other ideas for purple nails.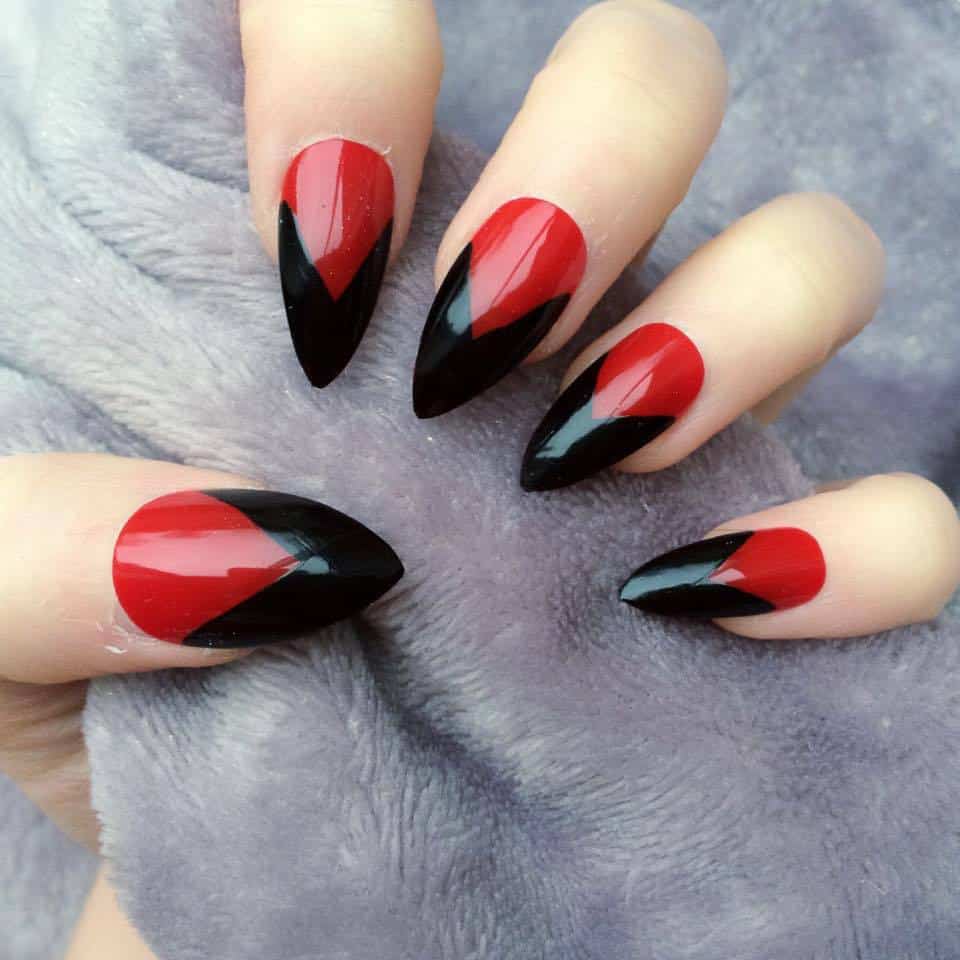 Red nails look immensely attractive when paired with black tips. First paint your nails with red polish, then complete the black tip nails in a thick V-shape.
#29. Bow
Paint the upper part of your nude nails with black color, then dot on polka dots with white polish. A red bow sticker is easy to place on the ring finger for accent.
This design is utterly outstanding. All you have to do is paint the edges with the a thick black line at the tips and a much thinner line right above in an angled direction.
Mark Your Impression With These White Tipped Nails
Black tips are mainly associated with nude nails, but you can mix them with other colors for a different look. A little modification can have a great impact on your nails.