If your favorite color is green, have you tried ombre nails yet? Sure, you might wear green eyeshadow, green scarves, and green jewelry, but true devotion comes from displaying your love for the color on your nails!
If you've never worn a green manicure, you might be surprised how gorgeous the color can be for ombre! A light mint green on white nail beds is cheery for those warm months, while a dark forest green with sparkly silver or gold detailing is perfect for holiday festivities.
Use one of our favorite designs below for inspiration for your own trendy green ombre nails or mix and match the details you like from them to create a one-of-a-kind design unique to you!
Green Ombre for Gorgeous Nails
For every nail shape and length, there's a stunning way to rock green ombre! For tips and tricks, check out our favorite 12 designs.
1. Long Dark Ombre Nails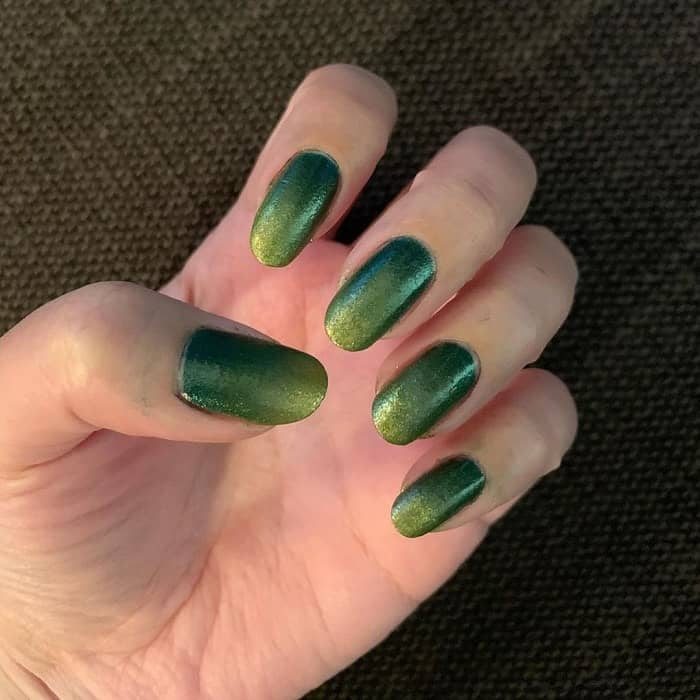 A long wide oval shaped nail will allow you to best display a gorgeous green ombre. The subtle way dark green nail transitions to sparkly green is very classy.
2. Light Green with Gold Lines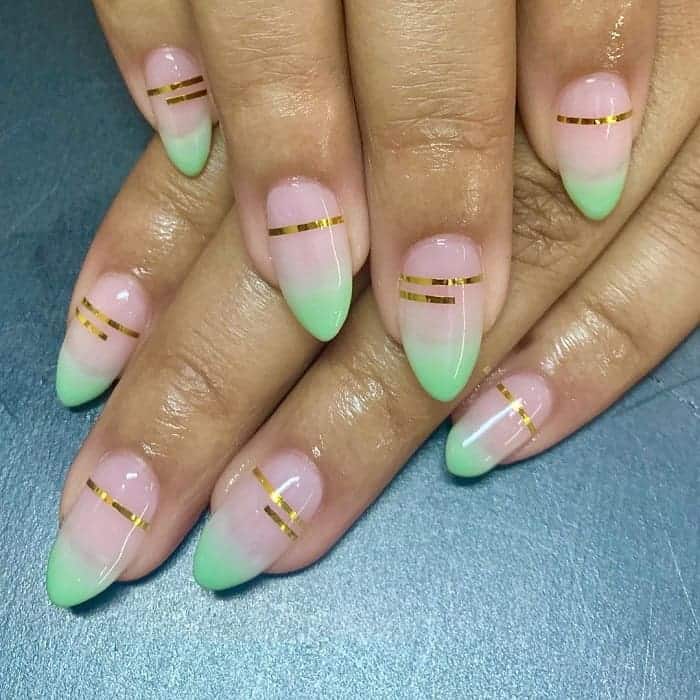 Spice up light green ombre nails by alternating one and two gold lines horizontally. It's best to wear this color of ombre on long nails where the length will be accentuated.
If you have a dark skin tone, a bright green nail design will pop! These long coffin nails beautifully display the nude to light green ombre.
A white and mint green ombre on short round nails is perfect for spring and summer when the weather is warming up and the season's colors are in full bloom. Leave them like this or try adding cute black or white polka dots for extra style!
 5. Neon Green Ombre Nails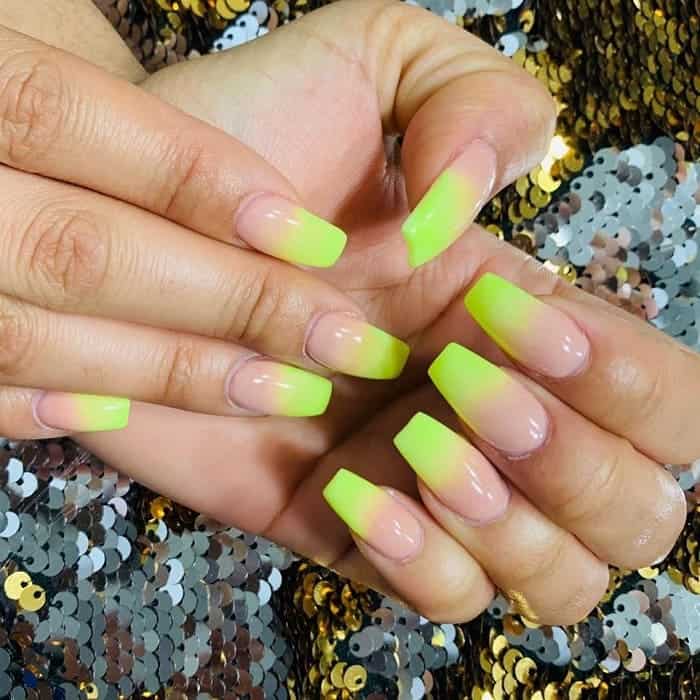 If you have a bright personality, you need an equally bright nail design. Opt for these long coffin nails with neon green ombre. When the color is at the tips, the nail's length will really shine.
Another way to express a peppy personality is with these nude to lime green nails. Try the colors on long coffin nails and coat the tips with a clear glitter for added sparkle.
Jazz up those long coffin or square nails with forest green ombre! Adding a variety of green rhinestones in different shapes and sizes will bring out your creativity and look great with glittered tips. It's best to pair the green ombre with nude so the design isn't overwhelming.
 8. Short Nails with Black and Green
For shorter nails in a square shape, dark green to medium green ombre will look great. If you don't like a lot of extra detail, just leave them plain like above; their shine will do the talking!
9. Extra Long Yellow and Green Ombre Nails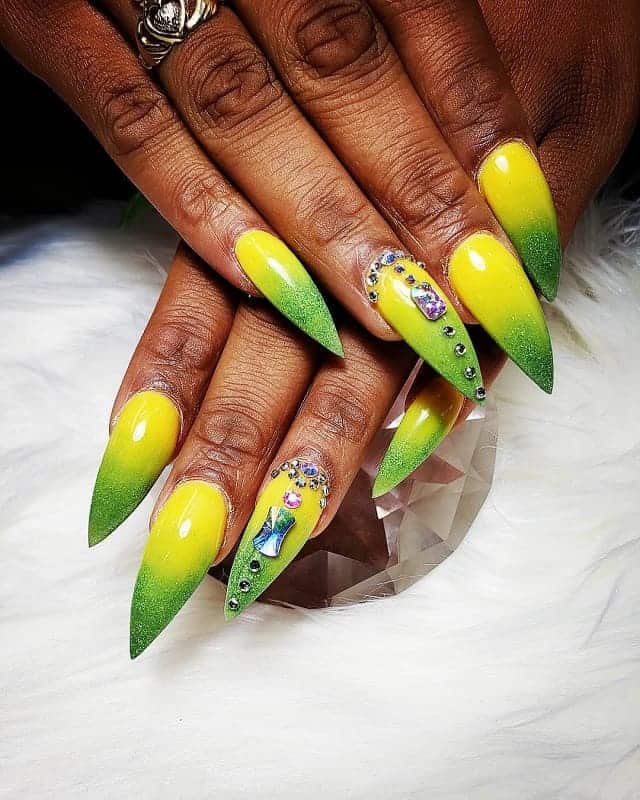 Talk about bright and shiny! Pair a sunny yellow with sparkly green for a dynamite ombre nail design. These extra-long stiletto nails are fashion magazine-worthy with their rainbow jewels in different shapes and sizes.
10. Light Green Ombre Acrylics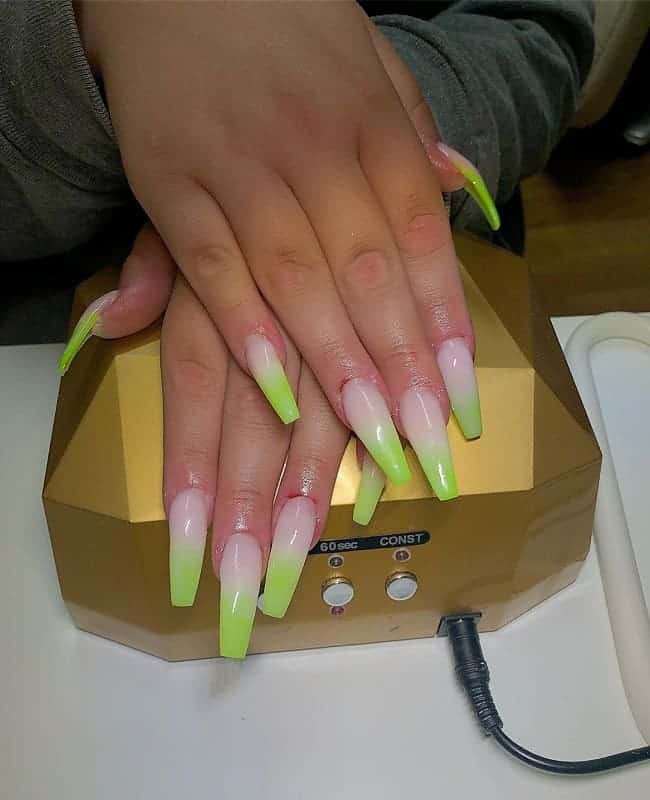 To get extra length, go with these acrylic green nails. Their light green ombre is almost transparent and best paired with a nude or white.
11. Sparkly Green and White Ombre
There's no reason ombre nails can't feel feminine. Just add a clear coat of glitter like these white and green coffin nails feature.
12. Emerald Green Nails with Gold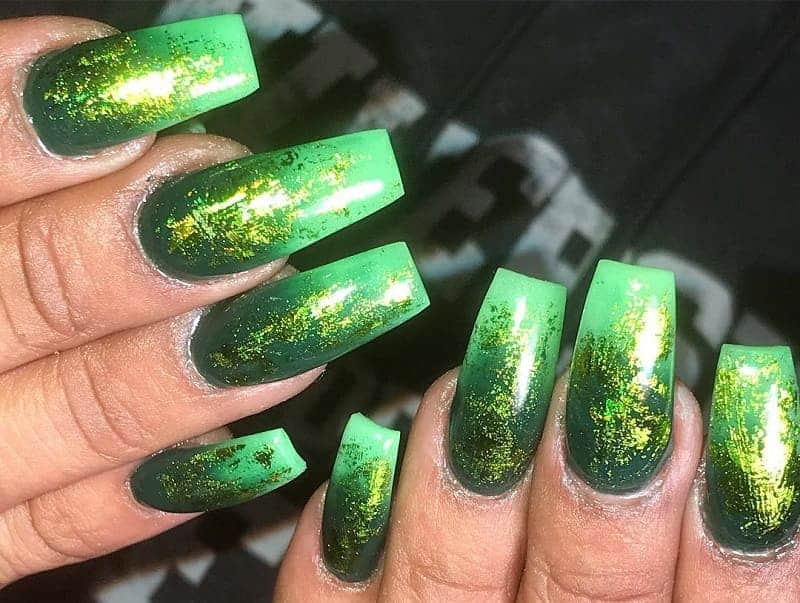 Even the Emerald City (The Wizard of Oz, anyone?) would approve of these green and gold long square nails. They feature both dark and light green with gold foiling for shine and glam.
So, which green ombre nail design will you be trying first? Wear light green with white for a cheery ombre manicure or a dark forest ombre for boldness. Just remember to share your photos with us!
Related Topics: