"Beauty lies in the eye of the beholder." Everyone has a different definition of beauty. Some are an admirer of light skin tones, whereas others prefer dark skin tones.
No matter what skin tone you have, you gotta love it! We are all beautiful in our own way. However, that doesn't mean there aren't certain colors that will better bring out your natural beauty.
Nail polish, for example. That's why we pulled together the most compatible nail polish colors for dark skin tones.
Nail Polish for Dark Skin Tones
Not every nail polish color suits dark skin tones. That's why careful consideration needs to be given when choosing a color. It comes down to this: nude colors best match dark skin tones.
Brown, light chocolate, and caramel are gorgeous options. If you absolutely desire non-skin tone shades, bright colors will do well, too.
In fact, bright colors complement a dark skin tone. We recommend pink, purple, mint blue, red, and yellow. Here are some nail designs for dark skin tones to get those wheels of inspiration spinning.
#1. Light Peach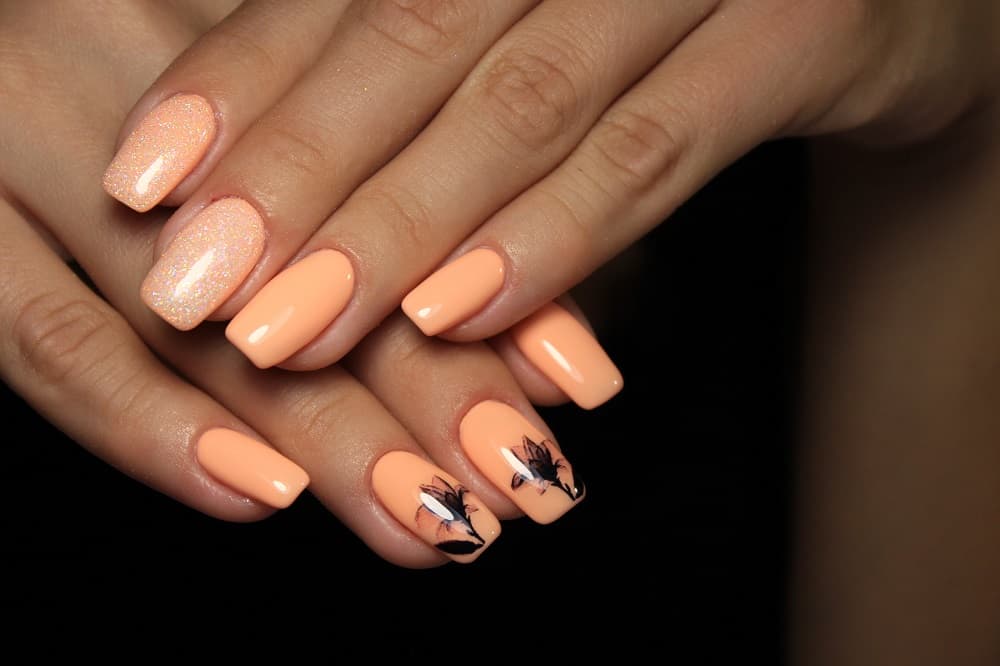 Any light shades look great on dark skin. Peach is the most popular of the bunch. It gives your complexion the subtle tone to complement its natural charm.
You can even use it to create unique designs with the milky way base or use it as a French manicure. Both styles can flourish flawlessly.
This is the one to choose if you want to stay in your comfort zone. It'll go with any of your outfits, and the nails will be stunning.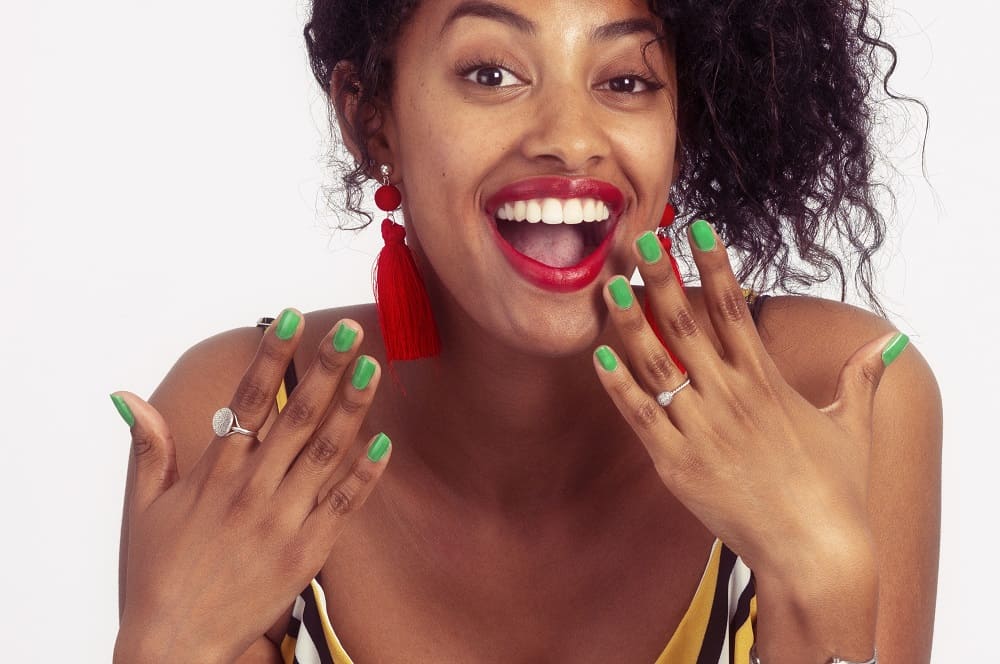 Like the bright neon yellow nail color, neon green puts on a similar vibe for dark skin tones. It'll complement the skin flawlessly.
It provides a high-contrast effect that you can't take your eyes away from. The hue is so bold that it speaks a language of narcissism.
This is the ideal nail color for powerful, self-assured ladies. You can even go for a fall shade green or even cherry greens because green goes well with a melanated tone. So, you can say green is bliss as well for dark-toned women.
#3. Rainbow Nails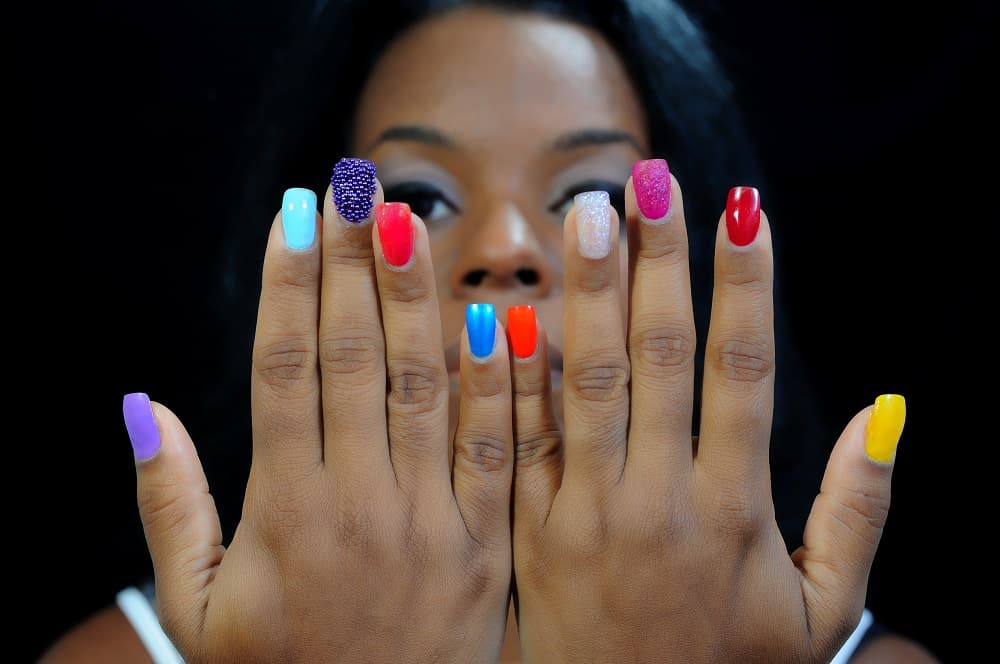 If you're confused between the shades of pastel, then who stopped you to take them all at once? Rainbow nails are the newest trendy nail look.
You just have to spin the wheel of colors and choose as many as you want to create the perfect rainbow-themed nails.
You can combine, make unicorn shades, or get some colorful artistic nails from salons. It's fun to play with multiple colors and paint your nails with different vibrant shades.
#4. Bright Berry
It's another bright shade to pop those nails with shine. The berry shade is more of a winter style than summer ones.
It is said to warm up your hands with berry-like nails. You can match it with berry tint lips or berry-colored shoes to pull off that classic look.
The tone is stunning, and it's ideal for everyday wear. You can have white polka dots on top of it or some floral designs to flaunt the nails more!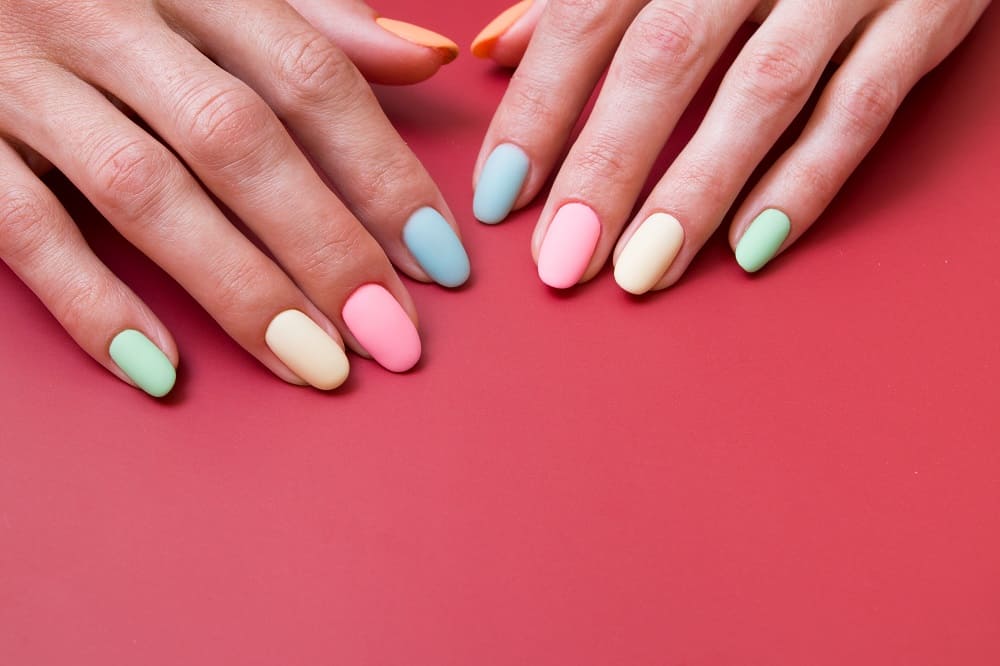 Pastel is undoubtedly the best nail color for dark skin tone. This color contrasts well with medium to brown, darker skins.
Pastel pink, lavender, buttery yellow, or just regular mint shades; these are the sweet hues that go with every fashion or style. It's perfect to wear on vacation or in the spring times.
You can take different shades of pastel and combine them to create an artistic nail design for your nails. It's the safest and most cheering hue that looks incredible with dark skin.
#6. Neon Yellow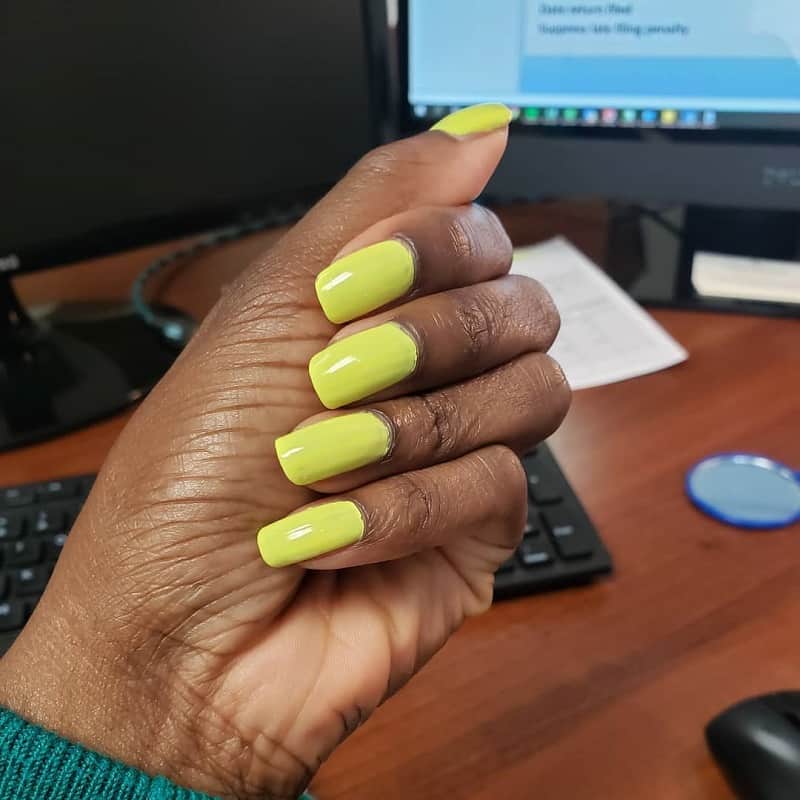 Remember how we talked about using colors for dark skin tones? A bright neon yellow couldn't pop anymore on these short rounded nails.
#7. Five Shades of Purple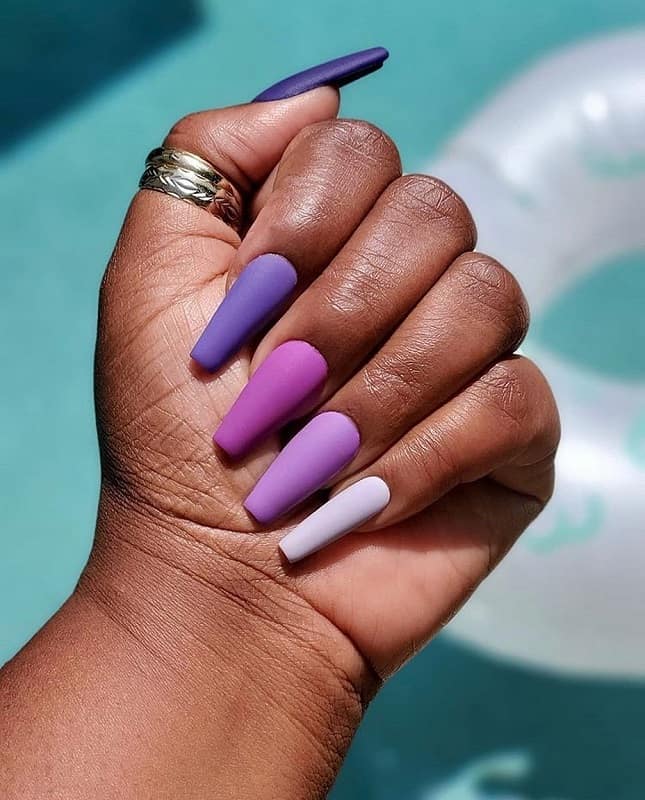 A different shade of purple is stunning on each long square nail. If you have a purple obsession, no need to choose between the different shades – use them all!
#8. Nude and Clear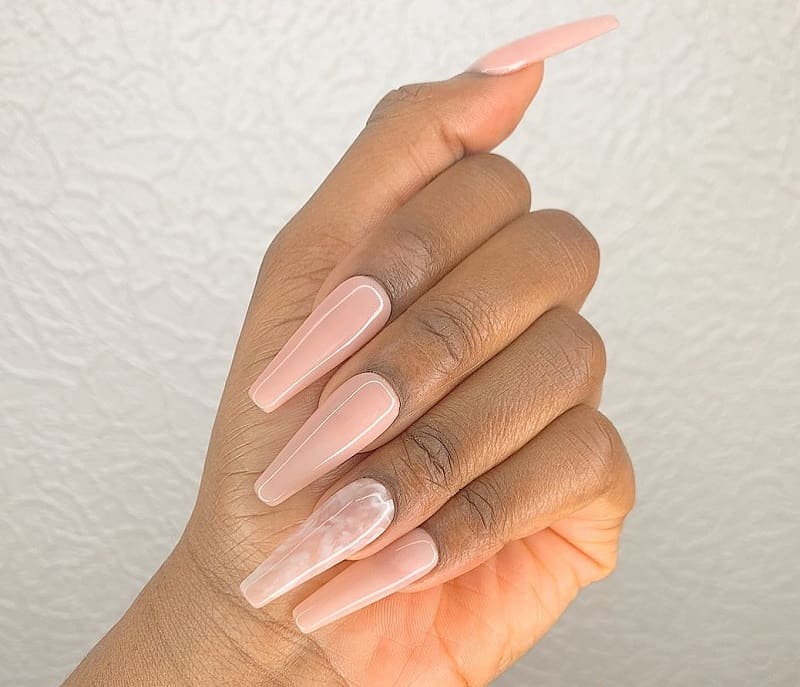 If you opt for a nude nail polish to complement your dark skin tone, add a clear marbled nail for accent. It's a subtle switch in the color that makes all the difference.
#9. Beachy White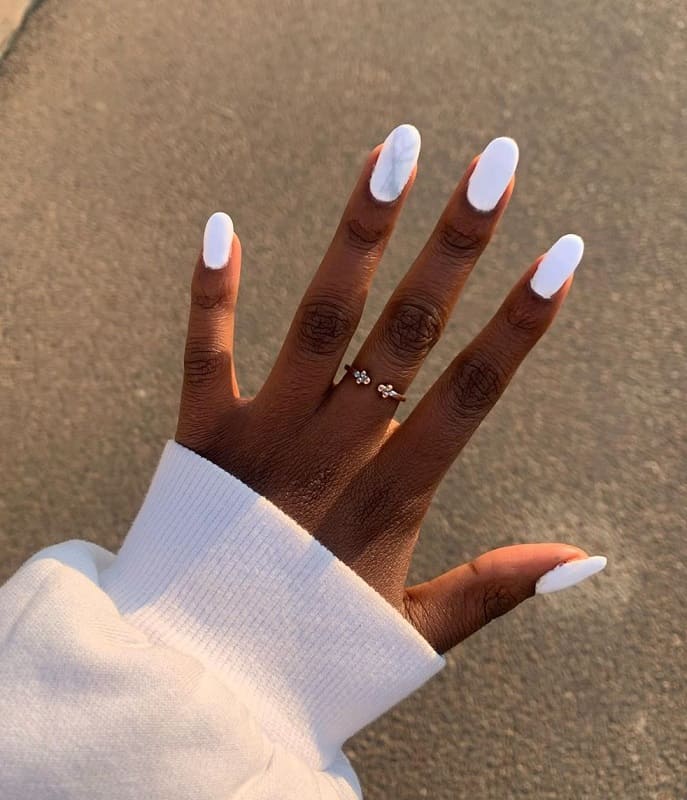 For medium rounded nails, try a beachy white for stark, gorgeous contrast on dark skin tones. Use a softer white or marbled white for your accent nail.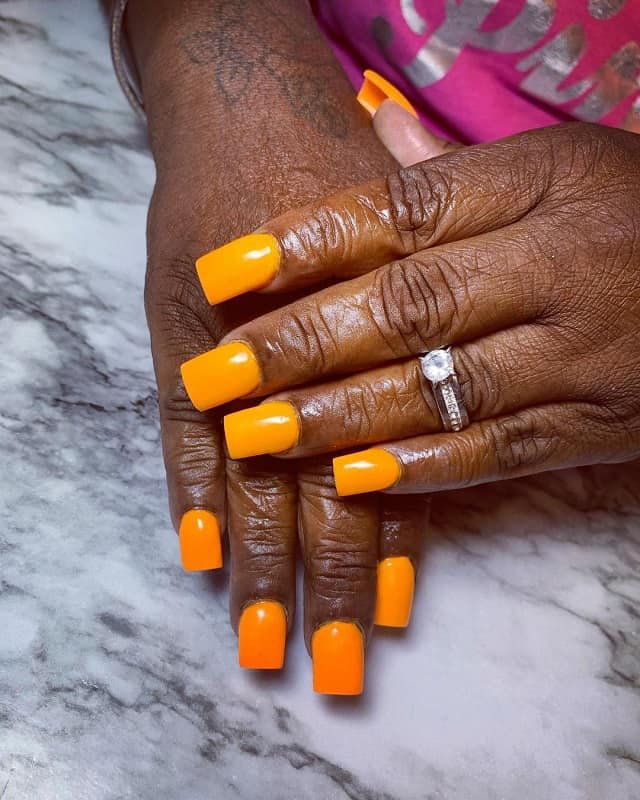 Love the appearance of short square nails? Their practical length doesn't have to make them boring!
Choose a bright orange to bring out your energetic personality and complement your dark skin tone.
#11. Spring Ombre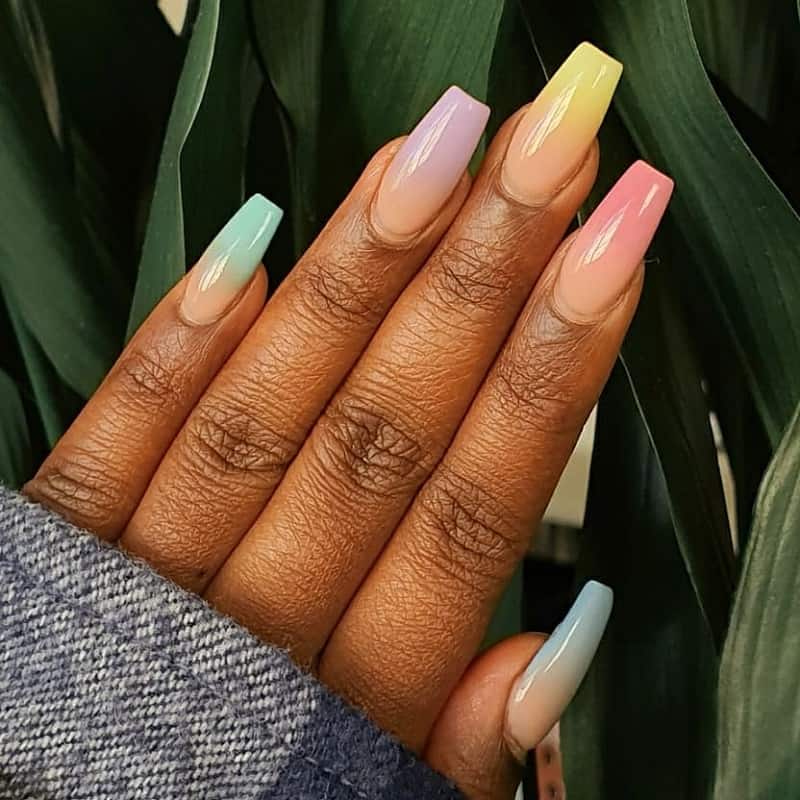 The subtle fade from spring colors to clear nails is soft but as colorful as your personality.
You truly can have it all with mint green, yellow, purple, pink, and blue.
#12. Periwinkle Blue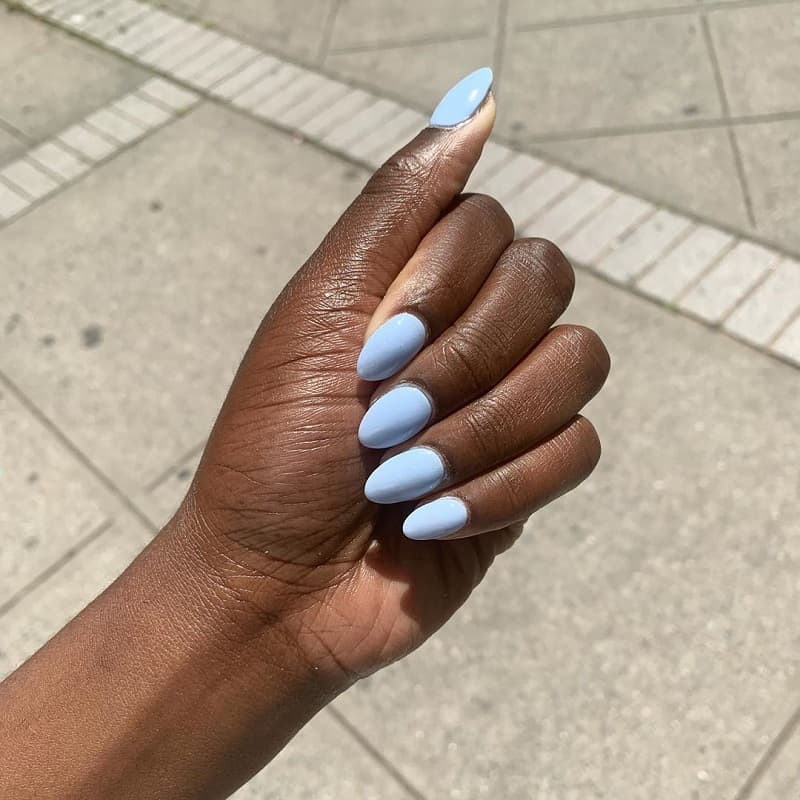 Consider yourself a true blue? Then a periwinkle nail polish is for you and your dark skin tone. This color is soft, so use it on short rounded nails.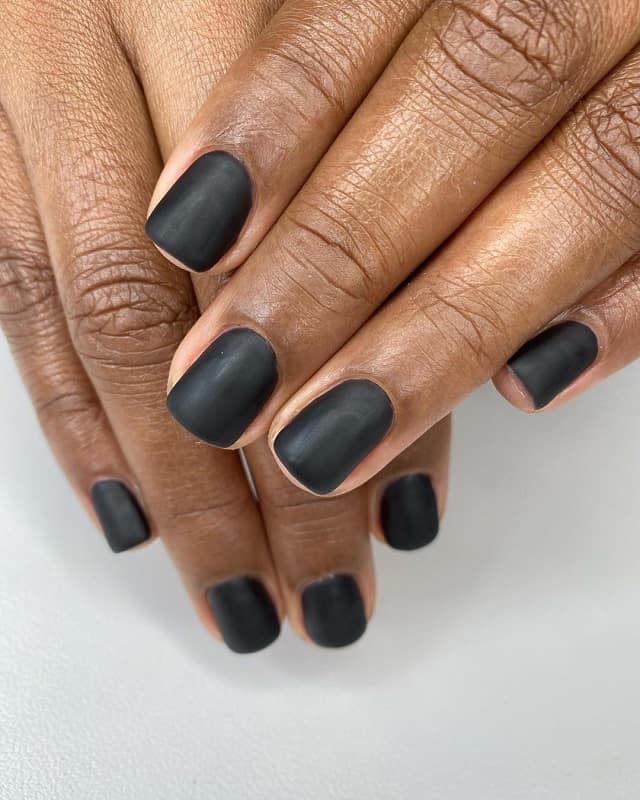 Sometimes a girl just wants a dramatic nail and in that case, black is the obvious choice! Make it matte black to truly flatter a dark skin tone.
#14. Gel Light Blue
A shimmery gel polish in light blue is perfect on dark skin tones. Wear it as your daily color or break it out on those sunny days to match the skies.
#15. Burberry Nail Polish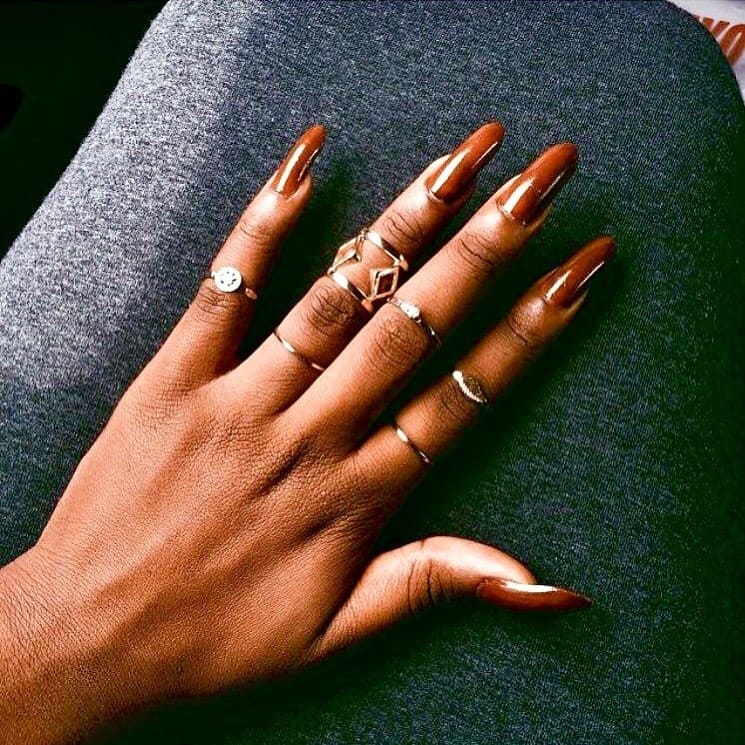 Burberry is one brand known for its flattering brown tones. It was practically made for ladies with dark skin tones!
#16. Mint Blue for Dark Skins
Mint Blue is an effective color to get the nails done for a darker skin tone.
This isn't as intense as other shades of blue colors. That's why it looks better in dark skin tones.
Rock These Nail Design Throughout The New Year
#17. Maroon Magic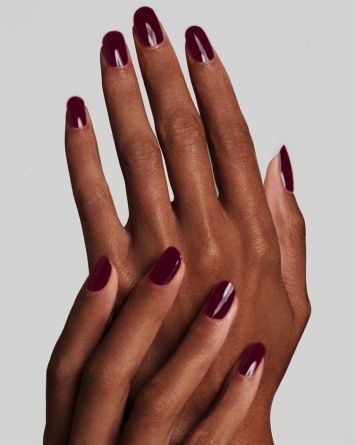 The magic of maroon can change the look of nails in any skin tone. Be it white, brown or black, maroon nail color can change them all for a better look.
You can use maroon nail polish for dark skin tones.
#18. Yellow Ballerina
Some people nurture the wrong idea that yellow is only for white color skin tones.
You can prove them wrong by team up your ballerina nail with yellow nail polish for dark skin tones.
#19. Neutral Nail Polish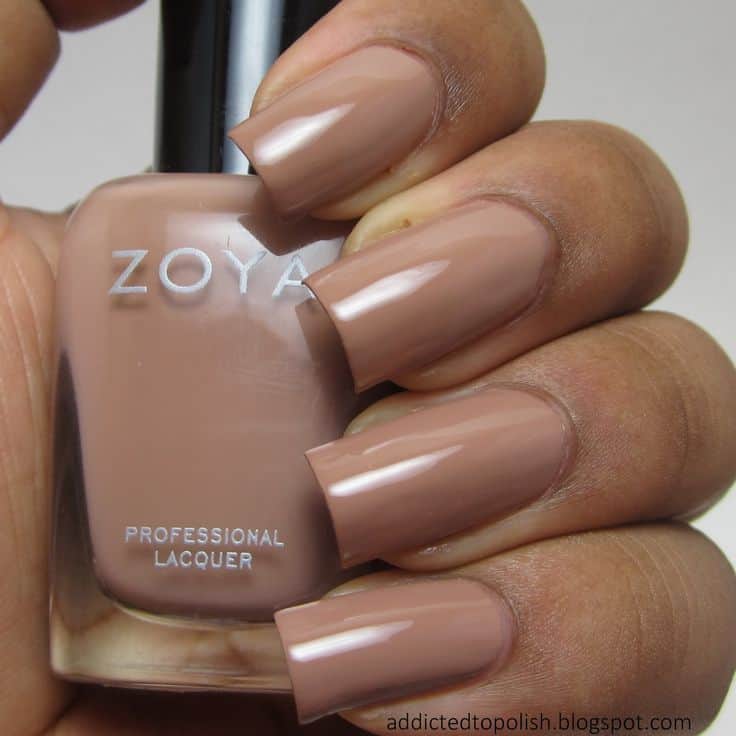 Neutral nail polish refers to the color which resembles the color of your skin tone.
At first, determine the right skin tone of yours. Then paint the nails with neutral nail polish for dark skin tones.
#20. Bright Nails for Dark Skins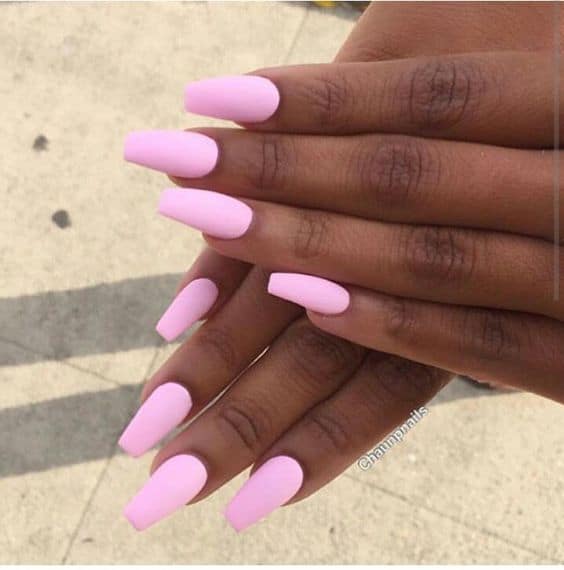 If you want to have an eye-catchy design, then these pink nails are for you.
Neon colors aren't considered to be nail polish for dark skin tones, but if you are a confident woman, nothing can stop you wear it with panache.
Grey is a mild color and used largely for darker skin tones. You can undoubtedly use grey color nail polish for darker skin tones.
Clear Nail Design: These Are Pretty Perfection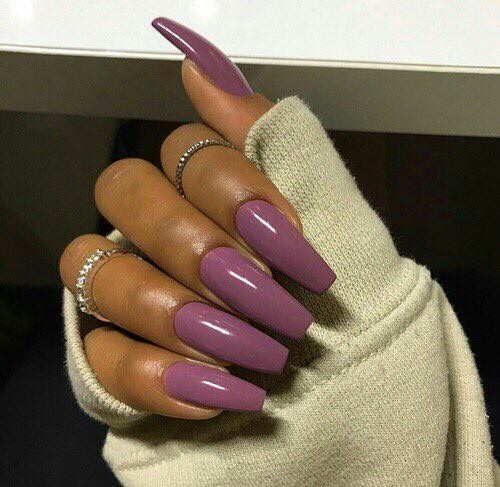 Purple is a dominating color in the nail art industry. This color suits all shapes and types of nails… and as pictured above, dark skin tones.
#23. Light Pink Nude Nails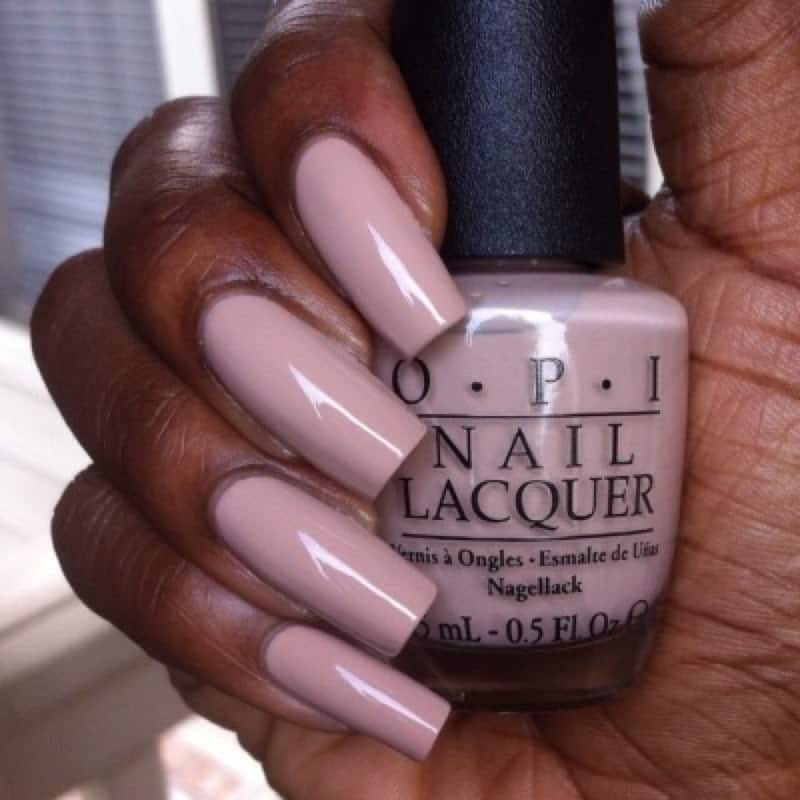 Pink nude colors are great for fair skin tones but also pop nicely against dark tones. Use this medium pink on long square nails for that feminine feel.
#24. Nail Polish for Brown Skin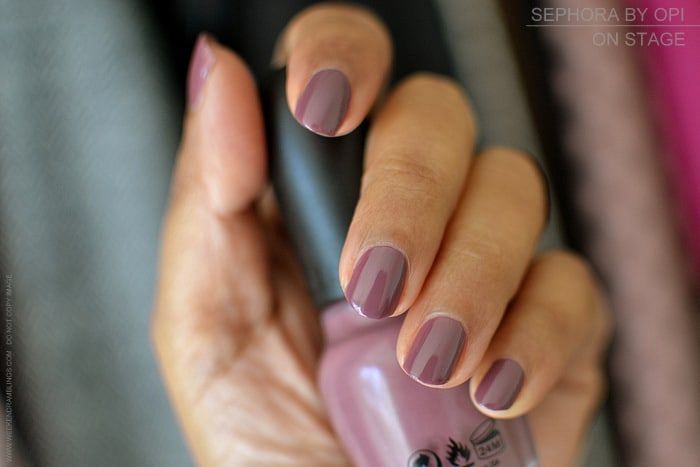 There is a slight difference between dark skin tones of the Indian subcontinent and other continents.
The skin tone is actually brown, not dark. This dark pink shows how gorgeous a colorful nail is for dark skin tones.
#25. Metallic Nail on Dark Skins
Don't think that you are going to miss the shine of nail art. These metallic nails are proof that dark skin tones are not an obstacle to get extra shine.
Add Glam with Crystal Nail Designs
If you can paint your nails in well-organized and well-designed ways, that will help a dark skin tone look even more beautiful. Y
ou have already read what the experts have to say about nail polish for dark skin tones.
Now it's your turn to be your own skin tone's advocate and design your nails in the best ways possible to enhance its beauty.