Do you ever struggle to find a decent, flattering nail shape for your narrow nail beds? Short square nails are ideal for ladies who want a low maintenance and practical nail shape. For being short, this nail shape can pack a lot of punch!
You'll recognize short square nails by their blunt, straight sides. If you have long fingers, you'll love how a square-shaped nail adds noticeable width so they look a little less skeletal.
When it comes to designing these beauties, there are no rules! Simply pick your favorite color, a pattern, and add as you go. Of course, we have some favorites – don't worry, we'll share!
Trendy Short Square Nails
Like any nail shape, there are many gorgeous ways to design a short square nail. We'll help you get those creative wheels moving by sharing with you our 25 favorite designs!
#1. Pure Black
Black is ideal whether you're feeling classy, elegant, mysterious, emo, goth, or it's just Halloween! For the best result, do more than one coat on your short square nails.
#2. Baby Pink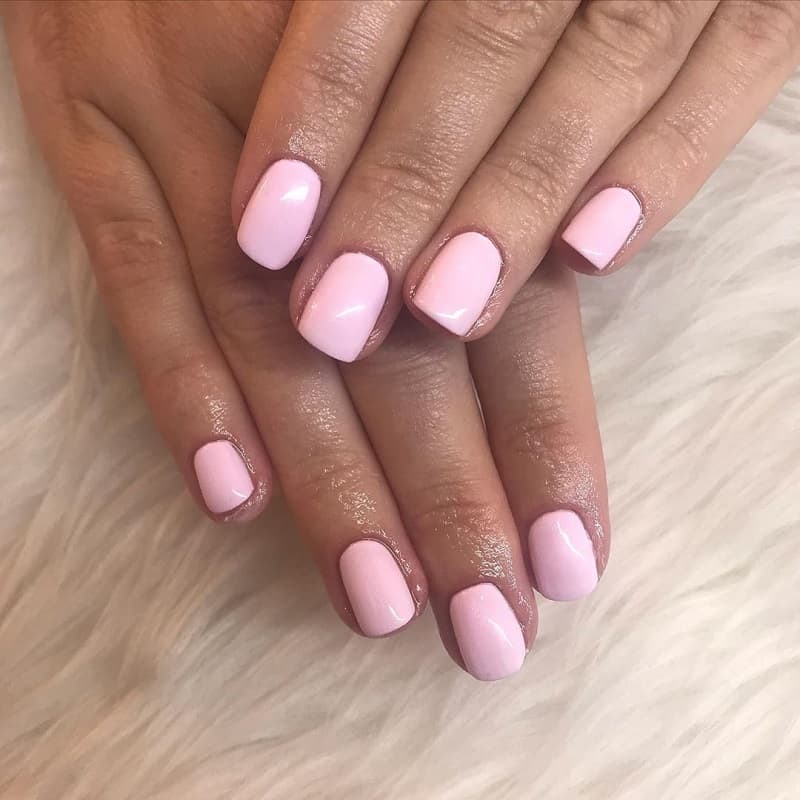 For ladies who are girly girls at heart, a light baby pink is a must for short square nails. This dainty color is especially gorgeous on light skin tones.
#3. Light Glittered Blue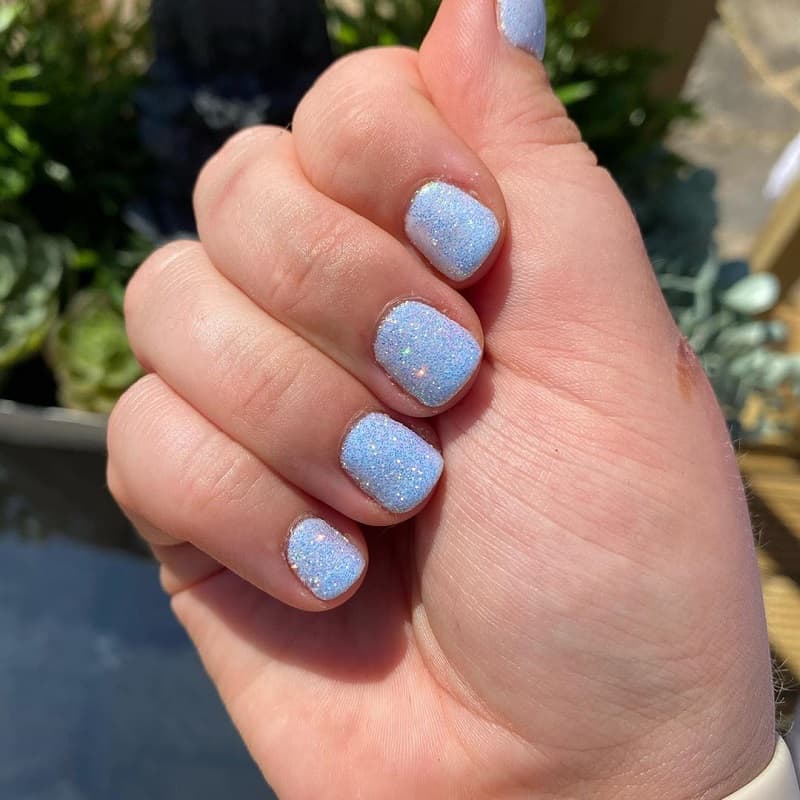 After applying a pretty light blue with a glittered shine, you'll want to wiggle your fingers in the sun all day! Seal their shine with a top coat.
#4. It's Christmas Time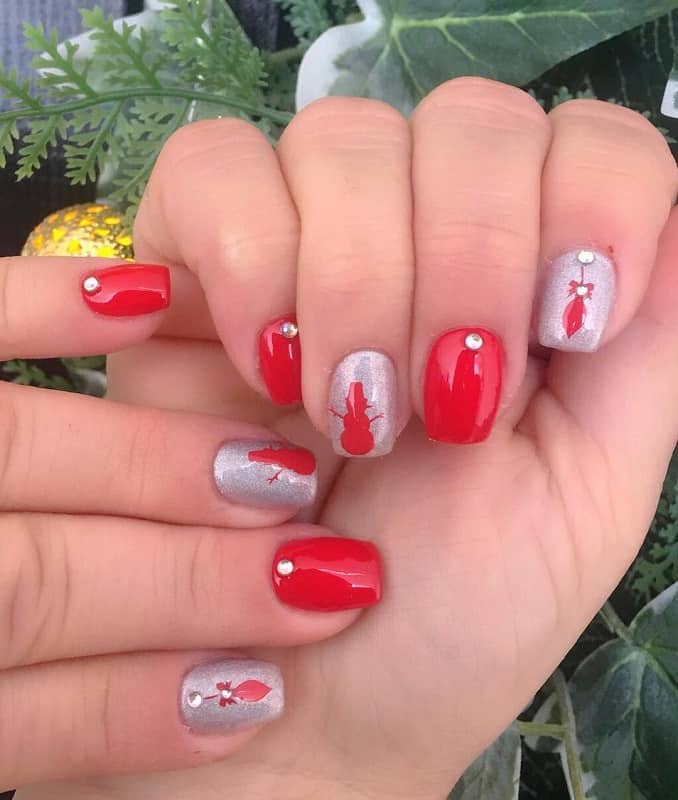 When it's Christmas-time, there's no other color better suited for short square nails than bright red and sparkly silver. Use nail stickers featuring snowmen, cardinals, or reindeer for cute scenery. Tiny silver crystals can be placed near the cuticle for that extra sparkle.
#5. Gel Grey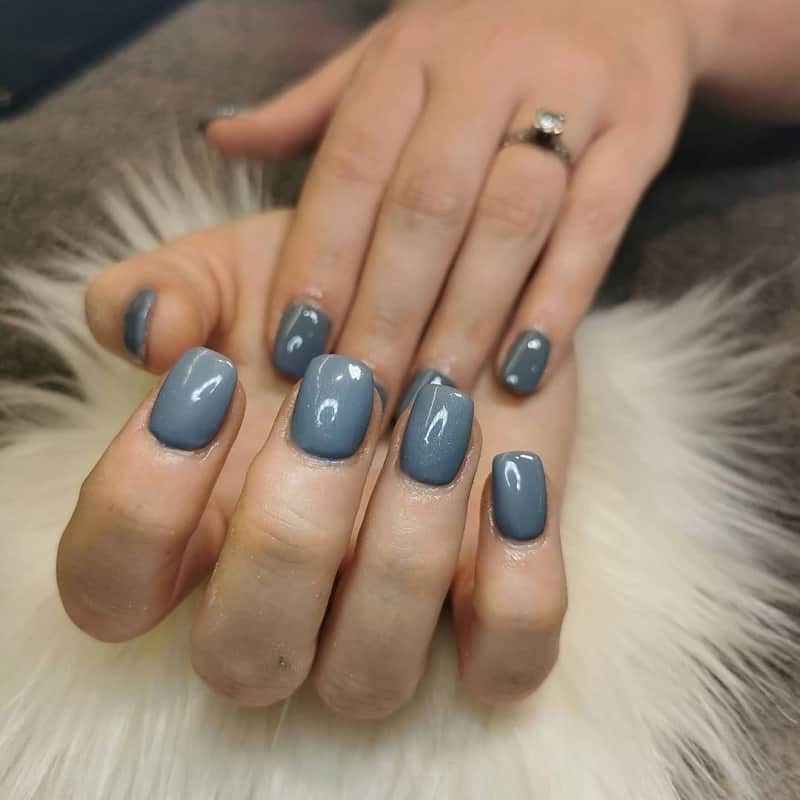 We all know there's something a little more luxe about gel polishes. A light grey gel polish is ideal for ladies who prefer neutral fingernails.
#6. School Colors
Do you have a favorite sports team you want to show love to? Feature their colors on your short square nails! Bright yellow is eye-catching and edgy with dark green outline.
#7. Peachy Keen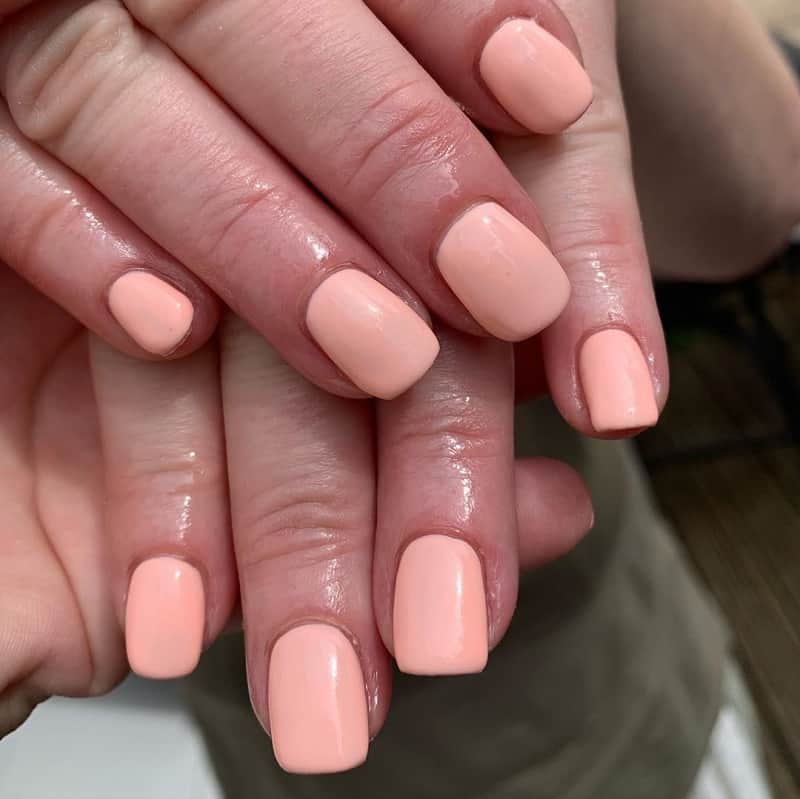 Springtime calls for light, airy colors like peach! Treat your short square nails to the decadent color. No special accessories are needed, unless you feel like adding a tiny crystal or two.
#8. Short Square Acrylics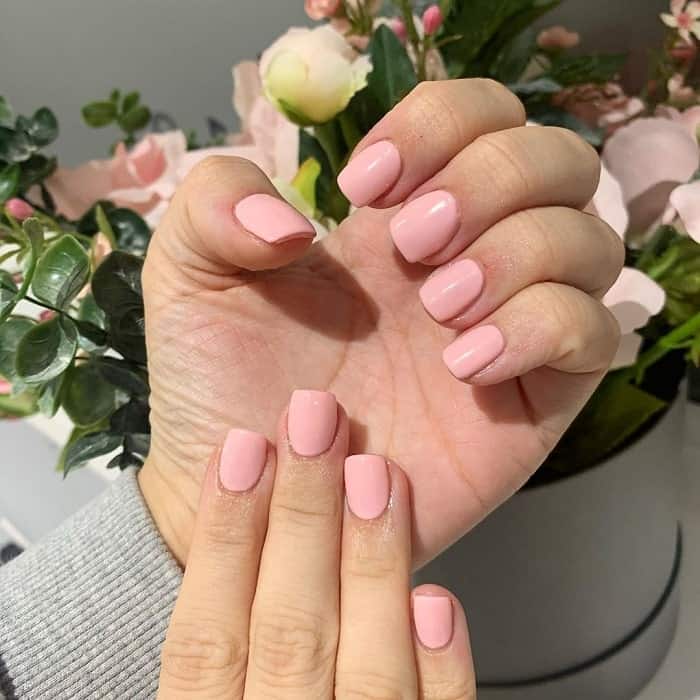 If you're a perfectionist when it comes to your nails or you just don't have much nail length to work with, opt for short square acrylic nails from your nail tech. A light pink is flattering to light and medium skin tones.
#9. Short White Square Nails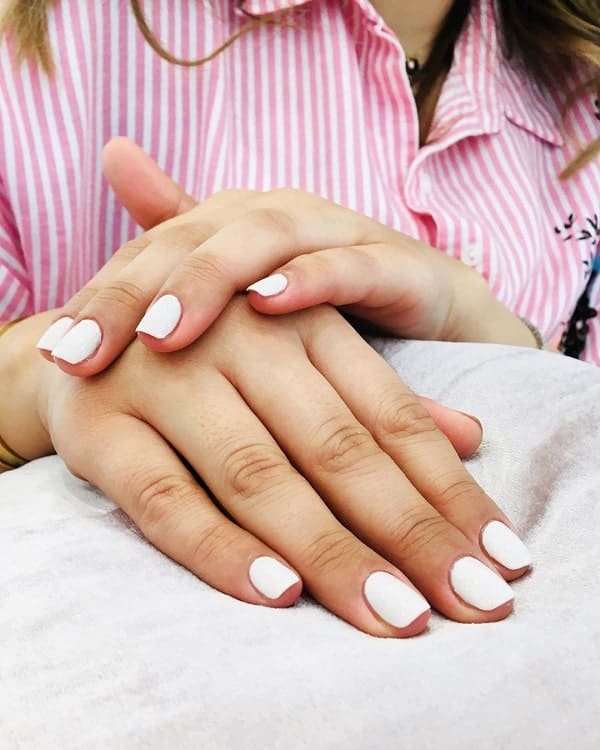 Heading to the beach or just feel like a simple staple color? A bright white always makes short square nails classy and fresh-looking.
#10. Short Square Red Nails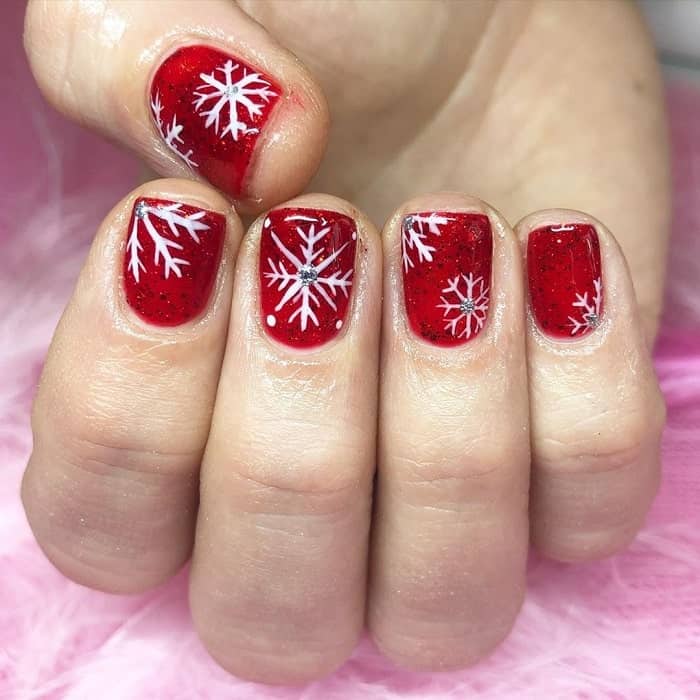 Another gorgeous Christmas design to rock are these dark red short square nails. Their detailed white snowflakes with crystal centers will have everyone admiring your nails.
#11. Short Square Gel Nails
This cross between salmon and dark pink makes for a pretty color definitely suited for short square nails. You'll rock any photo you're in with this color at your fingertips.
#12. Short Square Nails with Glitter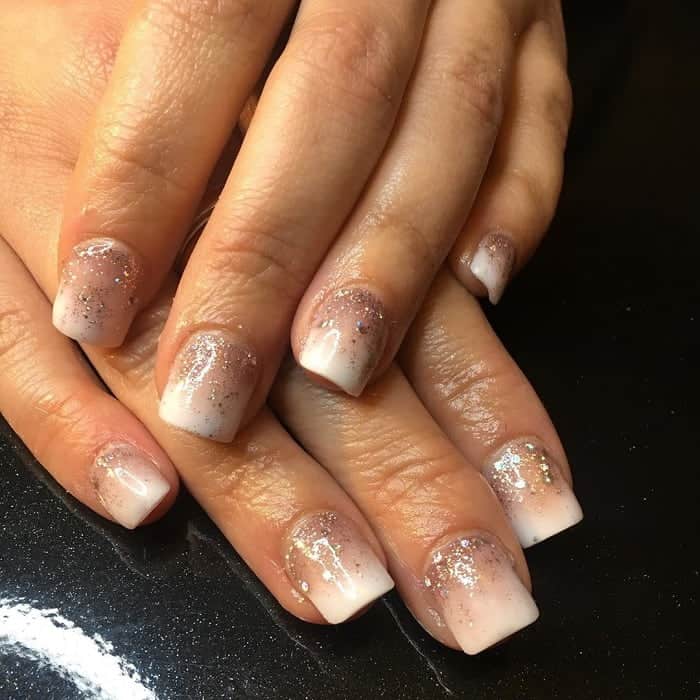 When you don't know what nail design to go with, the answer is always glitter! After painting short square nails a nude or milky white ombre, paint the tops with a coat or two of glitter for sparkle.
#13. Short Square Nails + French Tips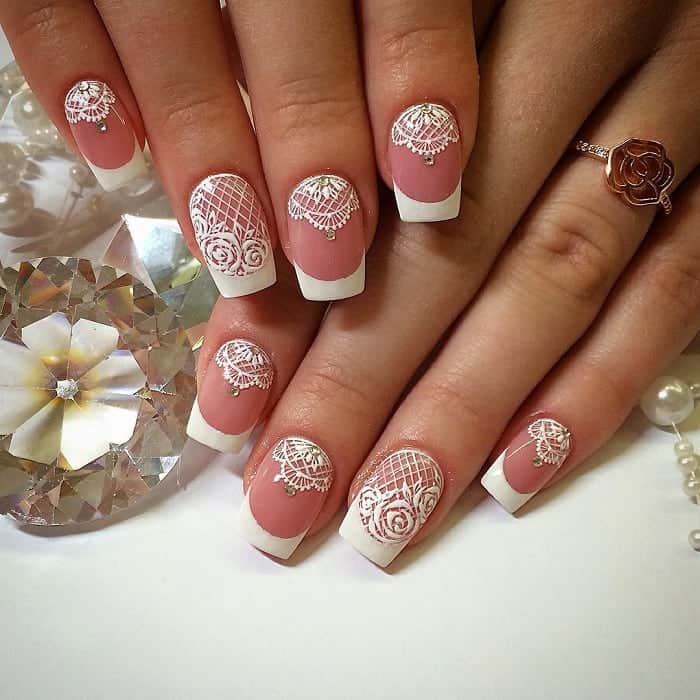 A wedding day, whether you're the bride or the bridesmaid, calls for classy, fancy nails! Try French tips on your short square nails and go the extra mile with lacy or flowered details.
#14. Short Square Natural Nails
Sometimes natural and neutral is all you want in a nail design. In that case, just do a simple French tip on short square nails, a favorite of any lady's.
#15. Dark Blue with Silver Tips
A dusty or dark blue is suitable for any lady who finds their mood defaulting to calm. Spice up the design a bit with an easy detail: silver glittered tips.
#16. Stamped Short Square Nails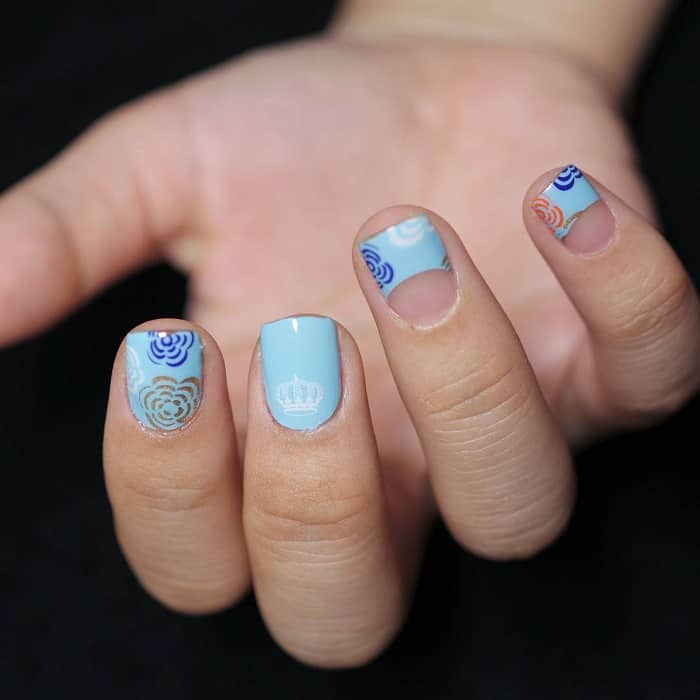 Nail stamps are super fun to play with, giving you an easy way to decorate nails in a flash. These light blue short square nails feature dark blue, white, and gold roses.
#17. Short Square Nude Nails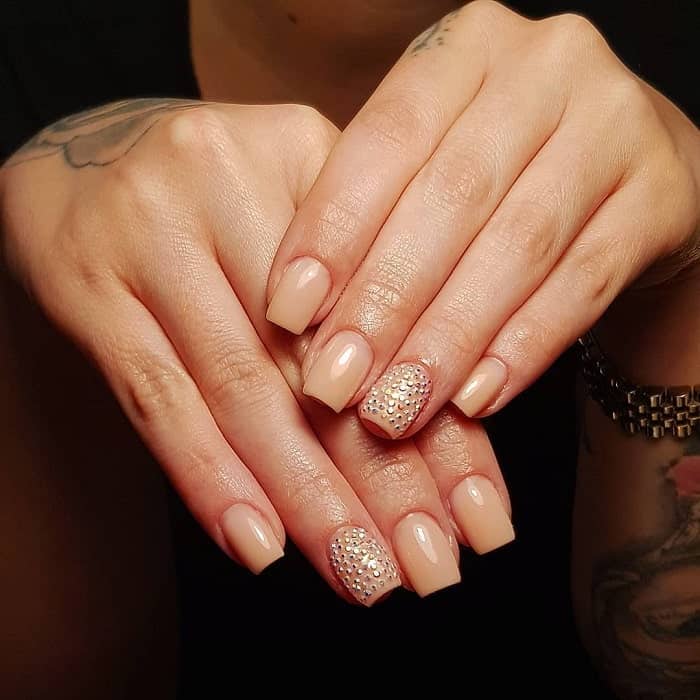 Nude is one color that will always be classy and friendly for office work and nights out with a special someone. To take the short square nail design up a notch, try covering the accent nail in tiny gold crystals.
#18. Ombre Short Square Nails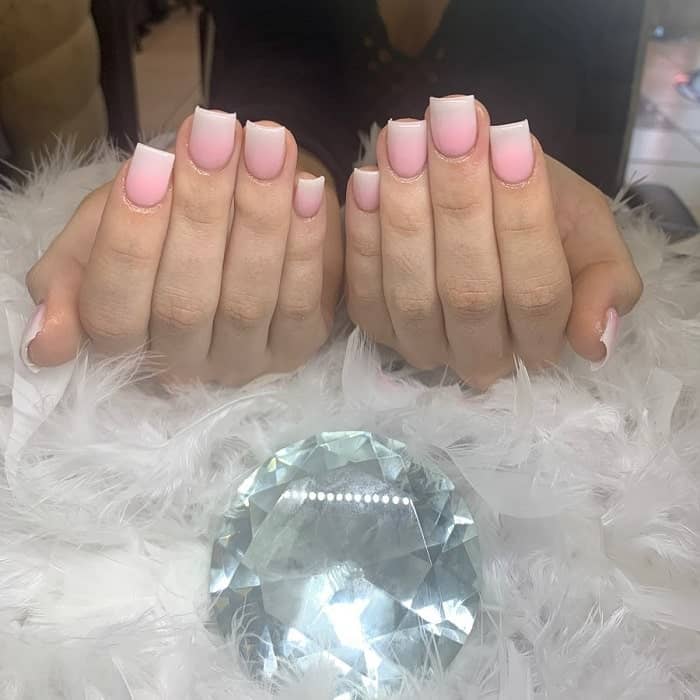 Ombre offers a gradual transition of color, something that is always pleasing to the eye. These wide short square nails are lovely in a light pink ombre.
#19. Dark Purple and Gold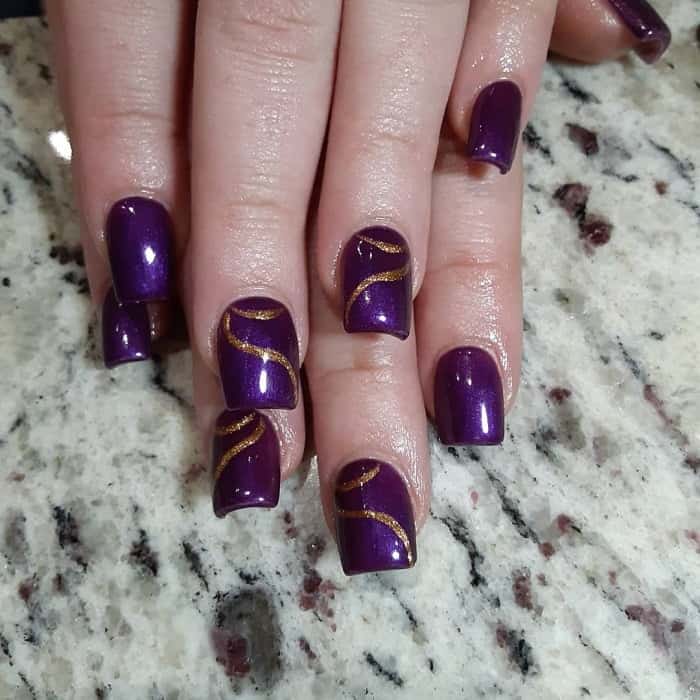 Purple lovers, unite! Dark purple with gold waves is a must try on short square nails. You'll love the regal feeling the finished result gives you.
#20. Short Square Nails with Rhinestones
No matter the nail design, rhinestones are always an easy way to sparkle it up. We love the way a thick vertical line of rhinestones adorns short square nails with a French tip.
If you are a lover of nature and have a fondness for green, this design is for you. Draw some branches of the tree on the nail canvas. You can fill two or three nails solely with teal green and shimmery black colors to have this short square acrylic nail design done.
Winter Nail Design to Celebrate The Season
#22. Cherry Blossoms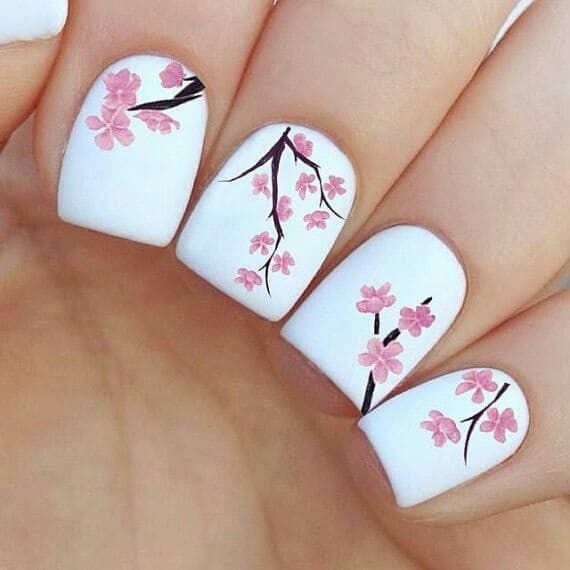 The charm of cherry blossoms enhances the beauty of spring to a large extent. If you are a lover of both pink and spring, you can surely try this design out.
A very simple way to get it. Draw the cherry flowers on a white base coat and use black to draw the offshoots. Your cherry blossoms are ready to blossom on your short square nails.
#23. The Desire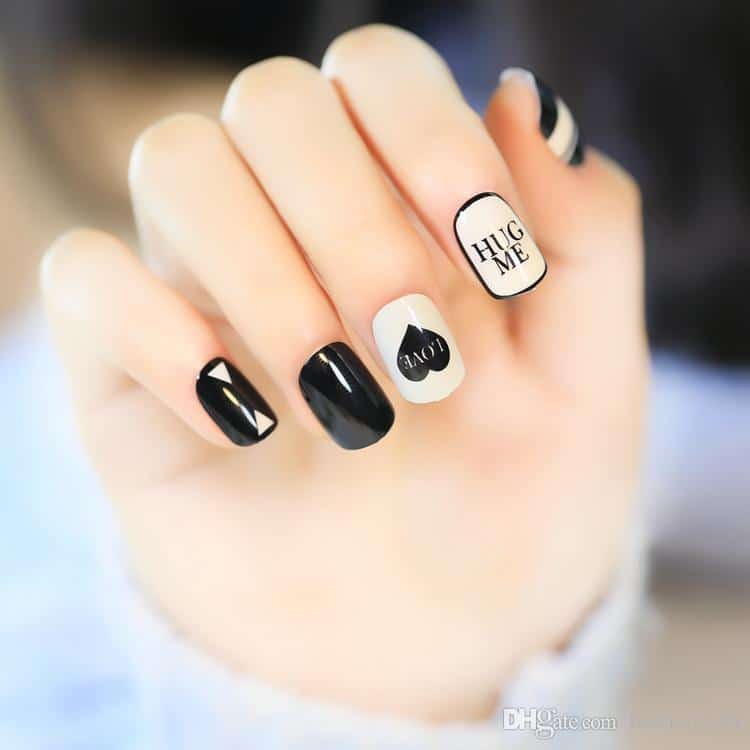 It's time to shout out loud what you desire most from someone very special. This is a decent way to show your feelings to the guy you are seeing lately. Your nails will talk for you.
You can use black and white for this design. Draw black love shape on a white base and you can write whatever you desire on your short square acrylic nails.
#24. Colors And Flowers
This design can be the right choice for girls who love colorful designs. You can use light sky blue and pink for this design. Draw some flowers or polka dot on acrylic nails to have this colorful floral design for your short square nails.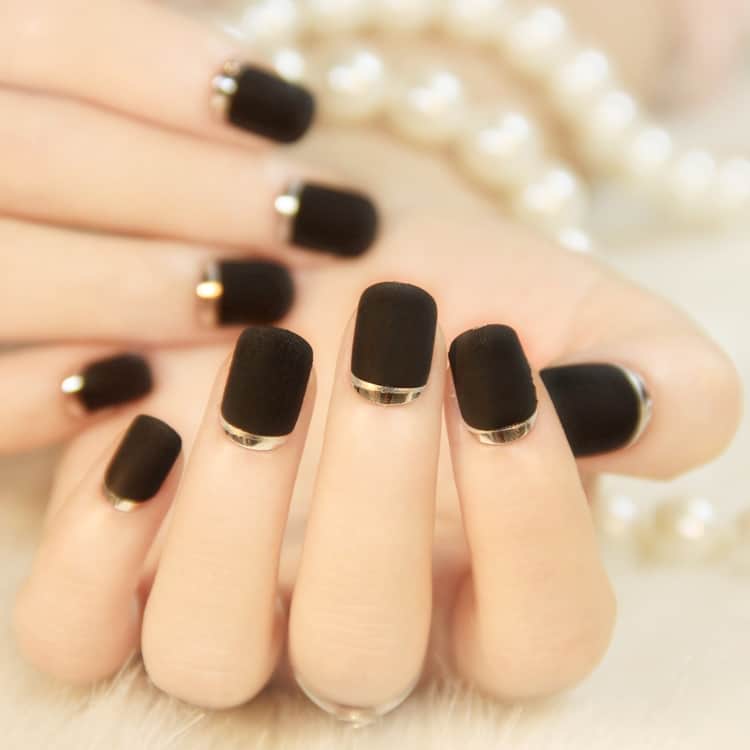 This black and gold nail design is simply elegant. Fill your nails with black matte polish, then use a shiny gold at the tops near the cuticle.
We hope you're feeling a little more confident about how to style short square nails! Be sure to show us which design you picked, whether it's one above or something of your own creation!