The perfect manicure can completely enhance the look of your hands. However, it is even more crucial for black ladies to choose the proper nail polish. Peach color nails on dark skin perfectly suit the melanin skin tone.
Choose from a sunset peach, pale peach, or beige peach. Choose the most attractive nail design to stay in style.
Peach Color Nails for Dark Skin
Discover the ideas that make it a good choice for peach nails by scrolling up.
1. Coral Punch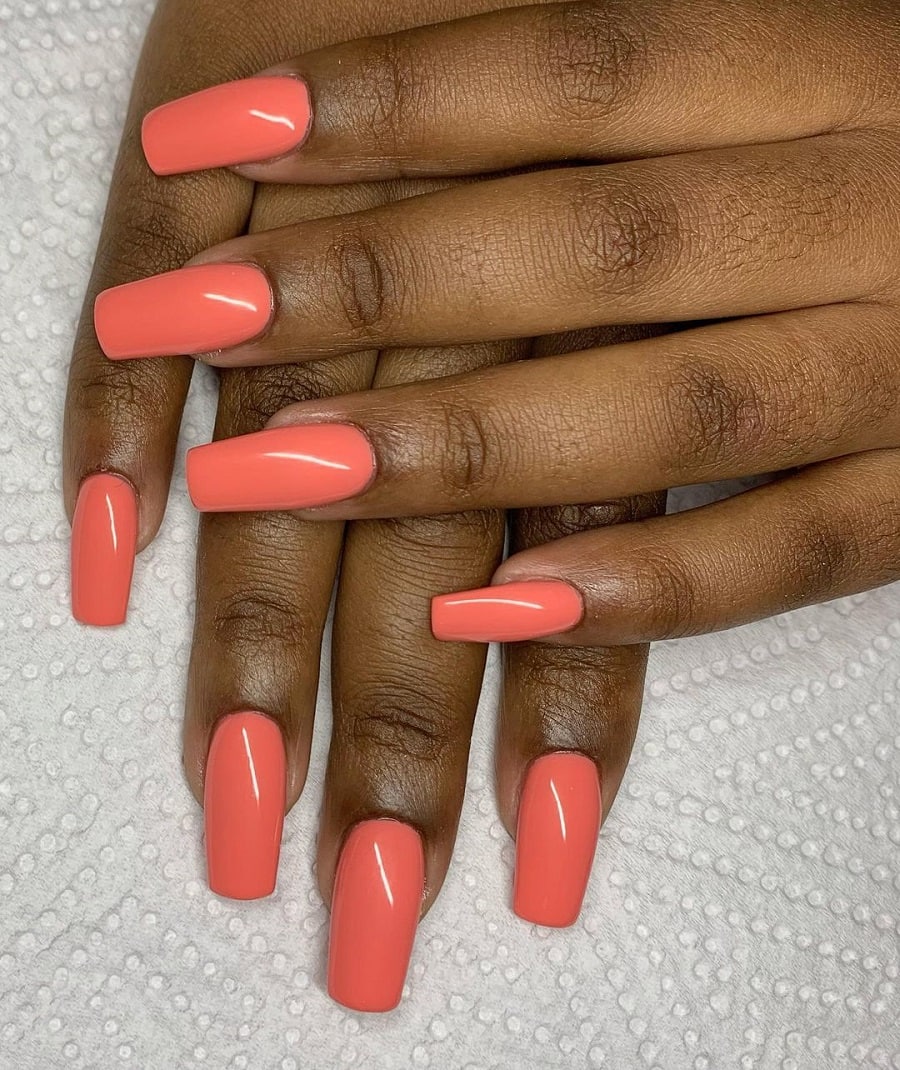 Bright manicures are in the limelight of everyone's eyes. This vibrant peach nails on dark skin tones make it truly stand out.
This flaming shade creates a happy vibe as it fuses perfectly with these long square-shaped gel nails. We adore the sparks it creates with any outfit you wear.
2. Multicolor Stilettos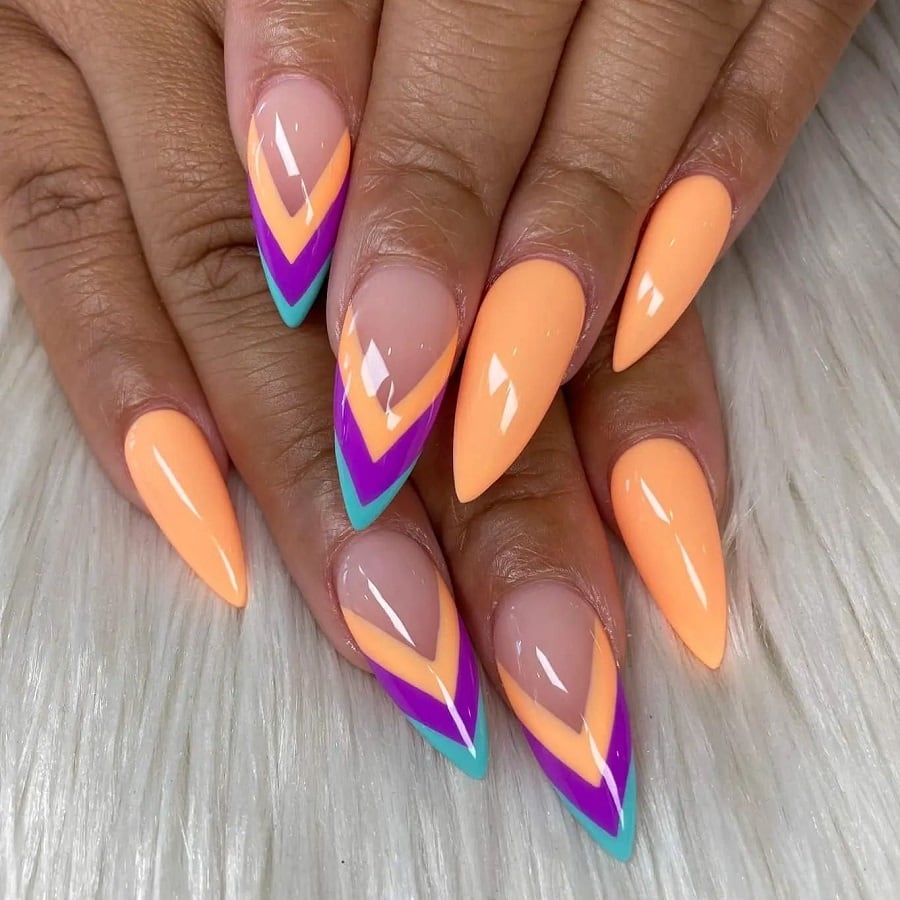 Violet and turquoise nail polishes add a beautiful depth to your peach nails. There are a lot of techniques for creating this nail design. You can add many more variations as you wish but this peachy tone really works well.
3. Glittery Waves
Apply gold patterns on basic peach color nails. Make unique spirals and use your own imagination.
This intricate white wave nail art is meant to resemble a vast ocean. All nail types can have this manicure as it is light, graceful, and appealing.
4. Vibrant Pedicure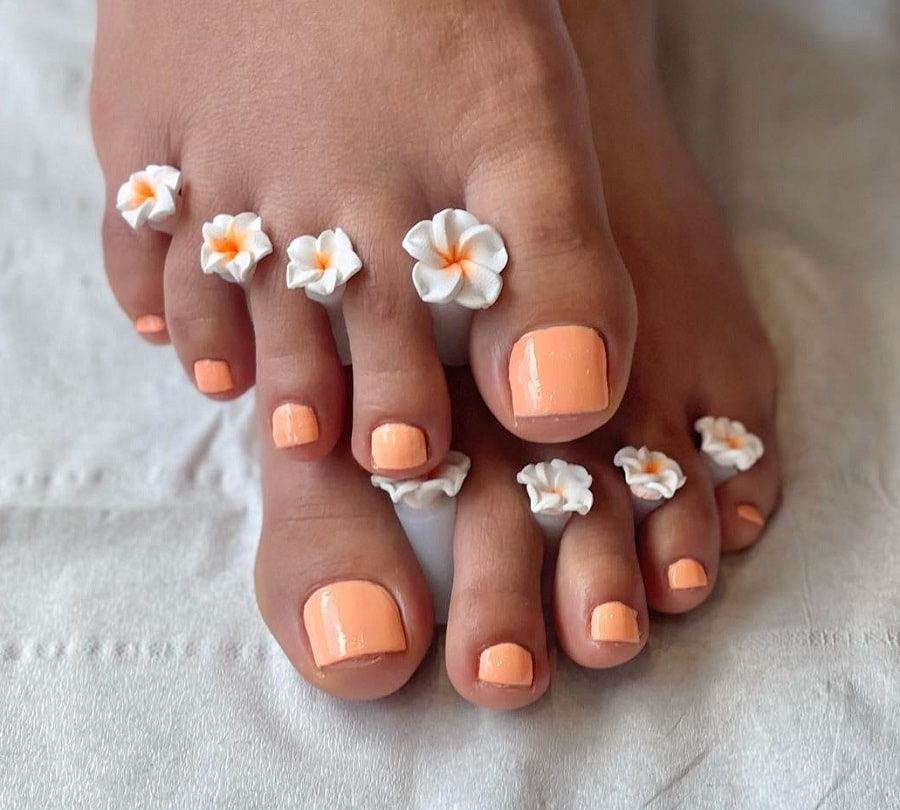 A pedicure is the most fun way to experiment with colors. Opt for the peach tone that will surely turn heads with some hint of elegance.
Just add a few coats which go well with the short toenails. It is a unique yet innovative change from usual nail colors.
5. Transparent Florals
Every color looks good besides white; this gives them the energy they need to shine out and flare. Work with translucent nails and create floral designs too.
You may produce an elegant textural pattern by adding two more colors. Ideally, you should choose light peach color nails with contrast on your dark skin.
6. Glossy Peachy Nails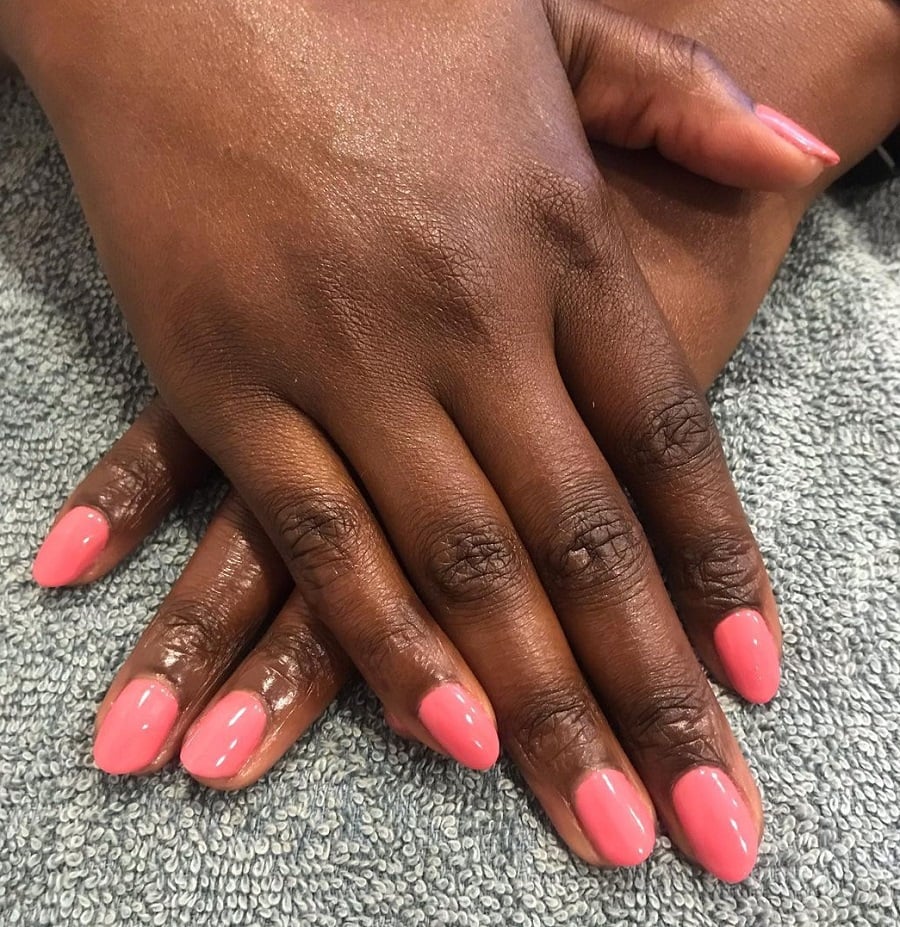 Do you want to try a light and sophisticated nail color? Pick this peach-colored gel nail polish. A translucent polish can be cute, adorable, and chic.
Use a shiny topcoat in combination with your short oval nail shape. This manicure is simple and elegant at the same time.
7. Matte Magic
The vivid dark peach hue is given extra punch because of the slight length. With a matte top coat, this color looks very classy and works with everything.
Don't hesitate to wear hand jewelry or ornaments if you want to rock a standout nail.
8. Coffin Ombre Nails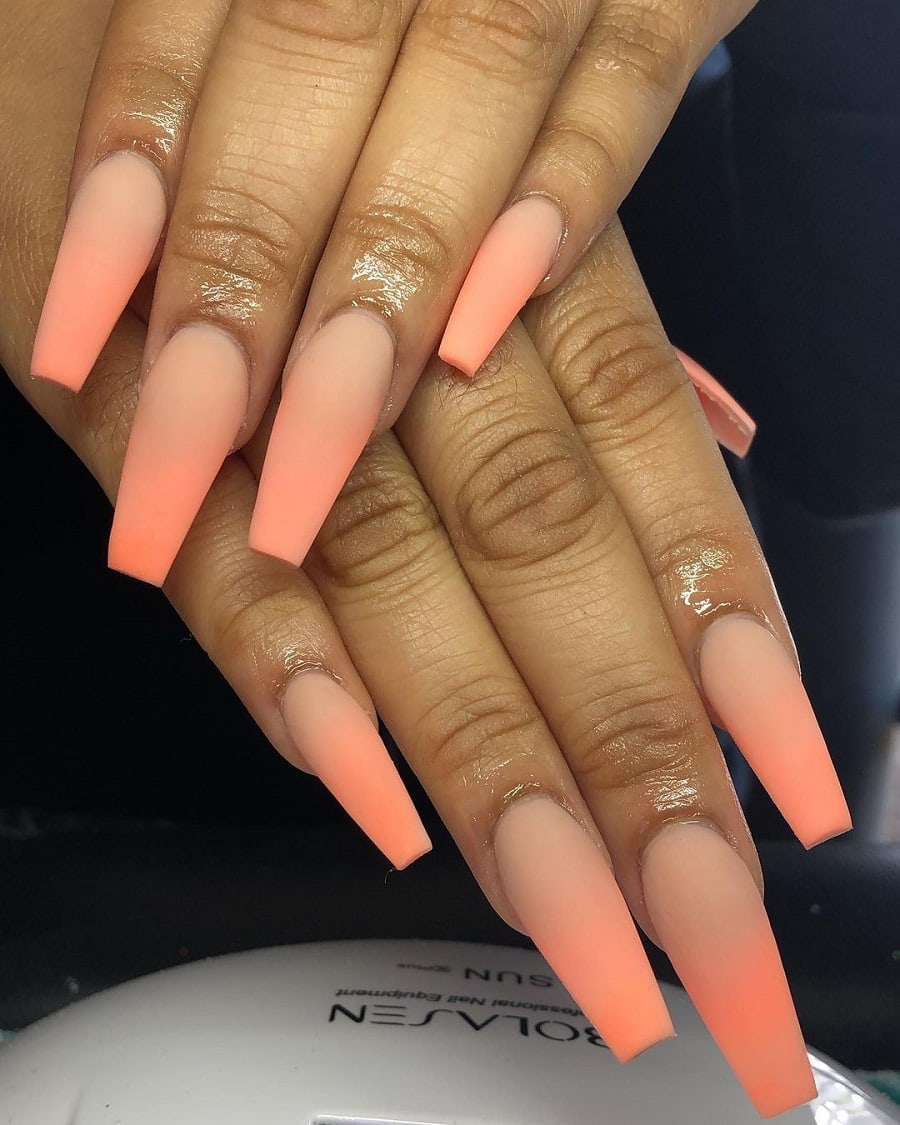 Peach color nails are a classic and innovative combination for dark skin. Light-colored ombre manicures go well with a wide variety of attire. We adore how these coffin shapes give any manicure a unique vibe.
9. Polka Dot Vibes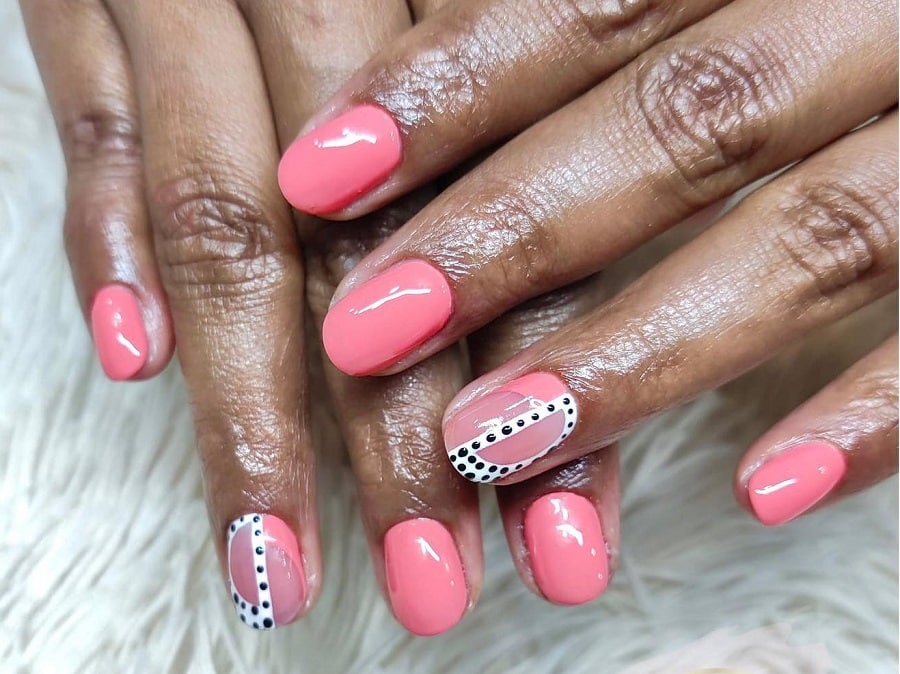 Polka dots can never fail to be a center of attraction when they pair with light shellac peach nails. You may create this elegant and modest pattern with a few simple tools such as a dotted paintbrush or a thin pen.
10. Black And Peach Almond Nails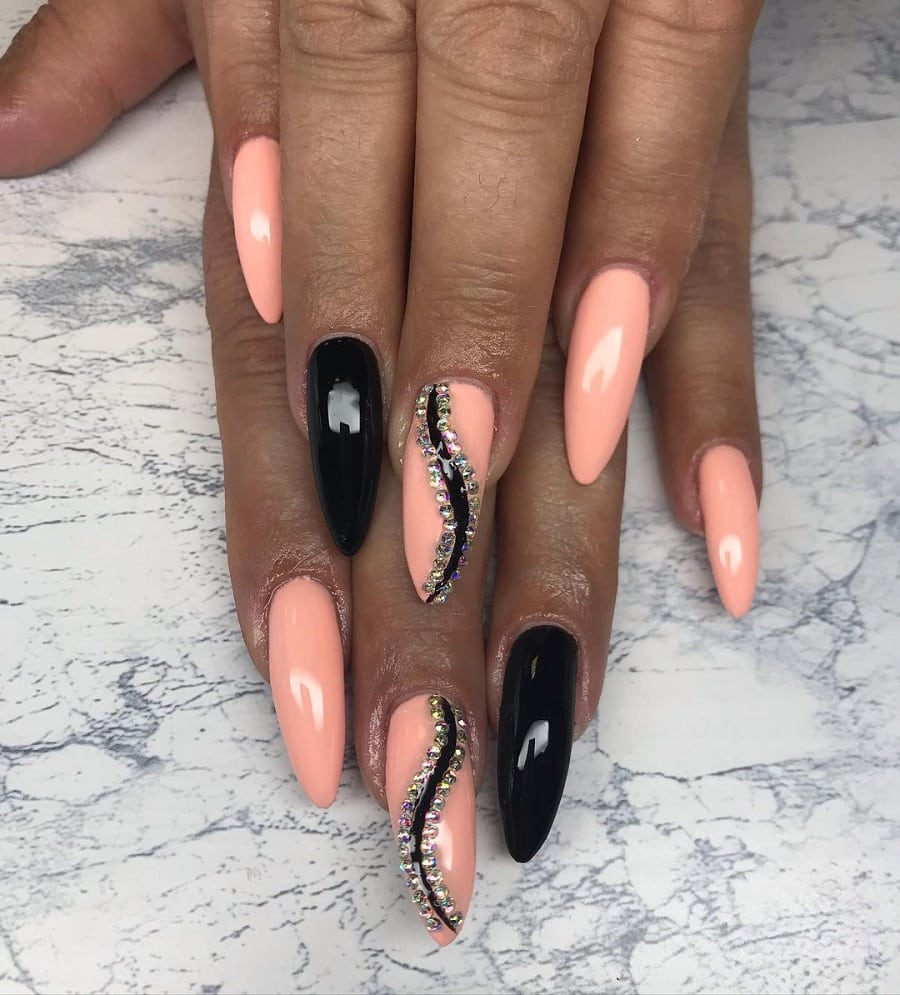 The nude is the youthful, sillier edition of peach. It is an excellent base for intricate patterns like this gemstone wave print.
If you use black for the designs, your long almond nails may appear inked. However, you can use any other bright hue if that is what you like.
There are various shades of peach color that you can try on your nails. Even if you have dark skin, these peach color nails will look adorable on you.
There are softer varieties as well as shinier, more colorful ones. Thus, it will be an excellent addition to any style.