Sunflower nail art is a common yet brilliant way to decorate your nails in the middle of the summer.
When the fields are full of these gorgeous yellow plants, this mani is an attractive option for those who want to encapture this flower's glowing color and warmth.
Sunflower nail art ideas
Sunflower nail art can feature so many elements. Combine the seeds, petals, and leaves and pull off amazing designs. You can hand paint the flowers, or you can combine multiple stickers to elaborate your design.
No matter the choice you make, use electric yellow colors, other nuances, and shades. To find your inspiration, scroll down and search through these marvelous examples.
#1. Sunflower with Polka Dots
Sunflower acrylic nails look stunning if they have a square shape and encapture more patterns, drawings, and designs.
Opt for a neon yellow and paint a small black bullet at the base of the nail. On the middle finger, opt for polka dots and go for full black with a flower on the ring nail.
#2. Fimo Sunflower Nail Art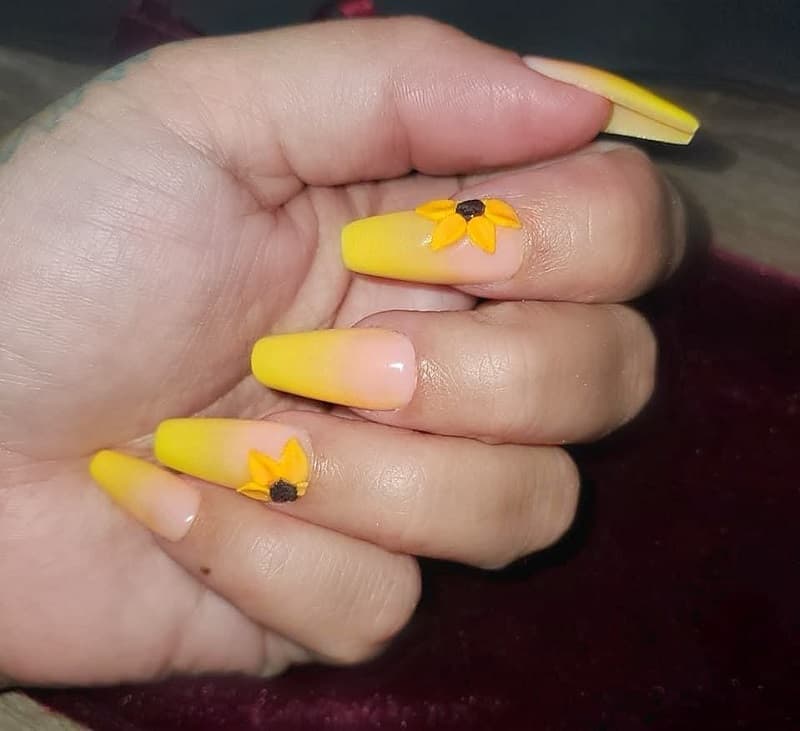 Sunflower ombre nails that feature such a smooth gradient are perfect for the summer. They inspire happiness, light and they will certainly put a smile upon your face. Add a 3D Fimo decoration on one of the nails.
#3. French Mani with Sunflower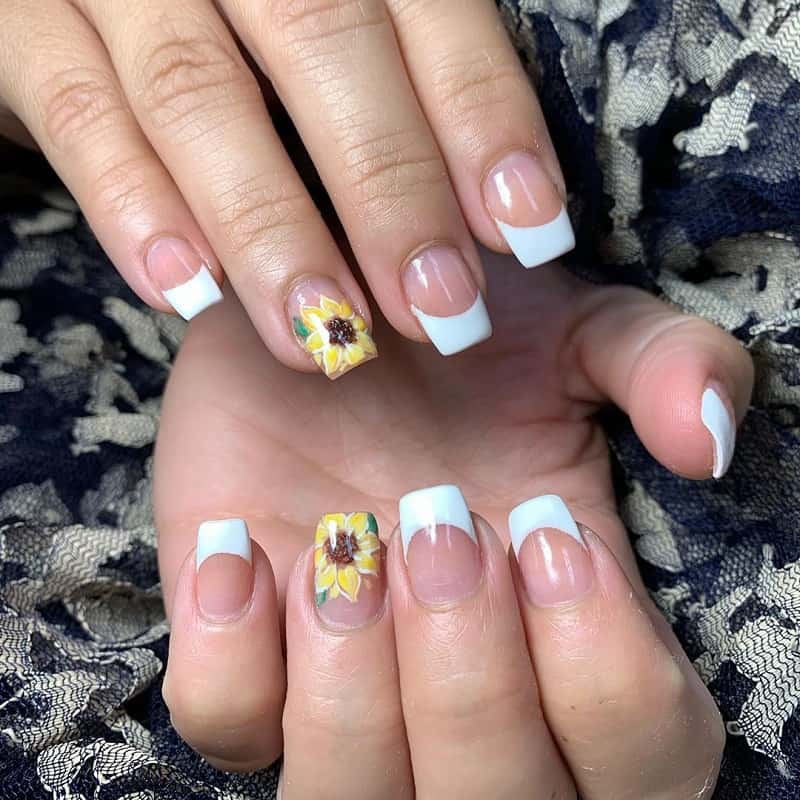 French nails with sunflower designs have such a fresh and summery vibe. Create rounded lines for your square nails, and on the tips of the ring finger, paint this amazing yellow flower.
#4. Square White Nails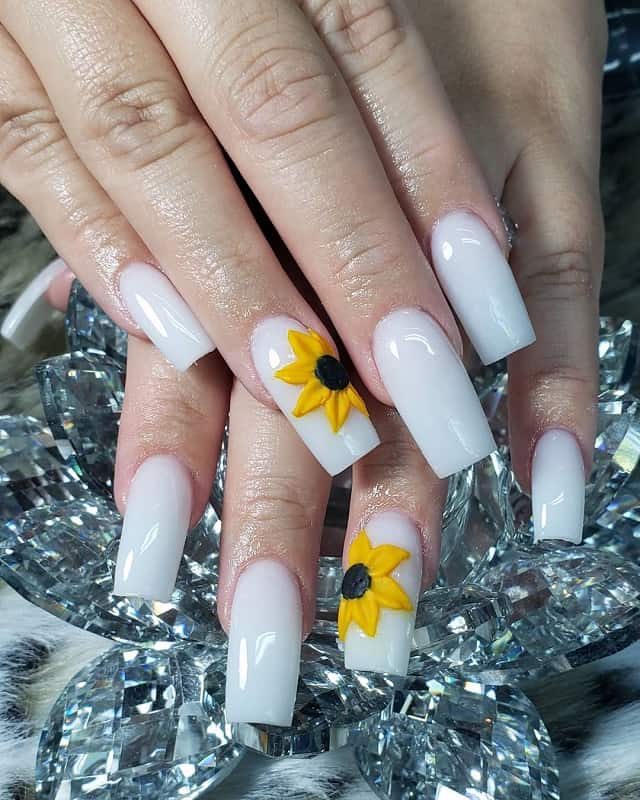 White nails with a sunflower that are long and with a square shape will be perfect for summer if you opt for a simple yet unique decoration. Use Fimo and create a sunflower for the ring finger.
#5. Sunflowers and Ladybugs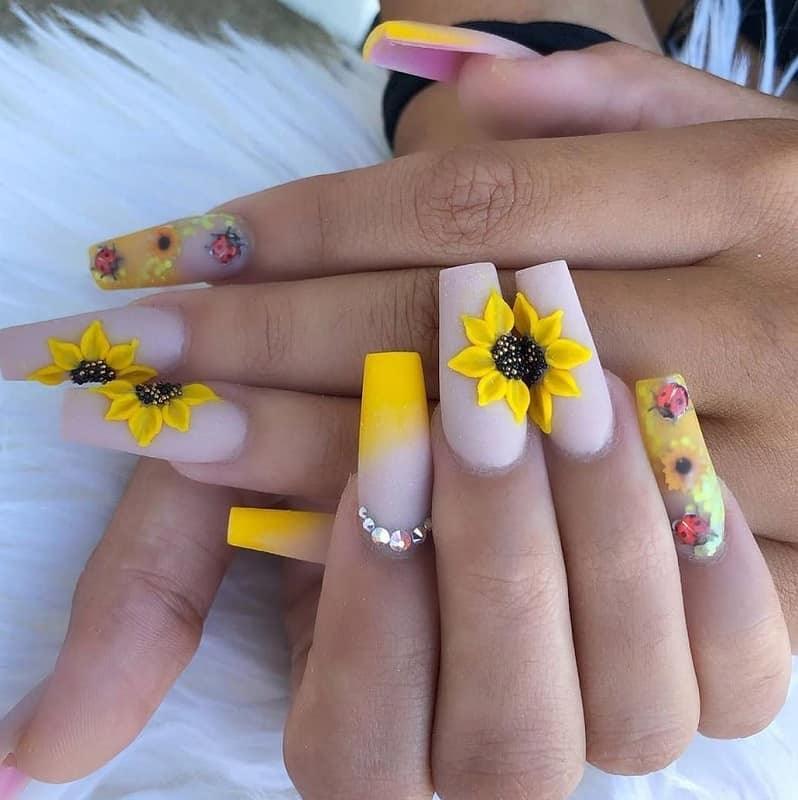 Sunflower wedding nails are ideal for a big celebration that happens during summer. Opt for ombre nails that end up with an eye-catching yellow.
Use Fimo and small pearls to create the sunflower. Decorate the pinkie nail with ladybugs and small sequins.
#6. Sunflower Coffin Nails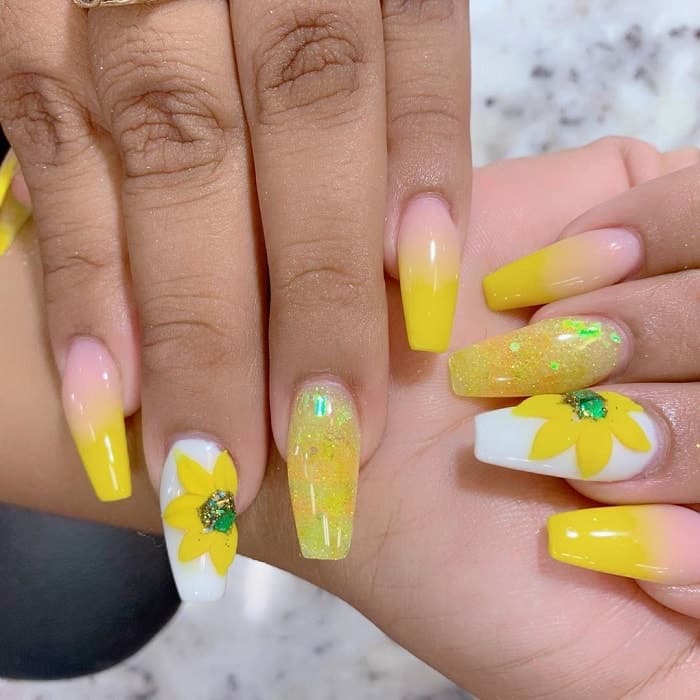 For each nail, create a different base. Go for ombre yellow colors, translucent and white nails.
Then, after choosing the base, you need to think about the decorations. Combine diamonds, rhinestones with Fimo petals, and glitters to get that stunning mani.
#7. Sunflower Toe Nail Art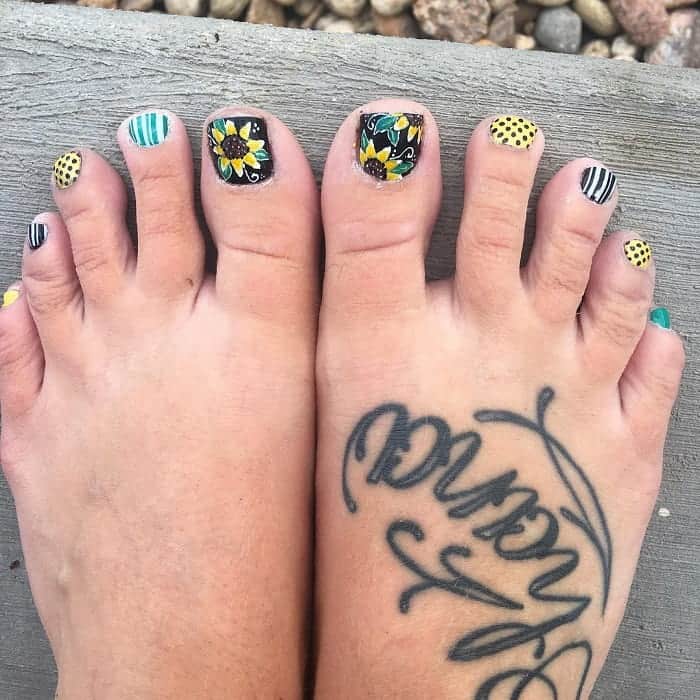 Do not neglect your toes! You can sport gorgeous designs that are ideal for the summer. On the big toe, you can hand paint a large flower and draw polka dots and lines for the rest of your toes.
#8. Yellow Nails with Sunflower Design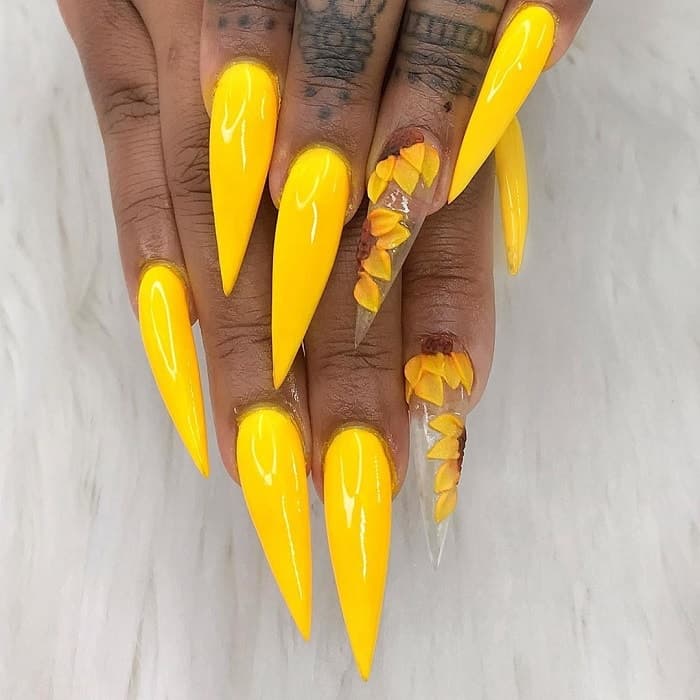 An acrylic expert can achieve ultra-long pointy nails. Paint the sharp nails in an electric yellow nuance. As for the ring finger, use a gel that makes them transparent. Decorate it with constructs made out of Fimo.
#9. Sunflower Nail Stickers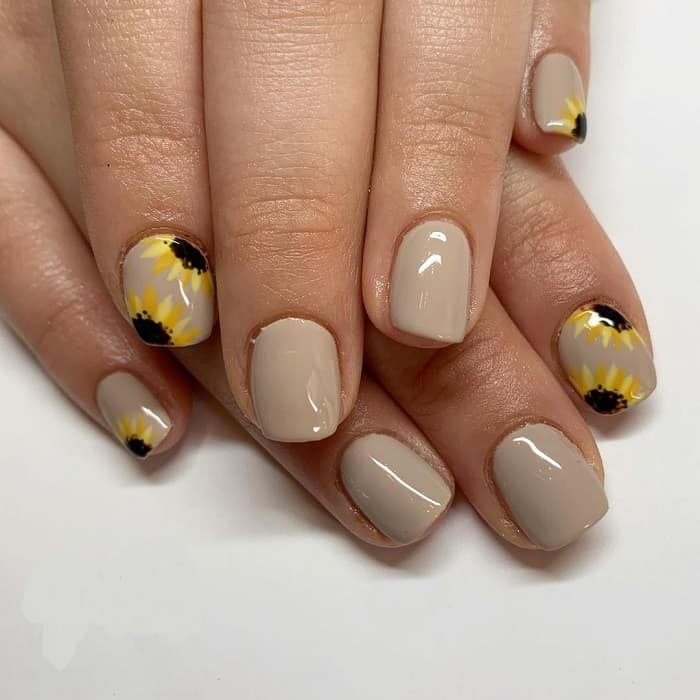 Opt for a creamy nude color and cut your nails short. On the little finger, on the corner of your nail, paint half of a sunflower. Extend the design on the middle finger and draw two flowers instead.
#10. Black Sunflower Nail Design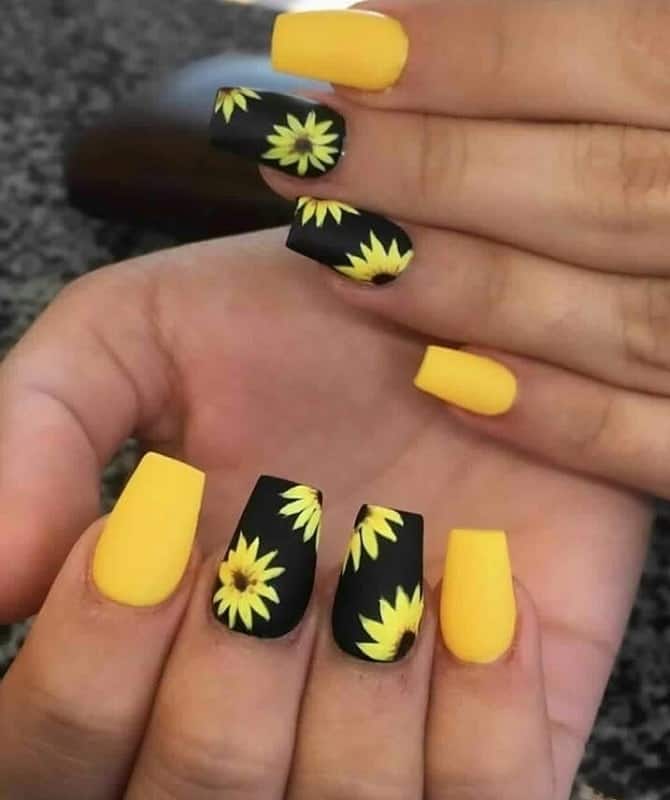 If you want to create contrast, there's no better way to combine a vivid yellow nuance with a deep black color. On the dark nails, carefully draw your elements and apply a matte top coat.
#11. Natural Setting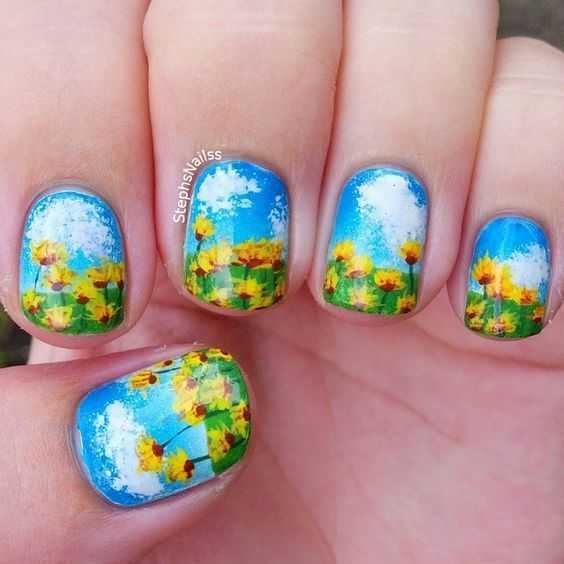 Here the sunflowers are painted along with the green plants. And the light blue background of the nails is resembling the sky. All these things, all together, refers to the natural setting of a sunflower field.
#12. Shiny Sunflowers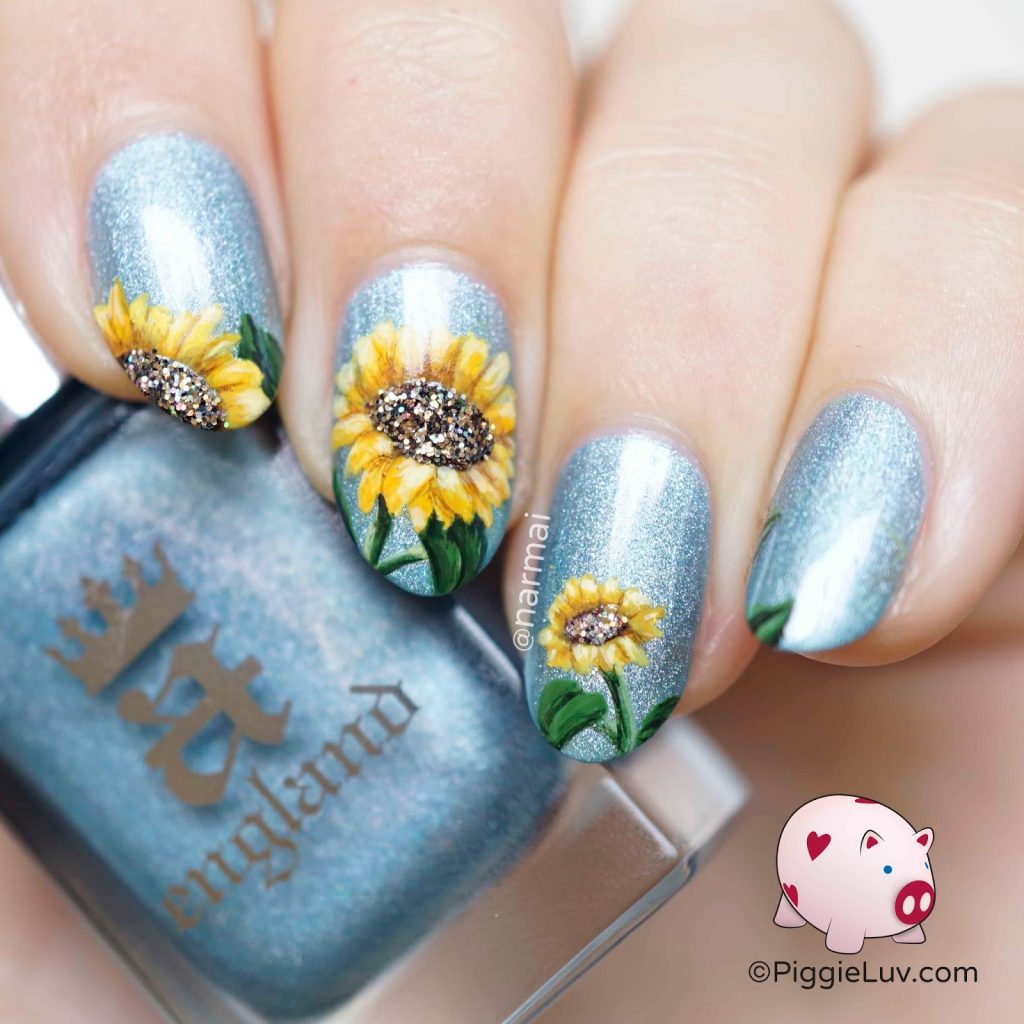 If you are a shine lover, you can have these shiny sunflower nails to make them look stunning. The thin silver glitters will help your nail glow along with sunflower nail art.
#13. Easy Sunflower Nail Art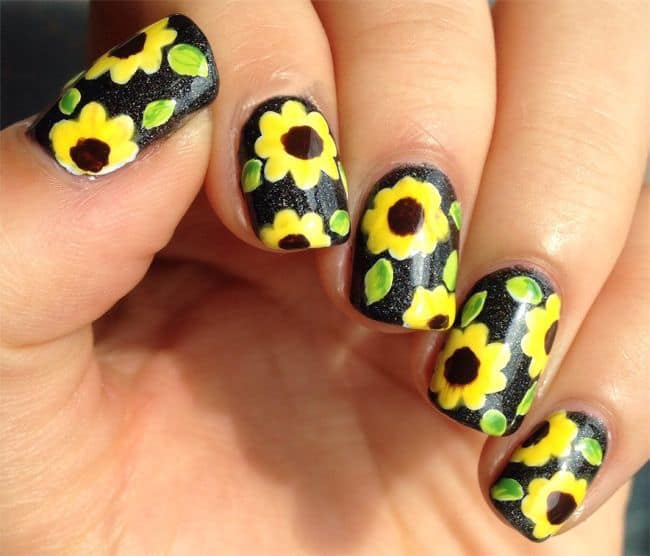 Some people don't like complexities. They always find the simplified version of any design. You can choose this design if you want an easy sunflower nail art.
#14. B&W Charm
Black and white are the constant pair of colors that have an impact on every design. You can use the charm of black and white in your sunflower nail art to have beautiful nails like these ones.
#15. Leaning Against the Sky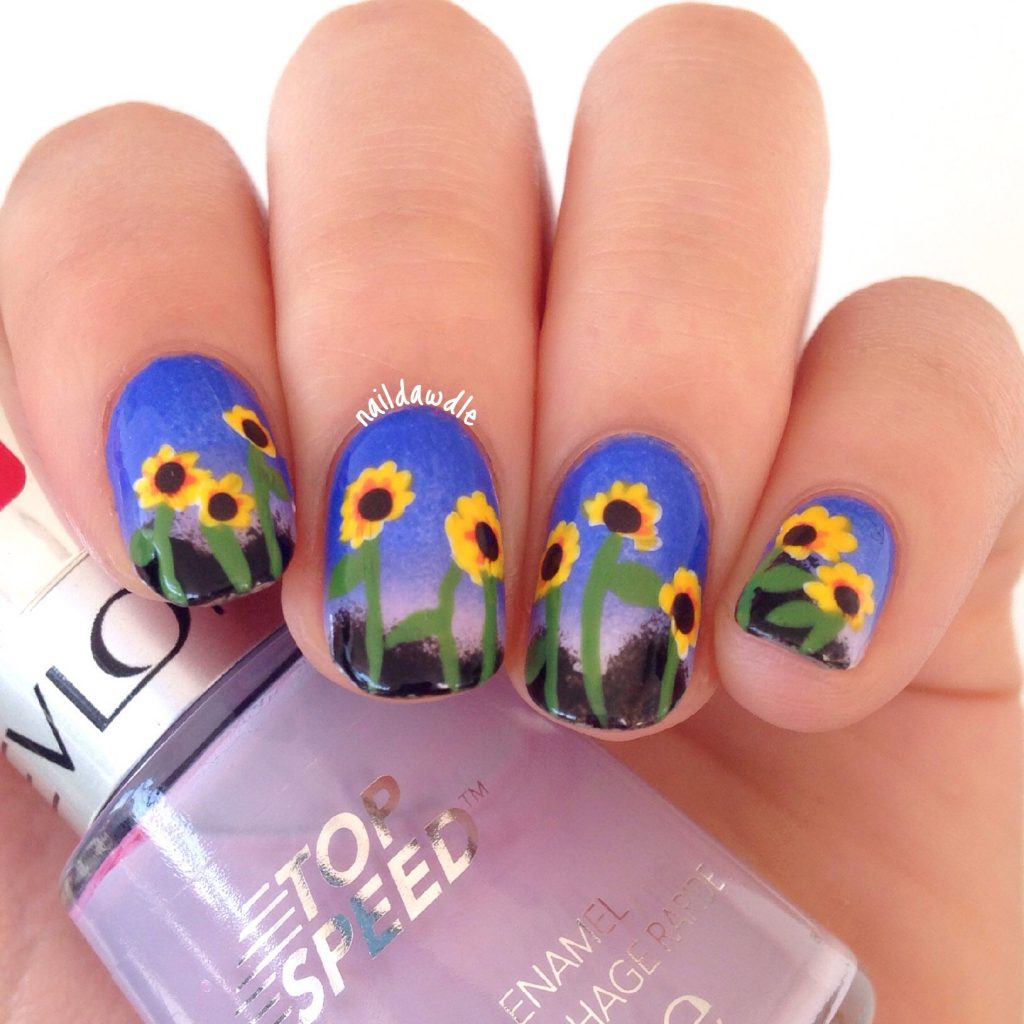 Draw some sunflowers on the sky blue fingernails of yours. If the colors are rightly applied, it will look so eye-soothing as if the flowers were leaning against the sky.
#16. Black Polka Dots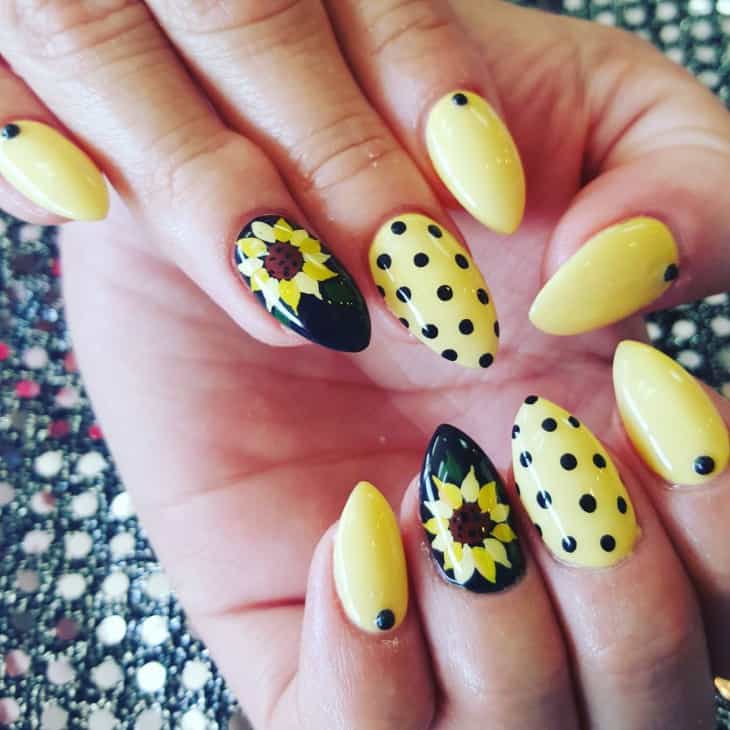 You can change the look of your sunflower nail art by using polka dots on the yellow base. Paint a sunflower on the black nail, and black polka dots on the yellow nails to have such designs.
#17. 3D Sunflowers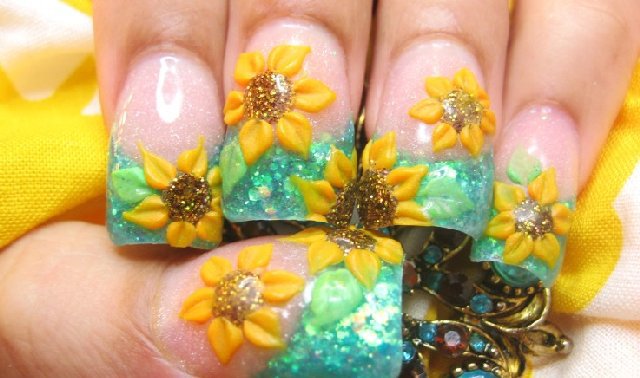 These nails are different but you will have to give extra effort to get 3D sunflower nail art done on your nails. The nails are looking so realistic.
#18. Simple Sunflower Design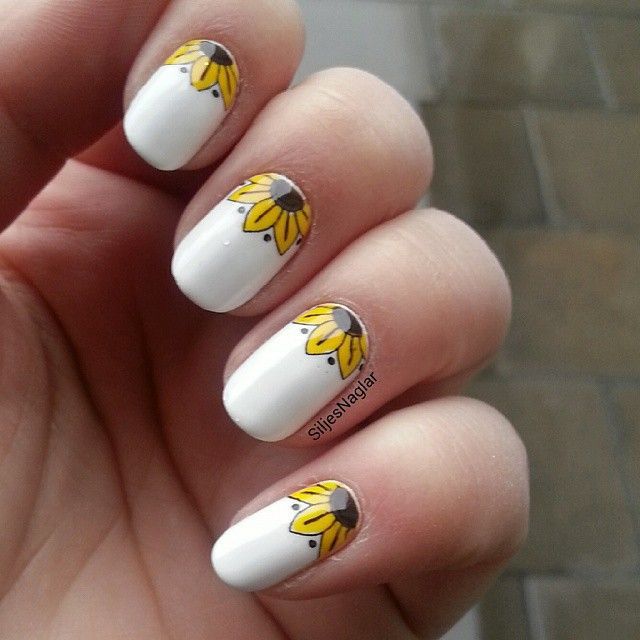 Simplicity is the ultimate sophistication as said by Leonardo da Vinci. So, there's nothing wrong if you want to keep it simple and tidy. Design your nails with simple sunflower art to make them look simply beautiful.
#19. Sunflower Summer Nail Art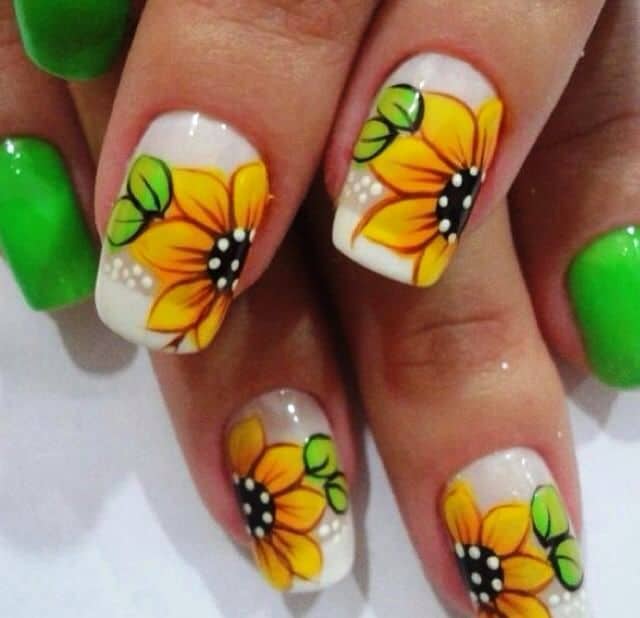 You can have sunflower nail art as summer nails. The brightness of yellow and lime green will do good to provide you with the required shine for summer nails.
#20. Sunflower Nails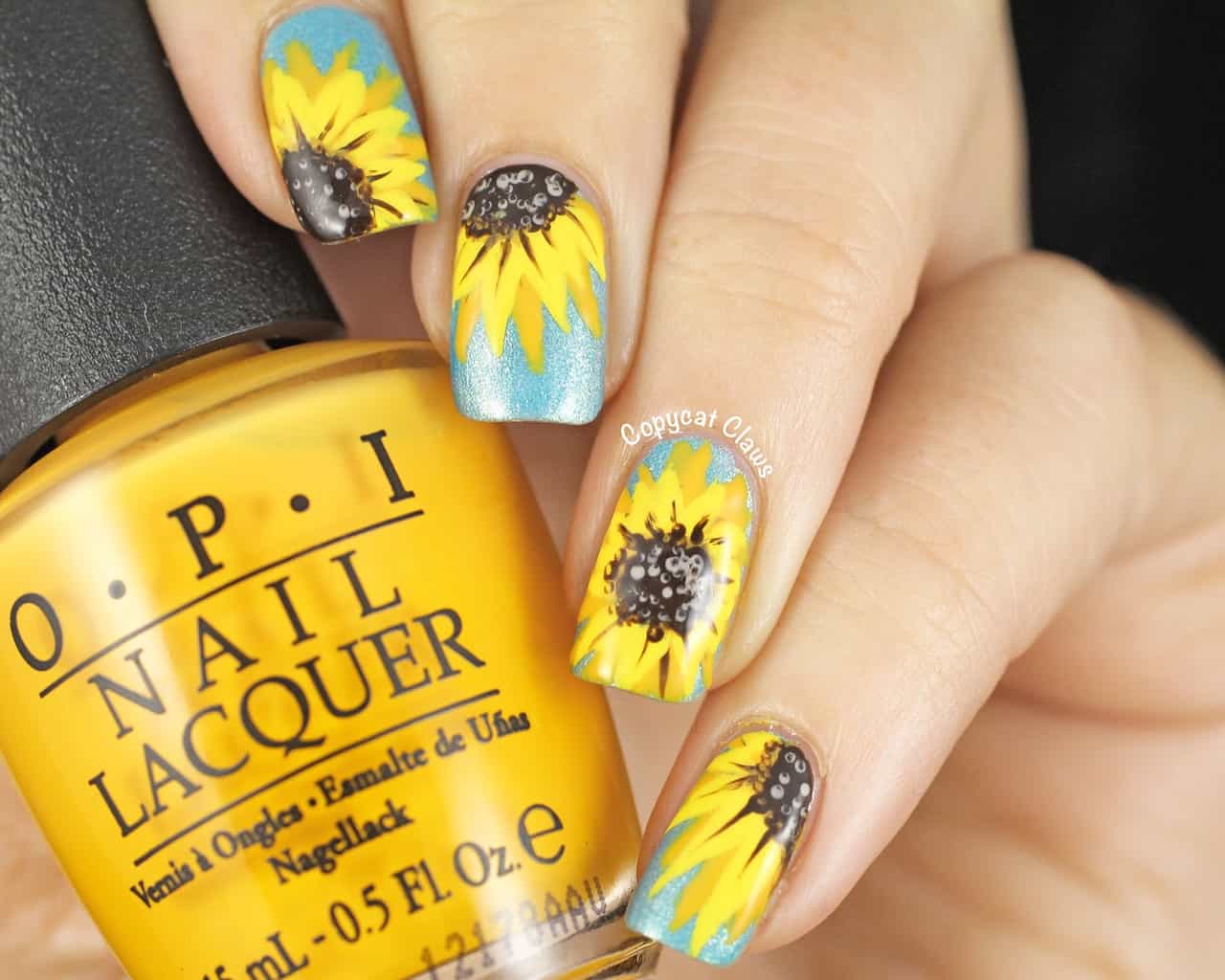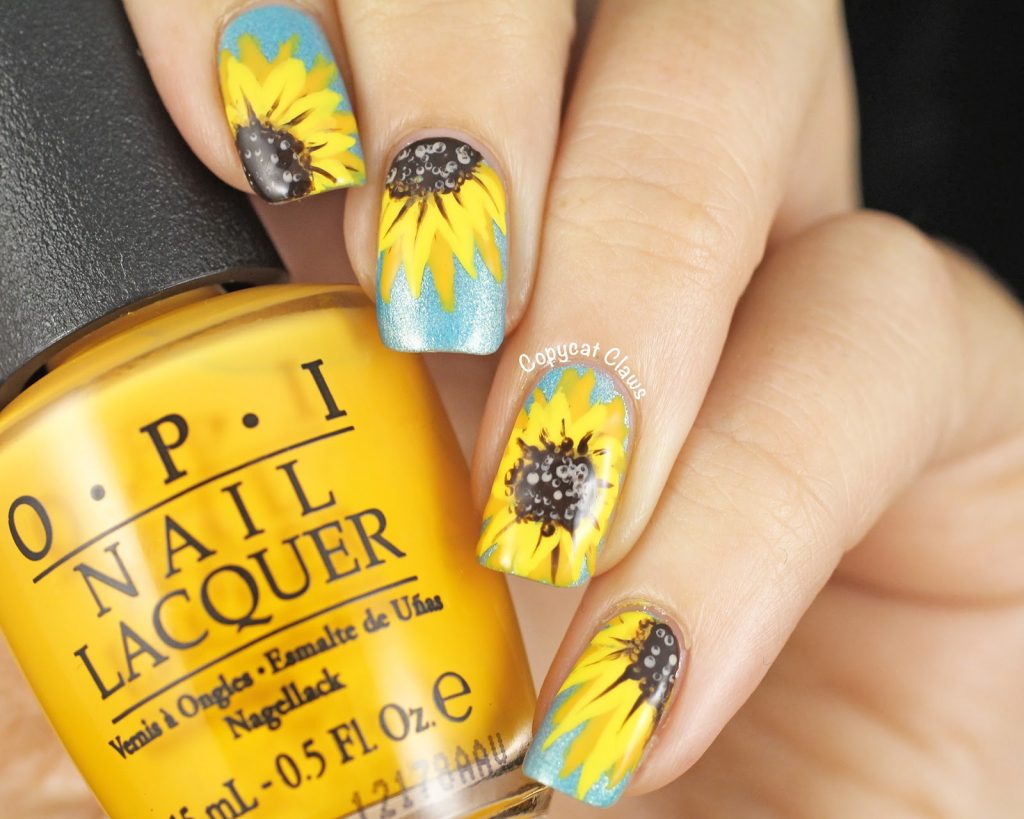 This is one of the most conventional ideas about sunflower nail art. Draw a sunflower on each of your nails. The designs will look great as a whole nail art.
Celebrate Sakura Season with Cherry Blossom Nail
When you are drawing something taken from its existence in nature, you have to be more careful. Because the design becomes certain as you are going to draw a certain thing.
If you aren't careful enough, you may end up drawing another flower when you intended to draw sunflowers. So, be cautious.