22 Best Matte Black Coffin Nails for 2021
Coffin nails are an excellent way to make your fingers look long and slender. You can either grow them really long or keep them relatively shorter although admittedly, the longer the better. The latest fad in eth nail art industry is to go all gothic on the nail front. This means matte black coffin nails.
Glamorous Matte Black Coffin Nail Ideas
If you think that there exists only one definition of matte black nails, you are quite mistaken. Matte black coffin nails can be designed to suit your different moods and requirements. You can keep them simple or glam them up, but either way, there will always be a bit of the Adam's Family touch to this kind of nail art, accentuated by the matte finish.
Let us take a look at some of the eye-catching things you can do with matte black nail paints.
#1.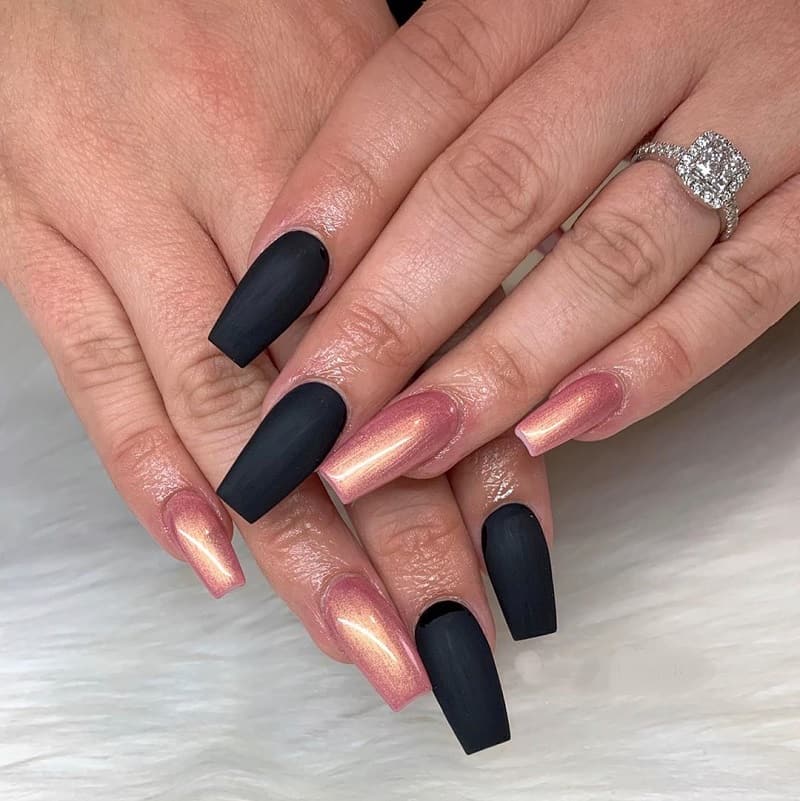 matte black and rose gold coffin nails
#2.
extra long matte black coffin nails
#3.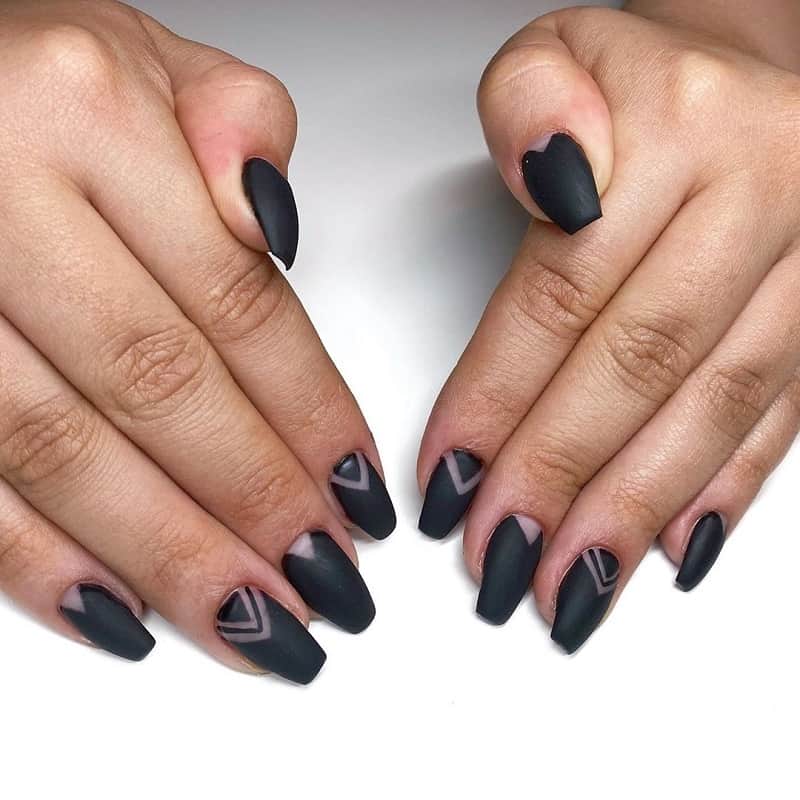 matte black short coffin nails
#4.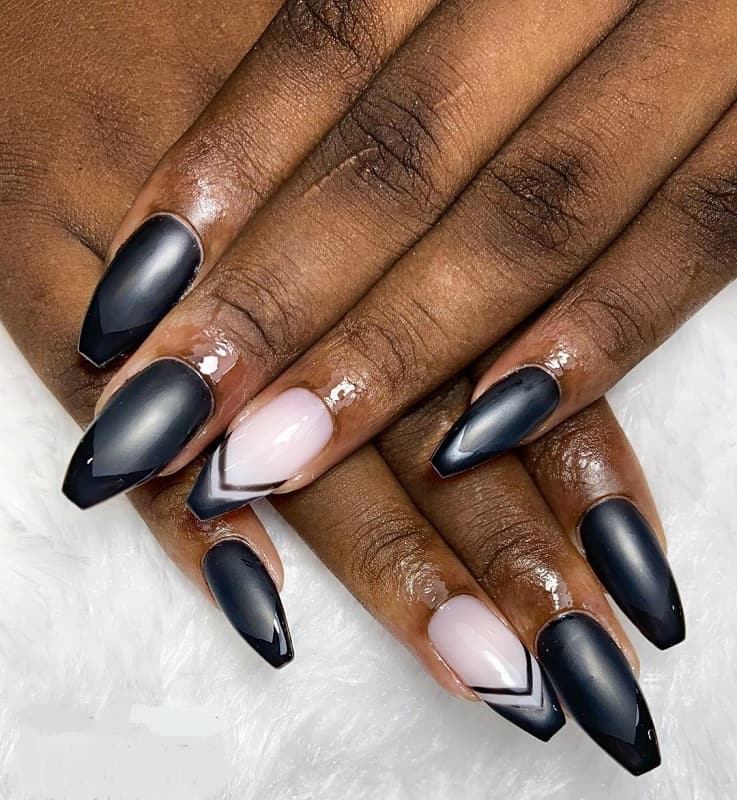 matte black and nude coffin nails
#5.
matte black coffin nails with design
#6. Matte Black Coffin Acrylic Nails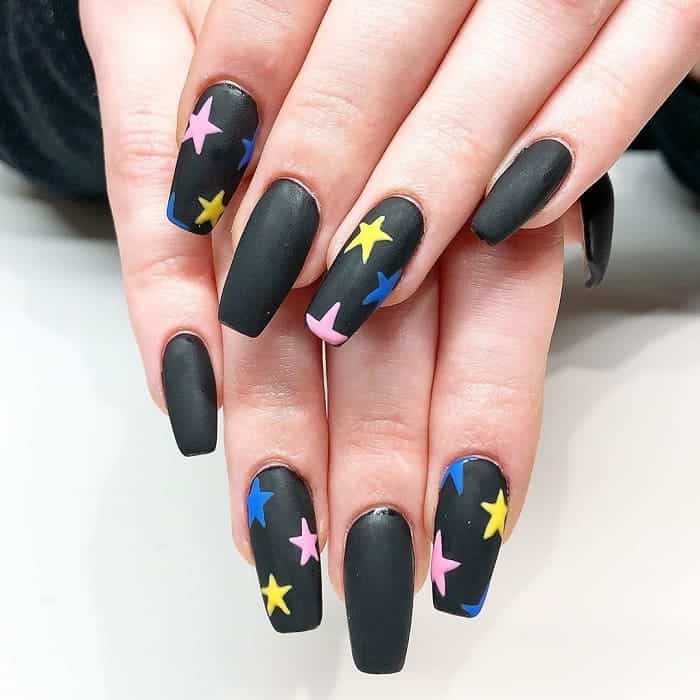 #7. Long Matte Black Coffin Nails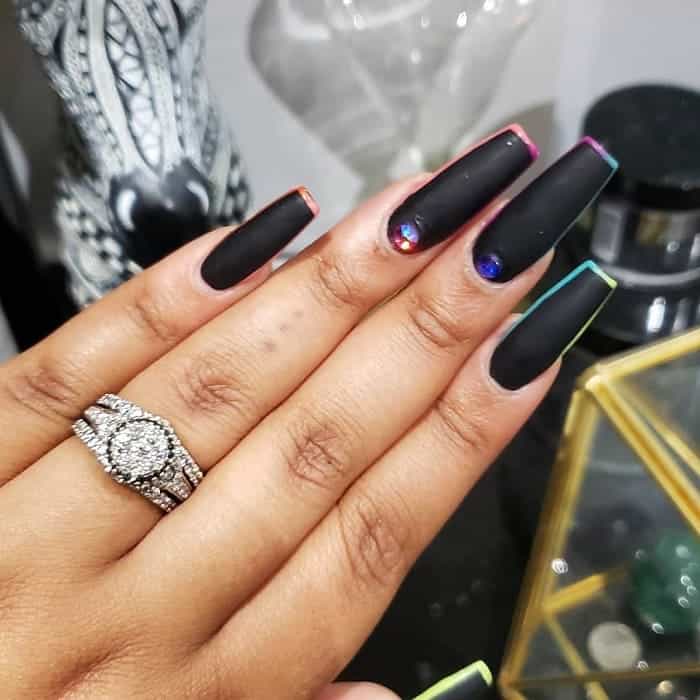 #8. Short Matte Black Coffin Nails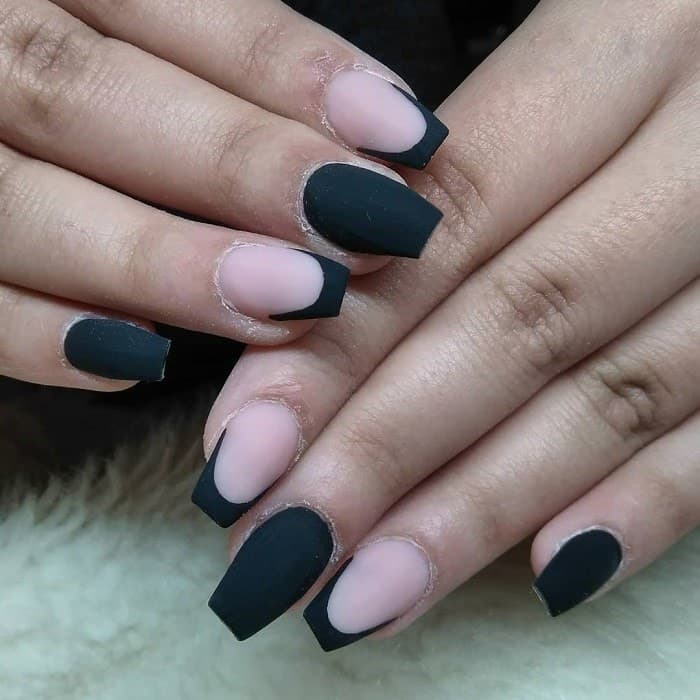 #9. Black and Red Matte Coffin Nails 
#10. Matte Black Coffin Nails with Diamonds
#11. The Plain Black Matte Nails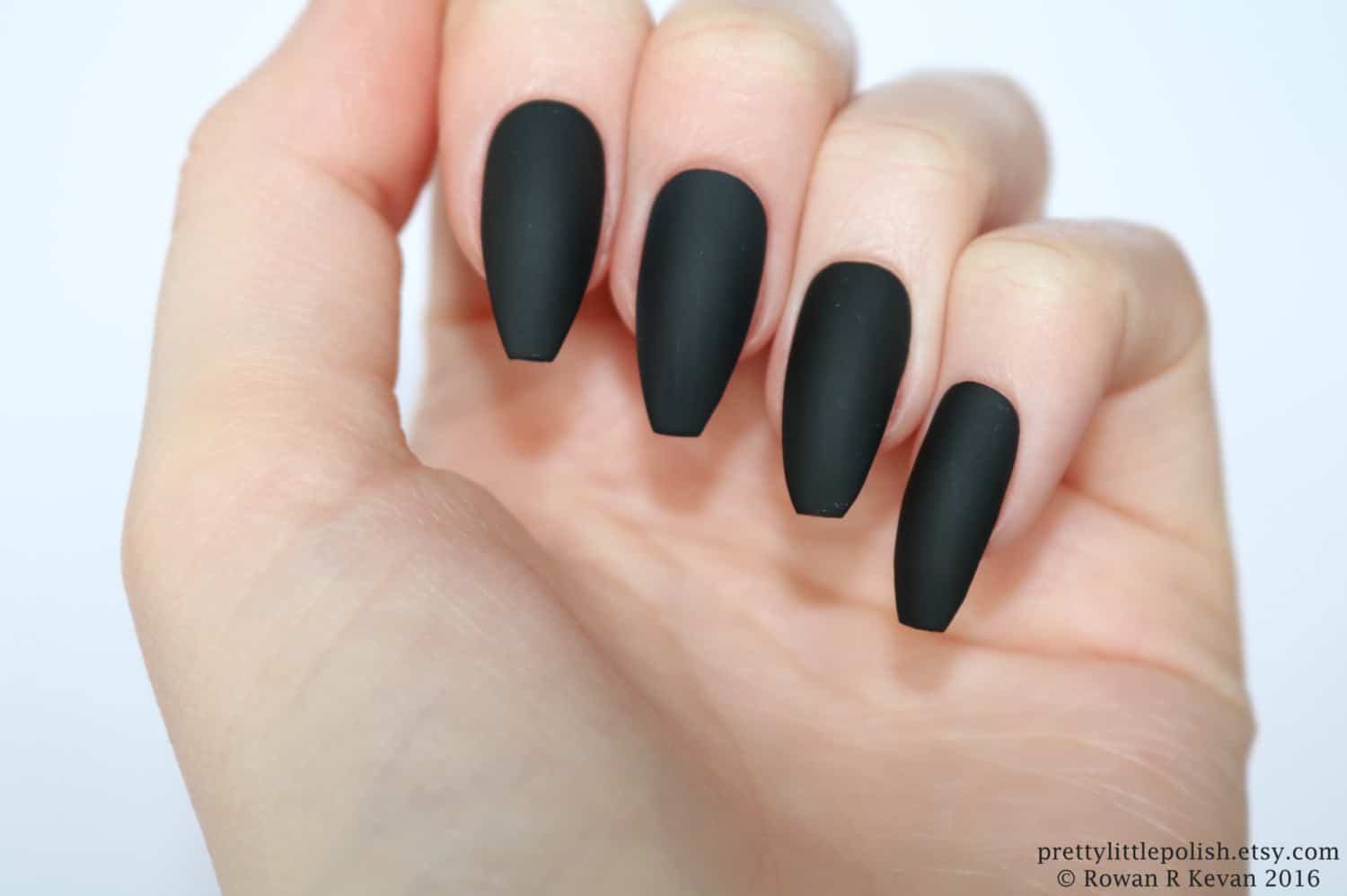 You can go full gothic with plain, unembellished matte black nails. Matte finish absorbs the light, making it important to plan the rest of the get-up in a way that it does not look too dull.
Chunky jewelry, bracelets, and watches (all preferably in a golden shade) complement the matte black coffin nails beautifully. It is difficult to pull off these classic nails though, so you should really plan well in order to avoid looking like you are dressed for Halloween.
#12. Matte Black and Silver Coffin Nails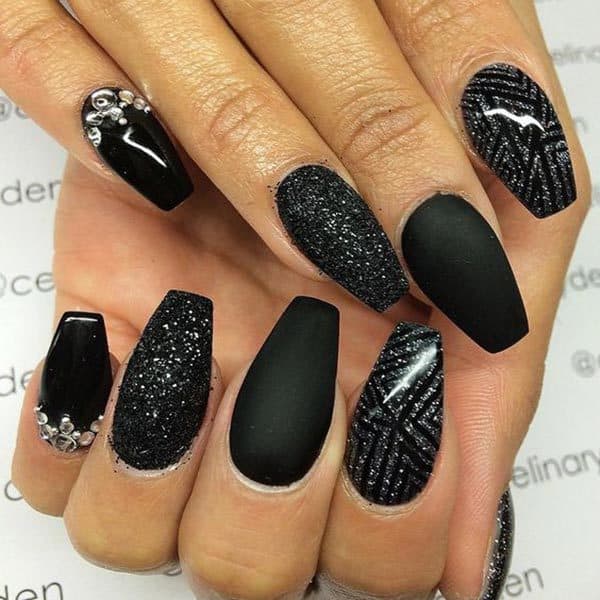 You can break the monotony of the matte black nails by painting one nail in each hand – usually the ring finger or the middle finger – in a glitter shade. If you want it to stay classy, you can choose a gold or silver glitter. If you are in the mood for some fun, you can choose a pink or red glitter shade. Preferably match it with your shoes or handbag.
#13. Matte Black Coffin Nail with  Glitter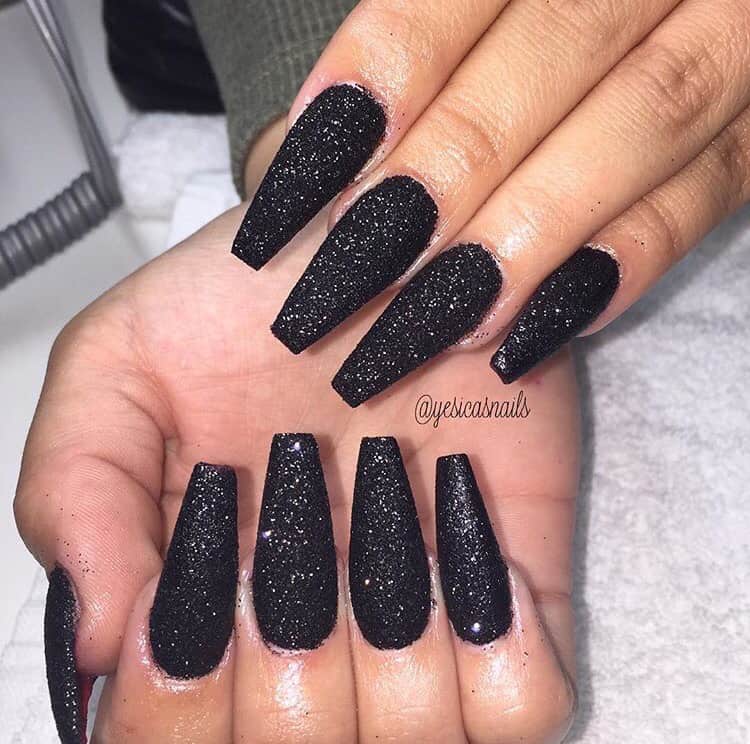 Matte black nails are light absorptive. If that is too muted for your get-up, you can add a dash of sheen to the manicure by dusting some glitter either at the tips of the nails or at the cuticle region. For a party look, you can dust multi-colored glitter or otherwise, you can just brush some silver dusting to keep it elegant.
#14. Matte Black Coffin Nails + Rhinestones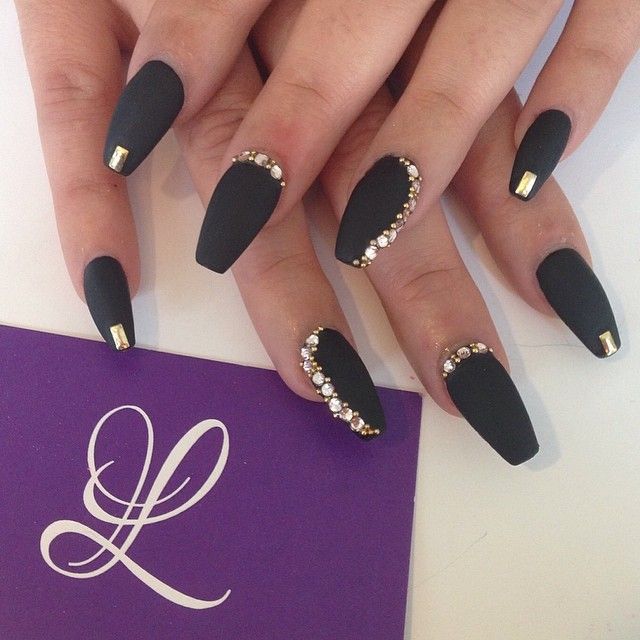 You can create a similar but a more glitzy look by incorporating rhinestones on your matte black nails. You can create different patterns with the rhinestones, attaching them to the lateral edge of the coffin nails, or in a curved design along the diagonal of the nail canvas. The rhinestones will add some sparkle to the absorptive effect of the matte finish.
#15. Matte and Lace-Work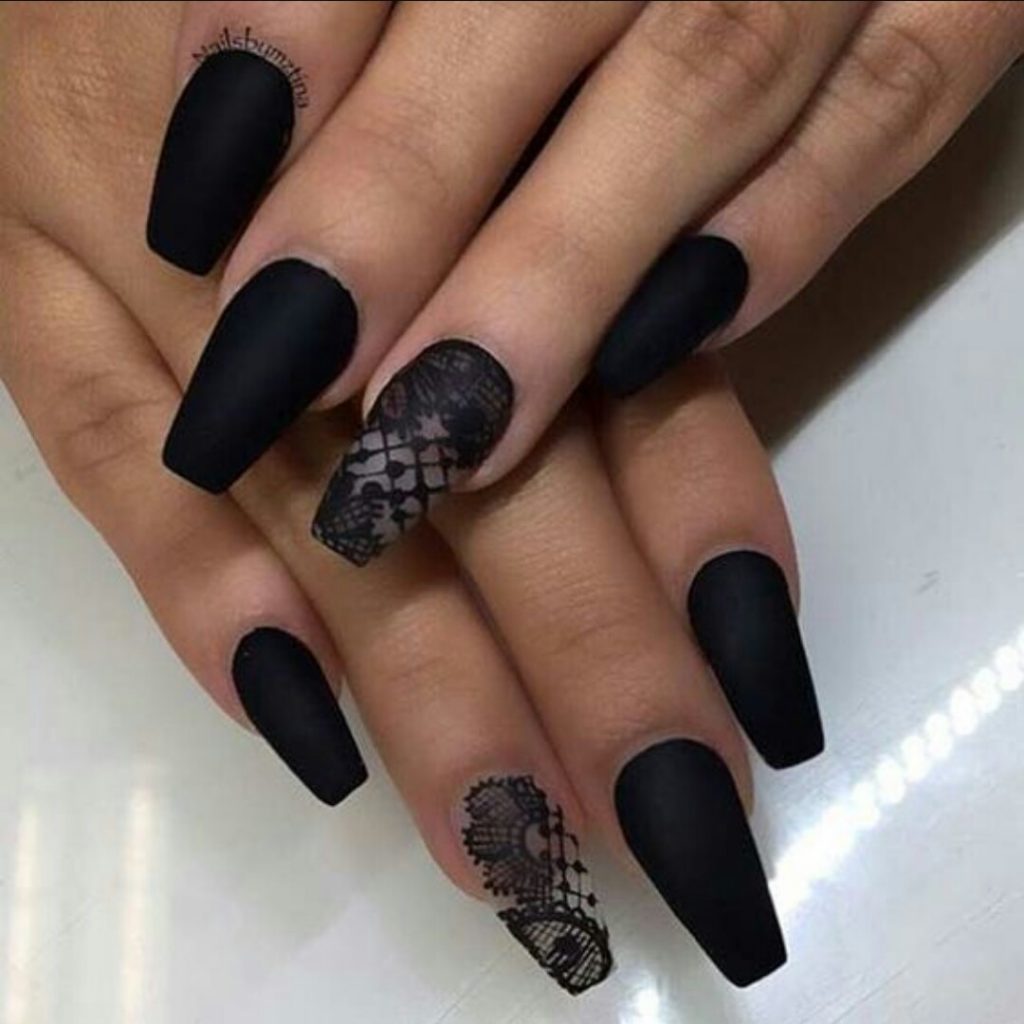 Instead of going for a fully solid, opaque look. you can choose to substitute at least one matte black coffin nail with a lacework. You can either use a dainty black lattice pattern or may even use patterns in white. This design is more feminine and muted than the traditional matte black coffin nails.
#16. Gold Speckled Matte Black Nails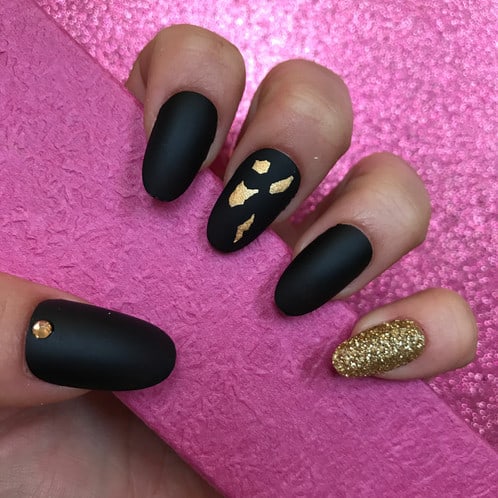 Matte black coffin nails are like blackboards; you almost have an undesirable desire to scribble on them! You can do something similar by speckling the black surface with large flakes of gold. This gives the effect of an old golden ware which is showing patches of its former glory. You need to have nice, long coffin nails to really pull off this design.
Red & Black Nail Designs You'll Love to Try
#17. Geometric Matte Black Nails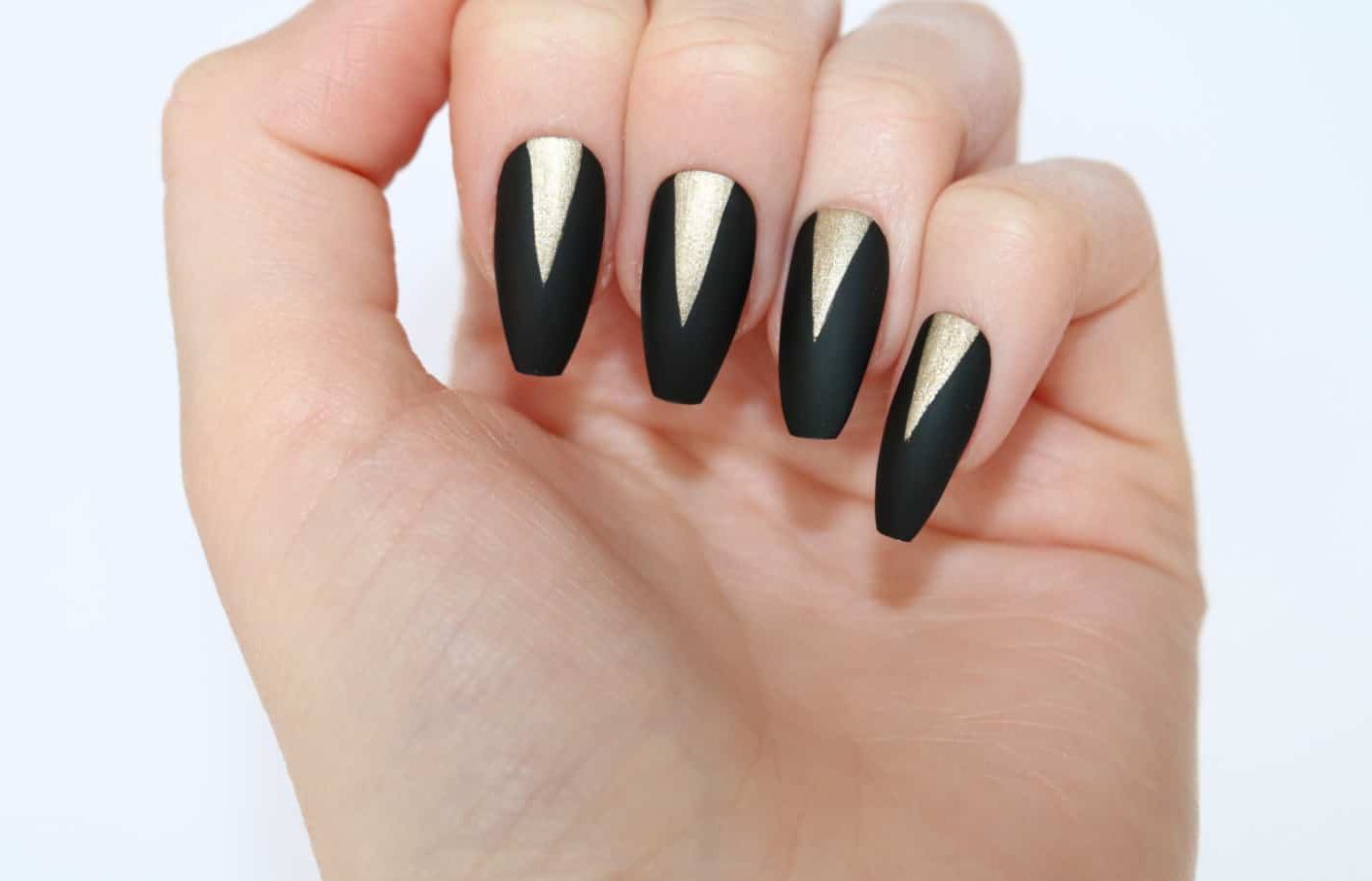 You can choose to art deco your nails by incorporating geometric patterns in your matte black coffin nails. In fact, geometrical patterns go very well on coffin nails. You can either use a negative space concept or may even use color blocking techniques to create the patterns.
For best results, stick to matte finish nail paints and limit the palette to white, grey or ivory with black, so as not to distract the attention from the matte black nails.
#18. French Manicure Black Matte Nails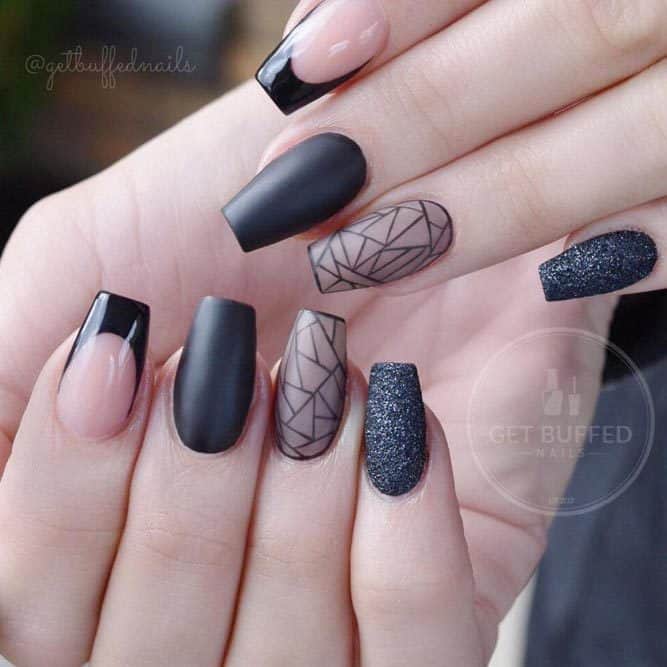 You can never really go wrong with a French Manicure, even with black matte coffin nails. Keeping the body of the nail in matte black, you can paint the tip either in glossy black or matte white, Either way, it looks very polished and trim, and actually accentuates the stylishness of the matte nails.
#19. Military Camouflage Nails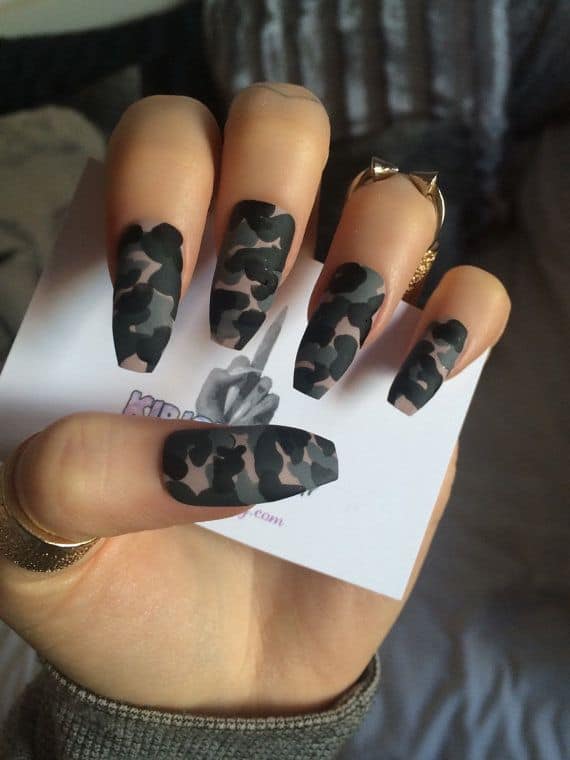 Whoever said that black nails will have to be a solid black? Know what looks even more striking? A black and gray camouflage pattern. This pattern is very detailed and needs a lot of nimble handworks.
More importantly, unless you have long coffin nails, it would be really difficult to fully display the details of this nail art.  The overlaying of the several shades of gray and black looks slightly macho and needs to be paired with a proportionate attire.
#20. Matte Black Nails + Gold Strip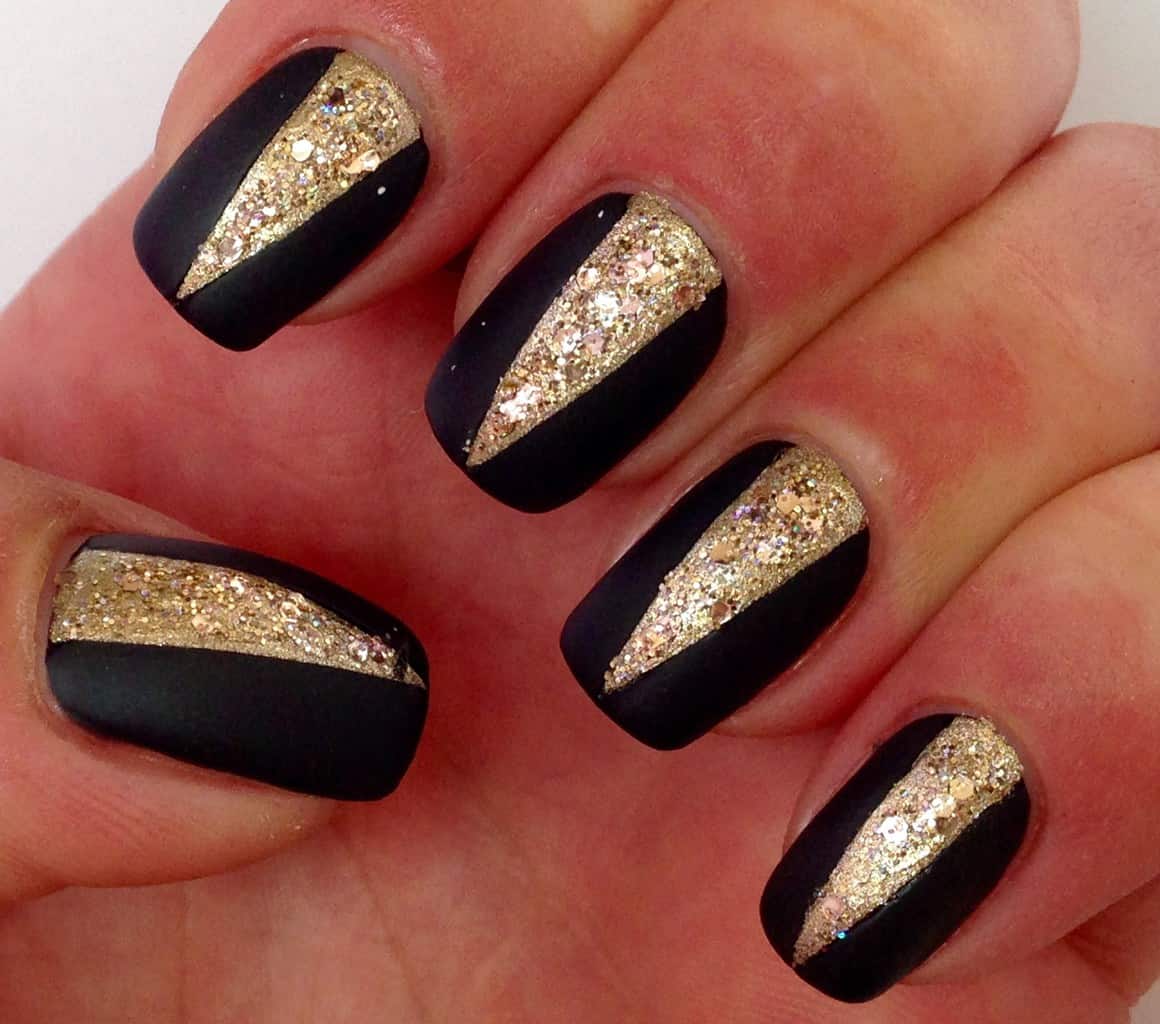 Gold and black go wonderfully together. You can pair up the two of them in many ways; as we discussed previously, glitter and rhinestones are one way.
Another is to use plain gold nail paint to line either the cuticles or simply attach a gold strip right through the center of the nail, parallel to the tip of the nail. Extra glossy gold nail paint creates a sharp contrast to the relatively dull matte black finish.
#21. Matte Black Ombre Coffin Nails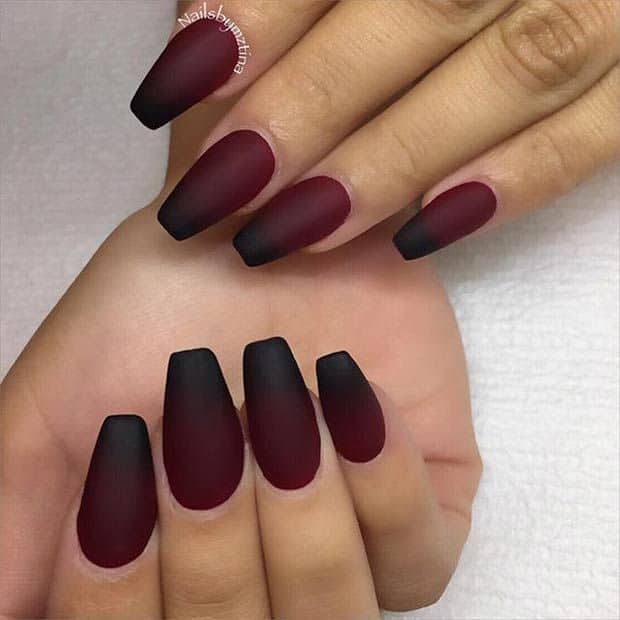 Not many are up for this fashion, although this design is a runway hit. It is the epitome of spooky, having the matte black fade into a cherry red, either towards the tip or the cuticle of the coffin nail. This pattern is decidedly bold and is in itself an eye-catching aspect of your overall get-up.
Of course, you cannot mix too many pop colors in your attire once you sport red-black ombre nails. Also, red is the only color which can actually not look absurd with black on a regular woman's nails.
#22. Animal Printed Matte Nails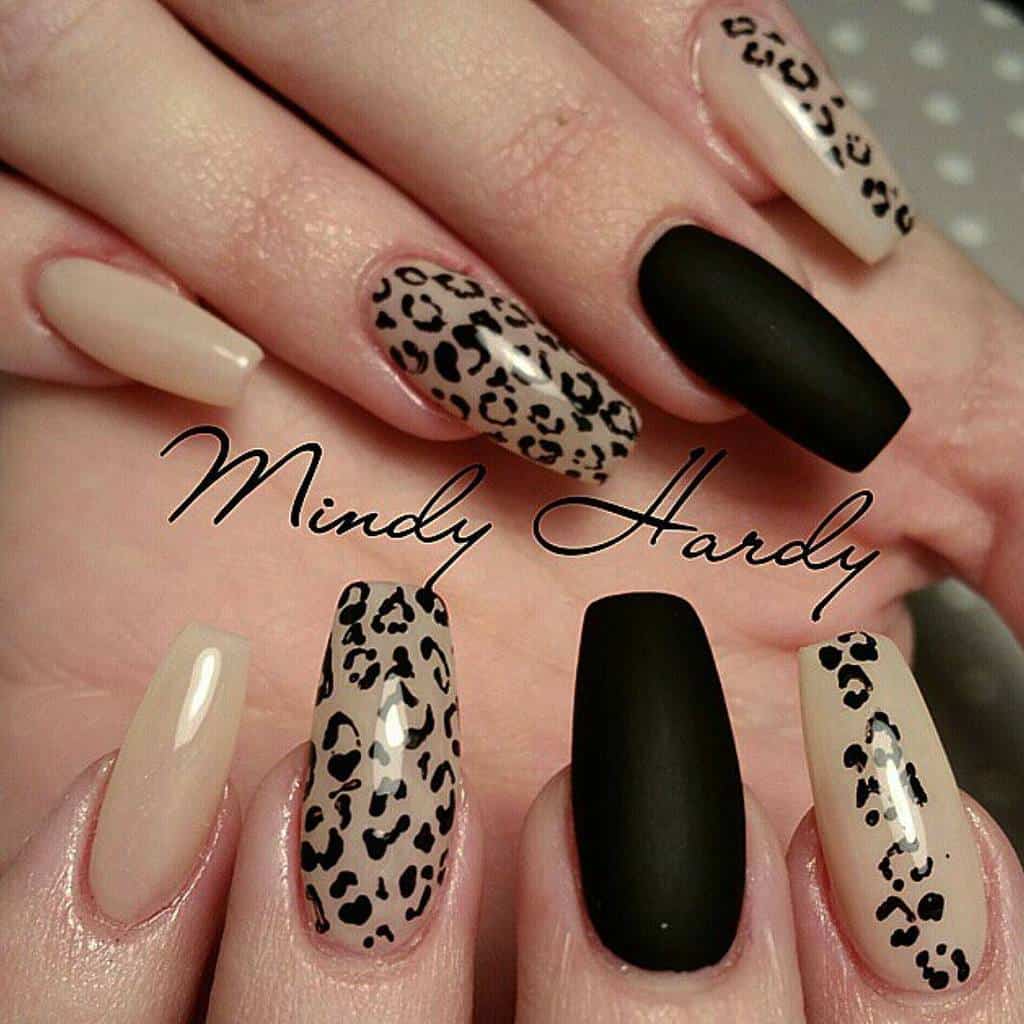 Black is powerful. And a catchy way to flaunt that slightly feral tone, you can go for animal prints on one nail in each hand. The top pick for this is the leopard spots, which thrives in the black background. Alternatively, you can choose to do the equally ferocious tiger stripes or the more docile zebra stripes.
Prettiest Feather and Zebra Nail Design Ideas
Matte black coffin nails can be customized in many innovative ways; all it needs is a bold imagination. Gone are the days when the boring black nails were enough to turn heads. It is time to go beyond that and make a statement.