30 Astounding Accent Nails To Add That Extra Glam
Going unnoticed with your beautiful nails? Then it's time to make them noticeable by accentuating one of your nails. Accent nails are used to customize the nails by giving emphasis on a single nail of each hand. You can use a contrasting color on that lone nail to make the accent nails perfectly obvious. Accent nails are in vogue since last decade. Girls are now bored with the conventional idea of painting all the nails with the same color. That's why accent nails have become more popular as they add personality to your nails.
Ideas to Have Awesome Accent Nails
Accent nails help greatly to enhance the beauty of your regular nail designs. They are of great use if you want to change the manicure but don't have enough time for it. Because you can have accent nails just by changing the look of one nail from each hand. So, it's an efficient way to have a beautiful and spiced up manicure. Another advantage of having accent nails is you don't need to rush to a beauty salon to have accent nails. They can be done easily at home by following our instructions or using your own creativity. Let's have a look at our ideas and designs to accentuate your nails.
#1. Orange Orchid
This is a flowery accent nail design. You can paint all your nails with vibrant orange keeping one blank for the accent nail. Then you can keep it nude or draw some flowers on the nail to have your desired accent nails.
Let Your Ring Finger Take All Attention
#2. Baby Blue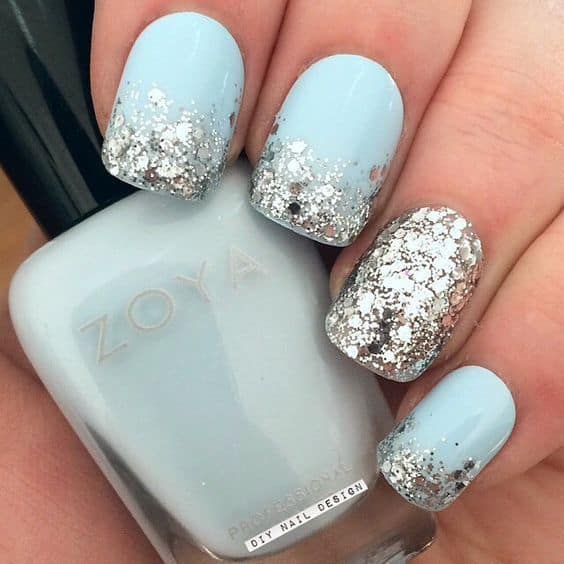 These baby blue color nails can be accentuated with the help of silver tinsel. First, paint the nails with blue color and use a few glitters on the tips of the nails. Then fill the surface of one nail entirely with silver glitters.
#3. Elegant Accent Nails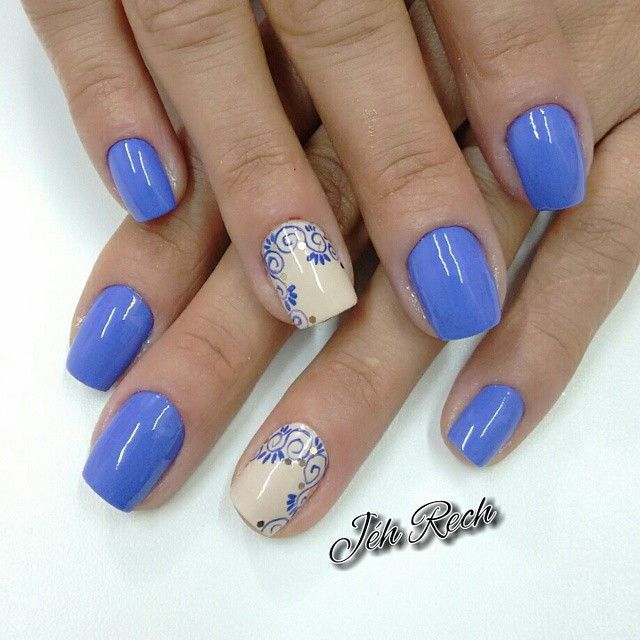 This design is so elegant. An abstract pattern is used on the accent nails here. At first, paint all the nails with blue color. Then draw some abstract patterns on the nails to give emphasis to the accent nails.
#4. Silver Glaze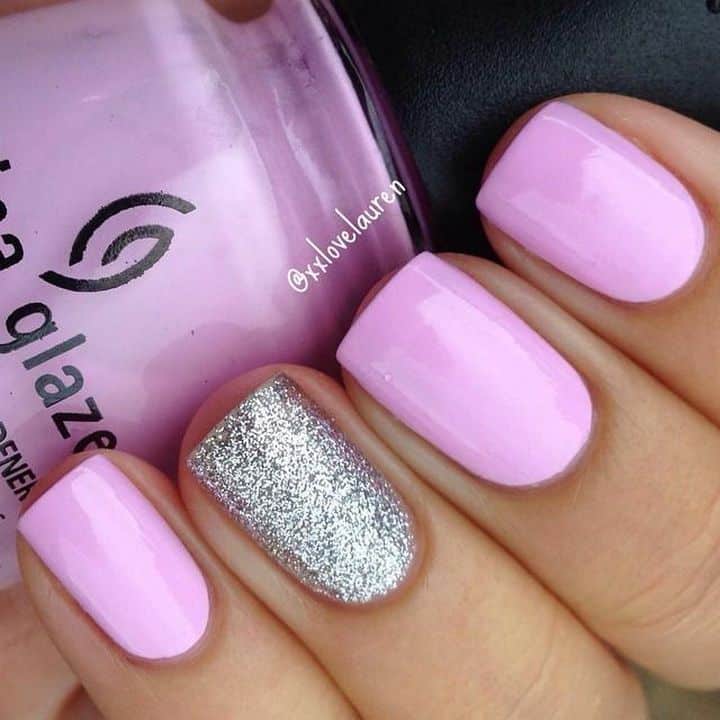 Your nails will look beautiful in purple color. The purple color is very dominant in the fashion industry. You can use silver glitters in between the purple nails to accentuate them.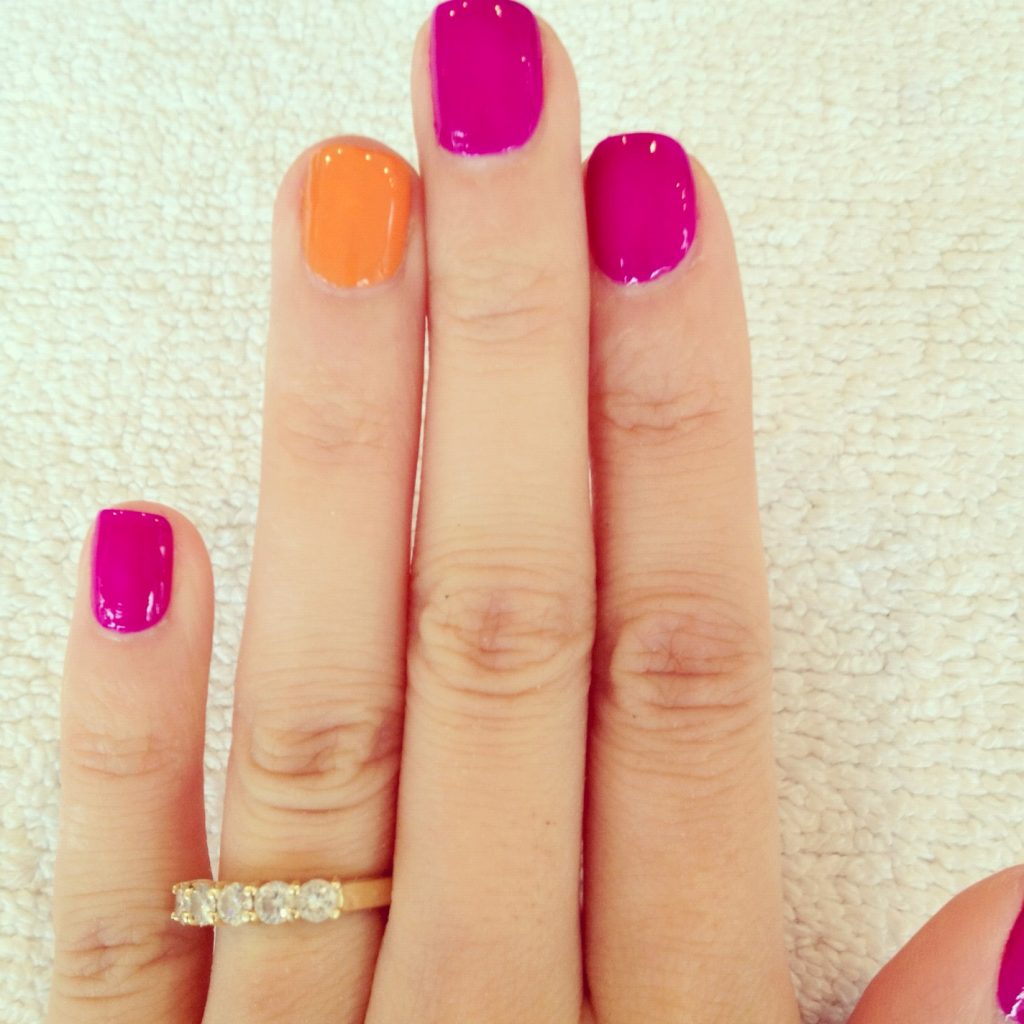 Summer nails are normally designed with bright color. So another bright and contrasting color is needed to have summer accent nails. Use a bright color to paint all the nails except one. Then paint the other nail with another bright color.
#6. Patterned Accent Nails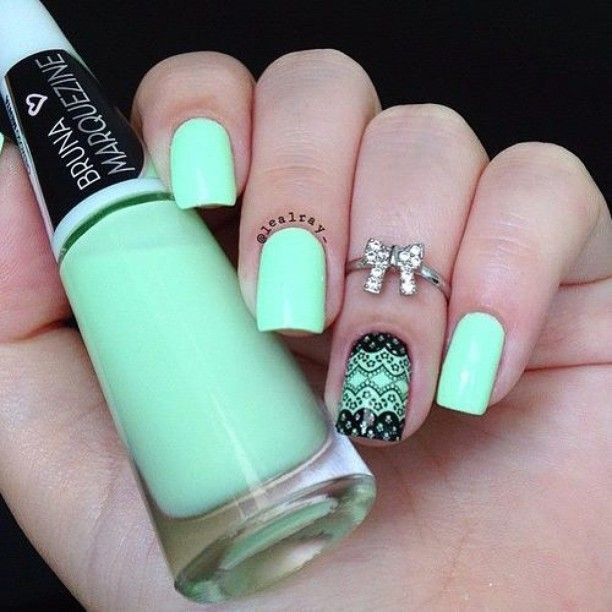 Accent nails can also be designed with various patterns. You can use pale green in all the nails and black pattern on the accent nails. A bow style ring will increase the beauty of your accent nails to a great extent.
#7. Gold Glitters
This deep red looks stunning on any nail. You can have this color painted on your nails. Then use golden glitters on the blank nail to accentuate the accent nail.
#8. Accent in Ombre
You can accentuate your ombre nails very easily. First, apply ombre colors, which means using two colors together, on your nails. Then paint the blank naiks with marble inspired design to have these accent nails.
#9. Blue Caviar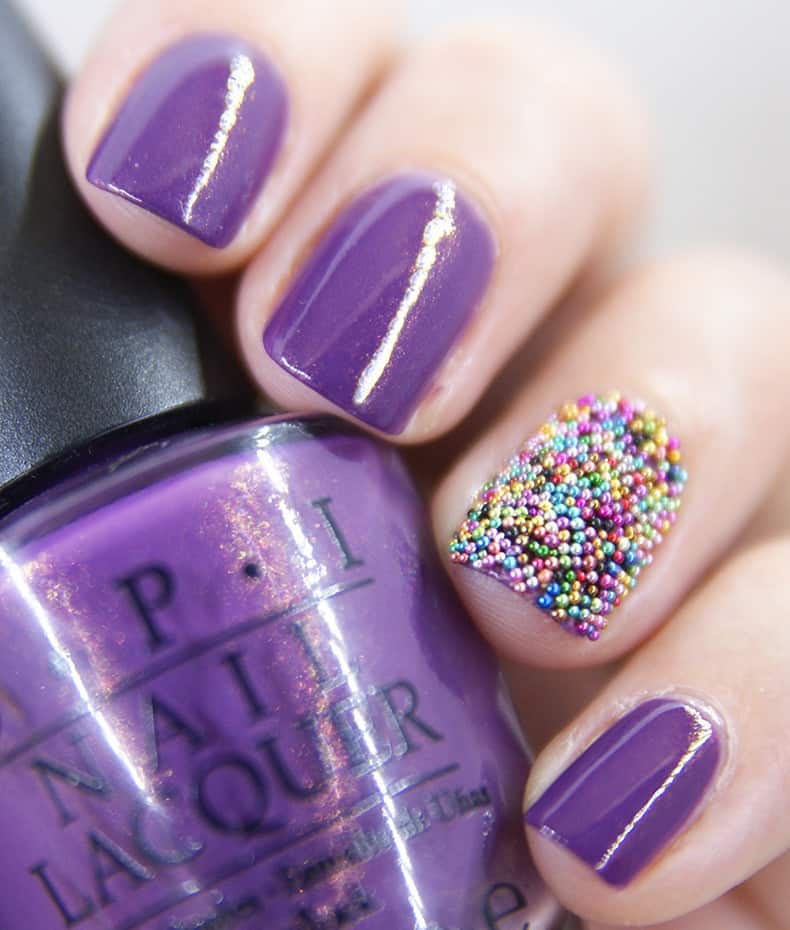 Blue caviar is a mixture of blue and purple. You can have this color on your nails to have the accent nails in a different color. Here the accent nail is exceptionally designed. A good number of tiny colorful balls have been attached to the nail bed to have this accent nail.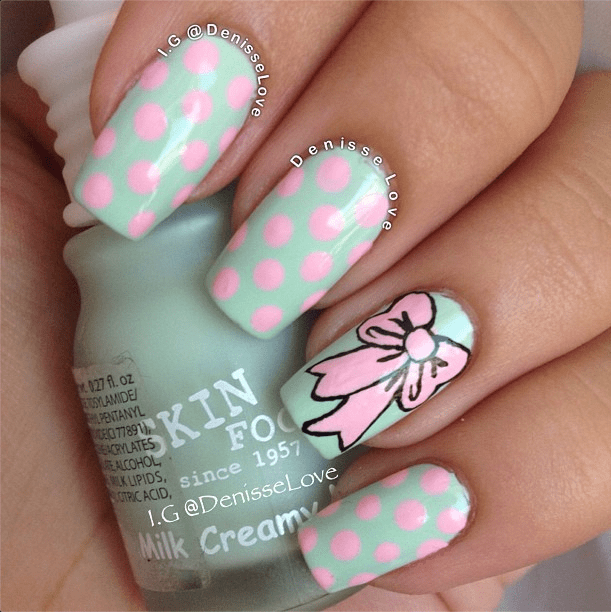 This design expresses the theme of femininity throughout every single detail. A light blue base and polka dots on them gives a calm and peaceful look. And you can use a pink bow to design the accent nail. Have a pink bow drawn on your light sky blue nail, your accent nail will be done within a minute.
#11. White Accent Nail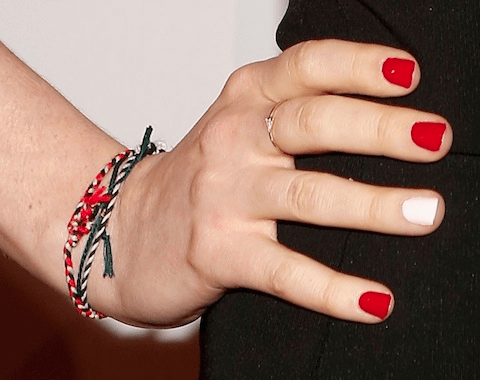 Very simple design to have. Use white on a single nail in between the red nails to have these accent nails.
#12. Radiant Neon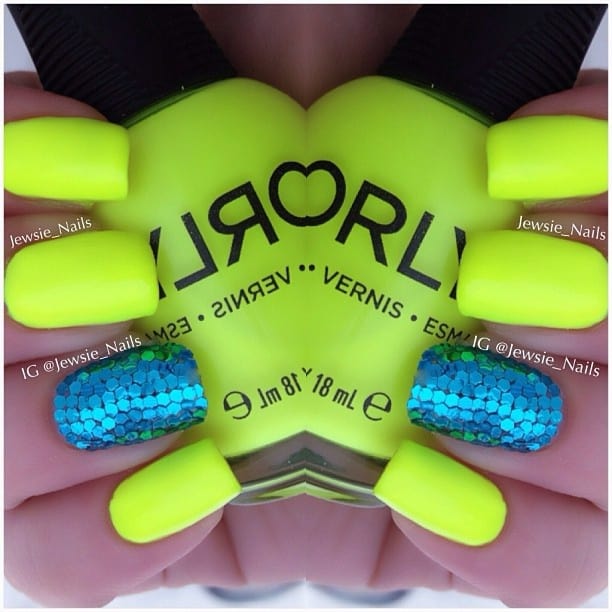 Neon yellow is a very striking color. It compels the beholder to look at your nails. You can have accent nails to add variety to these nails. Use fish scale glitters to make the accent nails look well-organized.
Accentuate Your Nail with Neon Color
#13. Pinky Accent
Pink will look gorgeous on your nails. You can have pink patterns drawn on the accent nails to complement the other pink nails.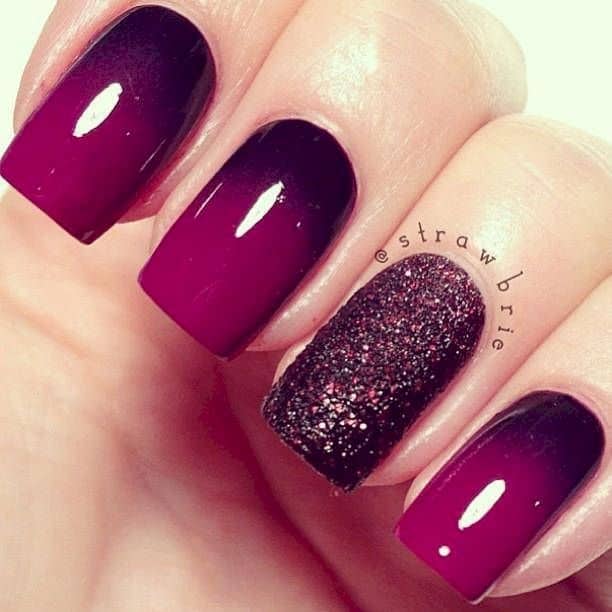 Maroon and black can be a good combination while designing your nails. Use these colors in ombre style on all the nails except the one which is kept to be accentuated. Use a blend of black and maroon glitters for the accent nail.
#15. Gray Accent Nails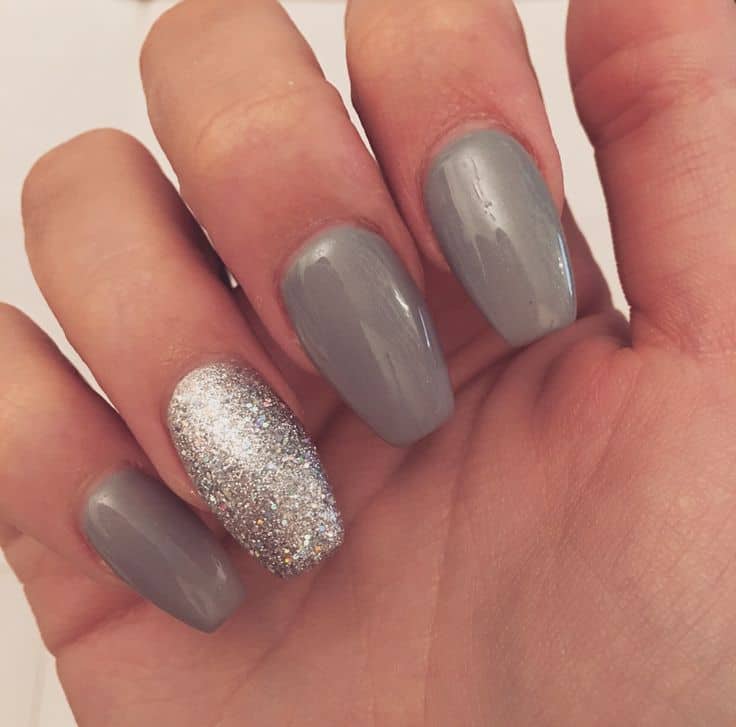 It's not always bright colors which are accentuated. You can use gray or silver color for accent nails. Use silver glitters in between the gray color for the accent nails.
#16. Golden Leopard

Leopard patterns have always been used in fashion industries. You can have this pattern drawn on the accent nails. At first, use mint green colors on all the nails then apply gold leopard patterns on the accent nails.
This design is for the flower lovers. Firstly, fill all the nailbeds with deep purple color. Then you can draw a flower on a lighter shade of purple base on the accent nails.
Purple Nail Design: Prettiness Overload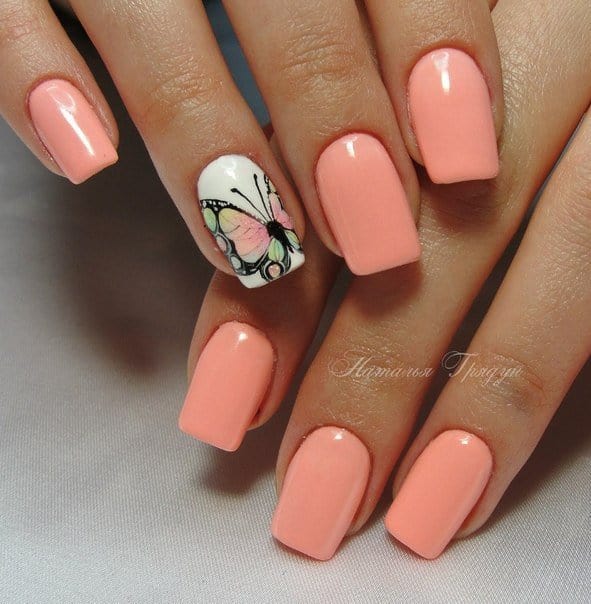 Butterflies has been used repeatedly in many kinds of designs. You can use them on accent nails too. Use peach color to paint all the nails keeping one nail white. Then draw a butterfly having light pink color wings matching with other nails. Your butterfly accent nails are ready to be exposed.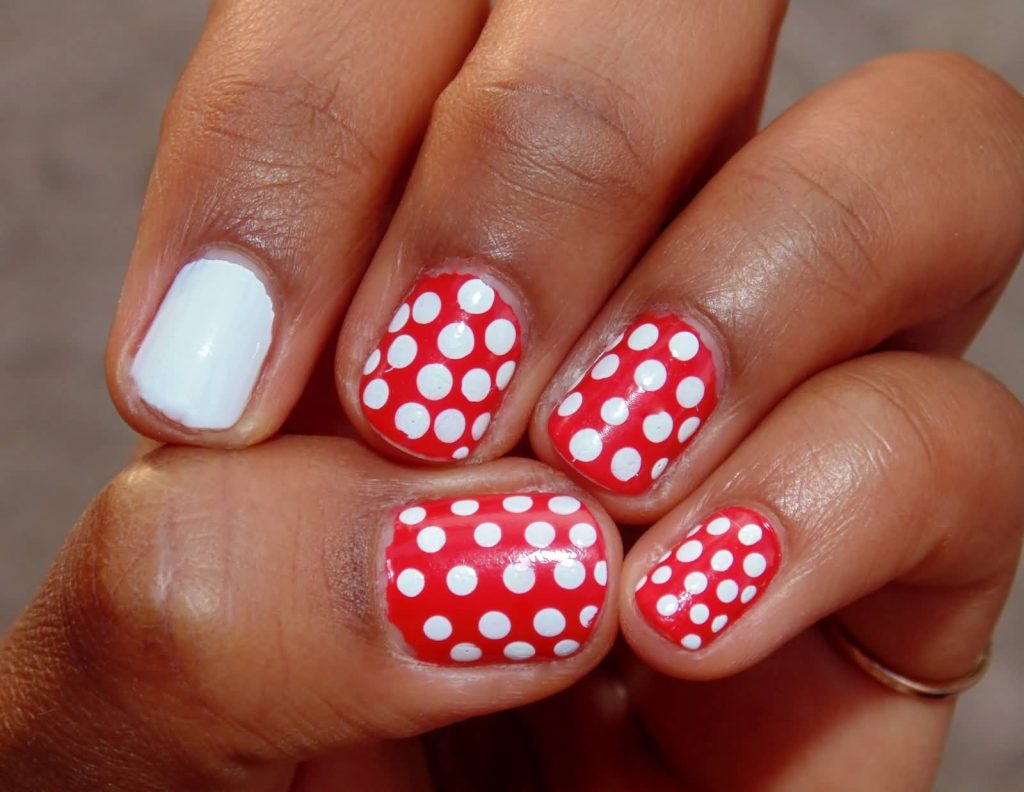 Red and white polka dots can produce a superb design. Paint all your nails with red and white polka dots except one nail. Keep the accent nail blank and white to have this design.
#20. Flower Bouquet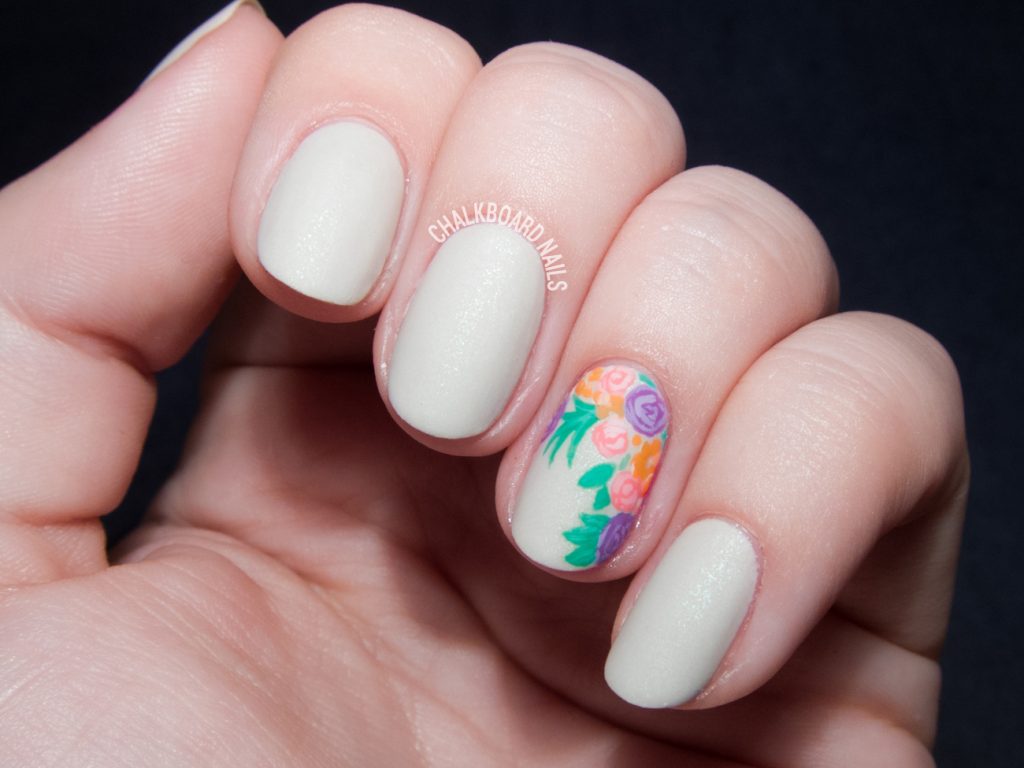 A flower bouquet can increase the beauty of any place wherever it is placed. There is no exception in this regard too. Paint all your nails with the shiny white base then draw the flowers on the ring finger.
#21. Chevron It Is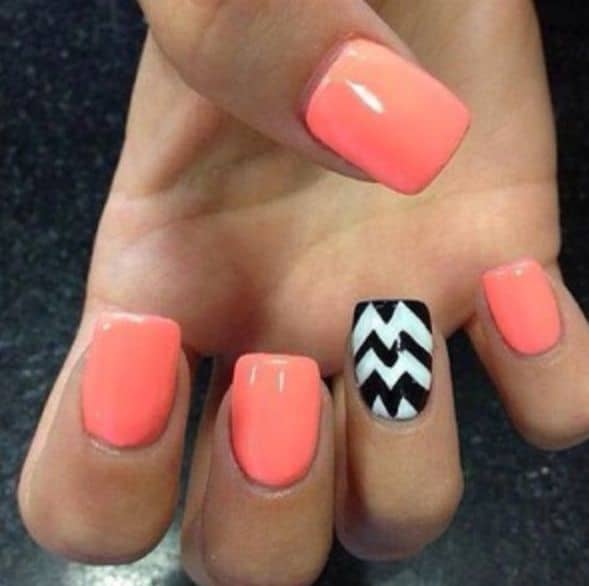 Chevron pattern can be used in accent nail design very effectively. Paint your nails with peach or light pink color. Then use black and white chevron pattern on the accent nails.
#22. Pastel Marbled Accent Nails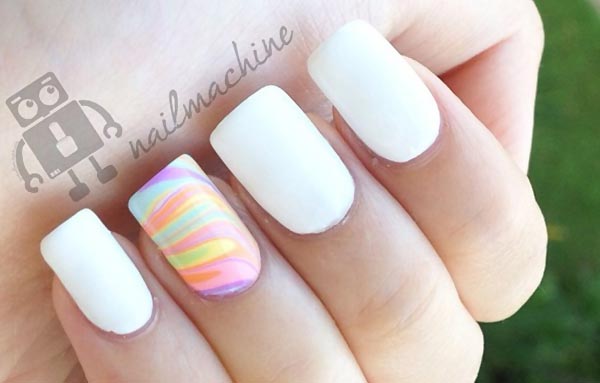 White nails look so elegant and gorgeous. You can draw a nail in pastel colors with a marbled pattern. The accent nail will look stunning in a marble pattern.
#23. Halloween Holocaust

You can celebrate Halloween with Halloween accent nails. Use shiny black color to paint the nails, then draw a spooky spider web on an orange base. Spiderweb is used in Halloween designs. So, you can have this design for your accent nails.
Stand Out OF The Crowd With Black Nail Design
#24. Sheer Beauty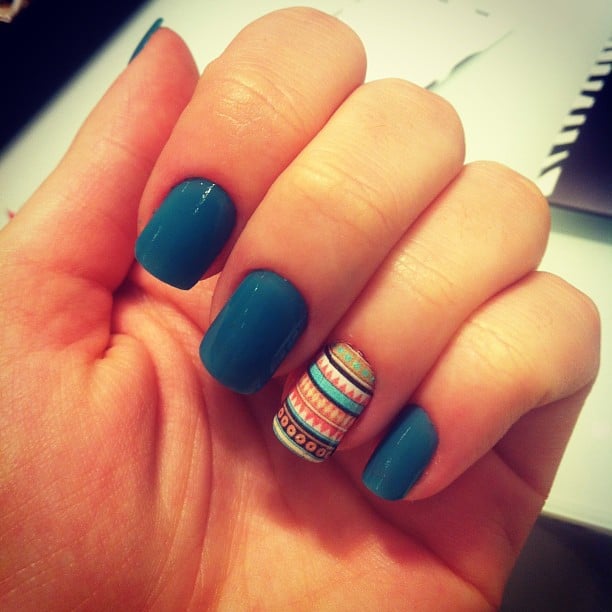 This accent nail design is really mindblowing. The other nails are ordinarily designed but the accent nail looks stunning in these colorful Aztec patterns. Draw the patterns carefully so that the whole design doesn't get ruined.
#25. Stoned & Studded
Rhinestone is a useful element to create diversity in nail designs. For this design, you can paint your nails in blue or purple then use rhinestones on the entire nailbed of a single nail. That will do the task for your stoned accent nails.
#26. Golden Geometry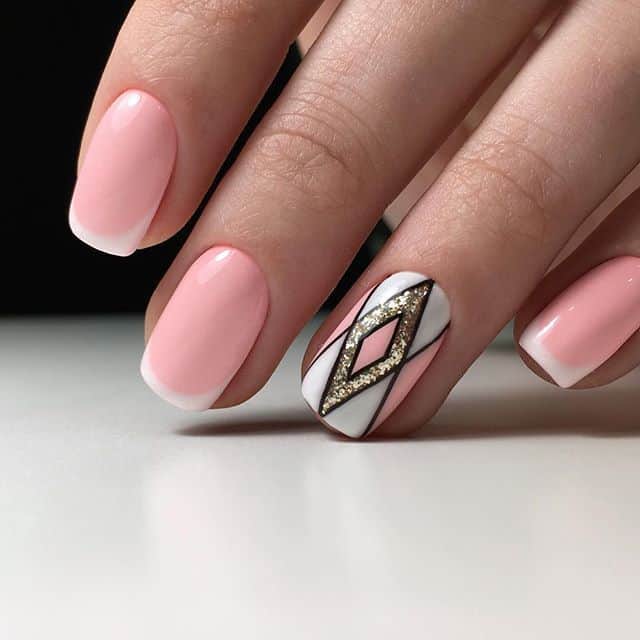 The golden shade of this accent nail is shining like real gold which is the main attraction of this design. Paint a geometrical pattern on one of your nails and use golden glitters and black edged lines to complete this accent nail design.
#27. Dripped Blood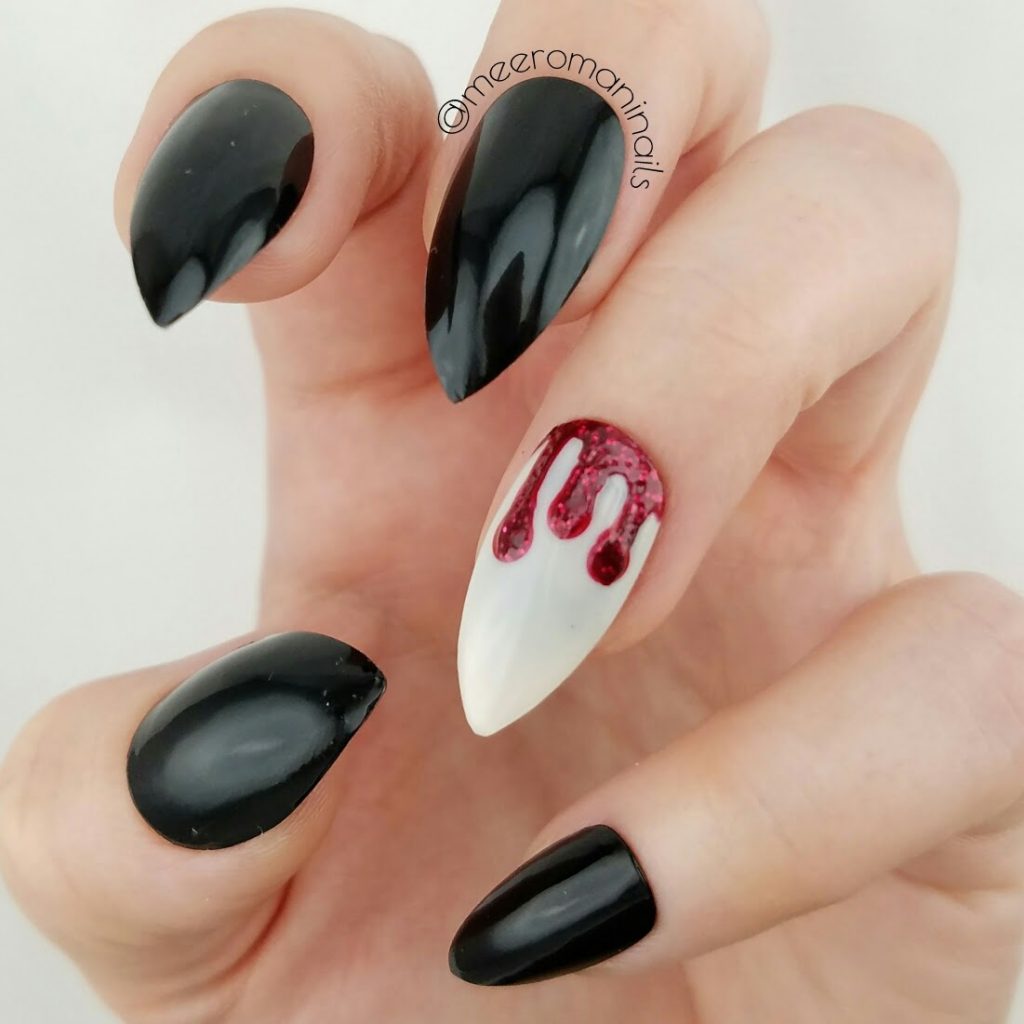 This design is very interesting. The use of black and white always add something new to a design. Here, a blood-dripping design is applied on a white nail. And other nails are kept black. The white nail looks as if blood was dripping from the cuticle of the nail bed.
#28. Blue Charm
The charm of blue will never go out of order. Girls have always been using blue color in their outfits and jewelry. Nail designs look dazzling in blue color. You can use blue matte for this design. And draw an abstract art in between the blue nails to have your desired accent nails.
#29. Accentuated Coral

Colar is something between peach and pink color. This peaceful color can be used in accent nail too.You can draw rounded patterns on the accent nail like the picture here. These accent nails on coral will suit your nails if you have a bright skin tone.
#30. Red Accent Nails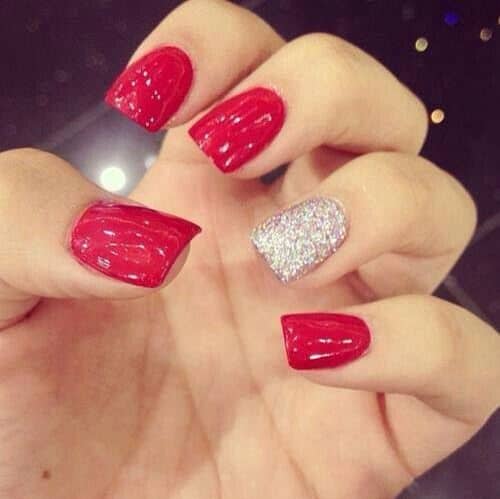 Red itself is ample for any nail design. The influence of red cannot be denied by any fashionista. You can have this design by painting all your nails with glittery red except the one that is kept blank to be accentuated. Then use silver glitters on the accent nail.
Artistic Yet Fun Abstract Nail Art Ideas
Some Mesmerizing Accent Nail Designs That Is Unavoidable
Accent nails are very easy to have but they have an appealing look. Having one different nail arouses curiosity among the people around you and they will look at your fingers. Thus, accent nails help your nails be noticeable to the outer world. So, if you want to add personality to your dearest nails in an easy way by having accent nails. You can try out our designs and ideas or be inspired by them.