Red nails are always hot no matter where you live. It's true, matte red nail designs don't offer the same shine as other traditional nail polishes, but that is part of its appeal. A no-shine manicure is quickly becoming more popular as ladies everywhere discover the attraction of a smooth, flat polish. Its velvety-feel offers a more luxurious look to red nails so there's only one conclusion here: matte red must be your next nail design!
While the best quality matte nail polishes are OPI, Essie, and Revlon, more affordable brands can be bought at your local drugstore for as little as $2-$3. You can also just buy a matte top coat by Sally Hansen to make any color polish you have matte. On your next shopping trip, pick up either of those so you can be prepped and ready to create our favorite matte red nails!
Magnificent Red Matte Nail Designs
Get ready to take screenshots of each design below – these 11 matte red nail designs are all try-worthy!
1. Matte Red Acrylic Nails
A matte red doesn't mean attention is taken away from these long square nails. The color is bold itself, but somehow with the shine gone, they stand out even more.
2. Matte Red with Bling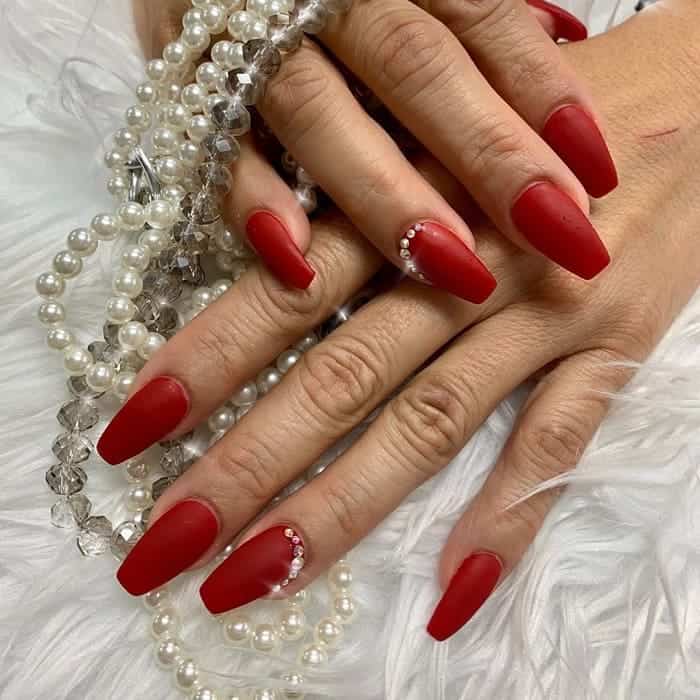 Give those red matte coffin nails a little bit of bling by placing tiny rhinestones or shiny beads at the corner edge of the accent nail. You now have a romantic yet sexy nail design!
We love a glam extra long nail! These ravishing matte red beauties help long stiletto nails make their presence known!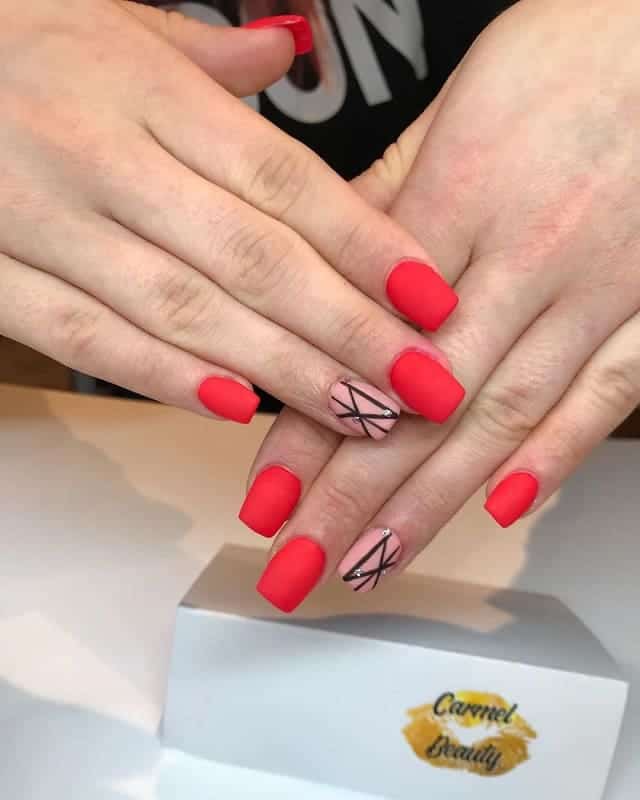 Short nails allow us to still attend to our daily practical duties without sacrificing style. Pair a bright matte red with pink nail accent nail you can add detail to, like the thin black lines on just half the nail with tiny stones seen above.
5. Red Short Nails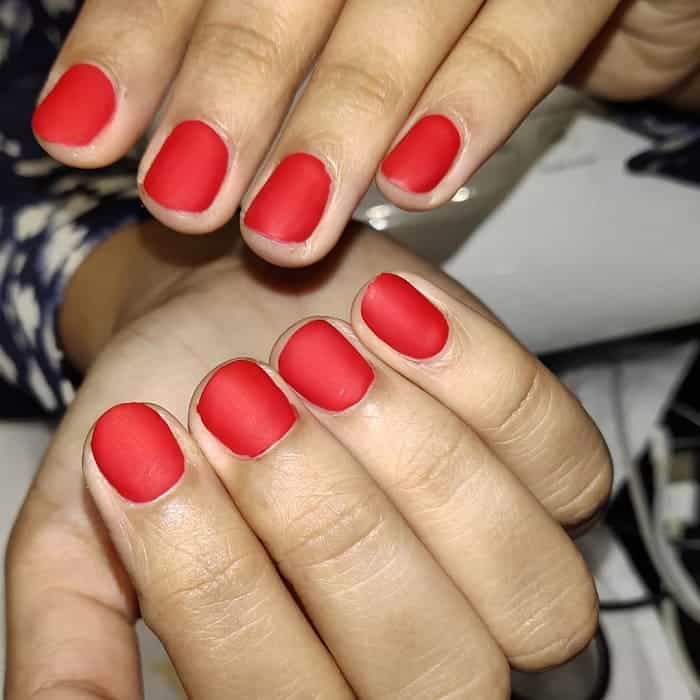 A short round nail is a go-to for ladies who struggle with growing their nails long or who just want to go natural for awhile. You can still make them look nice with a bright shade of matte red.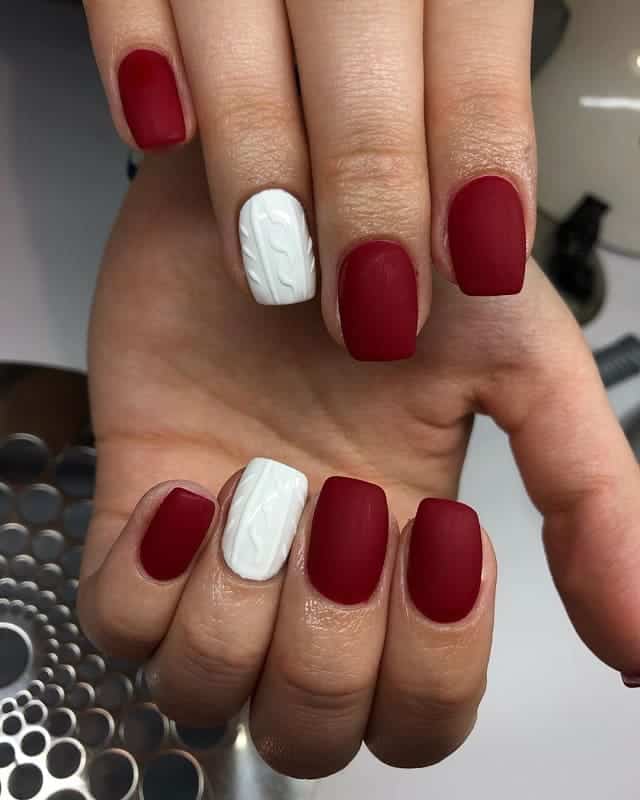 For a more sophisticated look, opt for dark matte red. This flattering look is best nail color for ladies with dark skin tones and will pop with a bright white accent nail with just tinge of texture.
You don't need to paint every single nail matte red to feature the color. It will still stand out beautifully as just the accent nail to matte black nails as seen above on short almond nails with flower detailing.
Is there any other foil color than gold that could make matte red nails look so stunning? It's easy to get these long coffin nail beauties – just apply small patches of gold foil to half of only a couple nails!
Still want a little bit of shine on those matte red nails? Mix matte with a traditional shiny polish but keep it in the same color family like the above nail design does: it pairs bright matte red with a dark glittered red on long almond nails.
To emphasize the shape of long square nails, start with a matte red base coat, then add stones or beads in various colors, shapes, and sizes from tops to tips!
11. Matte Red Nails for Christmas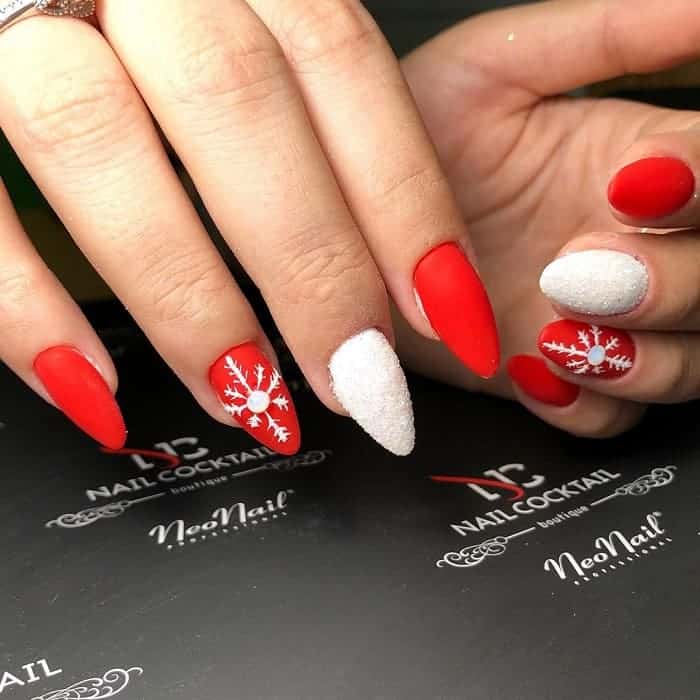 Get into the holiday spirit quickly and easily by painting your nails with bright matte red polish.
The above nail design shows how using textured white nail polish on the center nail makes a great accent nail for pulling attention toward other details like large snowflakes with stone or bead centers on a red ring fingernail.
As you can see, there are plenty of gorgeous ways to wear matte red nails! Each nail shape and length wears the color differently, but beautifully! Have fun mixing and matching shades of red and taking advantage of all the nail accessories available to enhance your design!
Related: