Who would've ever thought that mustaches could make cute nail art? Although the mustache is a male feature, they can actually make cute accents for art of all kinds, and that art is extending to women's nails!
Everything from tiny and dainty mustaches on the tips of nails to colorful thick mustaches placed at an angle are on the table when considering art for your nails. We know it can be tempting to go for those traditionally feminine styles, but once you see our list of the cutest mustache nail art ideas, you might reconsider.
Mustache Nails Are Pleasingly Pretty
Whether you have a man in your life or not, having mustache decorated nails can come in handy, especially when No-Shave November rolls around and men everywhere commit to not shaving for a whole month. Show your support of the cute facial feature or just show off your love of all things cute and tiny with one of these 15 mustache nail art ideas.
#1. Short Gel Nails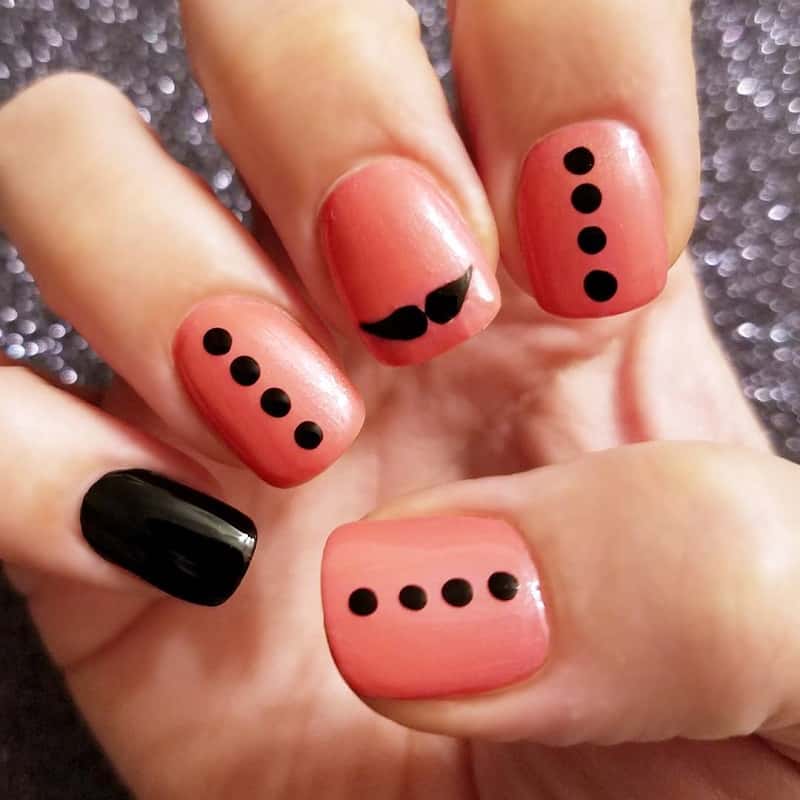 Decorate short nails with light pink polish, four black dots on alternating nails, and top it off with a thick black mustache at the end of your middle finger.
#2. Mustache Stickers
Stickers are more flexible than nail polish, so order a pack of mustache themed ones online to try this striped style on half your nail featuring hot pink polish and a cute mustache face.
#3. 3D Mustache Art
Black and white mustache jewels make this nail art come to life. Add them to teal nails with all the glitter and sparkle you can handle.
#4. Jamberry Mustache Nails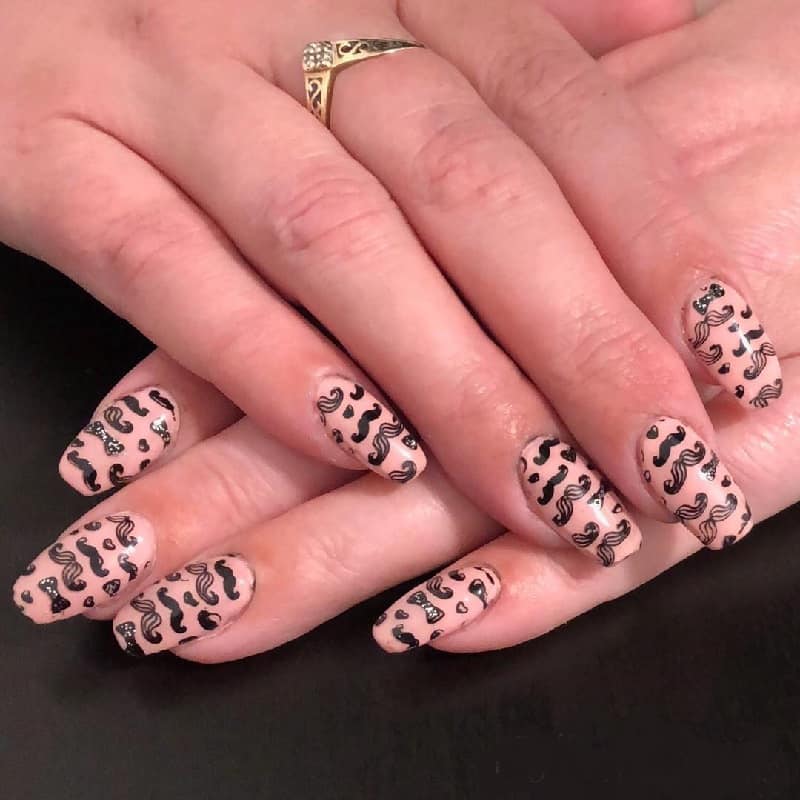 If you're not into visiting the salon, try out Jamberry's mustache stickers which are easy to apply on your own. We love the skin tone colored nails here with alternating solid and striped mustaches.
#5. French Nails
The French manicure is loved for its elegance. But the traditionally minimalist style quickly becomes a cool twist of classy and expressionist when you add black and red mustaches to those plain white tips.
#6. Christmas Mustaches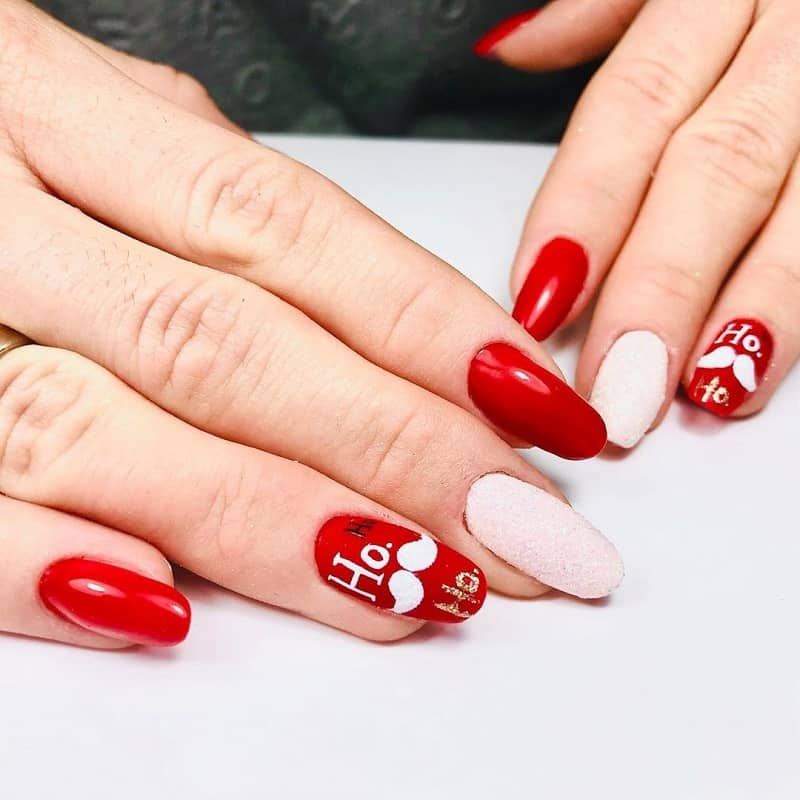 White mustaches really pop on long bright red nails with an accenting matte white nail. Add word art with "ho ho ho" or sprinkle in some jewels for more bling.
#7. Rainbow Bright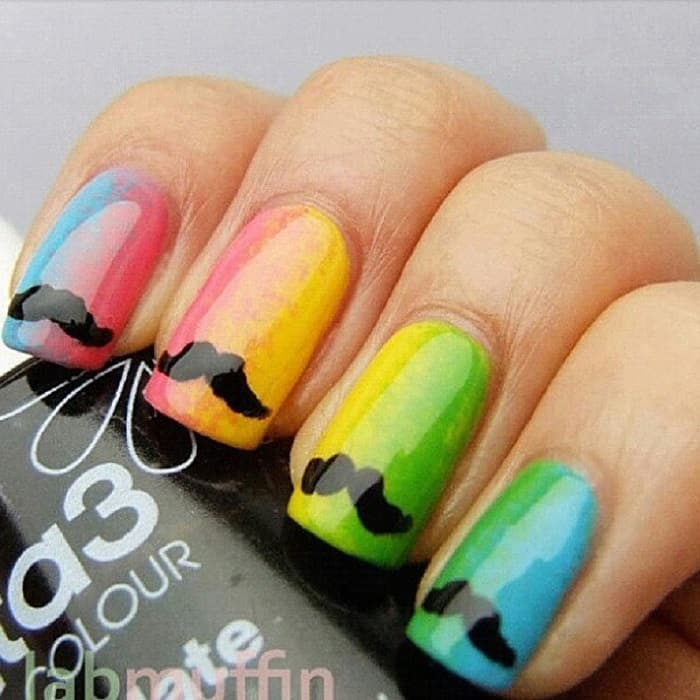 If you have a colorful personality, choose rainbow colors that subtly melt into each other for your nail art. Black mustaches will stand out handsomely at the tips of nails.
#8. Aqua Blue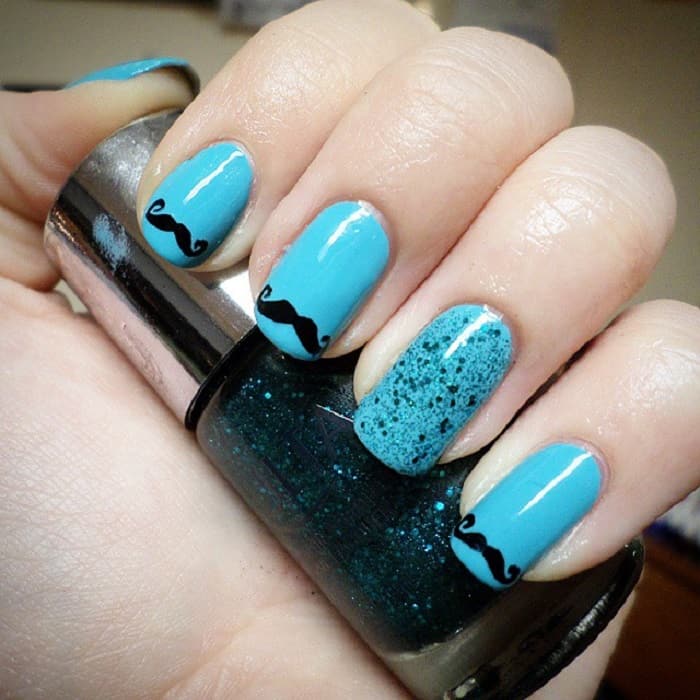 A beautiful aqua blue is just the color for summer or winter months. Add black mustaches to every nail tip or place them sporadically.
#9. Glam It Up

These mustache nails will enhance the glamour of your nails. The golden grace of thin rose golden glitters along with pure white make these nails chic and glamorous. A simple mustache on the ring finger complements the whole design.
#10. Mr. Gentleman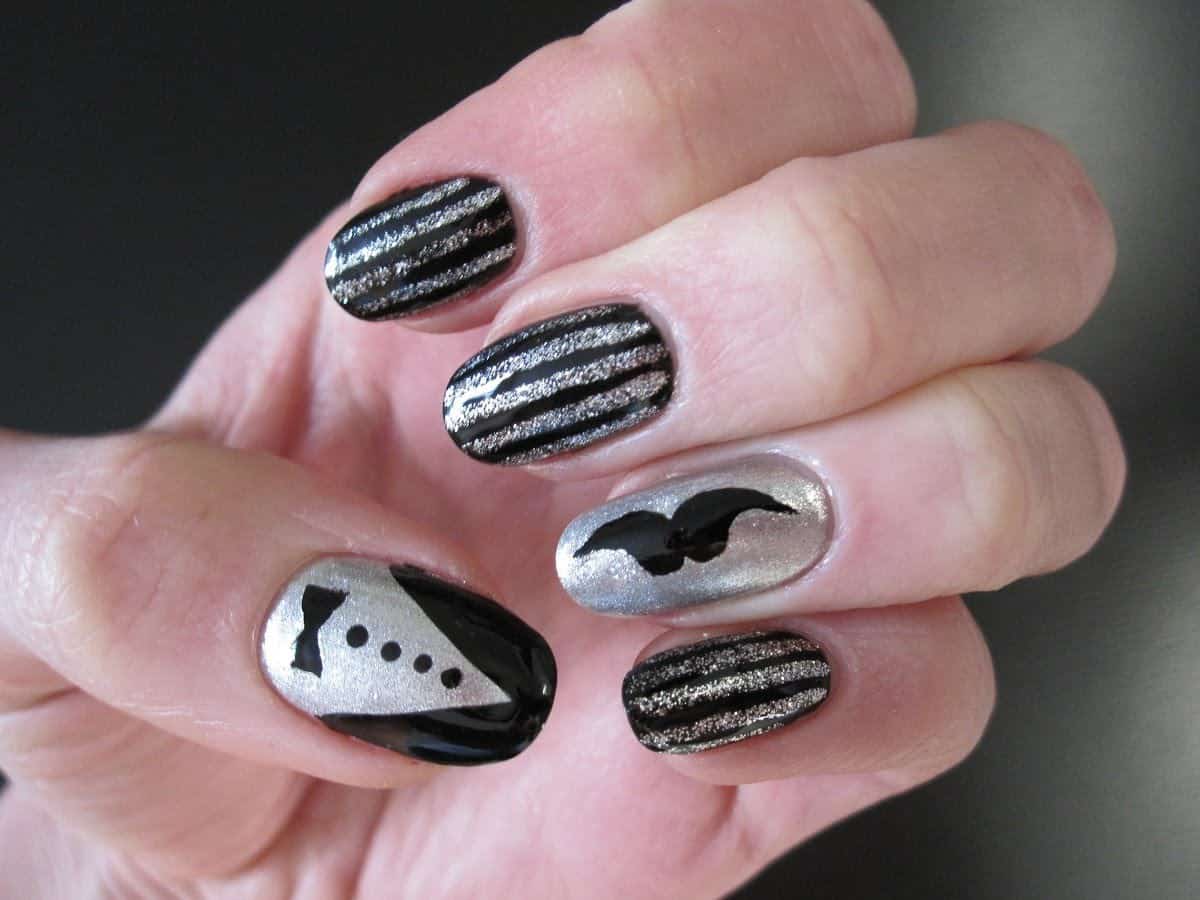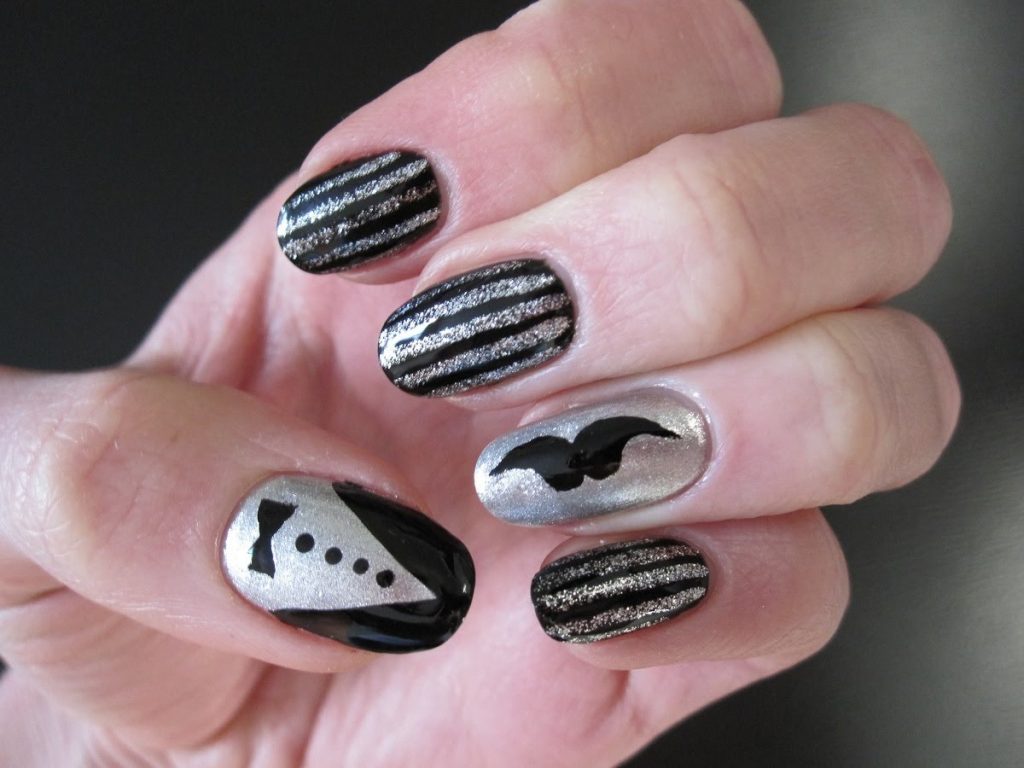 This mustache nail design resembles the image of a suited-booted gentleman. You can also draw Mr. Gentleman by painting your nails like this one in the picture. The stripes of silver and black suggest the combination of his attire. If you have a gentleman to impress, you can have these mustache nails.

This design looks stunning. You can paint some pairs of mustaches on any of your nails and paint the other nails with pure black. Fill one of your nails with silver glitters to add extra shine. This simple design of mustache nails looks amazing if they are designed properly.
#12. Mr. Handsome

This design illustrates a handsome guy wearing sunglasses and hat. Since it is all about mustache nails, he has a mustache too. You can paint your nails like this one to depict handsome the ultimate man of your life.
Dollar Nail Art to Boost Your Status
#13. I Love Mustache
If you love the mustache of your beloved person, or you have a soft corner for the mustaches, this design is absolutely for you. You can paint your nails inscribing the symbol saying "I love mustache." This design will show your likeness for the mustache, so don't have this if you really don't like it.
#14. Variety of Mustaches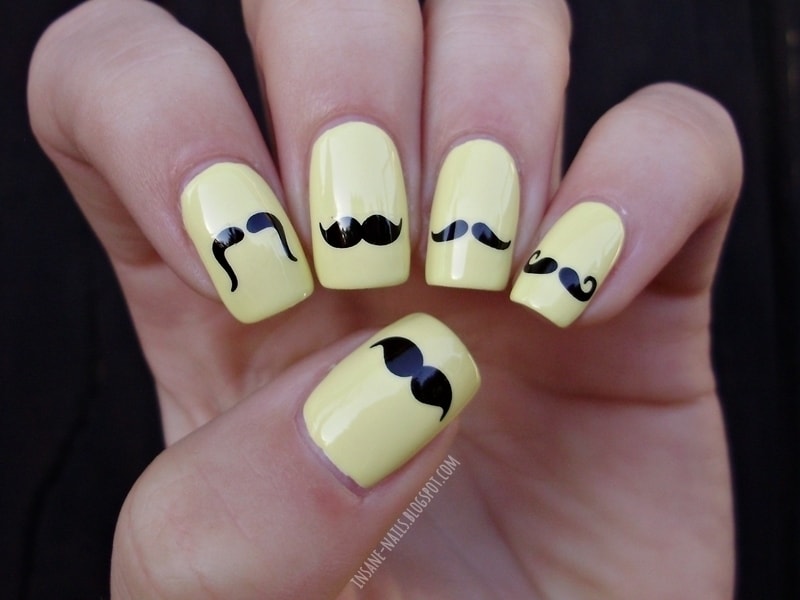 Mustaches have a variety of looks. A mustache differs from the other in terms of the length, width, shape, and density of the mustache. You can draw different kinds of mustache to have mustache nails like this one.
#15. Green Glory
You can have this beautiful and glorious green nails along with mustache nails at your fingertips. The green base of these nails will shine brighter if you use silver glitters on top of them. The overall design will look luxe if you can paint the hat, mustache, and bow perfectly.
Latest Nail Design for New Year
Mustache nails will look really cute on your nails. But, you have to design them with good care and accuracy. That's the point where you need our help. We have discussed the best mustache nail ideas for you. Try them out to gain perfection.