20 Funky Nail Piercing Ideas To Express The Boldness
Piercing is the practice of puncturing any body part, especially to make an opening in which jewelry may be worn. Though, this is not admired by a lot of people. Who cares? You can pierce your nails to add extra beauty to the nails. Piercing can be a medium of bold statement too.
People who have piercing on the body are considered to be a little bit tougher. You can express your boldness through nail piercing. But, watch out the natural nails. Don't get too busy with piercing. Natural nails are fragile and they can't stand the harm of piercing. Use nail extensions for this type of nail designs.
Nail Piercing to Look Exceptional
Nail piercing isn't practiced commonly. So people might stare at you at the first sight. But, if you can implement your aesthetic taste rightly on your nails, everybody will appreciate it. That's why having the sense of beauty is a must for a fashionista.
Nail piercing needs extra care in this case. Because piercing looks ugly if it isn't done in an organized way. We are here to help you do nail piercing. Check out the whole article to have ideas about nail piercing.
#1.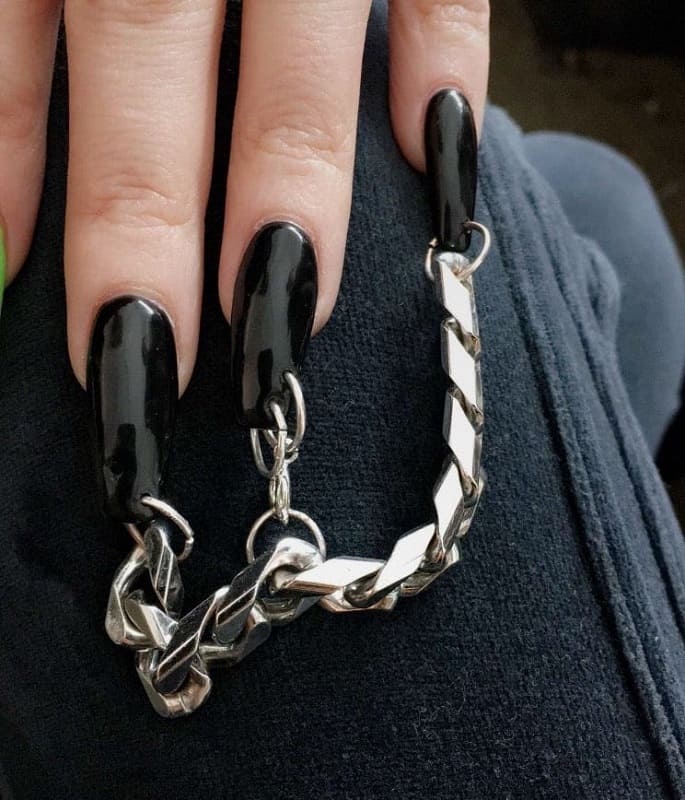 kim kardishian pierced nail
#2.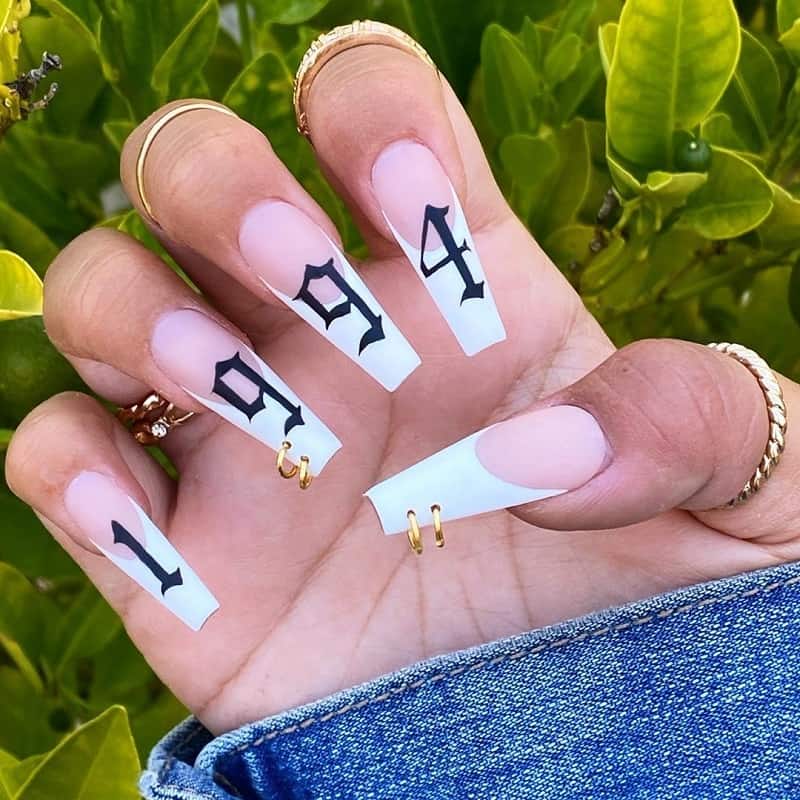 90s pierced nail
#3.
long pierced nail
#4.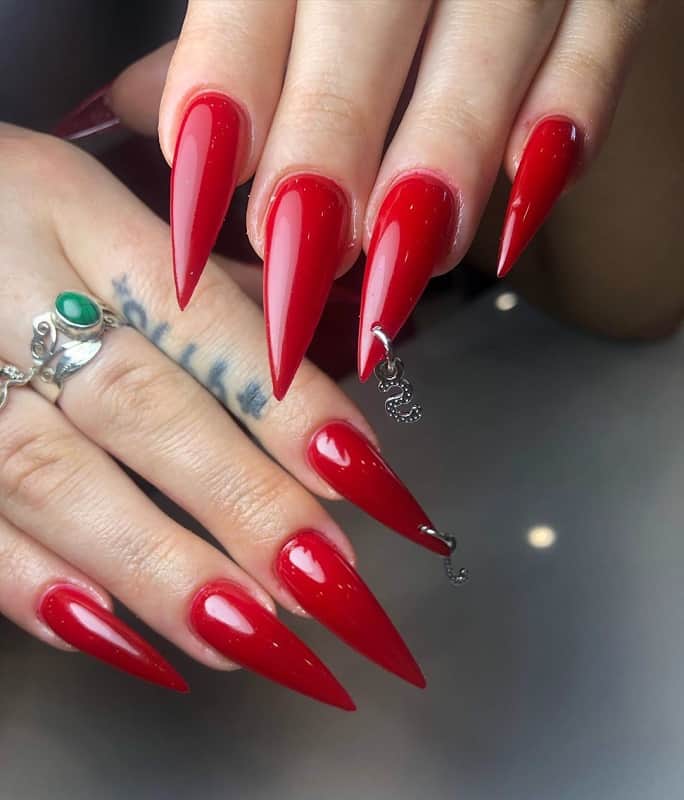 classic piercing  nail
#5.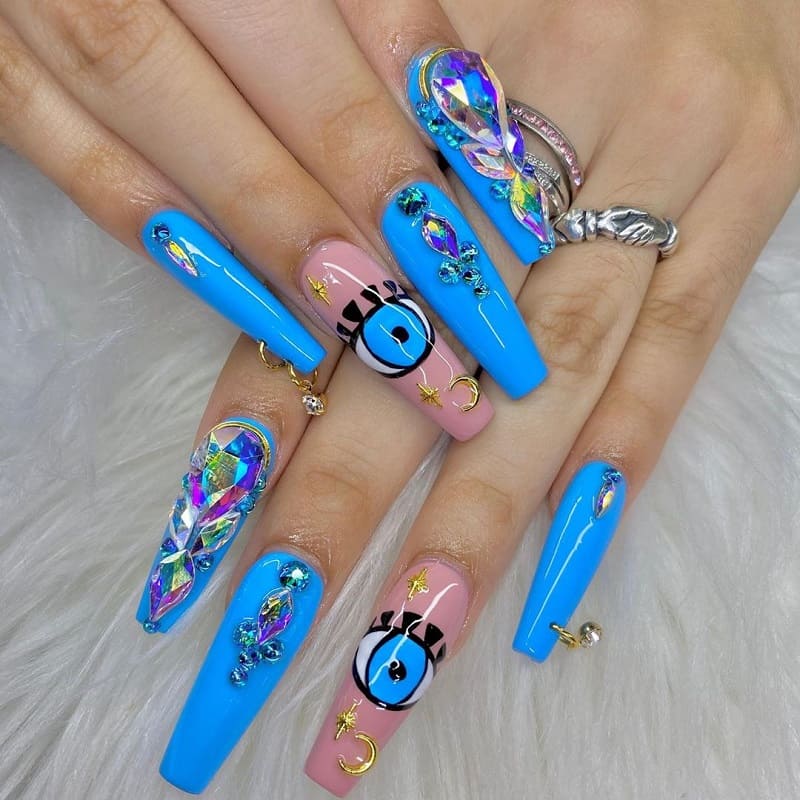 acrylic piercing nail
#6. Red Glam
Red nails are beautiful as always. You can add some glitters at the top edges of the nails. Then, do the piercing with golden jewelry having a stone on the tip.
Glam It up with Funky Nail Design
#7. Charming Black
This design is very simple. Pierce your nail extension and attach a small charm to the hole. A small stone will enhance the beauty of your nail piercing.
#8. Pierced Gold
Paint your nails with glittery gold nail polish. Keep a V-shaped space in each nail like that of chevron patterns. Then pierce any of the nails right at the top edge of the nail.
#9. Nail Piercing Jewelry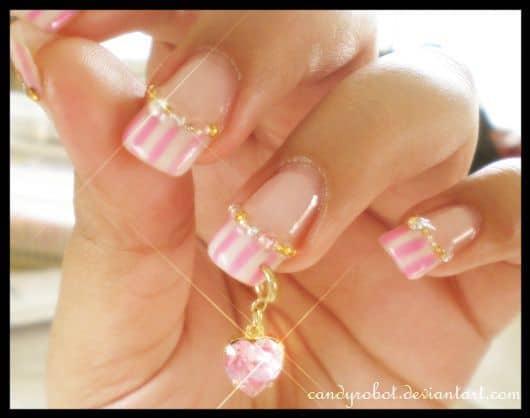 Girls are really confused thinking about what jewelry will be compatible with nail piercing. Here is a good demonstration of the piercing jewelry for them. You can wear jewelry like these for nail piercing.
#10. Piercing in Peach
This is a simple peach nail design. Pierce your peach nails and hang a small ring on the whole. There are different types of nail piercing rings on the marketplaces.  You can find the best fit for you from these salon shops.
#11. Carry Your Name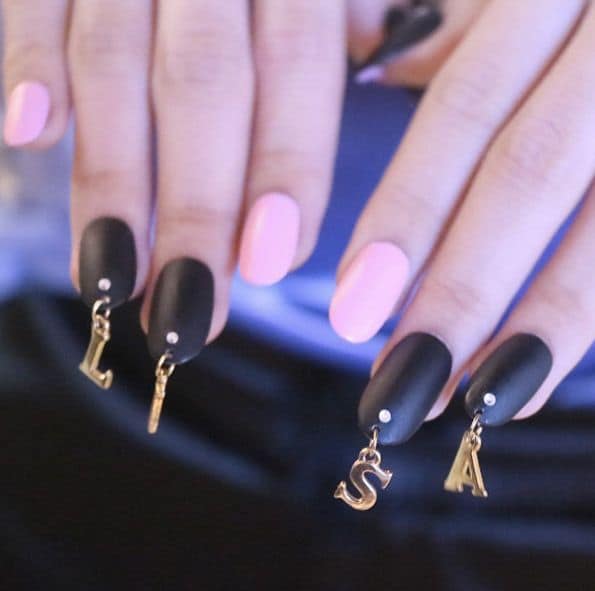 This design is very interesting. The black matte nails look so marvelous and these nail piercings also mean something. You can add the letters of your name instead of the charms to have this kind of designs.
#12. Pinkish Nails
These pink nails are enough beautiful even without the piercing. You can add a butterfly charm to the piercing hole to make the design chicer.
Make It noticeable with Accent Nails
#13. Pierced Key
Brown glitters can produce a stunning look for your nails. The look gets better when you apply piercing on the nails and hang a nice looking key from the hole. Your nail will look like a gorgeous keyring.
#14. Love Lock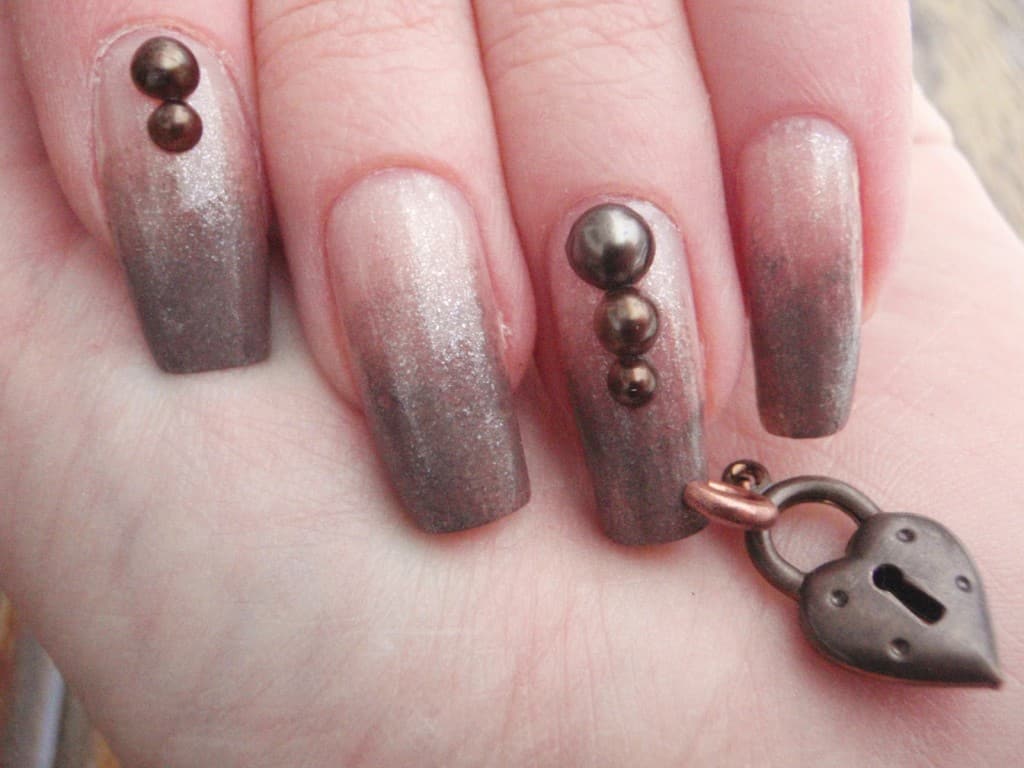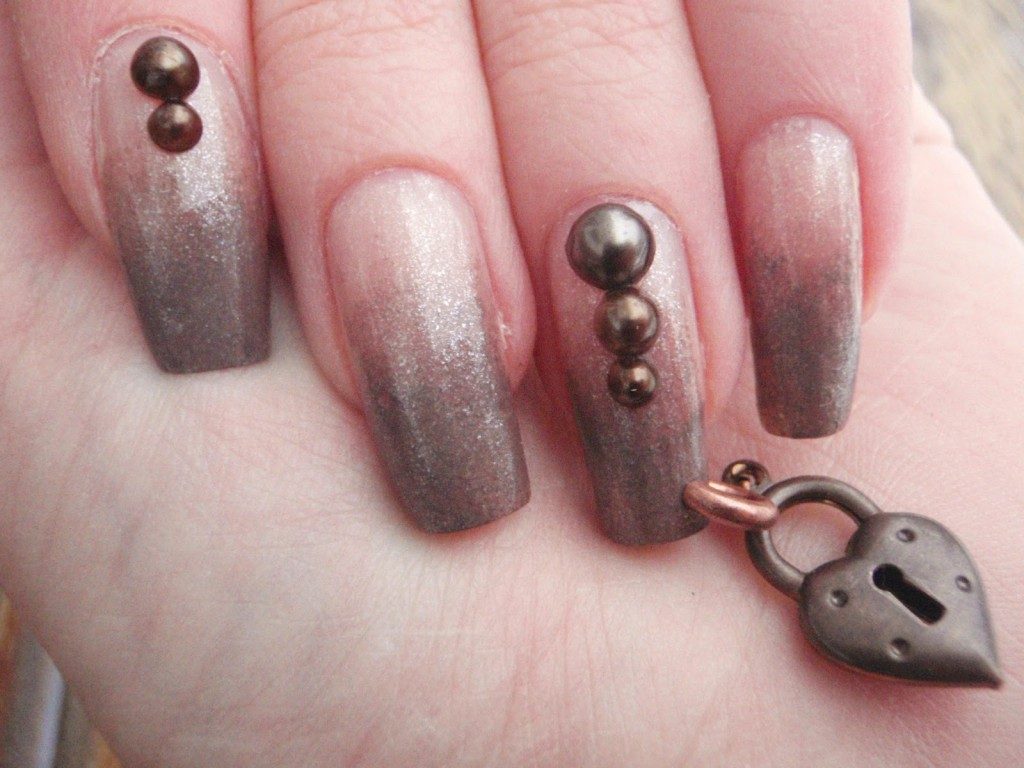 The same nails as discussed above can give a different look if you use a clock instead of a key. This design can be seen from a different perspective too. The heart-shaped lock may refer to your love lock which is waiting for the key owner.
#15. White Glow
White french nails look beautiful if they are pierced carefully. Never go overboard with nail piercing. Keep it simple and delicate like that of this picture.
#16. Burning Red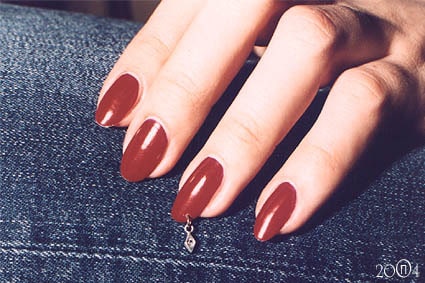 A small charm added to the pierced nail can enhance the beauty of burning red nails to a great extent. Piercing makes the nails look more hot and attractive.
#17. Big Love

This design is a bit peculiar for my taste.   But, taste varies from man to man. So, you can have this big love at the top of your nails if you want.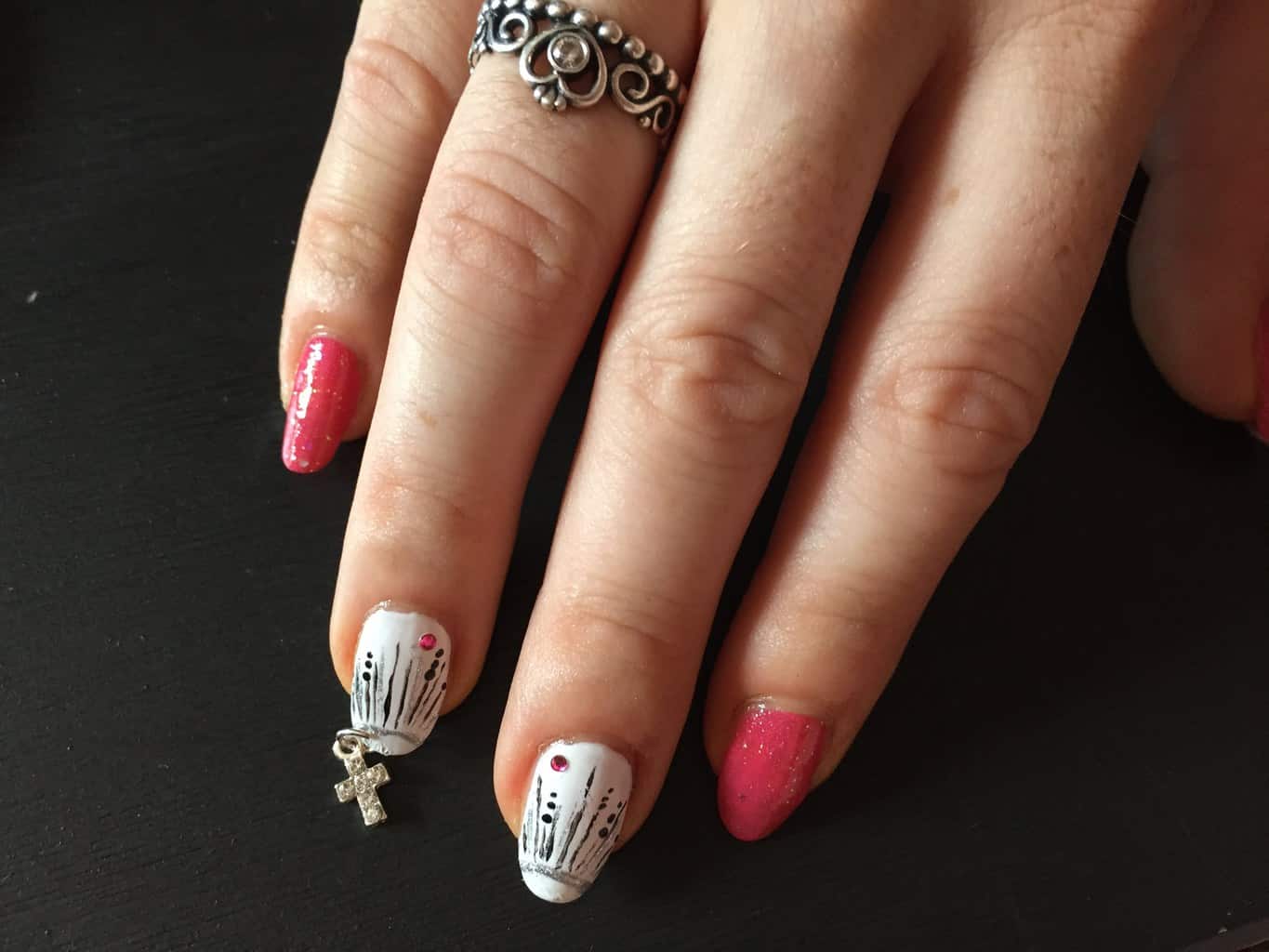 You can compile two different nail designs together through this design. Nail piercing and cross nails both nail designs can claim the copyright of this design.
#19. Abstract Floral Art
This design looks good as a long charm is hanging from the top of the stiletto nails. At first, you can paint the black nails in abstract floral art. Then the piercing will do the rest.
#20. Piercing Star
This design will pave the ways or hundreds of designs. At first, paint your nails with any color you want. Apply some glitters to them. Glitter nails are ready. Now drill a hole at the tip of any of the nails and add a star on the hole. You can hang any type of charms from that hole and all of them will be considered as nail piercing.
Why Not Give A Try to Duckbill Nail
Nail piercing is obviously beautiful if it is done by following proper guidelines. But before going further think twice. When you carry a nail design or any design it states your personality. If you think you are that kind of a person whose image goes with nail piercing then go for it. Otherwise, design your nails in other ways. You can be inspired by the designs from our website.