Combining a soft, feminine color with a dark edgy color like black is a technique many nail techs use to create one-of-a-kind nail designs. For example, black and purple nails!
For amazing casual nails, use a purple base to make lines & patterns. To equally display the colors, use purple and black ombre or a foiled design.
With all the amazing ways to wear the two colors on your nails, the only problem you'll have is deciding which look you love the most and want to try first!
Beautiful Bold Black and Purple Nails
There are several reasons the 30 purple and black nail designs below are our favorite: from the shades and styles of purple to the nail art that is worn with the two colors, you'll understand soon enough!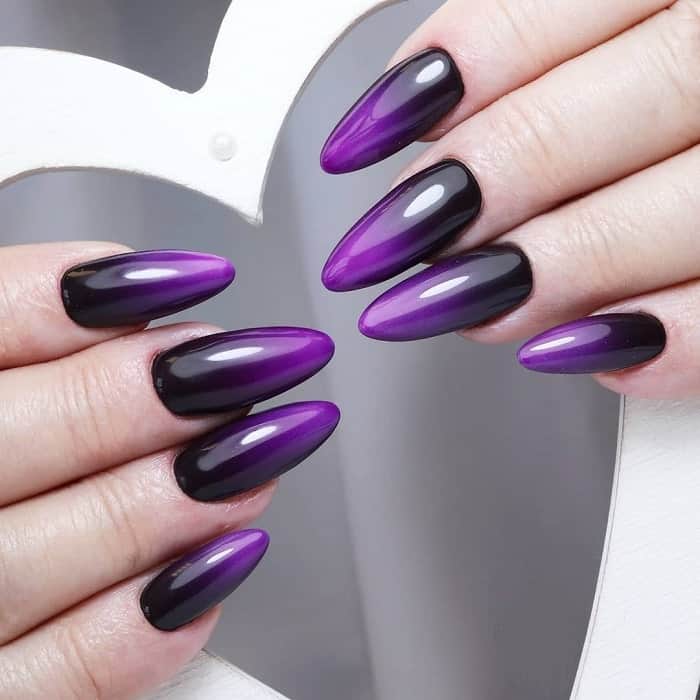 A truly bold design, especially for Halloween, these long stiletto nails feature a dark purple ombre. Black and purple are perfect for Halloween vibes!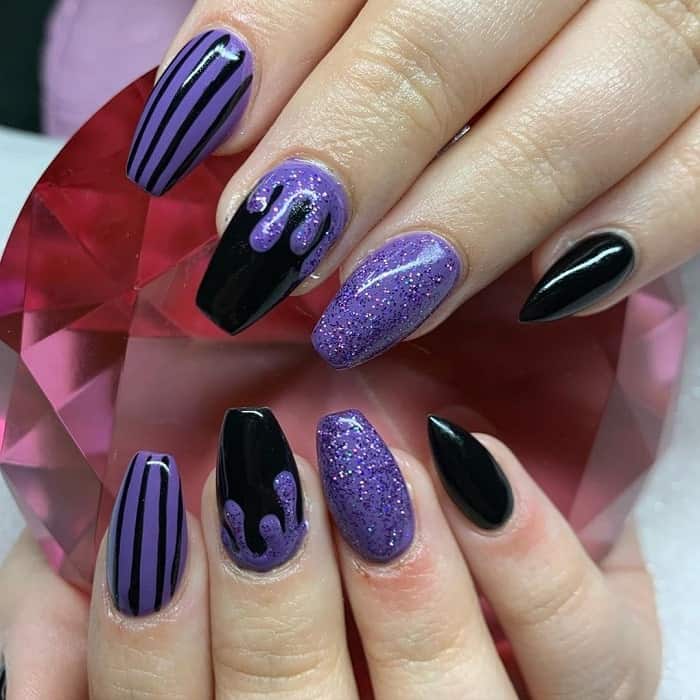 If any part of your Halloween costume has purple in it, these black and purple nails will be the perfect complement.
Mix glittered purple polish with pure black on a combination of coffin and stiletto nails to create the striped and "dripping" design seen here.
3. Black and Purple Halloween Nails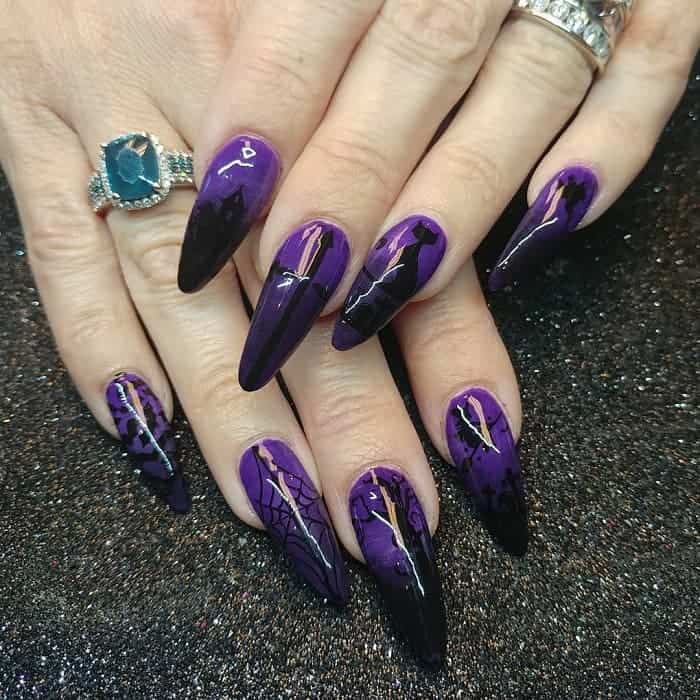 Love glamorous nail designs that incorporate a lot of art? Make black Halloween-themed elements on purple nails to celebrate spookiness! Bats, spider webs, witches… the only limit to the creativity is you!
4. Black and Purple Matte Nails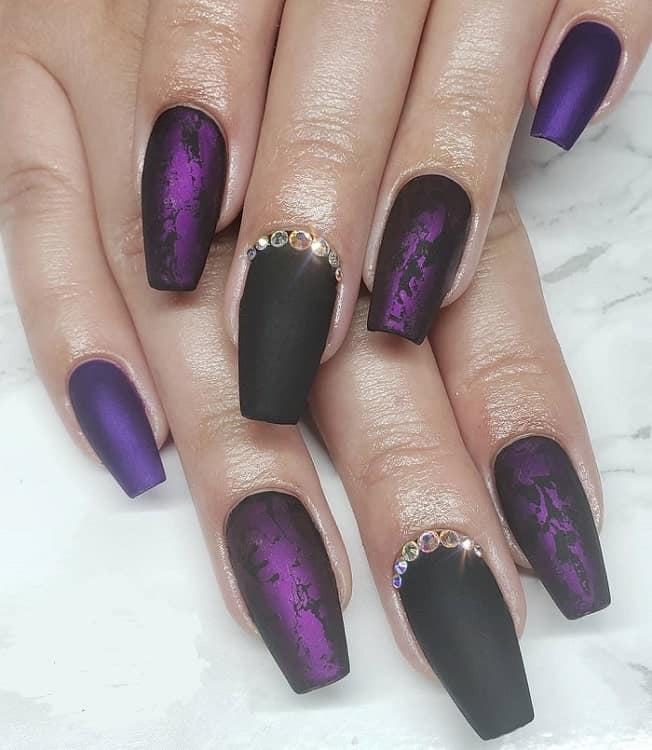 A bold and beautiful purple and black matte coffin nail design in matte may be void of shine, but the smooth texture is still an attention-getter. We love the foil prints and stone detail seen here.
5. Light Purple and Black Skull Nails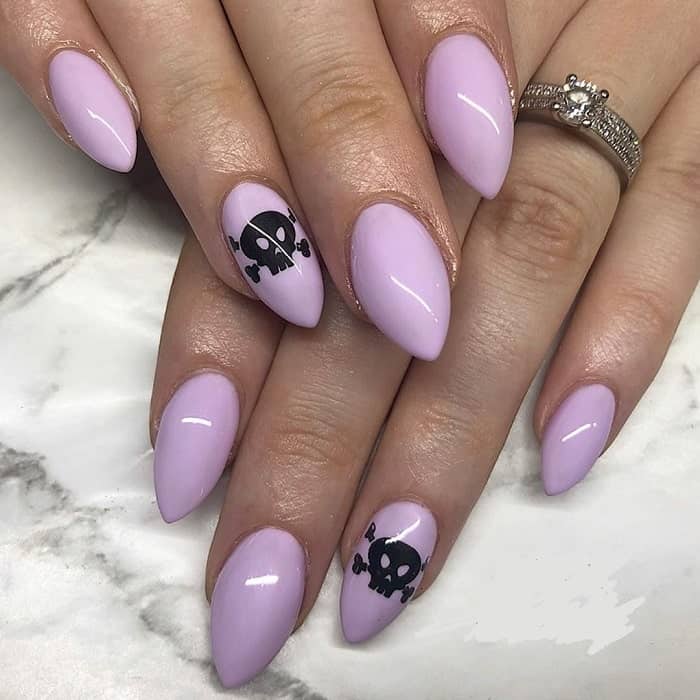 If you tend to steer toward lighter colors, choose this soft purple for short stiletto nails. Some edgy back skull and bones nail decals are easily added to mix moods.
6. Minimalist Flowers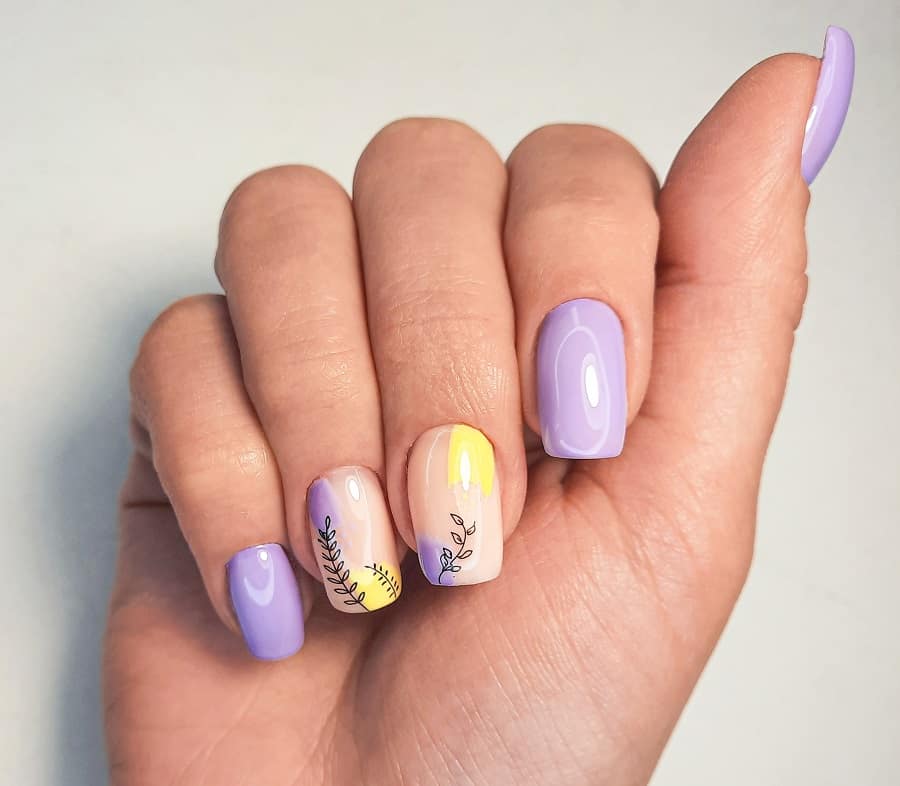 Flowers or plants with thin lines like this will need to be done by a nail tech, but you'll appreciate the extra time it took when you see how gorgeous your nails look with the delicate addition.
7. Jeweled
To get this ultra mod nail design and its jeweled appearance, paint different sized rectangle and square shapes in black and purple.
8. Purple Petals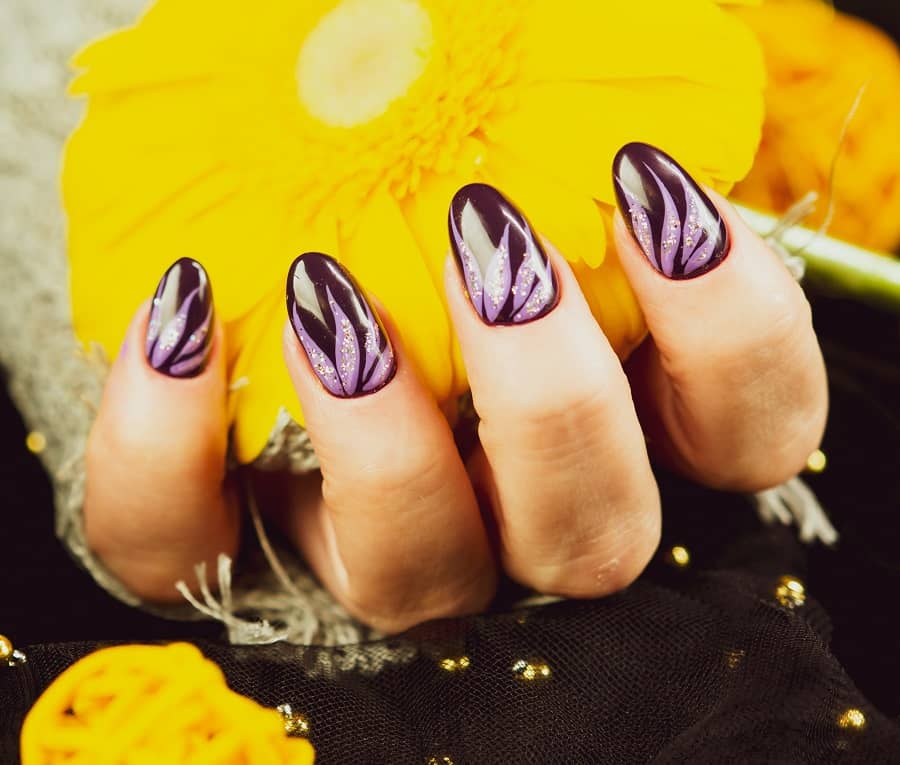 Light purple will always pop with a darker base color behind it. We love how these purple petals look in the corners of long black almond nails. Give yours a little sparkle with spots of silver glitter polish.
9. Curved Jewel Line
After painting your nails a matte black, take a thin nail brush and paint a diagonal curved line across the nail. Line it with light purple stones.
10. Patchwork
Is it just us or is there a definite nod to Sally's character in The Nightmare Before Christmas? For the best Halloween nails, use lime green and purple to paint a patchwork design.
11. Speckled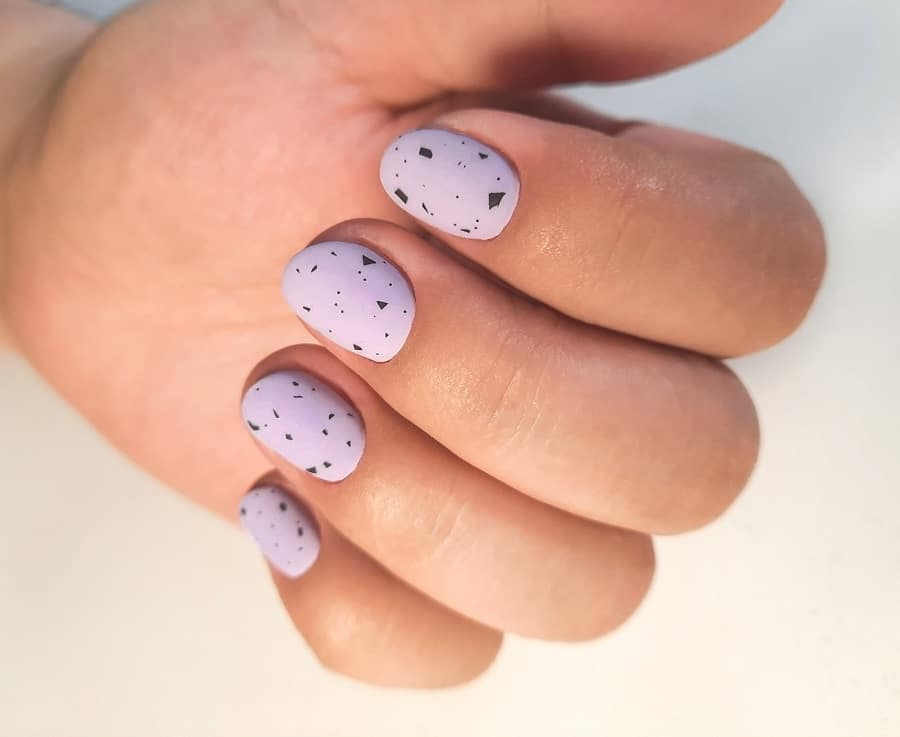 It's easy to create the design for these short round nails. Just start with a light purple base and 'shake' the black nail polish brush over each nail for the speckles.
12. Freehand Doodles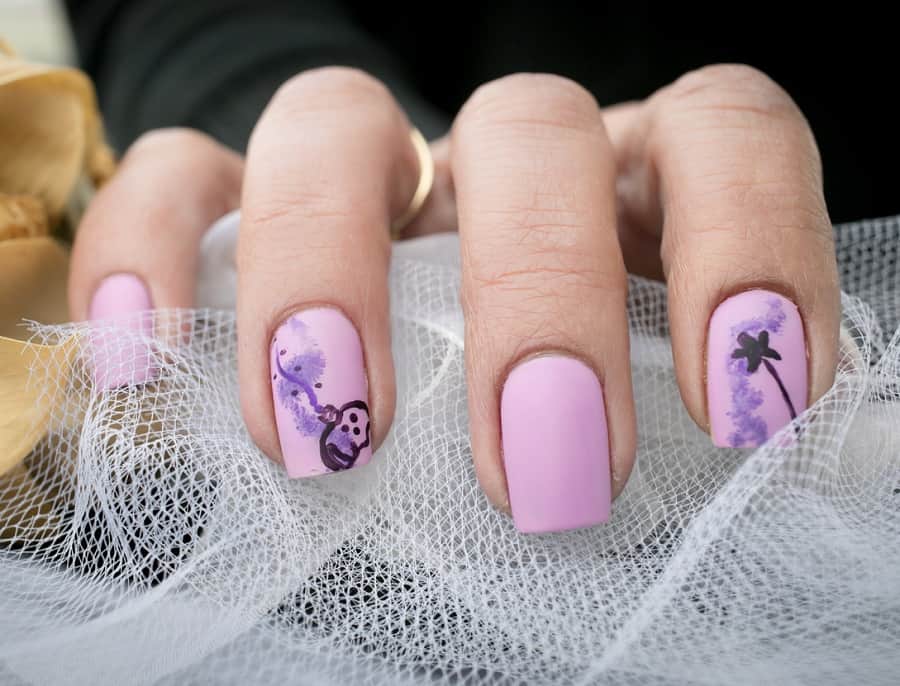 Are you into genuine artistic nail designs? These square nails are another design you can do right from home. A light purple is just the right shade for making black hand-drawn shapes or designs stand out.
13. Ghostly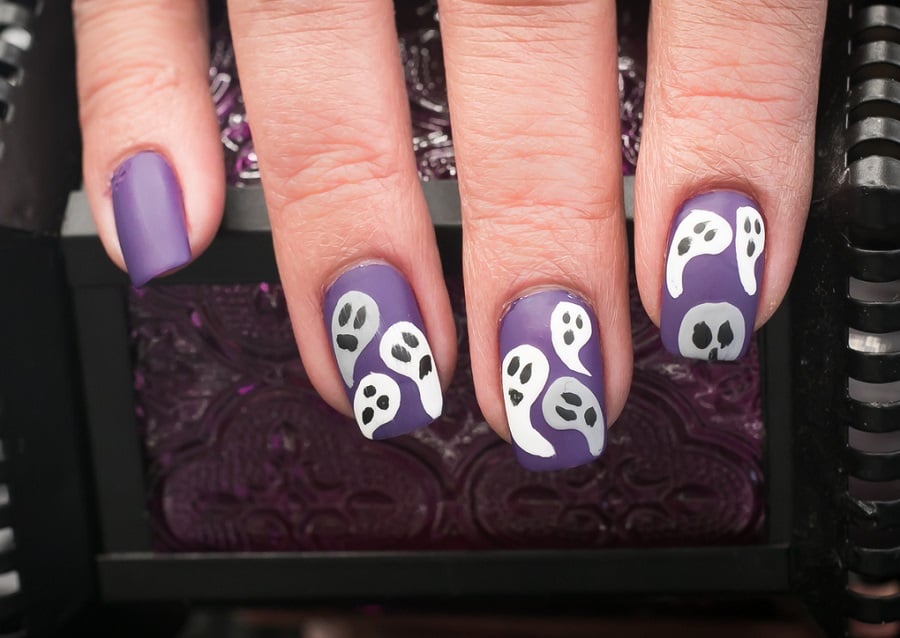 When it's October and you're looking for a festive nail design, go for dark purple nails with cute white ghosts with black eyes and a mouth. They're boo-tiful!
14. All Decked Out
For women who can't get enough details in their nails, you'll love this combination of stripes, light and dark colors, glitter, stones, and shapes. It's your permission to go crazy!
15. Statement Stilettos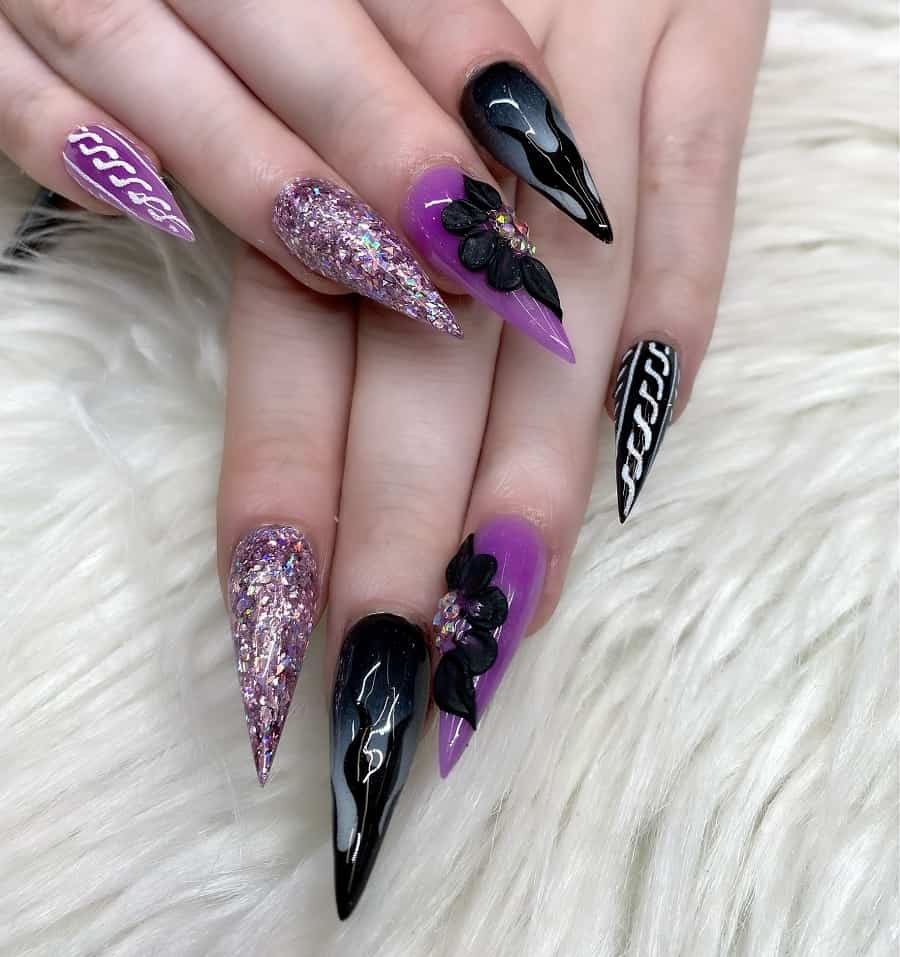 Long stiletto nails with an especially pronounced pointy tip demand to be seen. So does their shiny, glittery pink and black polish. You can even use extra nail accessories like flowers and jewels to layer on the character.
16. Haunted Nails
Seeking a Halloween nail design you can use in daily wear? Short square or squoval nails will allow you to get your work done, while their purple and black haunted scenery will keep you feeling festive.
17. Purple French Tips
You've heard of French tips with the traditional white, but consider using purple to create a new French tip. You can draw black squiggles or shapes on their ends and accentuate the curves of your nail with stones.
18. Spooky Acrylics
Another cool holiday nail design to try includes this mixture of foggy, marbled, and sequined nails. Black and purple are subtly added in different abstract designs.
19. Chrome Love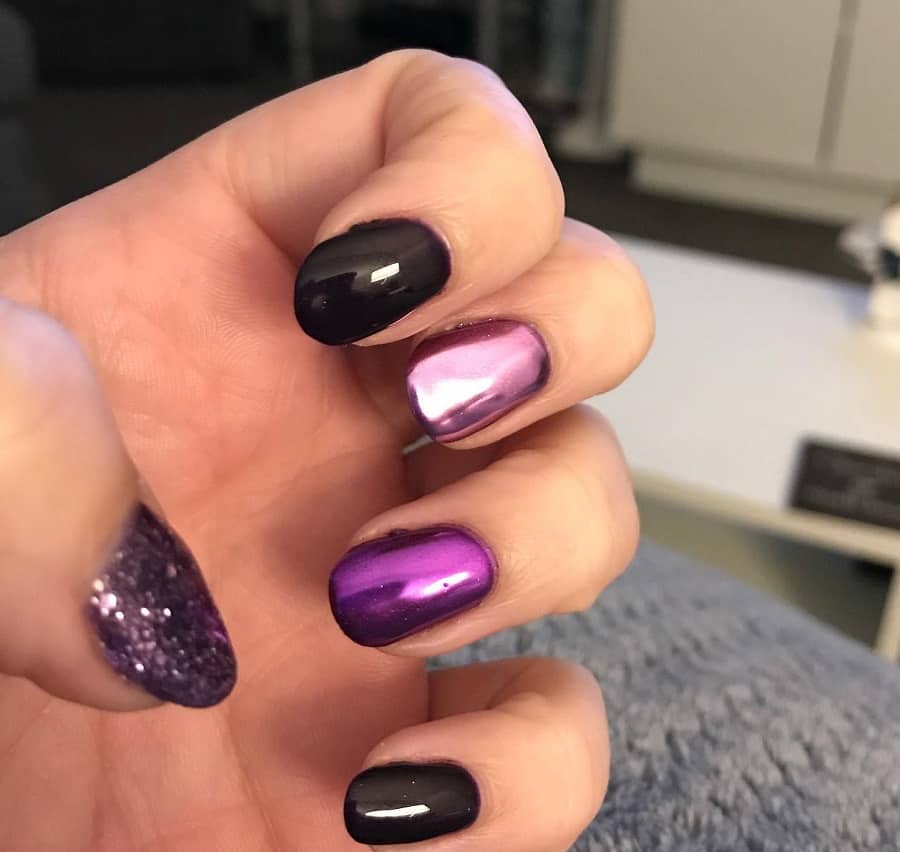 Go for all the shine you can get by choosing a chrome polish in black, purple, and an accenting color. These short oval nails are anything but plain.
20. Half Marbled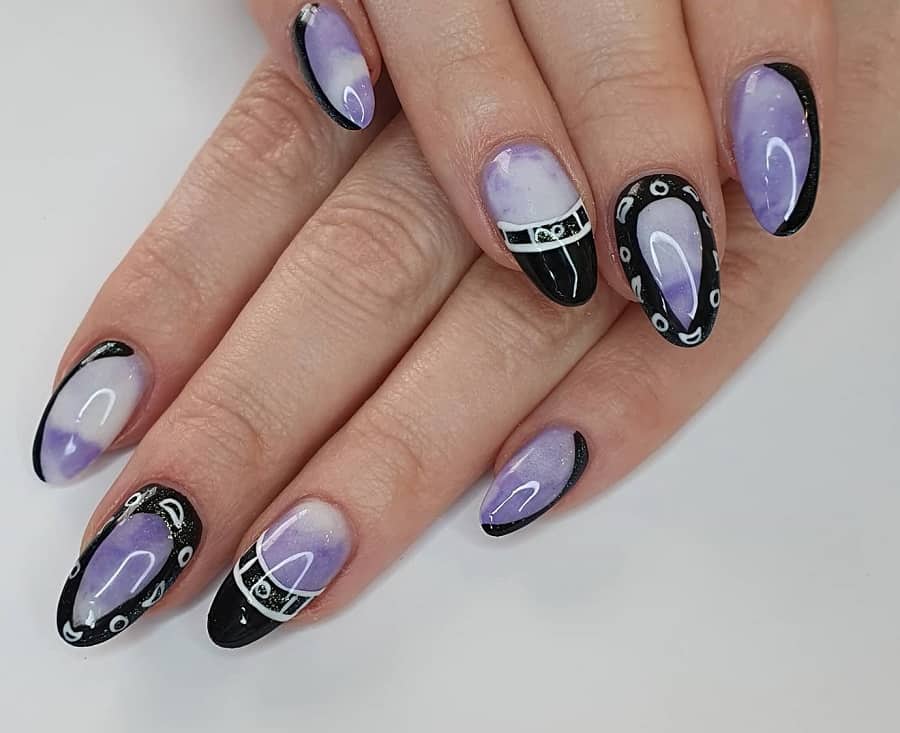 Whether you want witchy vibes or you just like a manicure with mystery, marbled nails are a must try. Paint the majority of your nails milky white and light purple, and use thick black lines or black tips for drama.
21.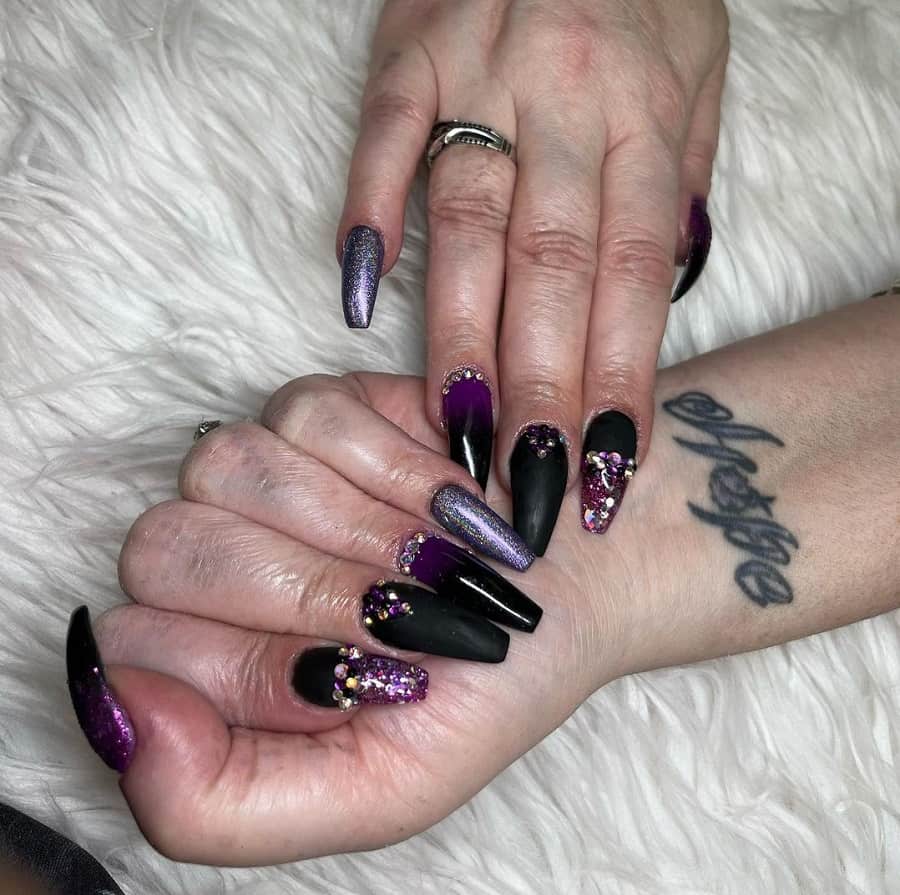 A combination of matte and shiny black give an extra special something to dramatic coffin nails. Add a couple layers of glittered purple polish to the tips and a few stones to complete your new design.
22. Orange, Black, and Purple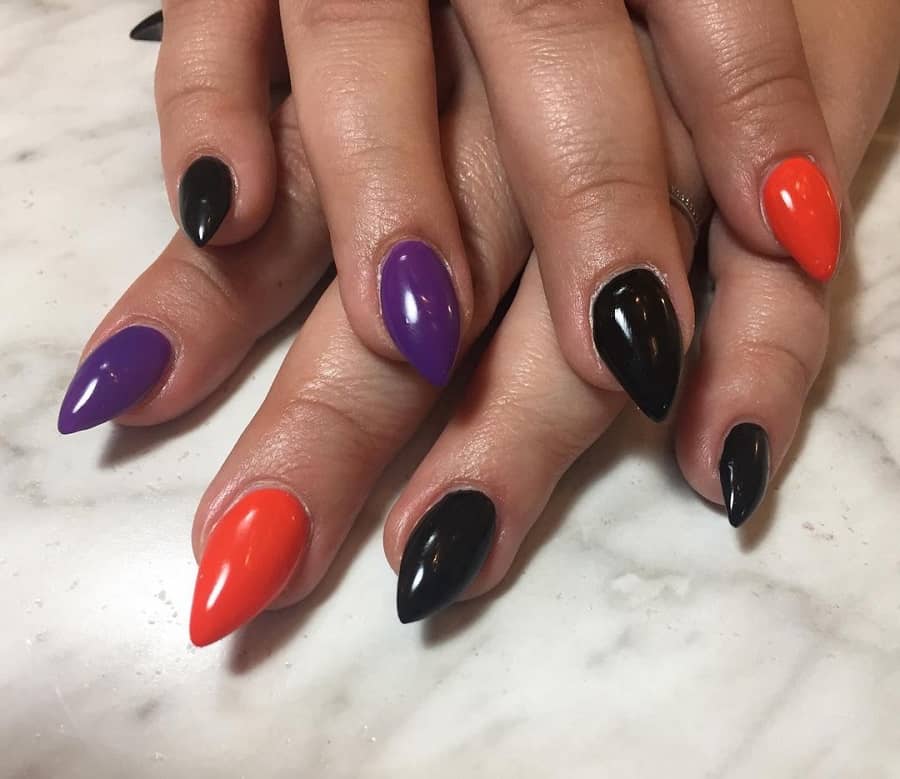 These short 'claws' (stiletto nails) are great for Halloween. You can't go wrong with alternating orange, black, and purple.
23. Purple Black Ombre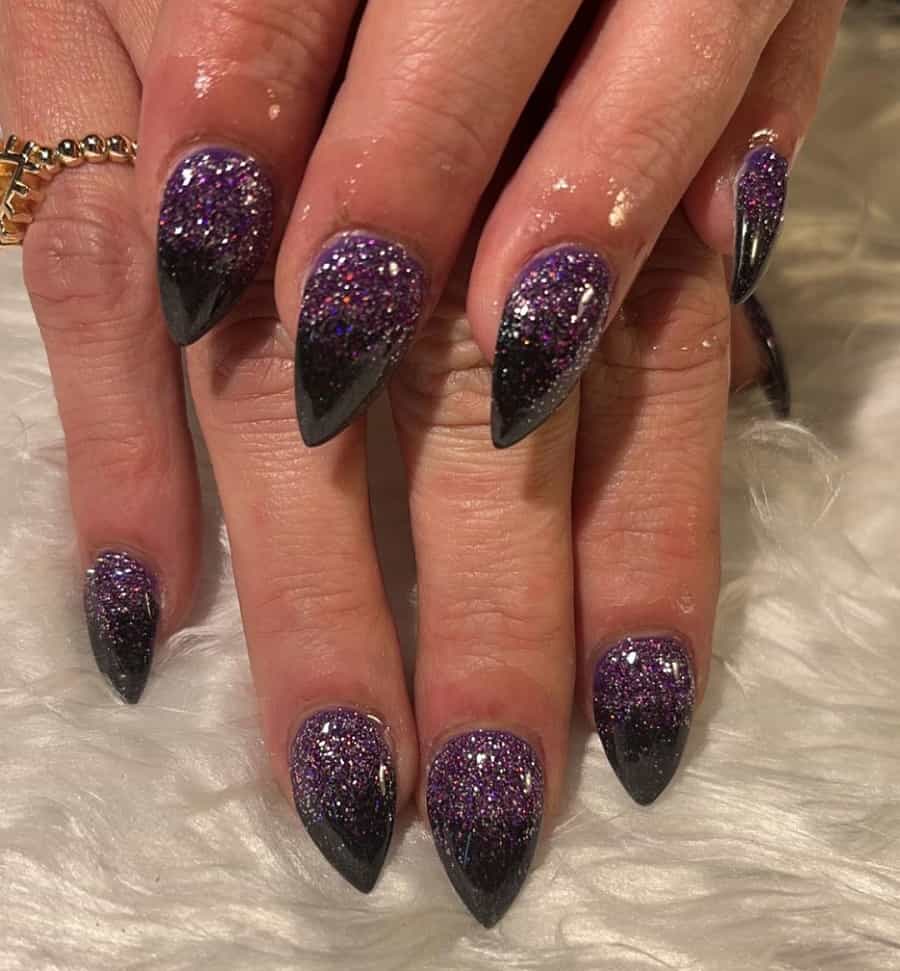 Ombre is another beautiful nail technique that you can use to rock your two favorite colors. Try it on short stiletto nails with a top coat of clear glitter.
24. Marbled Statement Nail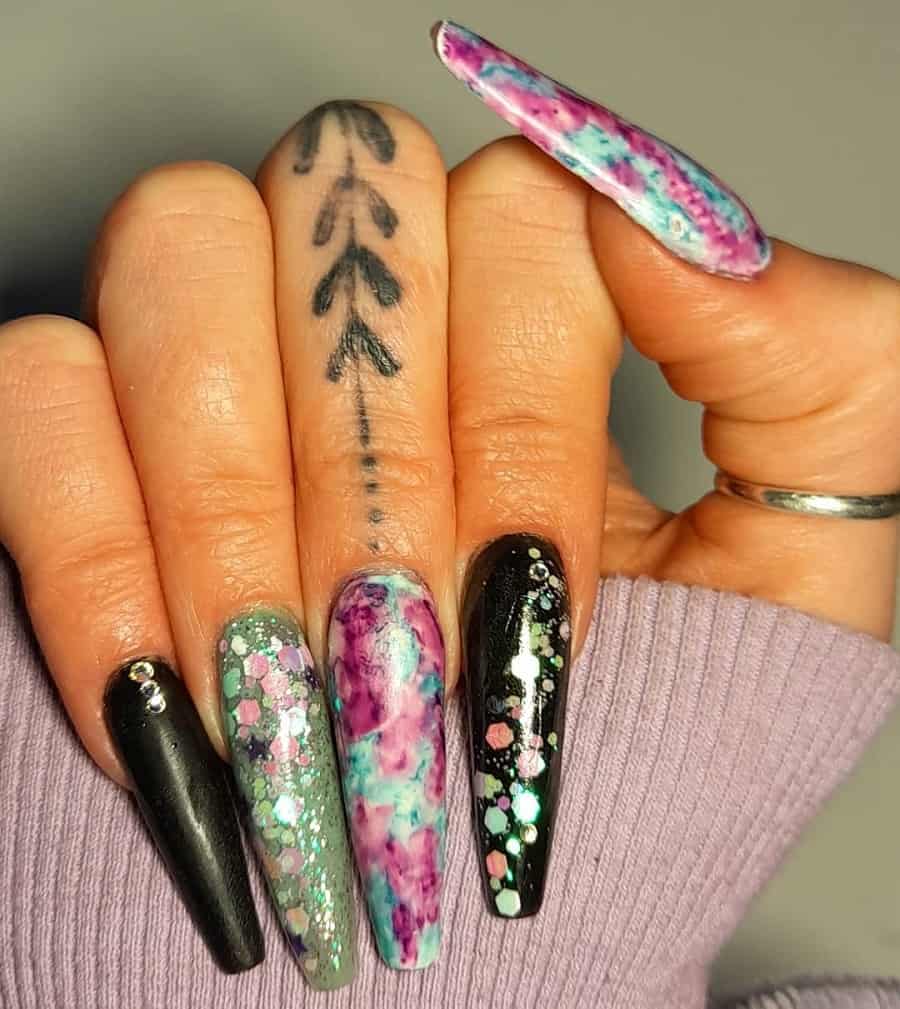 Many women often choose to make their middle fingernail a statement nail. For example, you can choose a marbled design for extra long coffin nails and surround it with other fun designs like speckles.
25. Black and Gold
Lavender nails give a soft but edgy vibe when decorated with a single glittery gold line down the middle and small black spots on one side.
26. Matte with Lines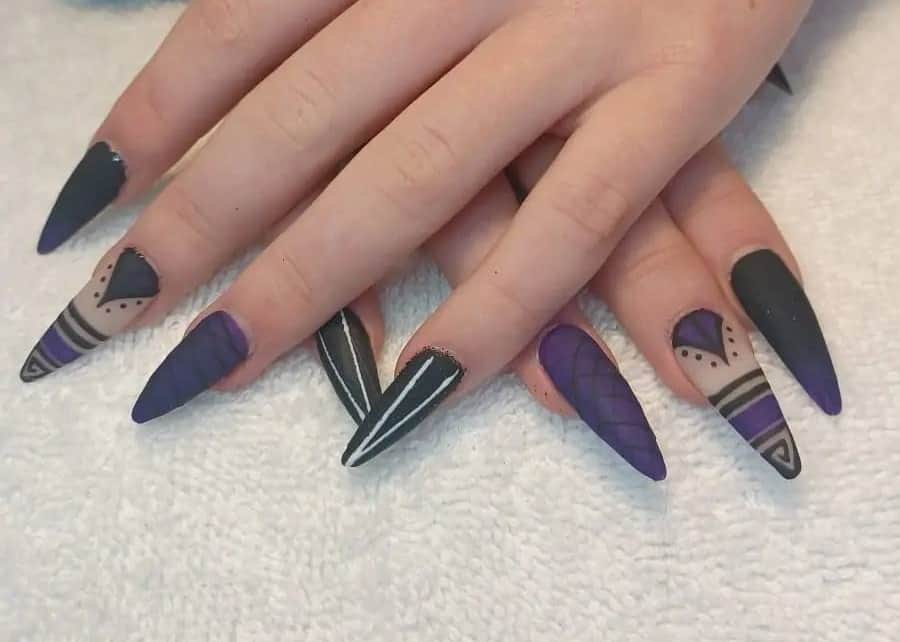 Dark purple and matte black work together on long stiletto nails to create a very moody, mysterious vibe. Have fun decorating them with patterns of thin lines, triangles, and dots in contrasting colors.
27. Glitter Black and Purple
Use light purple accent a ring fingernail and offset matte black and silver glitter polish. This design will sparkle on any nail shape.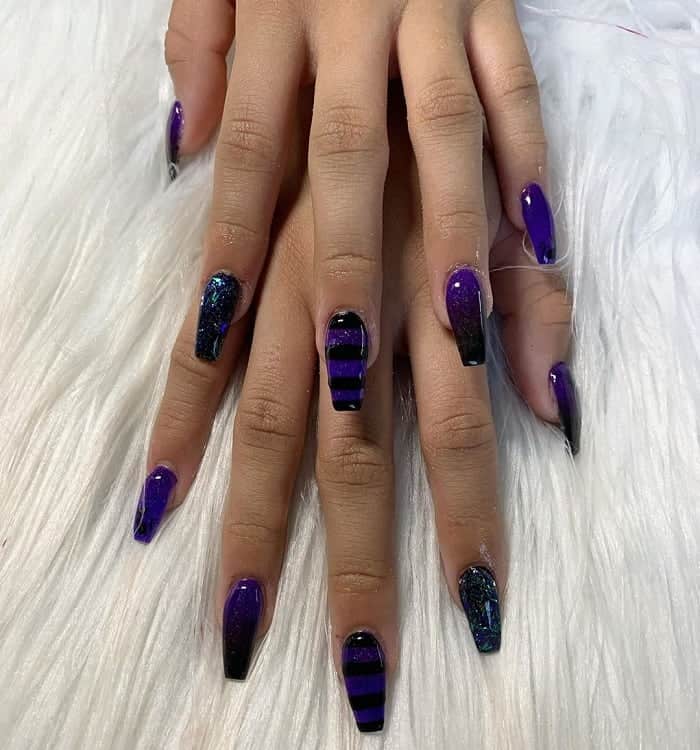 Stripes are one of the easiest designs to make on dark purple nails. Make thick black horizontal stripes on the center nail for easy style. If you're feeling bold, you can make one or two of the nails a purple and black ombre.
29. Half Black, Half Purple Acrylics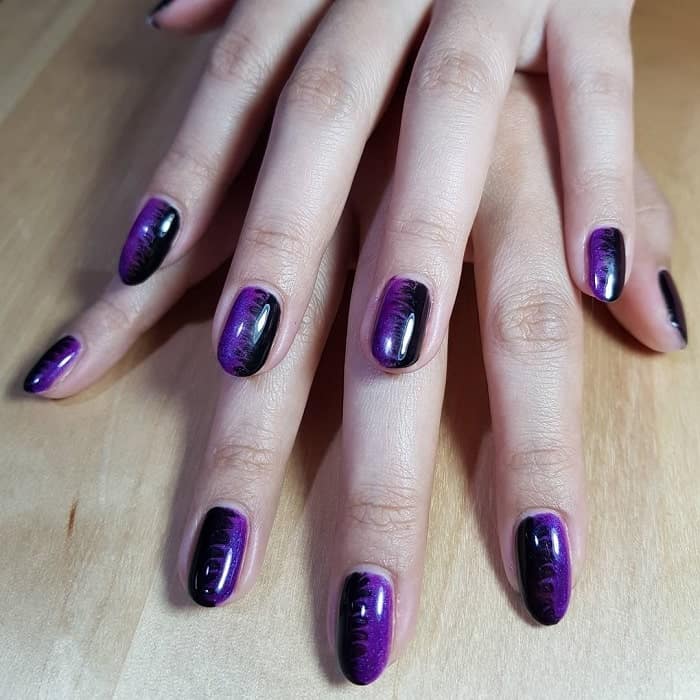 The way the glittered purple polish "melts" into pure black on short almond nails is a gorgeous technique that will soon be immensely popular, so jump on the trend now!
A bright pop of purple draws attention to the edgy slithering snake print and also frames black and white checkered nails.
To make any nail design Insta-worthy, combine patterns and pictures with multiple colors. A long coffin nail will give you the most space to do that.
There are numerous ways to design purple and black nails, from prints and patterns to ombre and matte.
Use one of the designs in our list of favorites or take the pieces you like and incorporate them into your own design. We can't wait to see how they turn out!