Combining a soft, feminine color with a dark edgy color like black is a technique many nail techs use to create one-of-a-kind nail designs. For example, black and purple nails!
For amazing casual nails, use a purple base to make lines & patterns. To equally display the colors, use purple and black ombre or a foiled design.
With all the amazing ways to wear the two colors on your nails, the only problem you'll have is deciding which look you love the most and want to try first!
Beautiful Bold Black and Purple Nails
There are several reasons the 8 purple and black nail designs below are our favorite: from the shades and styles of purple to the nail art that is worn with the two colors, you'll understand soon enough!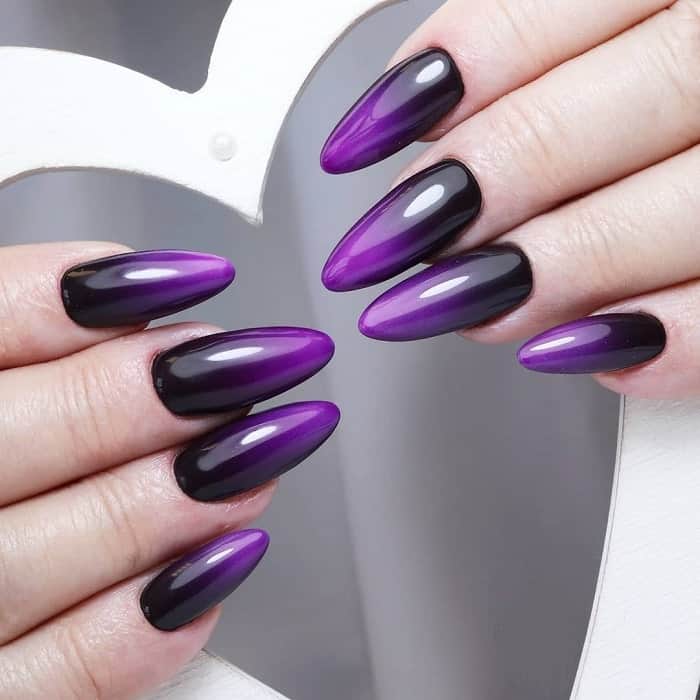 A truly bold design, especially for Halloween, these long stiletto nails feature a dark purple ombre. Black and purple are perfect for Halloween vibes!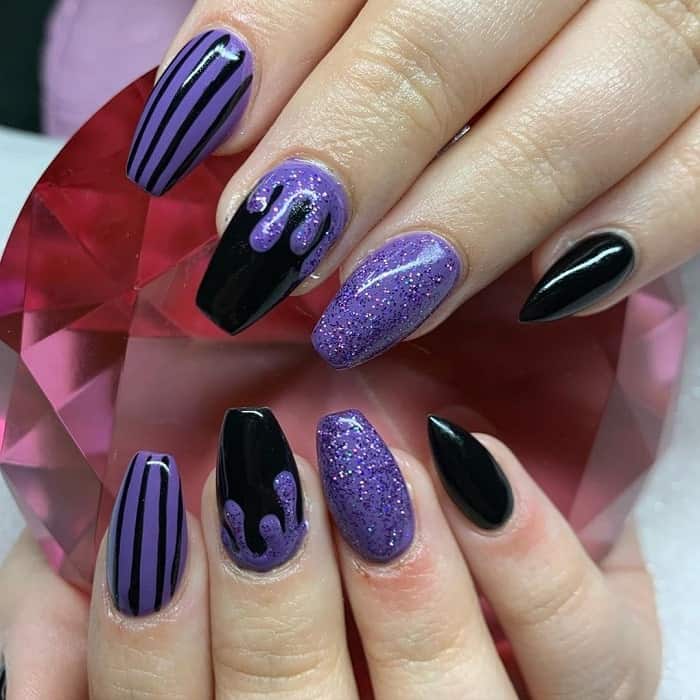 If any part of your Halloween costume has purple in it, these black and purple nails will be the perfect complement. Mix glittered purple polish with pure black on a combination of coffin and stiletto nails to create the striped and "dripping" design seen here.
3. Black and Purple Halloween Nails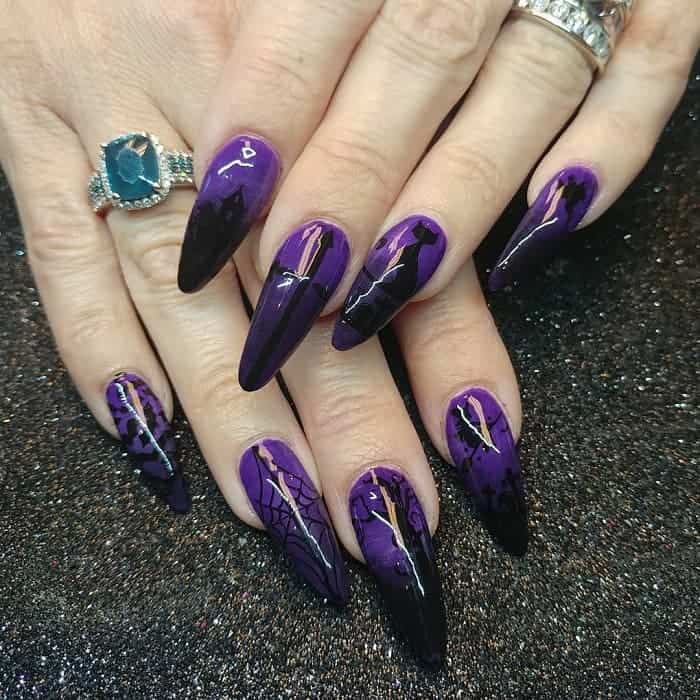 Love glamorous nail designs that incorporate a lot of art? Make black Halloween-themed elements on purple nails to celebrate spookiness! Bats, spider webs, witches… the only limit to the creativity is you!
4. Black and Purple Matte Nails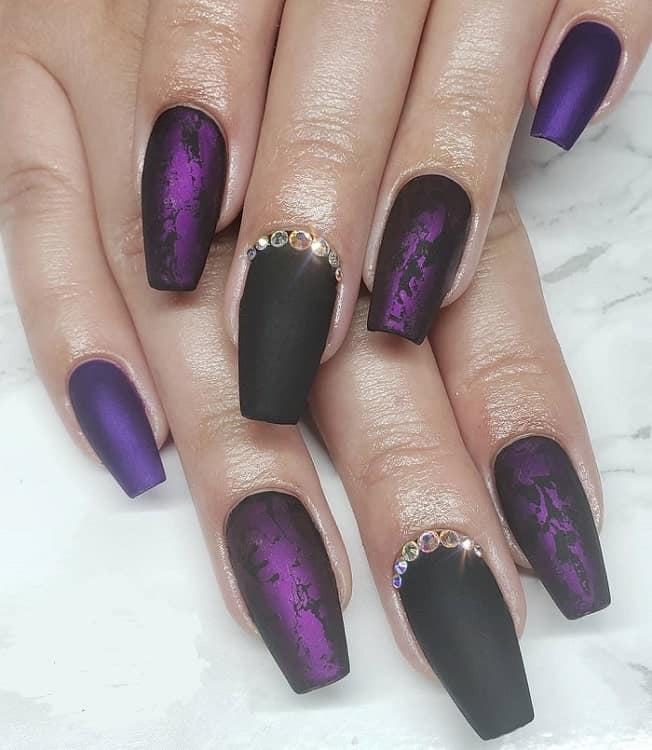 A bold and beautiful purple and black matte coffin nail design in matte may be void of shine, but the smooth texture is still an attention-getter. We love the foil prints and stone detail seen here.
5. Light Purple and Black Skull Nails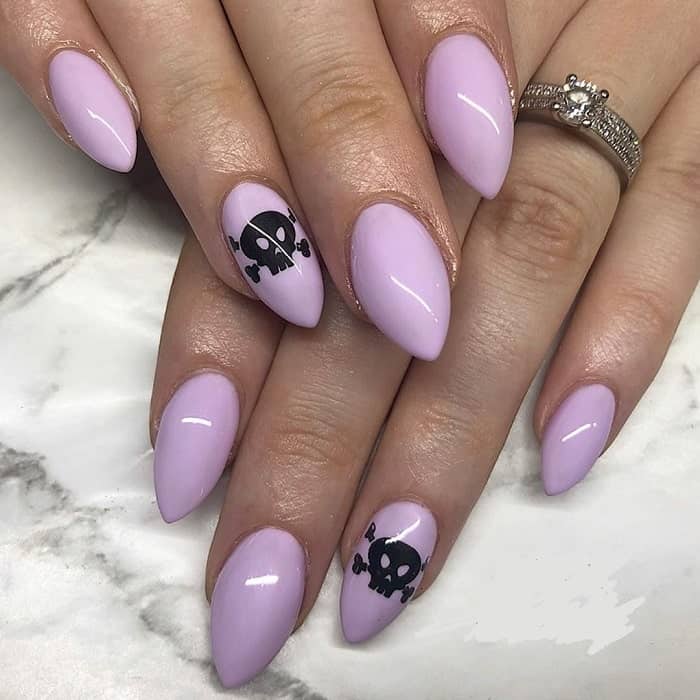 If you tend to steer toward lighter colors, choose this soft purple for short stiletto nails. Some edgy back skull and bones nail decals are easily added to mix moods.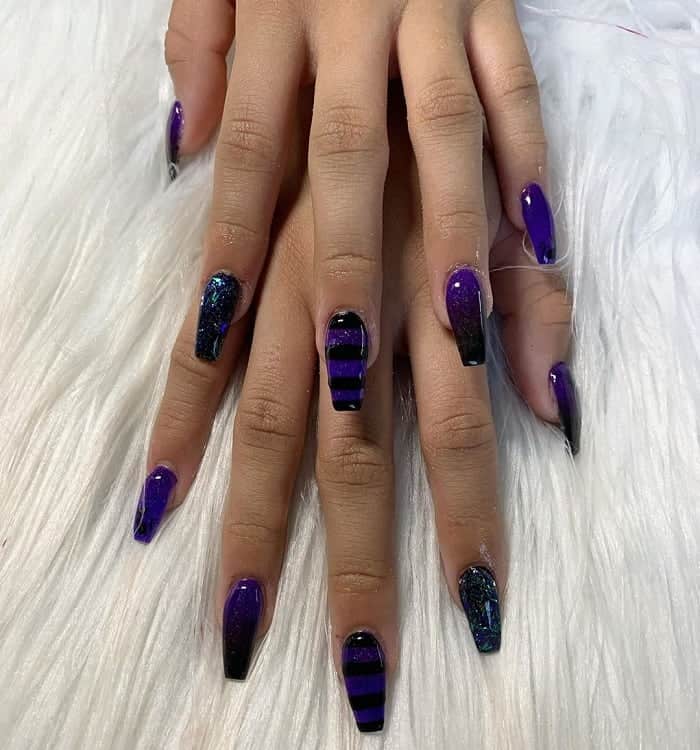 Stripes are one of the easiest designs to make on dark purple nails. Make thick black horizontal stripes on the center nail for easy style. If you're feeling bold, you can make one or two of the nails a purple and black ombre.
7. Half Black, Half Purple Acrylics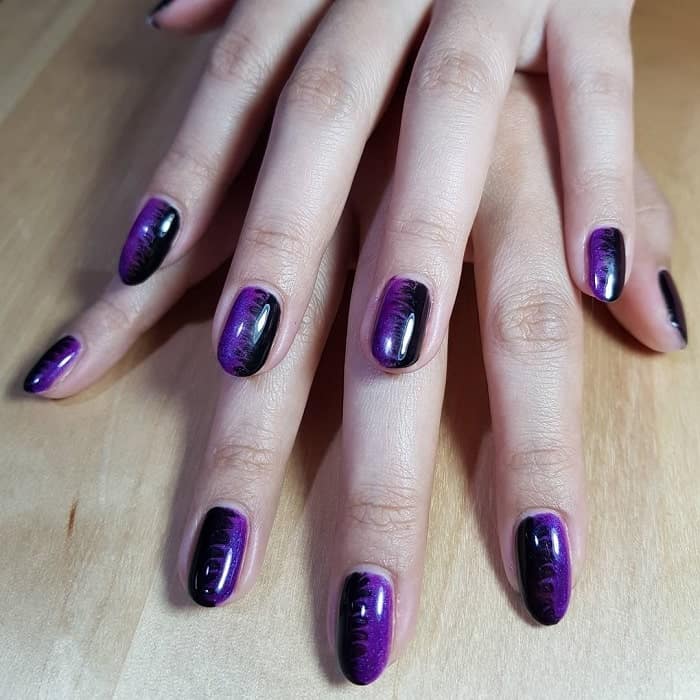 The way the glittered purple polish "melts" into pure black on short almond nails is a gorgeous technique that will soon be immensely popular, so jump on the trend now!
A bright pop of purple draws attention to the edgy slithering snake print and also frames black and white checkered nails. To make any nail design Insta-worthy, combine patterns and pictures with multiple colors. A long coffin nail will give you the most space to do that.
There are numerous ways to design purple and black nails, from prints and patterns to ombre and matte. Use one of the designs in our list of favorites or take the pieces you like and incorporate them into your own design. We can't wait to see how they turn out!