If you are a party girl and you want all the attention focused on you, give your nails a lot of consideration. A white and silver color mix is everything you need to stand out at a fancy event!
Silver is ruling in the top of the most trendy colors for a mani, and you should take advantage of that. If you choose to mix it with white you'll obtain a sophisticated design for your nails that will draw everyone's attention.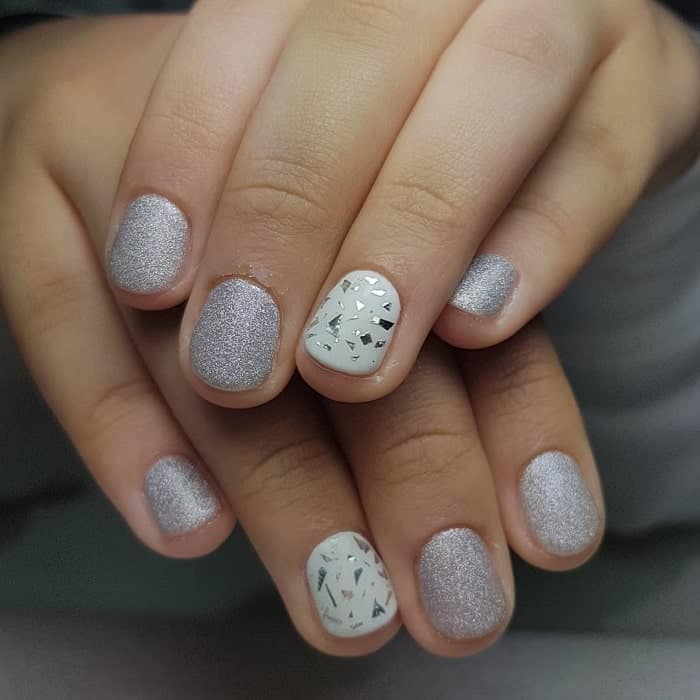 If you want your nail look to be sparkly, choose a silver glitter nail polish that uses small shiny particles. Create a different design for your nails by using white nail polish.
2. Long White & Silver Nails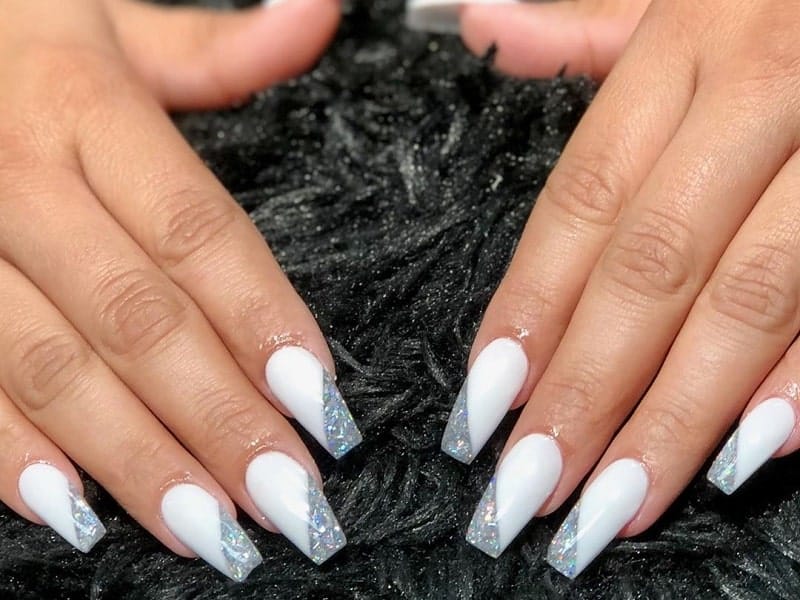 Use acrylic gel and make your nails long, in a square shape. Paint them white and use a silver glitter nail polish to decorate only half of your nail tips.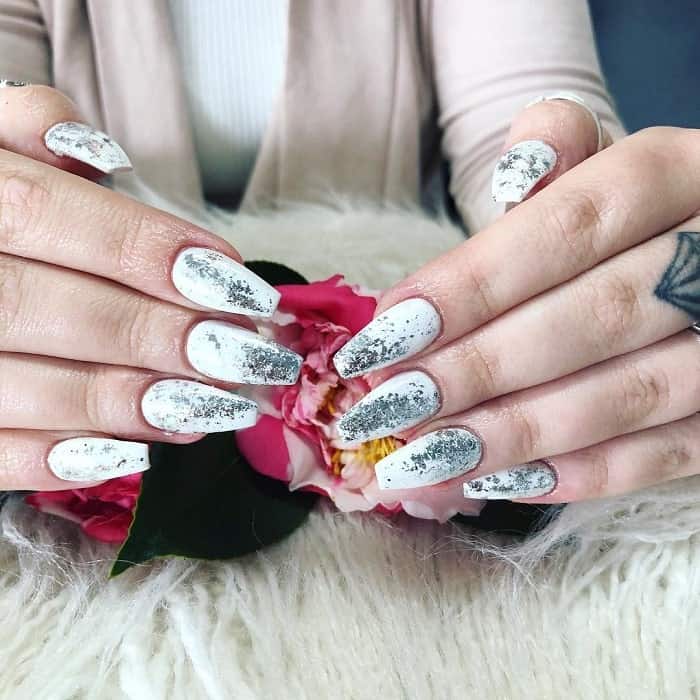 Get a coffin nail shape with acrylic gel and paint your nails white. Use silver nail polish to create an erased effect look for your mani.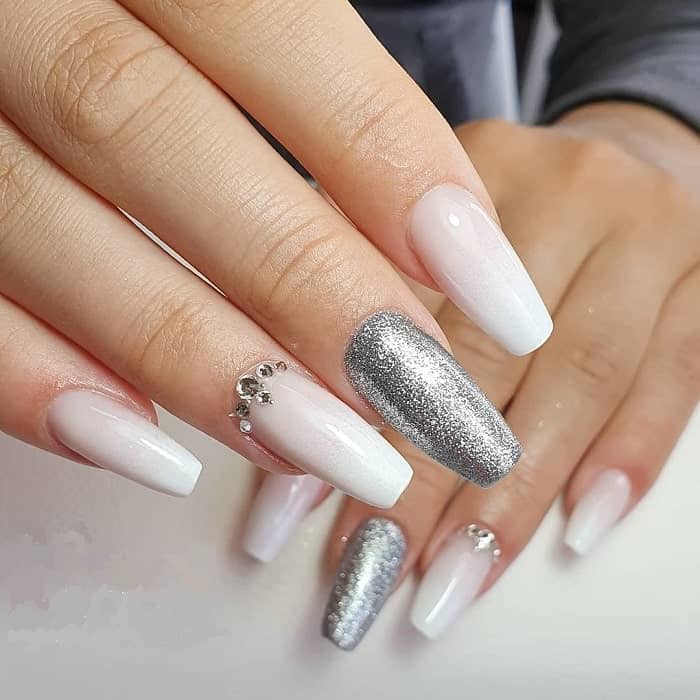 Whenever you want to look and feel like a real queen, choose a white nude nail polish and cut your nails in a coffin shape. Decorate them with rhinestones and use a silver glitter polish for the middle fingernail.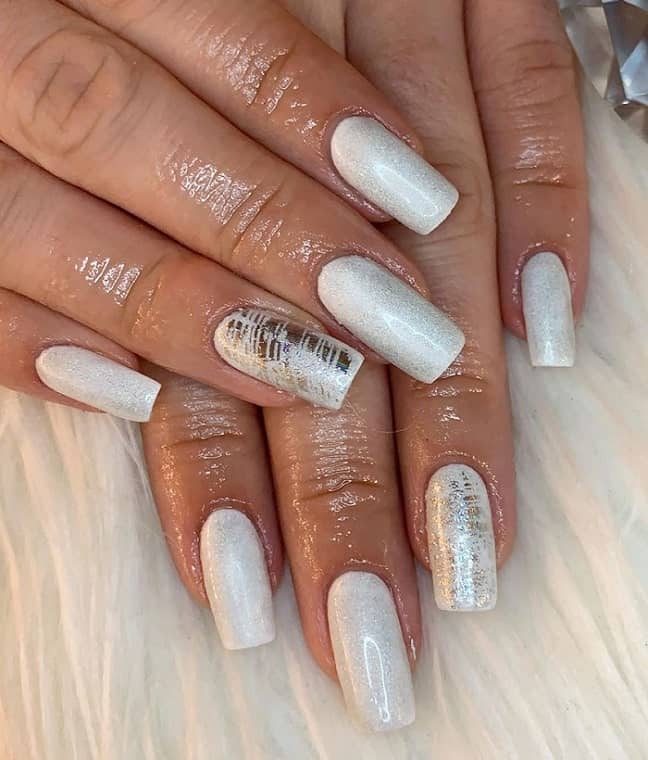 Prom is that crucial event where every young adolescent girl wants to look her best! Use a glittery white for your nails and create an erased effect with silver nail polish. Don't worry! You'll look perfect!
6. Sparkly Stiletto Nails
Long stiletto nails look chic without a doubt. Begin with a white base coat on any two nails and add glitter on the margins only while the remaining ones are covered completely in a silver sparkle.
7. Metallic Studs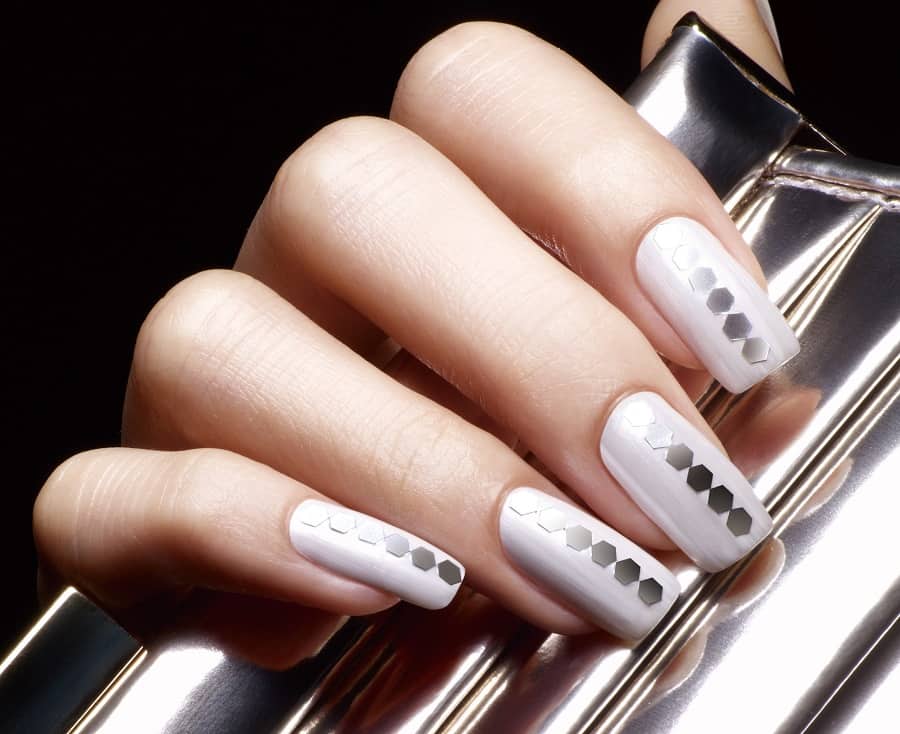 Nail studs come in handy when creating a detailed design. Try a square nail shape and place the tiny metallic pentagons in a straight line in the center of the nails. Don't forget the top coat.
8. Elegant and Chic
Rock an expensive pedicure without even spending a penny at the salon. How? Paint all the nails white sparing the accent nail that is covered in silver glitter. Add rhinestones on the base of the big toenail and voila!
9. Gradient Nails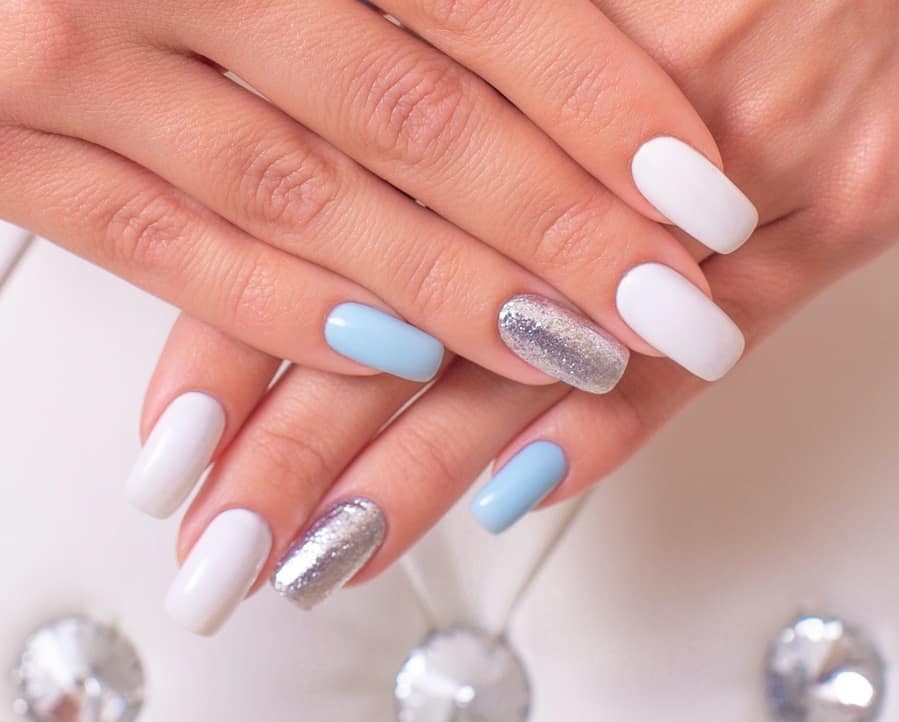 Make a style statement by painting each nail in a different shade. Add a coat of sky blue on one nail, some silver glitter on another, and cover the rest with glossy white nail polish. Easy breezy!
10. Black Stars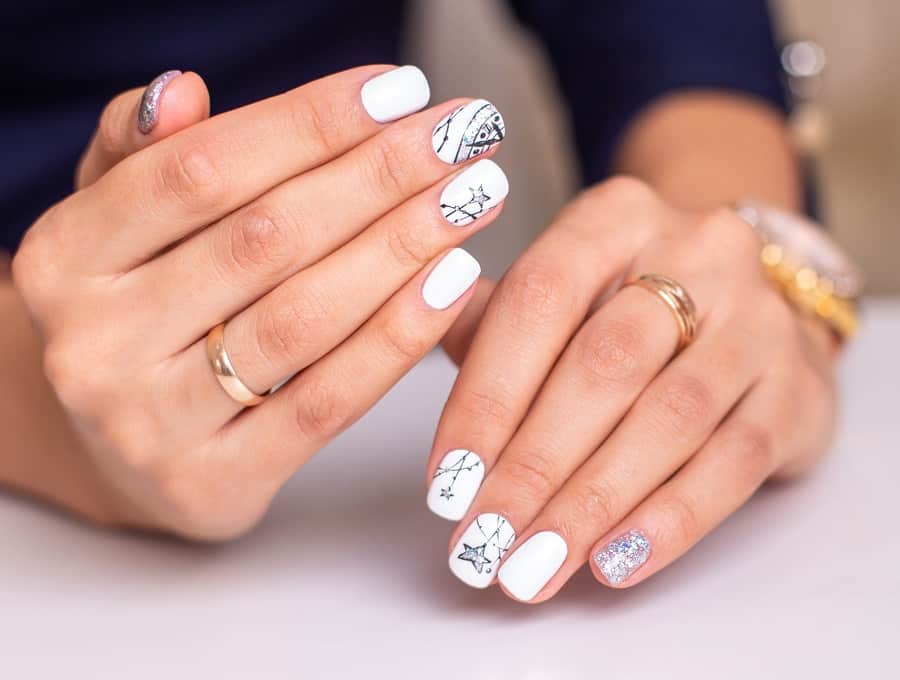 Use some black polish and a fine brush to create whatever design you want on white and silver nails. To begin with, draw some stars and make them seem attached to a string by drawing some fine lines. You can also use nail decals instead.
11. Silver Triangles
Make those short square nails stand out with a simple design. Alternate white nails with silver ones and use some tape to create a perfect silver triangle on a white base or vice versa.
12. French Manicure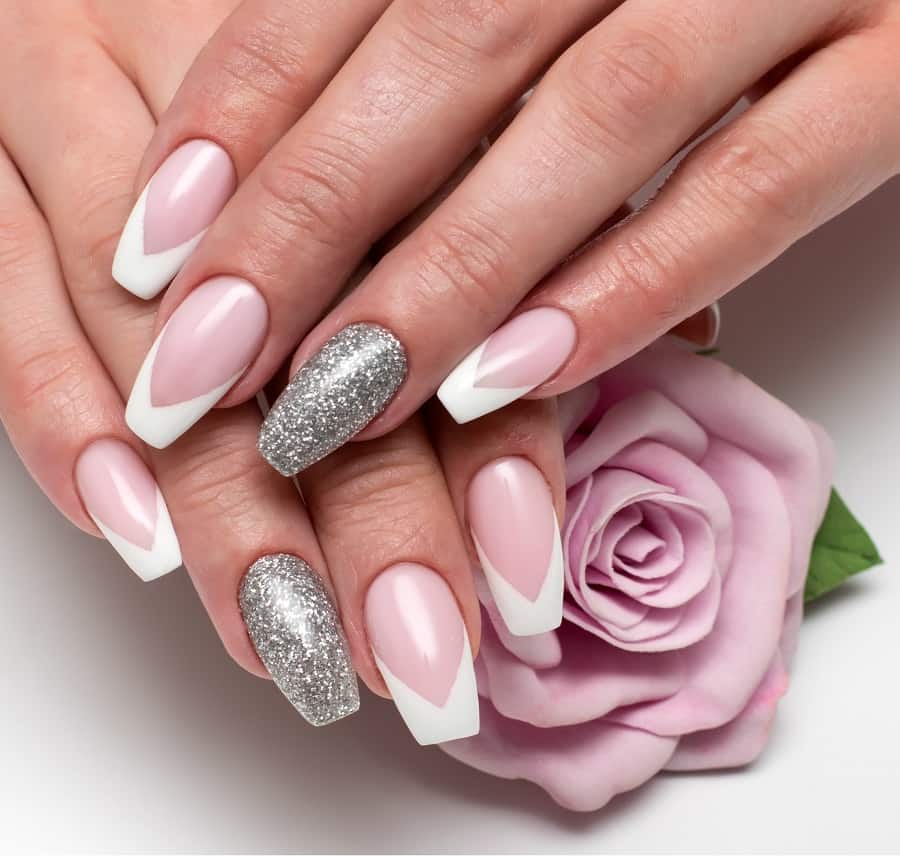 Keep it classic with a French manicure. The light pink coffin nails have V-shaped white tips instead of the conventional round ones with a silver glitter accent nail on each hand. This design is suitable for any occasion.
13. Just a Hint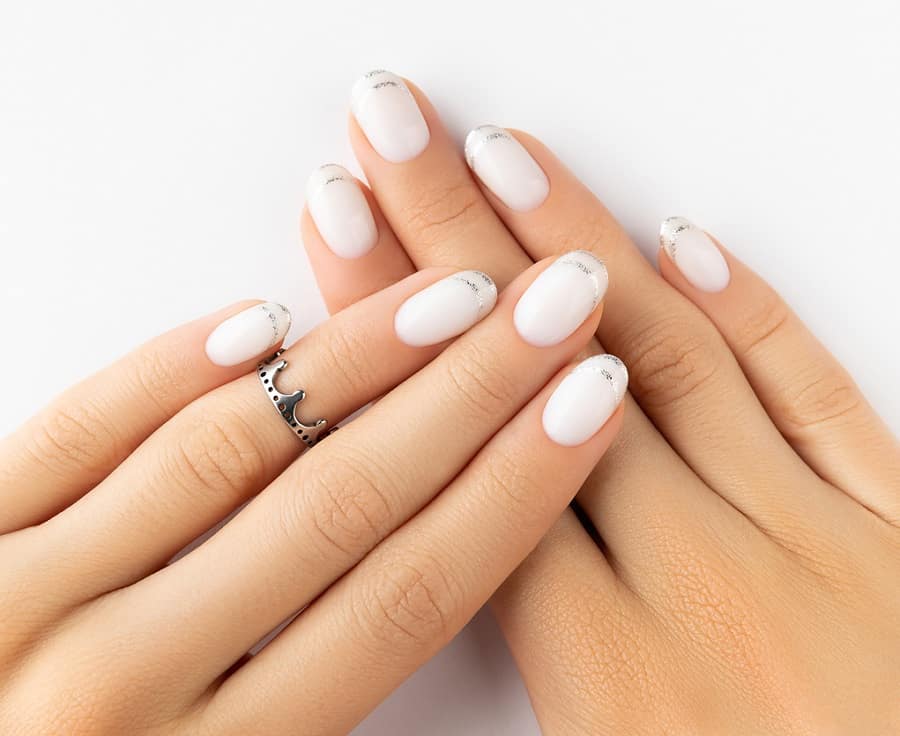 Why complicate when a simple design does the job? Paint the nails white and add two fine separate lines of silver on the tips using a fine brush. Recreate this look on short round/oval nails and you won't regret it!
14. Textured Pattern
Turn your basic nails into one of a kind with a textured pattern. Use a gel polish to create some lines and stripes and cover them with translucent acrylic powder. Add silver snowflakes and glitter to the remaining nails. Tada!
15. White and Silver Bling
Prep those long square nails for a fancy event by adding shiny white and silver rhinestones in a V-shape creating a Christmas tree silhouette. One nude pink nail is decorated with polka dots while the other has some more sparkling gems.
16. Two-Toned Tips
Another way to wear French tips with a modern twist. The almond-shaped nails have a thin white line on one side of the tips with a sliver stripe on the other side. Add delicate snowflakes on one or two of the nails and done.
17. Marble Nails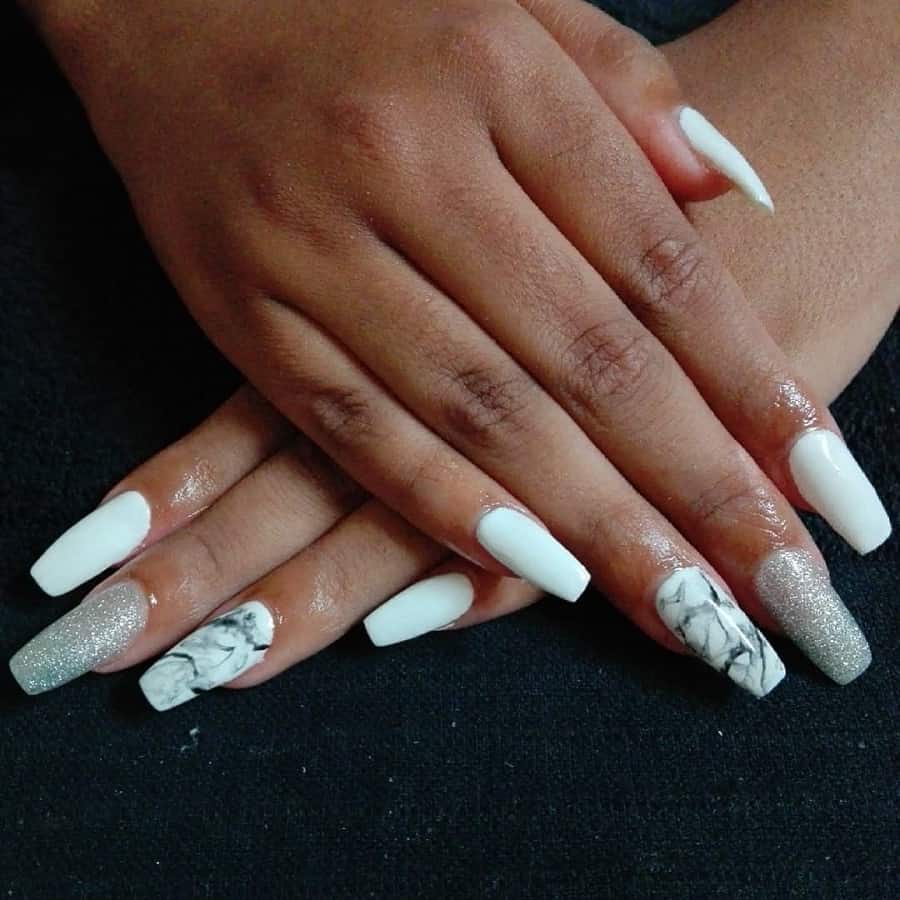 Keep all the attention on the accent nail with a marble design. The trick is simple, mix some thinner with black polish before running it over a white base using a brush. Leave the remaining nails plain.
18. Shiny Snowflakes
Celebrate winter by adding silver dots and lines on the nails and connecting them to create snowflakes. Go for glitter polish on the remaining ones resulting in a sparkle that won't be overlooked.
19. White Flowers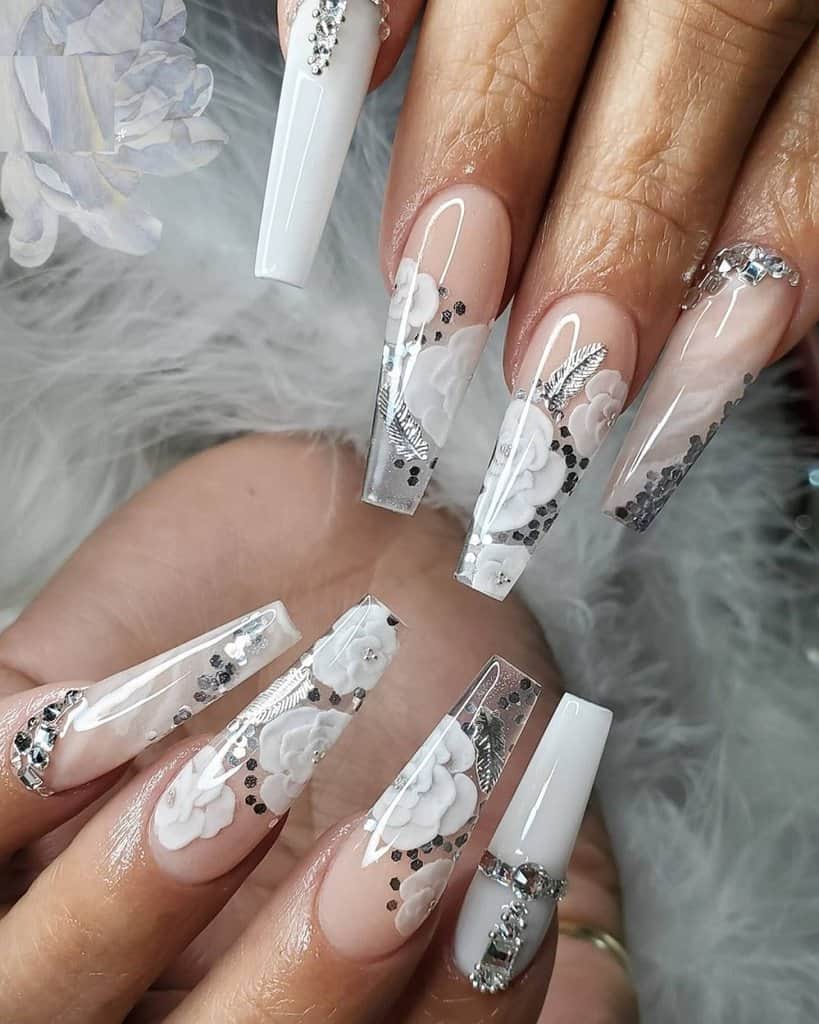 These long white and silver coffin nails are a perfect choice for brides to be. Ask for detailed white roses with silver leaves and chunky glitter in between. Get a bit extra and add some rhinestones too!
20. Vine Leaf Design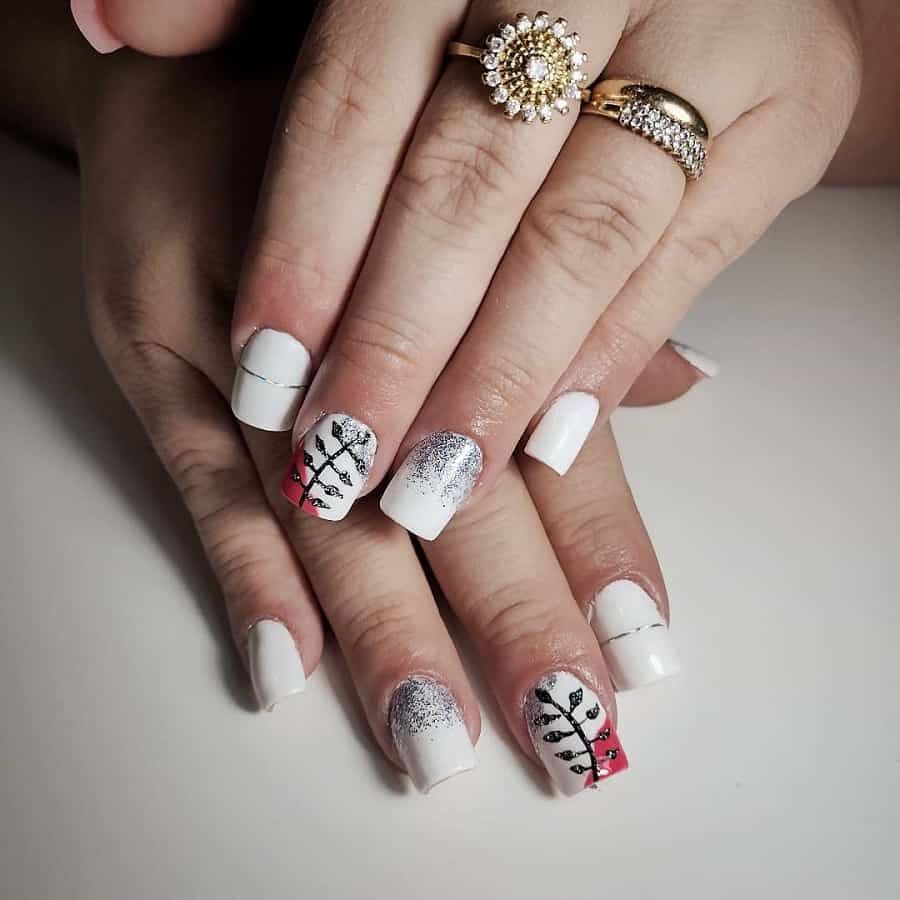 Some black and red polish will make your plain nails pop. Color half the tip red and place a black vine leaf decal/sticker on top. Finish off with some glitter and stripping nail tape.
21. Glitter Ombre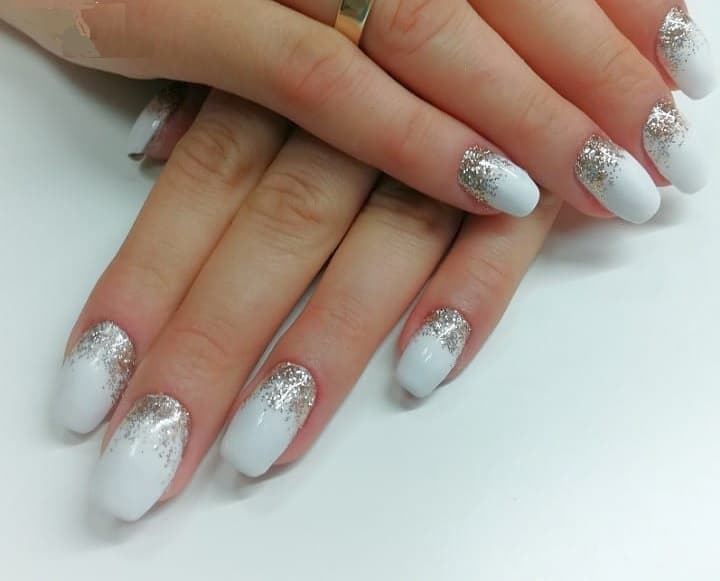 Ombre nails are difficult to ignore. Recreate this look by adding glitter using on your fingers when the base coat is a bit tacky. Don't be afraid to experiment as a bit of a mess surely won't hurt!
22. Sparkling Silver Accent Nail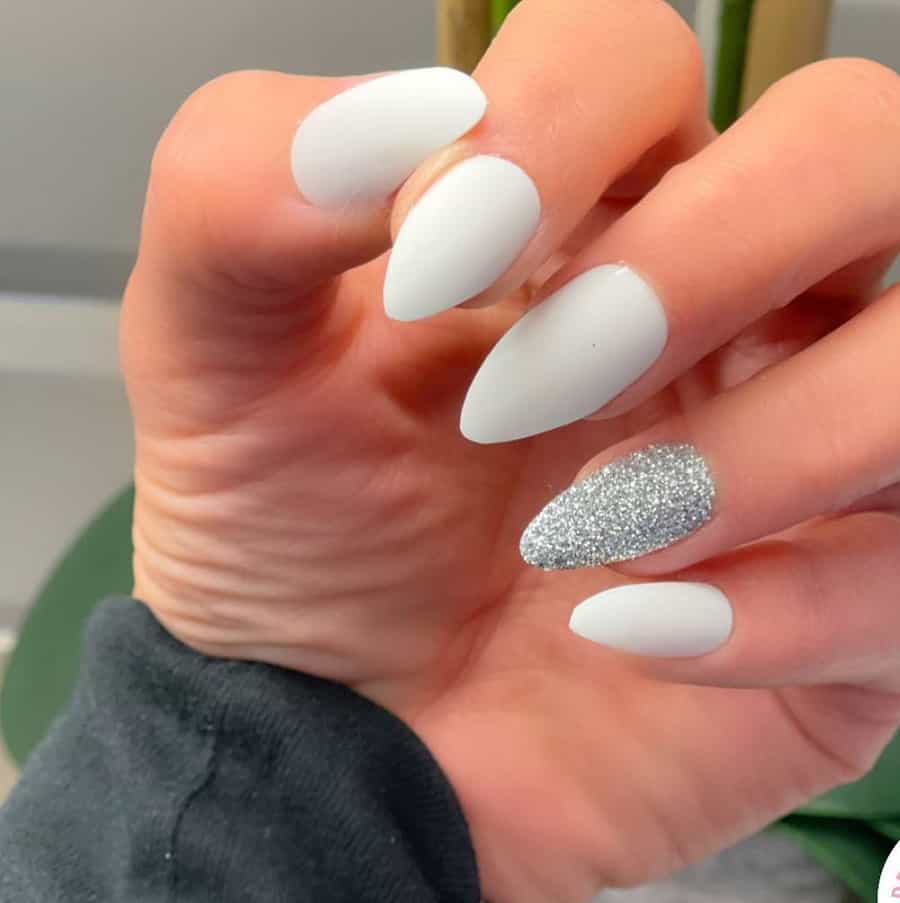 An accent nail is styled or colored differently from the remaining ones creating a picture-perfect manicure. Take this idea as an example where one silver nail accentuates the remaining white stiletto ones.
23. Dreamy Butterflies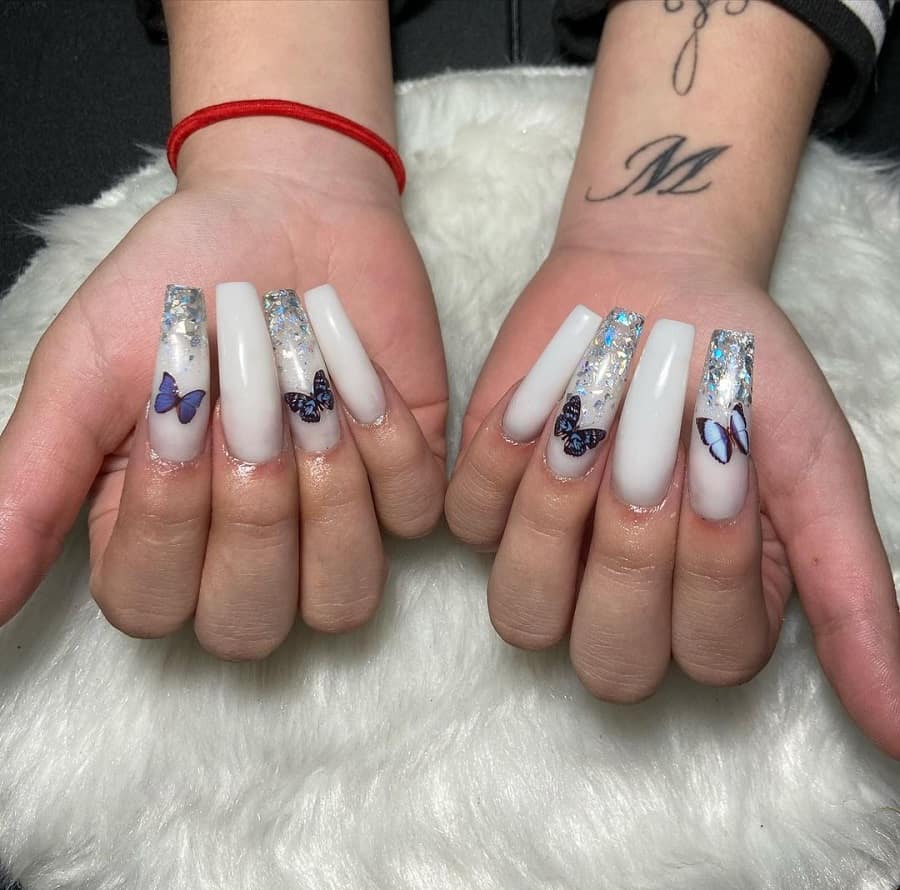 This dreamy nail design is too good to be true! The long white square nails exhibit a flickering glitter ombre. Add cute little butterfly stickers on any two nails and you are done.
24. Matte with Silver Glitter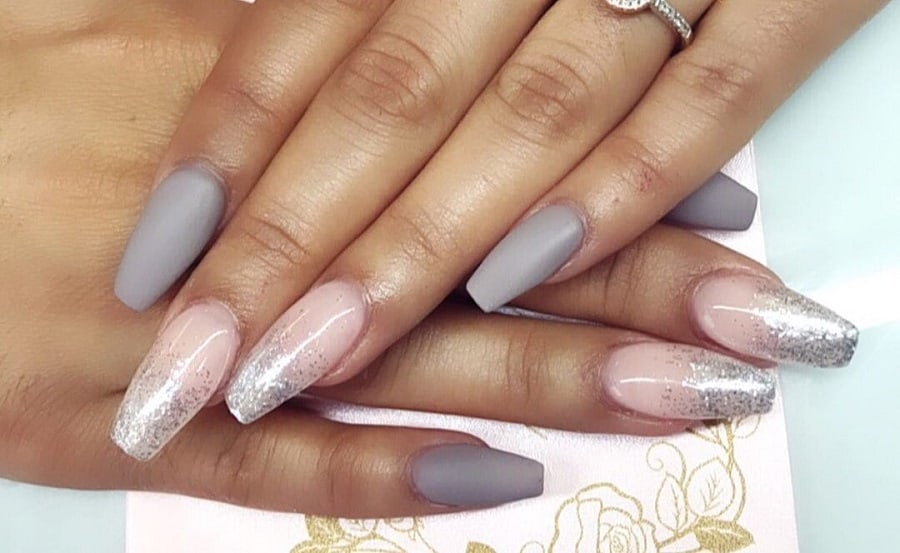 Alternate matte gray nails with the glittery ones to turn some heads. Instead of covering the entire nail try out a white to silver glitter gradient. This design looks the best on coffin nails.
25. Play with Geometry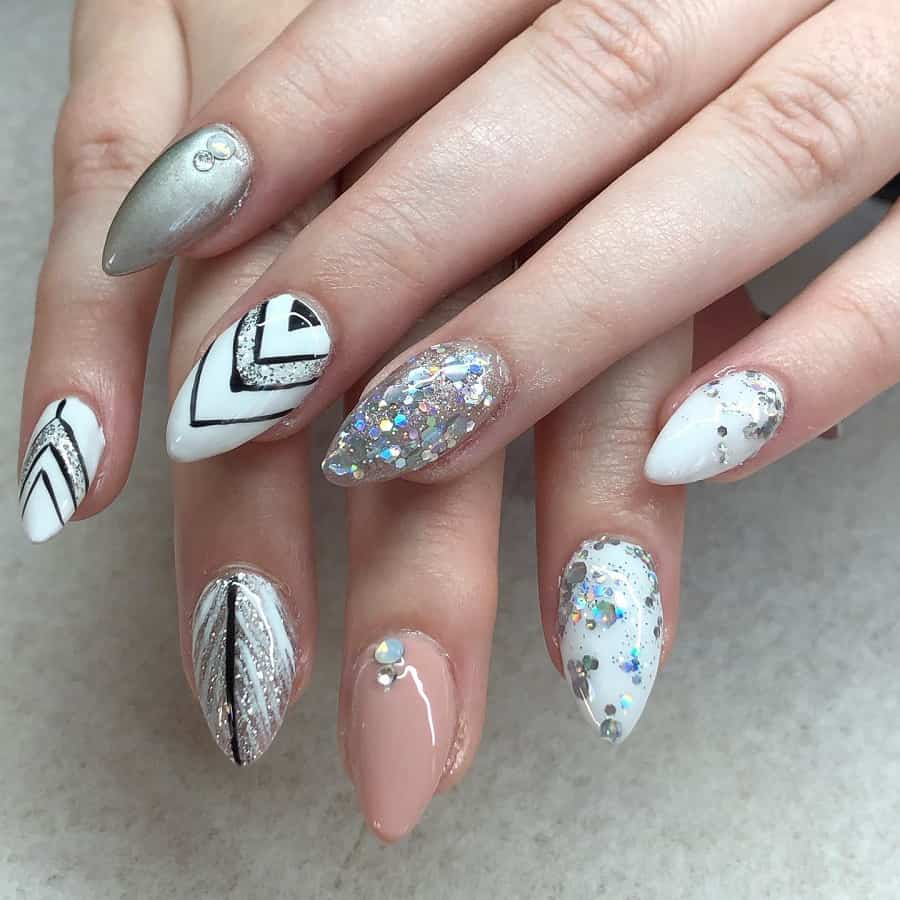 The options are endless when it comes to geometric nails. Draw black triangles or arrowheads on a white base with chunky glitter and a stone or two on the other nails.
26. White & Silver Acrylic Nails
The simplicity of this mani is the main key! White nails with just a pinch of silver glitter in a corner! This mani is so simple to recreate, and it will look fabulous!
If you adore complicated imperial designs, this mani is a real source of inspiration! Mix silver glitter with white and black nail polish, and you'll have the most captivating and charismatic look for your nails.
28. White and Silver Glitter Nails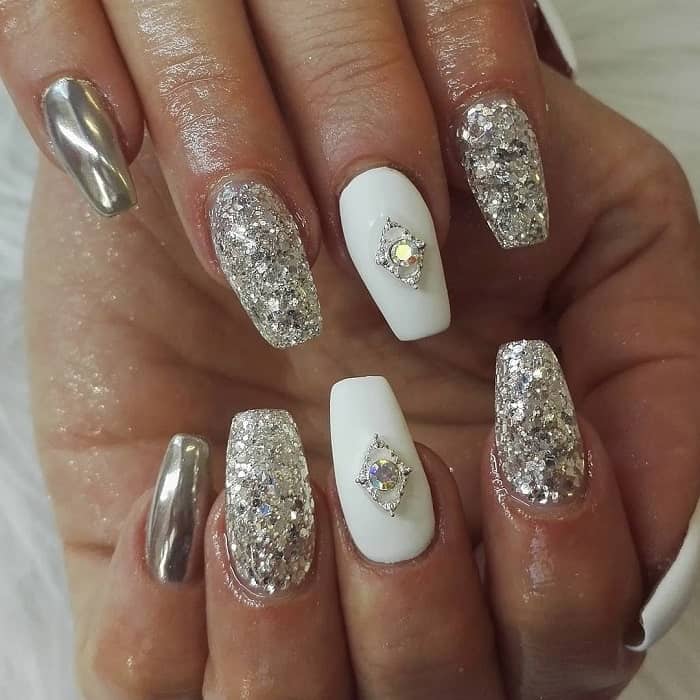 This silver glitter nail polish looks like someone sprinkled your nails with small pieces of diamonds! Use it on two of your nails and combine it with white matte coffin nails and some chromed powder. The effect will be brilliant!
2 Best Ways to Remove Powder Nail Polish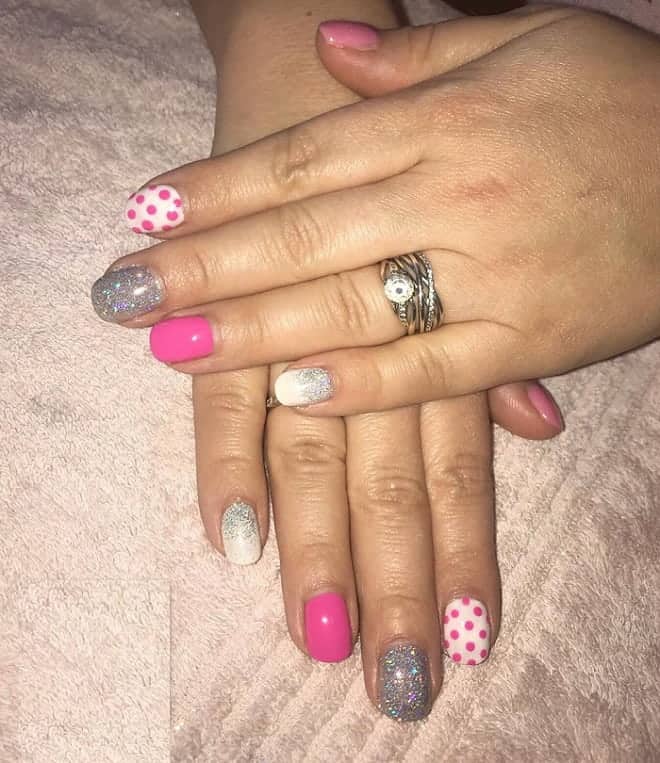 Whenever you want a nail design that reeks sophistication, keep in mind that glitter, silver, and white nail polishes are the ideal match!
Also, pay attention to the type of glitter you are choosing because it can certainly change the way your mani looks at the end! Which of the styles presented above are you eager to get?