Rainbow is the natural representation of the colors. This is full of energy and life. Whenever I see a rainbow in the sky, I feel refreshed and energetic. This is a natural heal to any pain, a pleasant sight to enjoy.
If you are a rainbow lover like me, you must have rainbow nail designs at your fingertips. The colorful display of the rainbow nail designs will create a positive vibe around you.
Moreover, if you are a supporter of LGBT community, you can have rainbow nail art to celebrate pride.
Rainbow Nail Designs to Rejoice
The color combination of a rainbow is so unique and natural that it creates a notion of happiness whenever the colors are seen together. You can paint the bliss of your life on your nails very easily by having rainbow nail designs.
The process is already anticipated by you, isn't it? Just paint your nails with the rainbow colors in different ways. Let's see how it is done.
1. Rainbow Nail Design for Kids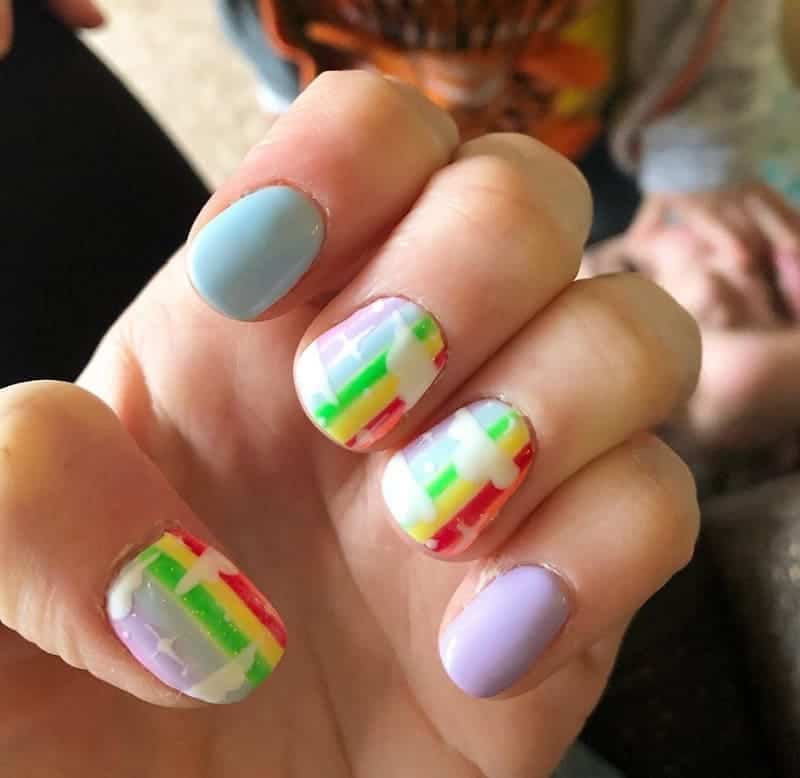 2. Rainbow Dot Nails
3. Pastel Rainbow Nails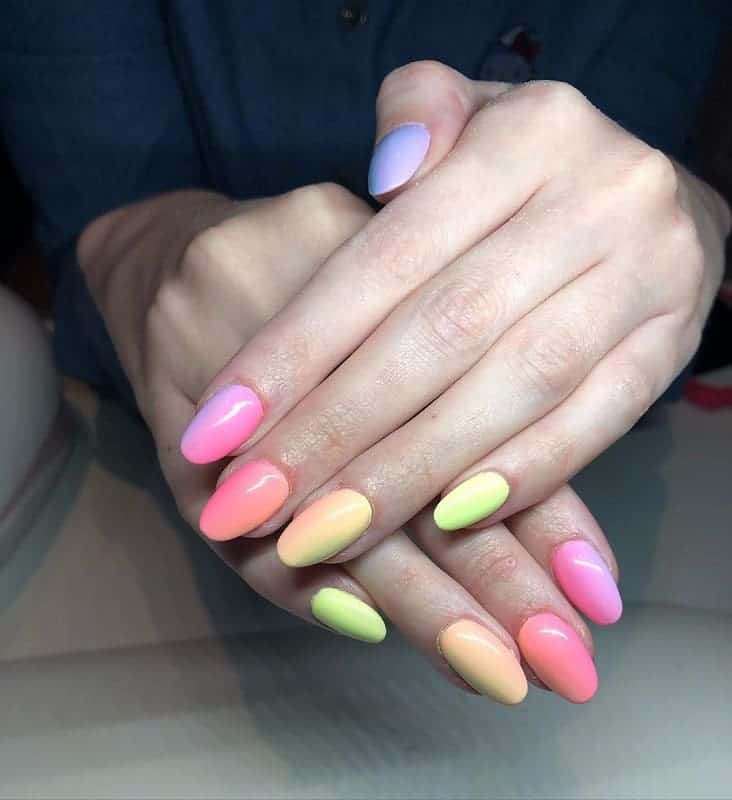 4. Rainbow Acrylic Nails
5. Long Rainbow Nails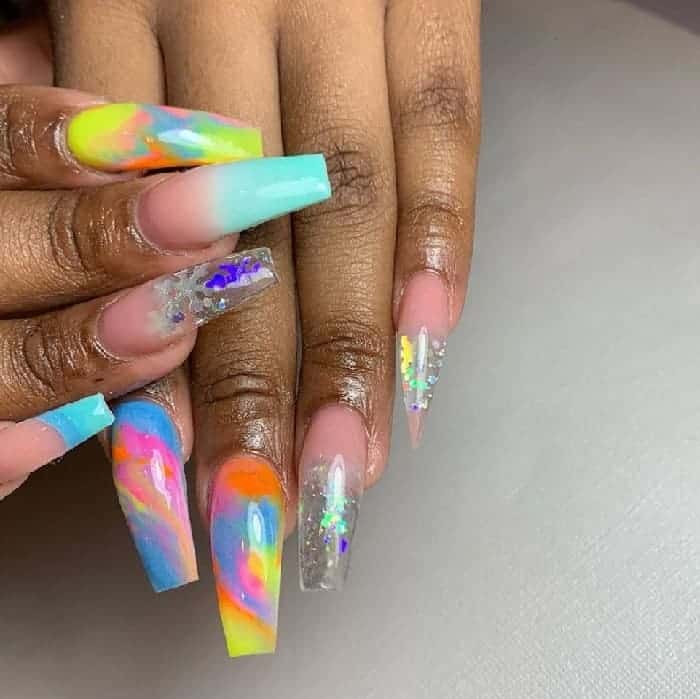 6. Rainbow Toe Nail Design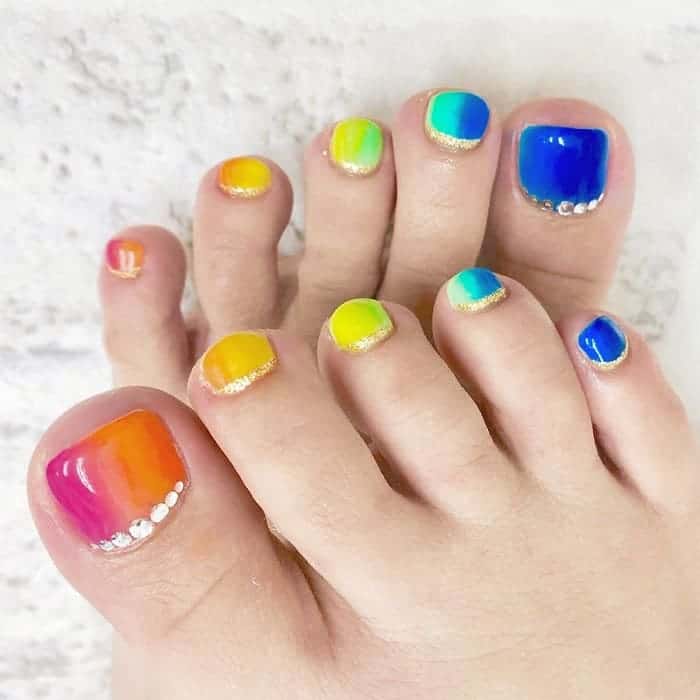 7. Rainbow Short Nails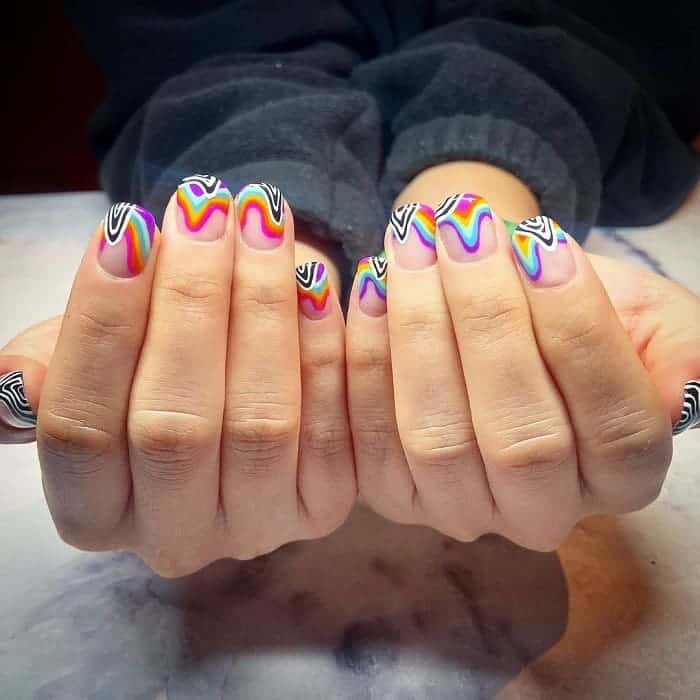 8. Rainbow Coffin Shaped Nails
9. Rainbow Stiletto Nails
10. Rainbow Gel Nails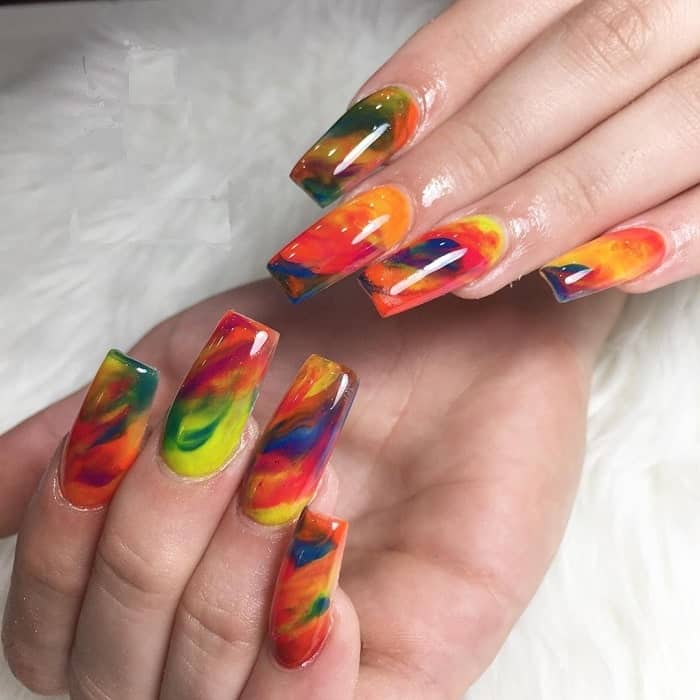 11. Rainbow Flower Nail Design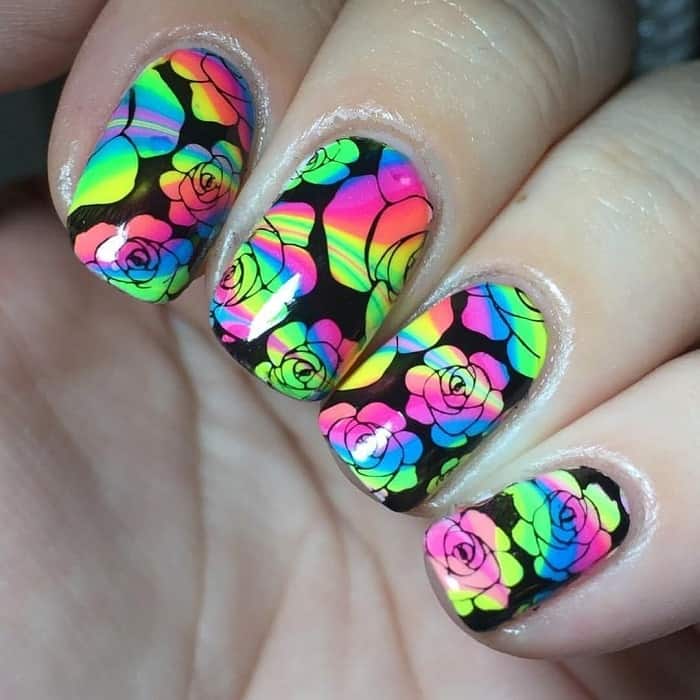 12. Rainbow Unicorn Nail Art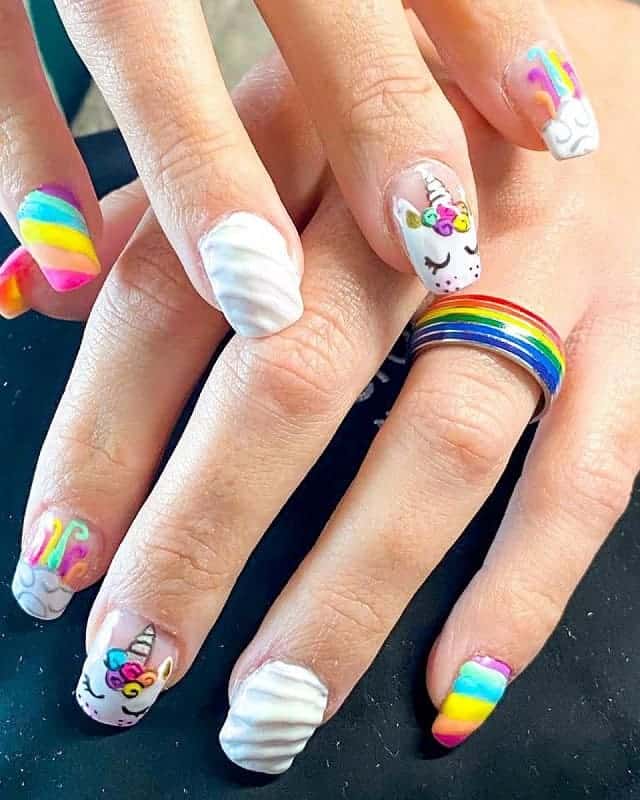 13. Rainbow Zebra Nails
14. Rainbow Water Marble Nail Art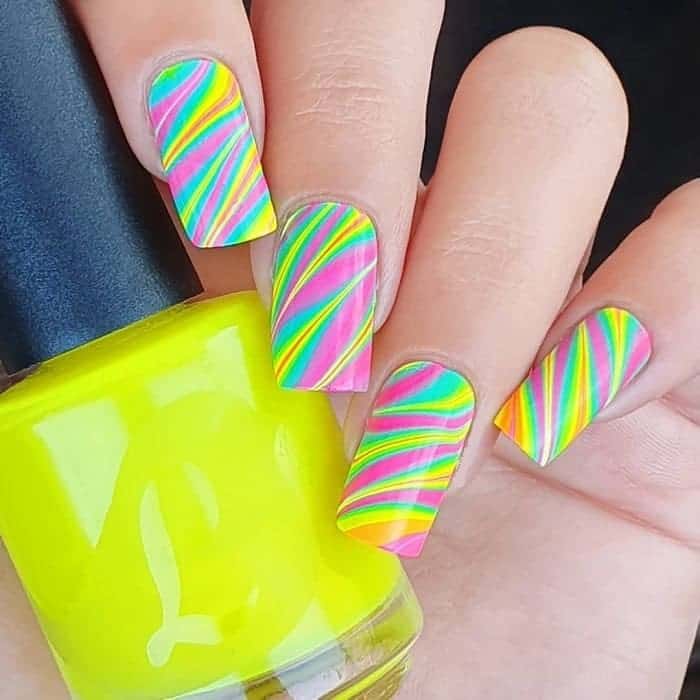 15. Rainbow Chrome Nails
16. Rainbow Sticker Nail Art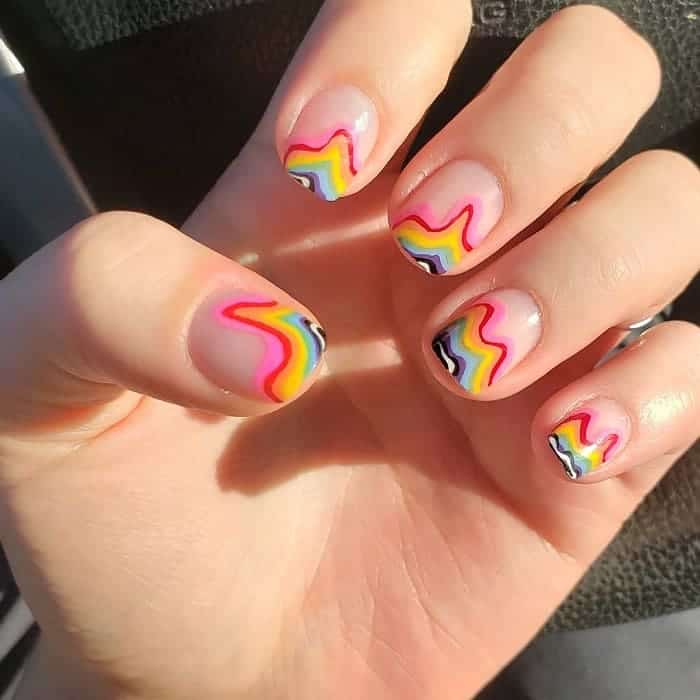 17. Rainbow Colored Matte Nails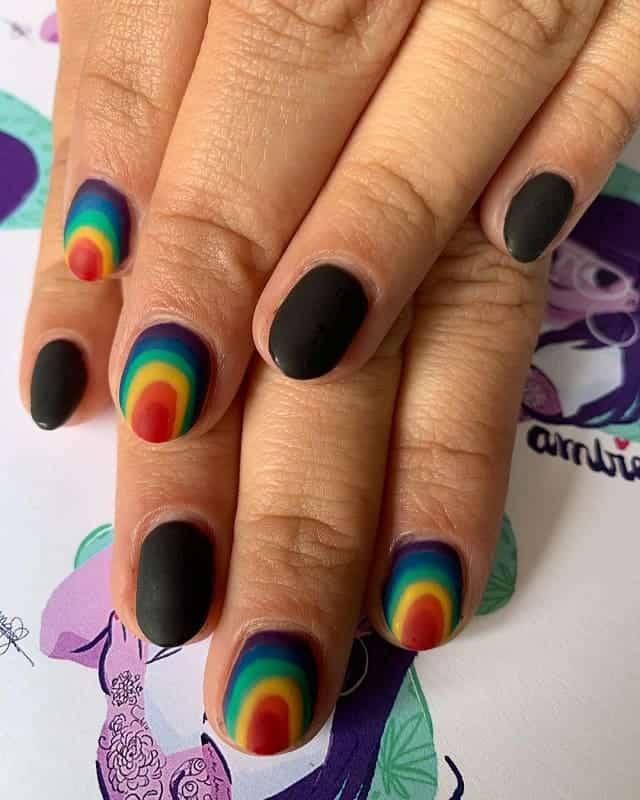 18. Clear Rainbow Nails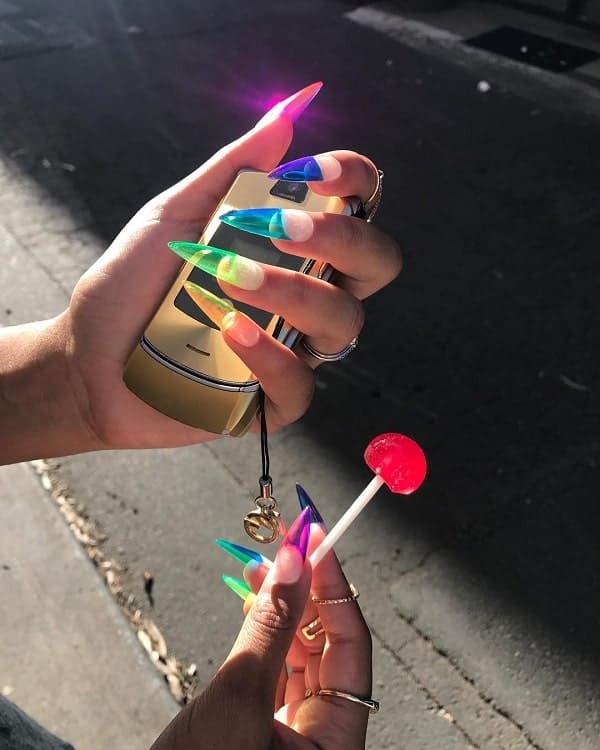 19. Sparkly Rainbow Nails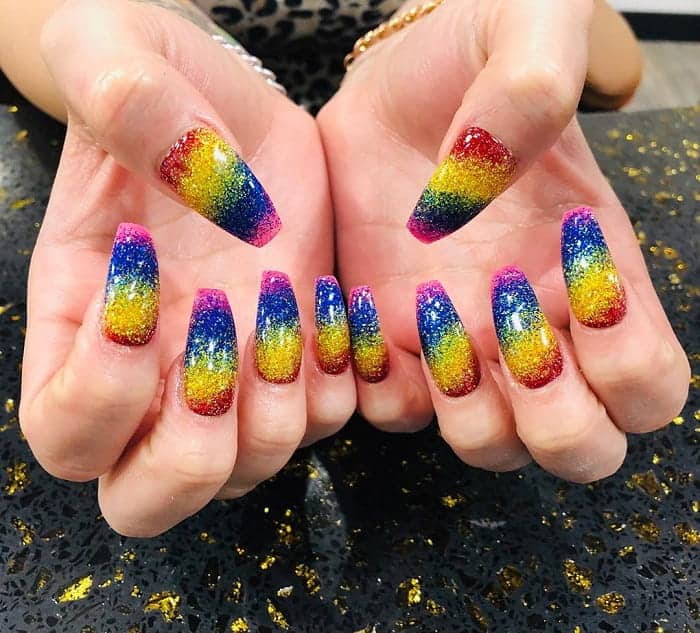 20. Rainbow Holographic Nails
21. Rainbow Tip Nails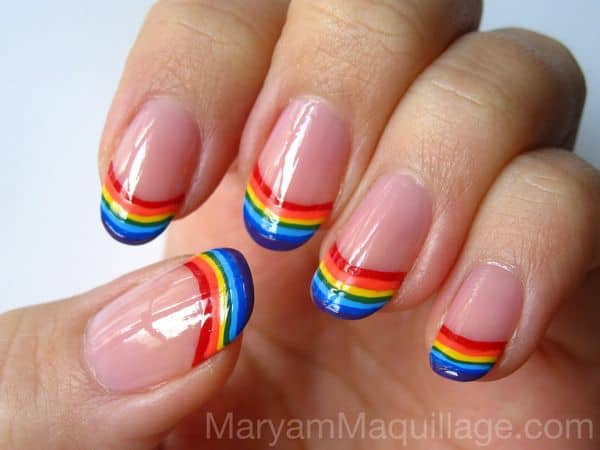 This is very easy design to have. Paint the tip of your nails with the color of the rainbow. This design looks best with natural solar nails as if these rainbows were rising high in the sky of your nail beds.
Some Surprising Hacks with Nail Polish
22. Rainbow Glitter Nails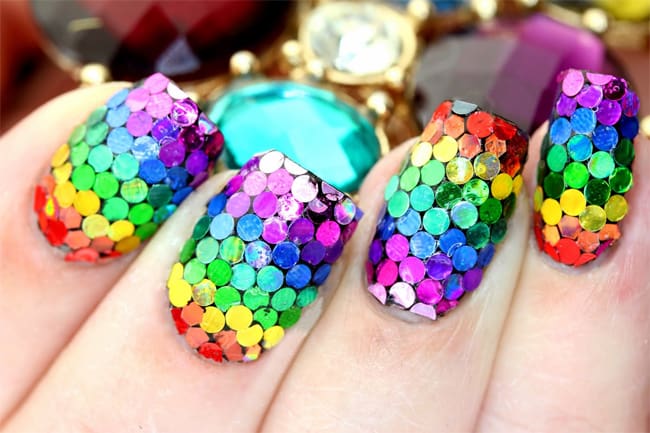 Glitters can be used effectively to paint a rainbow on your nails. Use the colorful glitters carefully so that the natural order of the colors isn't mistaken.
23. Happy Clouds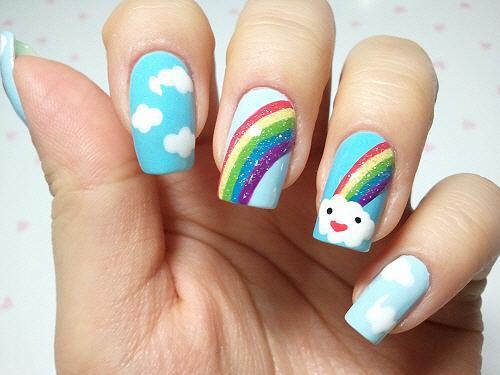 Usually, clouds are compared to the sorrowful state of a mind. But, when a rainbow appears the sorrow turns into happiness. You can paint some clouds in light blue nail then put a smiley to show that they are happy clouds.
24. Dripping Rainbow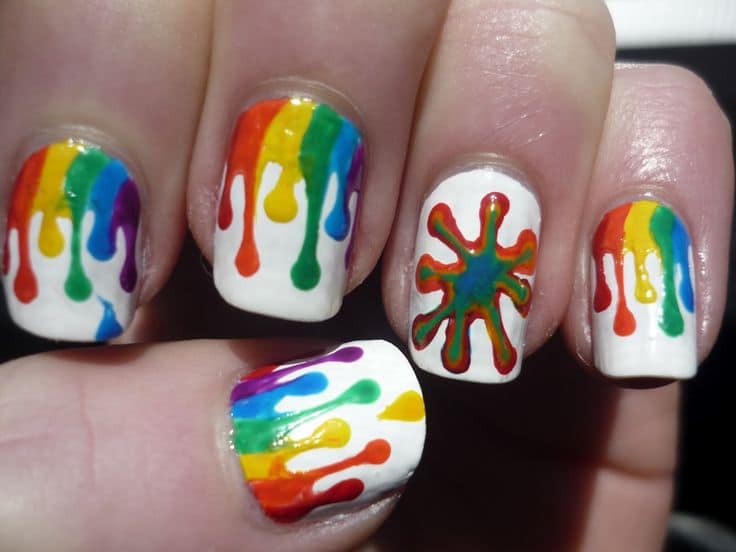 Drip the colors to maintain the natural order of the rainbow. This simple technique will create cute rainbow nail art like this one.
25. Swirl Nail Art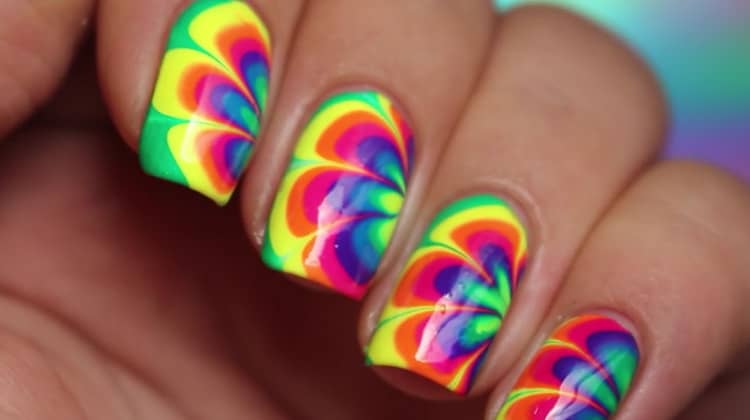 Swirl nail art or water marble nail art can play a very interesting role to produce exceptional rainbow nail designs. Apply the swirl or marble effect to have nails like these ones.
26. Shining Glitters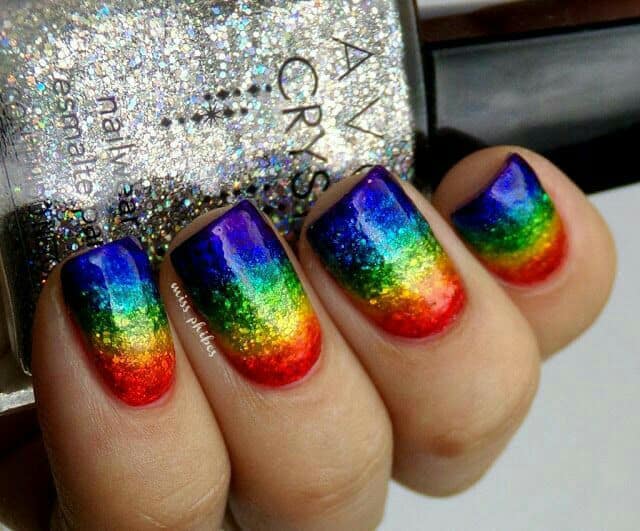 A rainbow itself is a bright spectrum of colors, try ombre glitters to it to make the nails more glamorous. If you are a shine lover, you can have this rainbow nail art.
27. Perfect Spectrum
This is the perfect representation of the colors which are present in a natural rainbow. Purple, blue, sky blue, green, yellow, orange and red all the colors have been kept in the right order in these rainbow nail designs.
Colorful Nail: Let The Nail Do The Talking
28. Polka Dots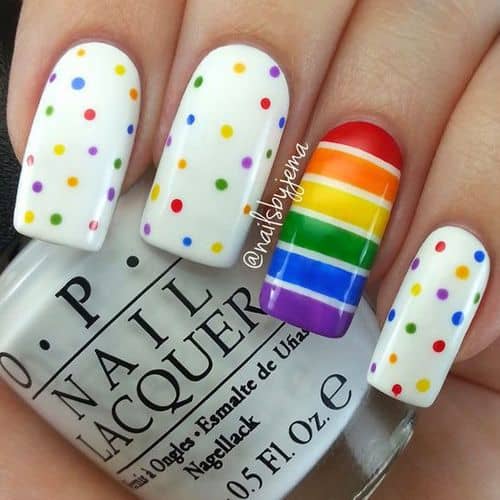 Paint a rainbow on any of your nails, And paint the others with polka dots of rainbow colors. This type of rainbow nail design is simple yet delicate.
29. Storm on the Nails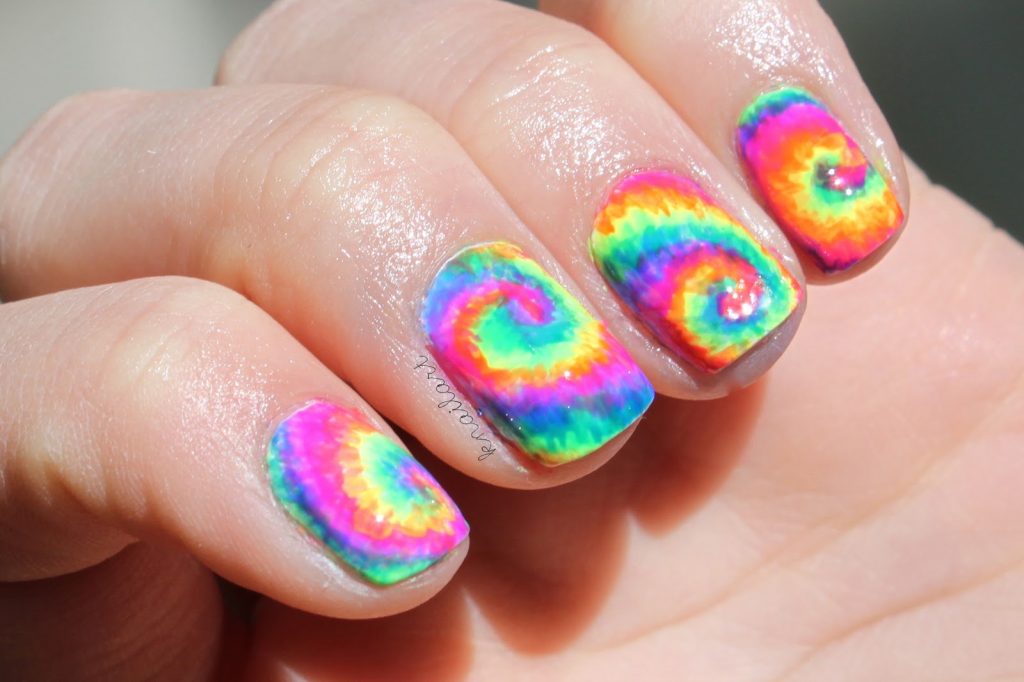 Draw a swirling and colorful pattern on your nails so that it resembles a storm on the nails. You can have these nails to create exceptional rainbow nail designs.
30. Full of Love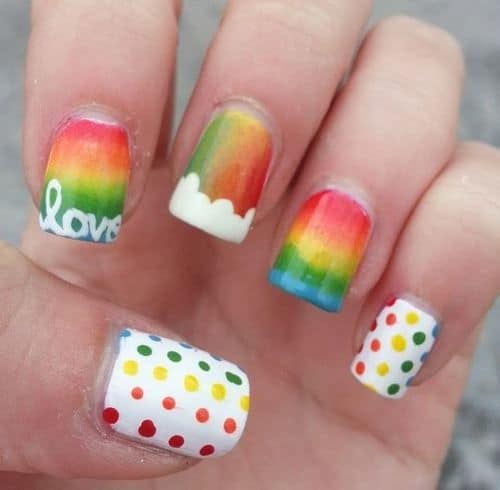 If you are full of love but can't express it by your words, here is an easy solution to your problem. Paint your nails with rainbow colors and inscribe the word "love" on them.
31. Striping Rainbow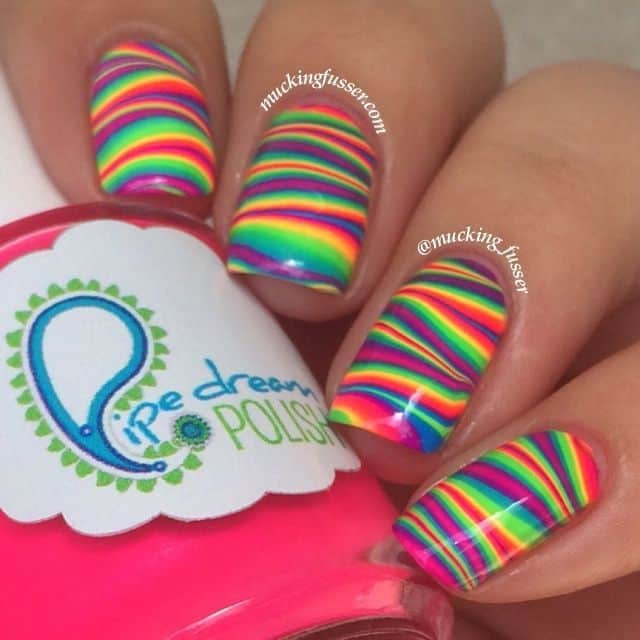 You can paint rainbow nails by using striping of the colors. This is a different rainbow nail art.
32. Colorful Display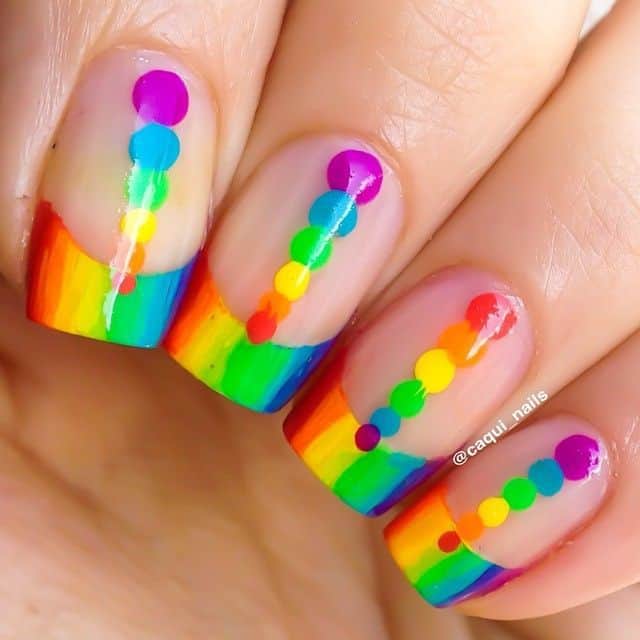 Rainbow is all about colors but the display of the colors should be aesthetic. This is that kind of a design. The colors are so carefully organized that they will look stunning on your nails.
Line Nail Design For True Fashion Devotee
33. Gradient Ombre Rainbow
Gradient nails look awesome in different colors. And, there is no better color combination than a rainbow. You can paint your nails in ombre style to have such rainbow nail designs.
34. Shiny Rainbow Nails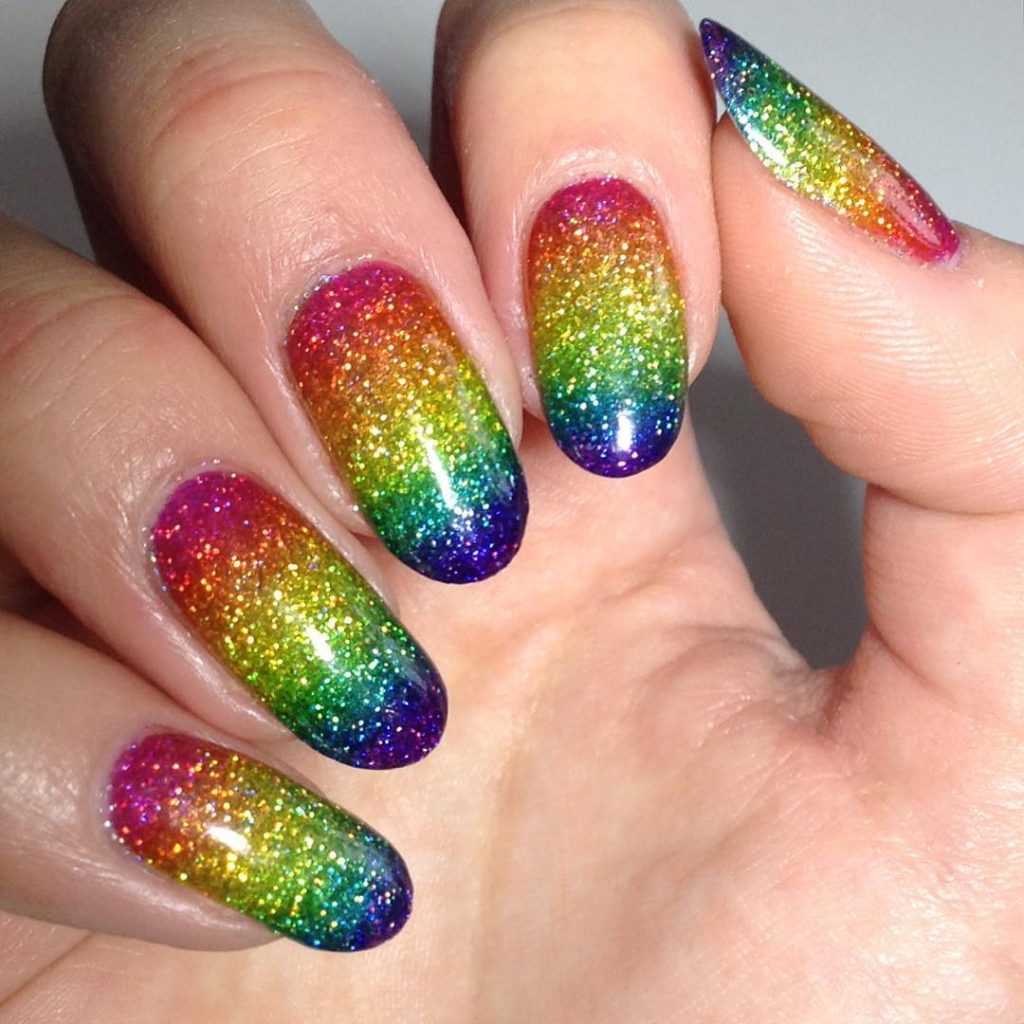 If you are a shine lover and want to make your rainbow nail designs shine, you can add glitters to the rainbow nails. The added shine will enhance the beauty of your nails.
35. Easy Pride Nails
If you are an LGBT supporter and looking for meaningful and easy pride nails, this is the right fit for you. This design is depicting the theme of LGBT which is 'Love is love, gender doesn't matter.'
36. Rainbow on Dark Skin Tone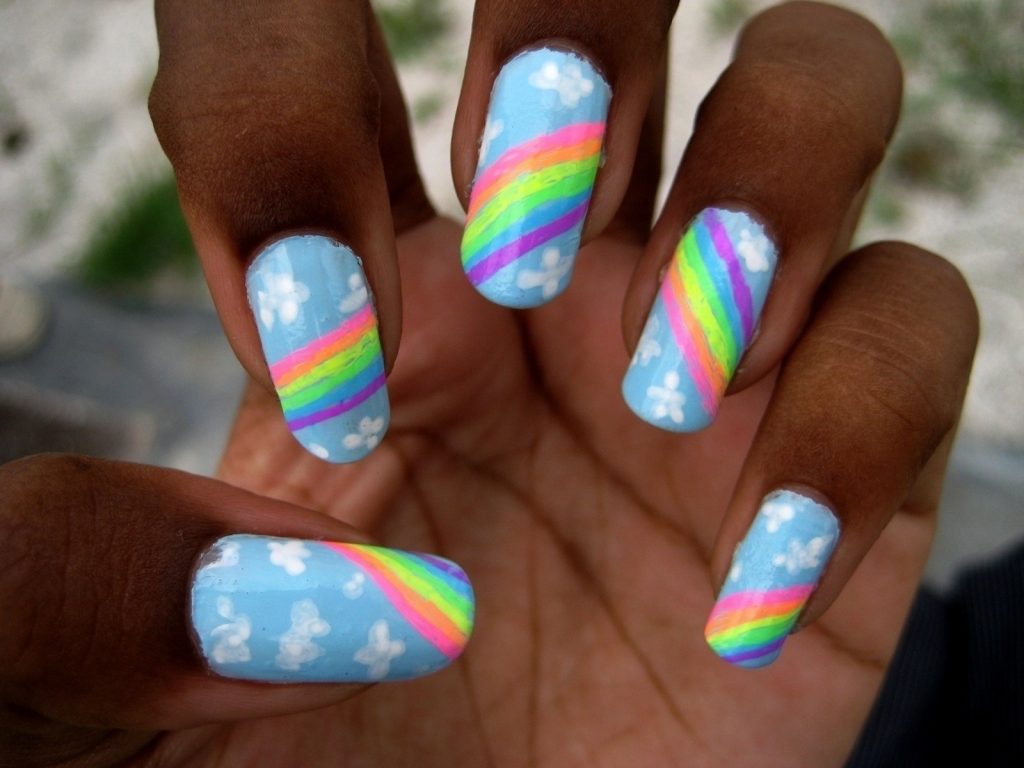 The shiny and colorful nails of rainbow nail art will help your dark skin shine brightly.
37. Rainbow Accent Nail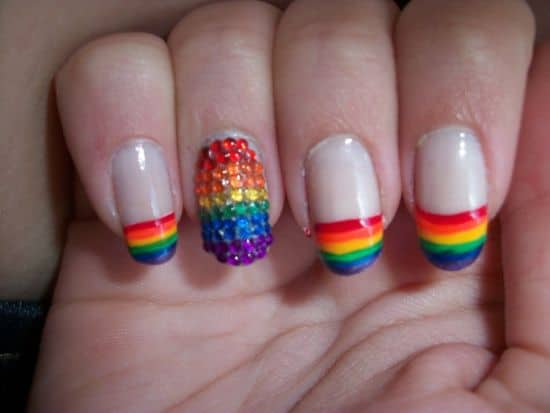 Paint the top part of your nails with the colors of a rainbow. Accentuate the nails by placing rhinestones on any of the nails, preferably on the ring finger. That's enough to have rainbow accent nail.
38. Neon Rainbow Nail Art
Neon colors are bright and vivid. You can paint your nails in chevron patterns to have this nail art. The colors and the patterns look awesome in neon colors. These colors complement the whole rainbow nail art.
Rainbow nail designs can also be worn as summer nail designs. The bright and colorful attributes of these nails are compatible with the theme of summer nails.
40. Rainbow Nails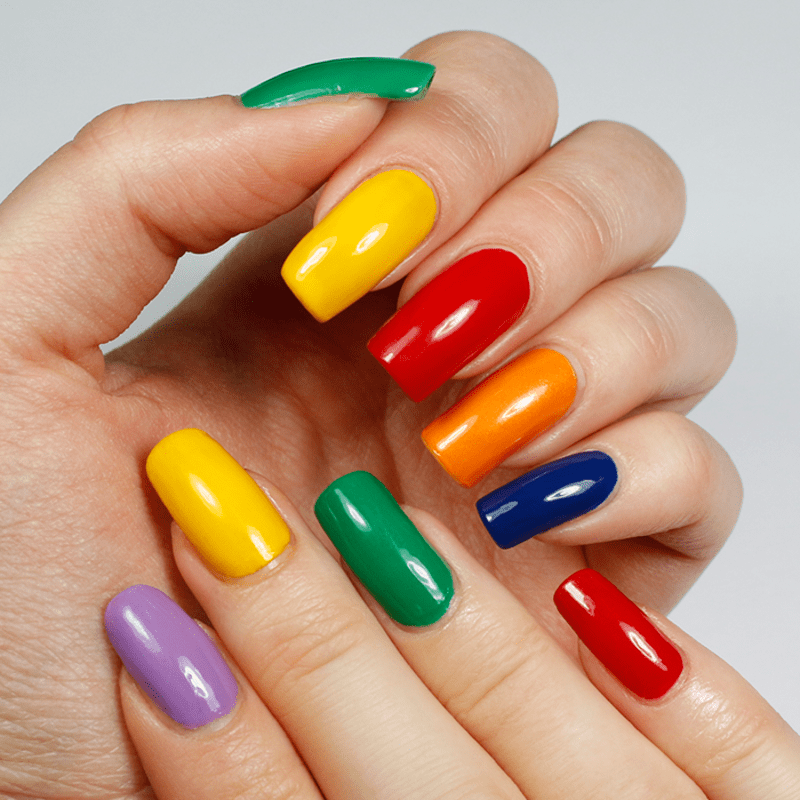 All the designs which have been discussed above are the miniatures of a rainbow on your nails. But, this is a completely different design.
You can paint each of your nails with a single color that is present in the spectrum of the rainbow. All the nails will resemble a rainbow altogether.
Sometimes Less Is Beautiful: Minimalist Nail
Explore Some More Designs of Rainbow Nails to Enhance Your Beauty
Rainbow nail art looks beautiful for the presence of a natural order. Watching the seven colors of the rainbow is a common phenomenon in our daily life. Having them on your nails make them look better.
If you are confused about what rainbow nail art to have, you can try some of our designs.