20 Astounding Airbrush Nail Art to Blow Your Mind
Nail art has gone through a revolution in last decades. The use of technology makes nail art look very attractive at the same time it makes it so easy to apply any design. Airbrush is that kind of gifts from the fashion techs who work relentlessly to improve and modify the devices related to fashion industry.
Airbrush is an air-operated device which is used to spray colors, ink, dye etc. Compressed air is the main element of this tool. Different colors are sprayed on the nails to get the airbrush nail art done. The process seems difficult until you get adapted to the mechanism of this airbrush device.
Amazing Airbrush Nail Art for Your Nails
To get airbrush nail art done on your nails you must have two additional tools. They are an airbrush device and different stencils to imprint the designs. Stencils are a kind of templates that is customised for a specific design.
You can also create your own stencils or decals by cutting a piece of paper as per the design you want to have. Once you get used to operating the airbrush device, designing them becomes super easy and comfortable.
The process is simple. Place the decals on your nails, spray the colors from an airbrush. Remove the stencil, your designs will be transferred to the nail beds. Let's get some design ideas in order to have amazing airbrush nail art on your nails.
#1.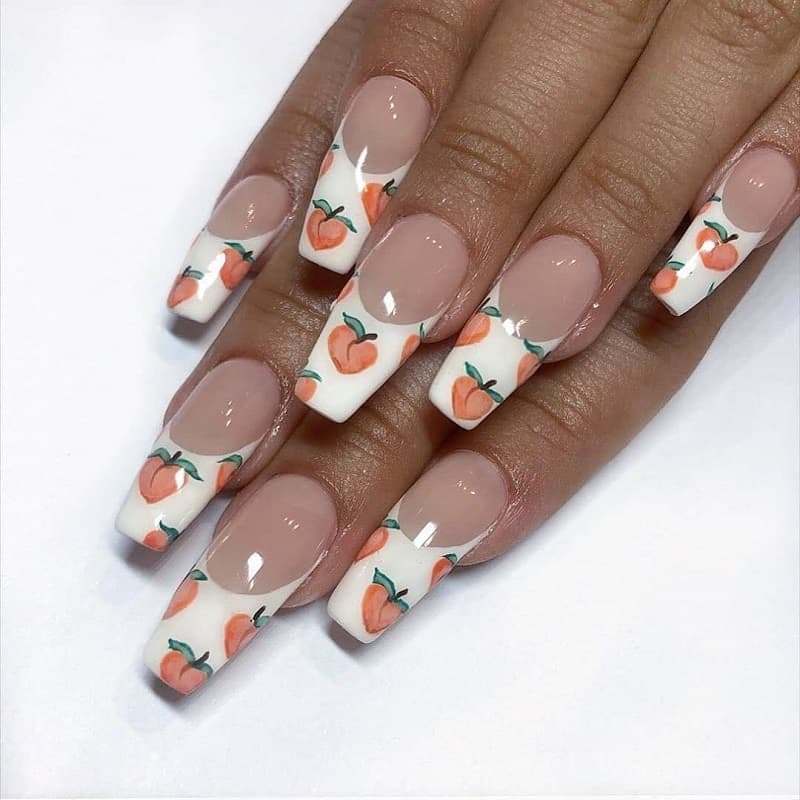 airbrush white tip nail
#2.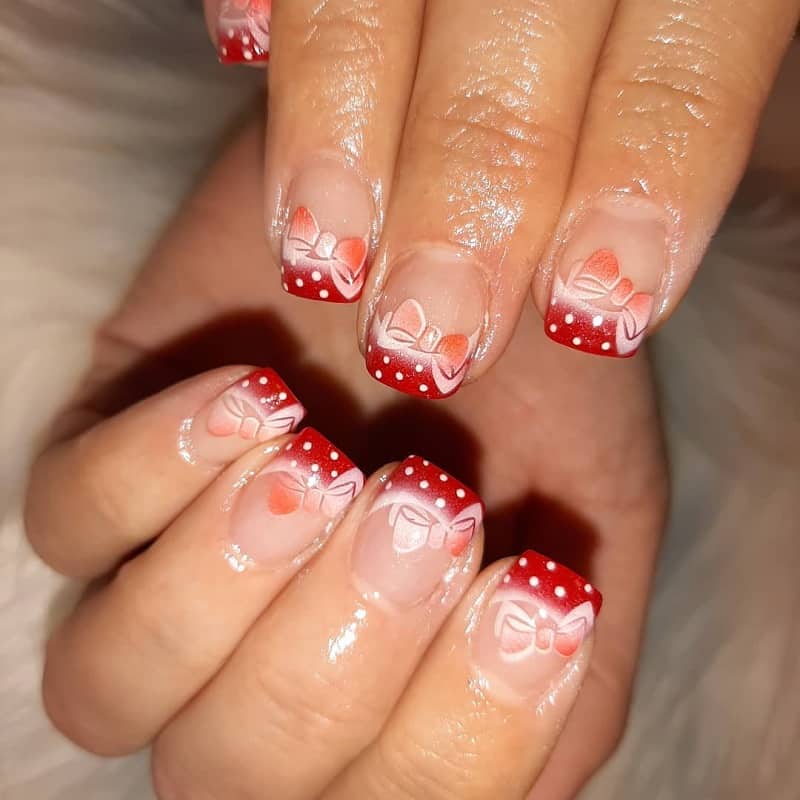 airbrush christmas nail design
#3.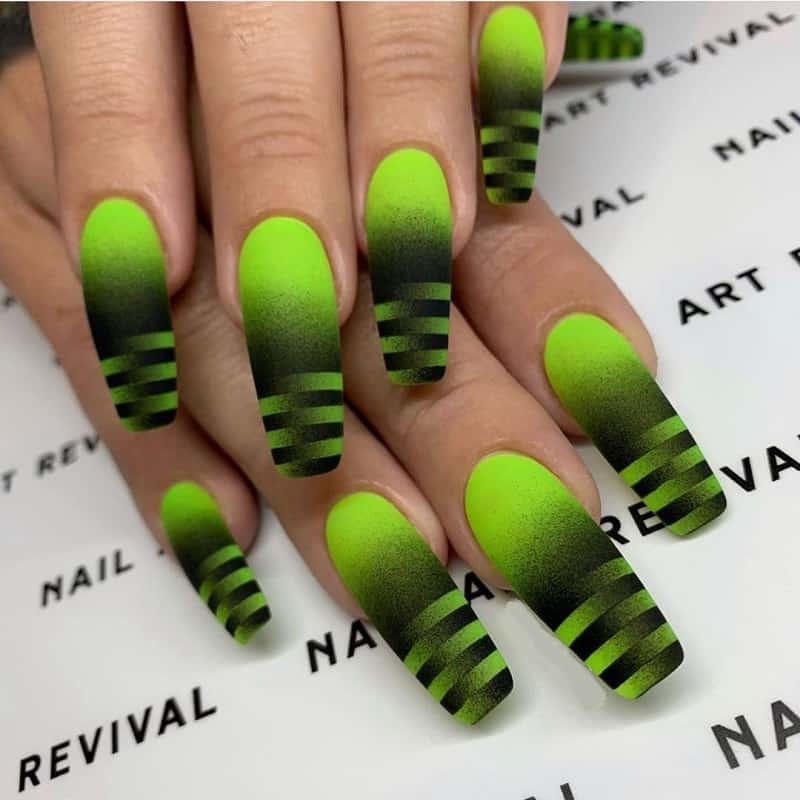 90s airbrush nail
#4.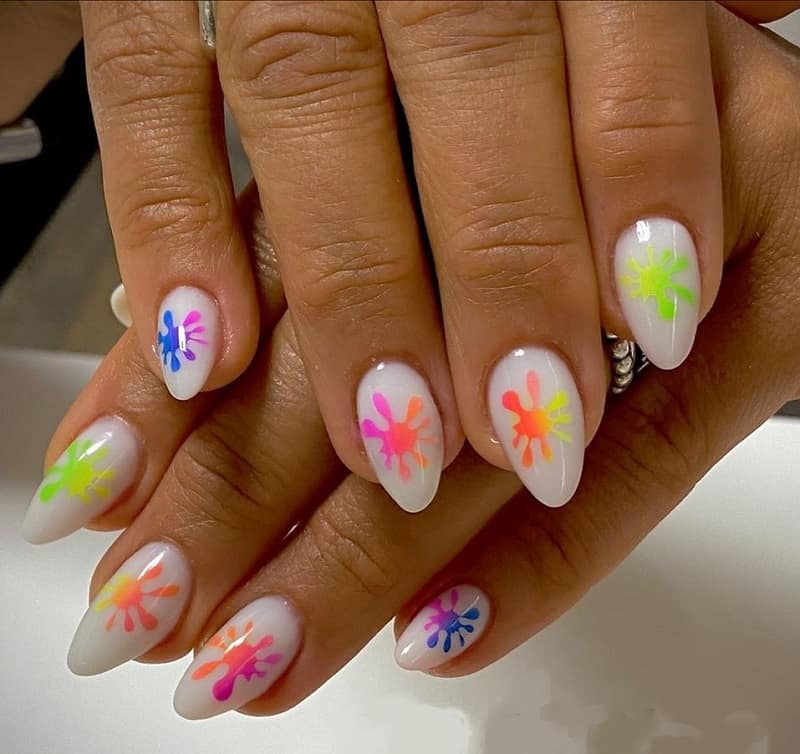 airbrush white nail
#5.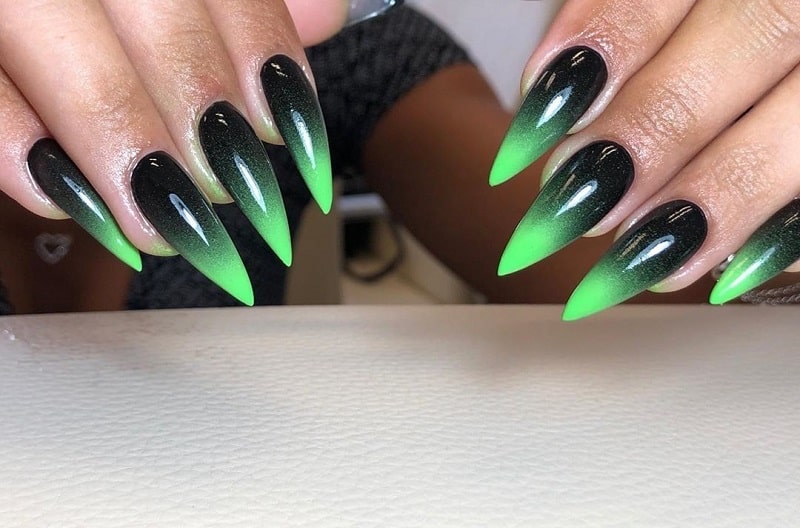 airbrush halloween nail design
#6.
airbrush pink nails
#7.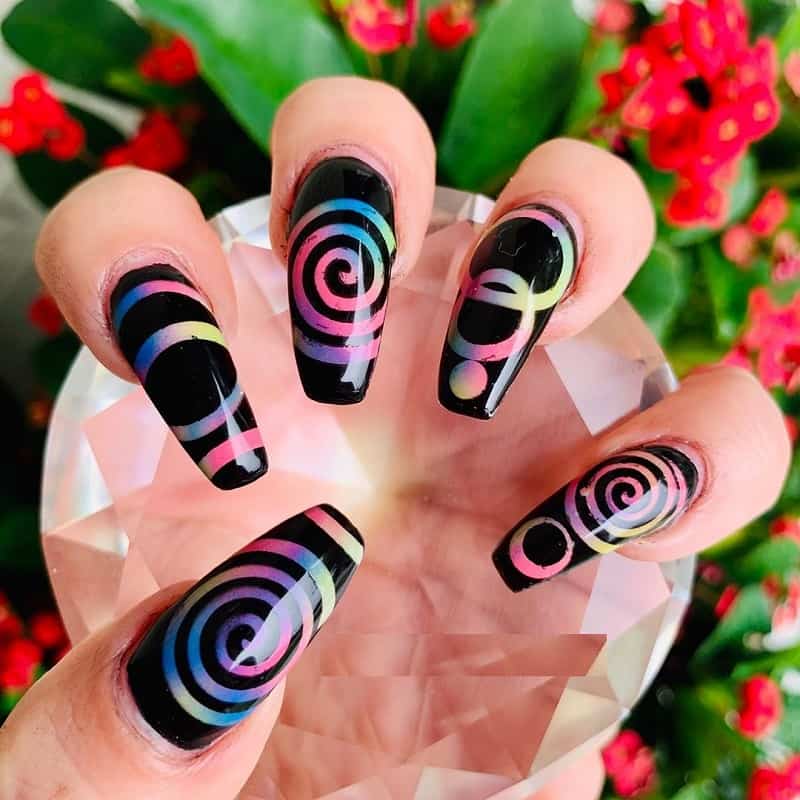 airbrush swirl nail art
#8.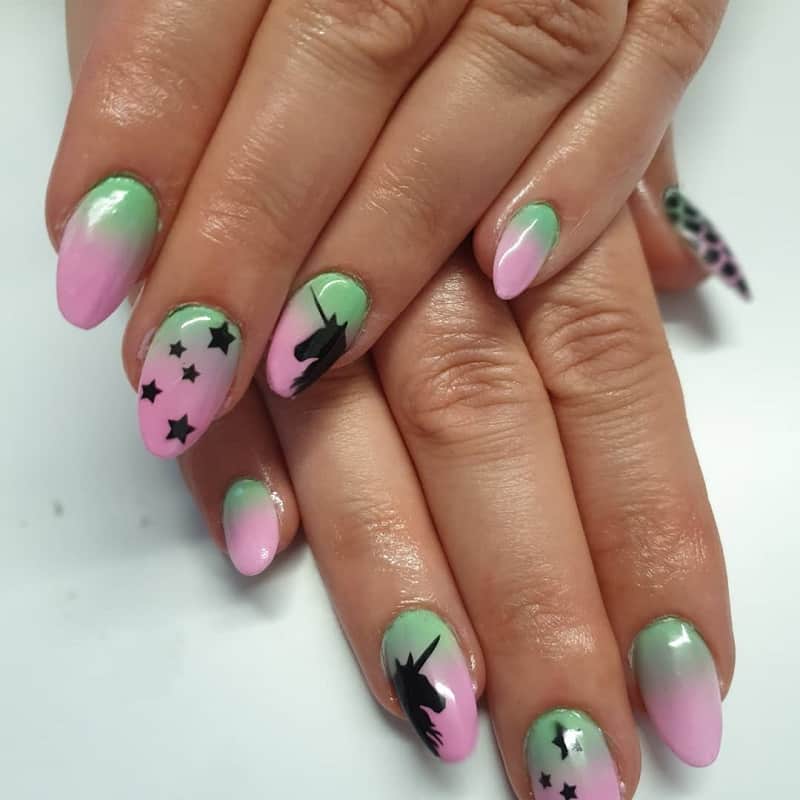 airbrush decals nail
#9.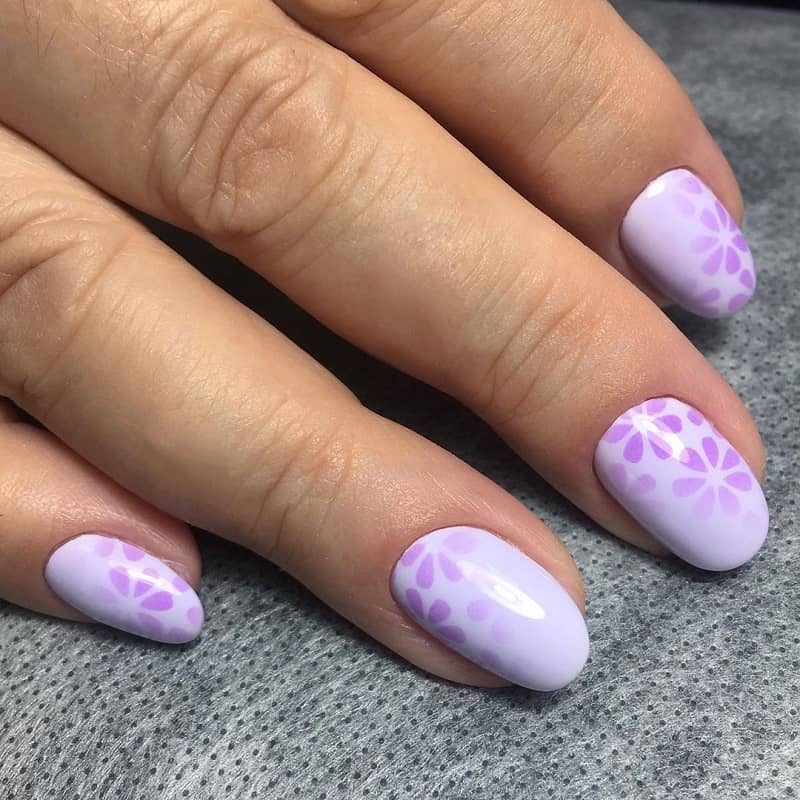 airbrush flower design nail art
#10.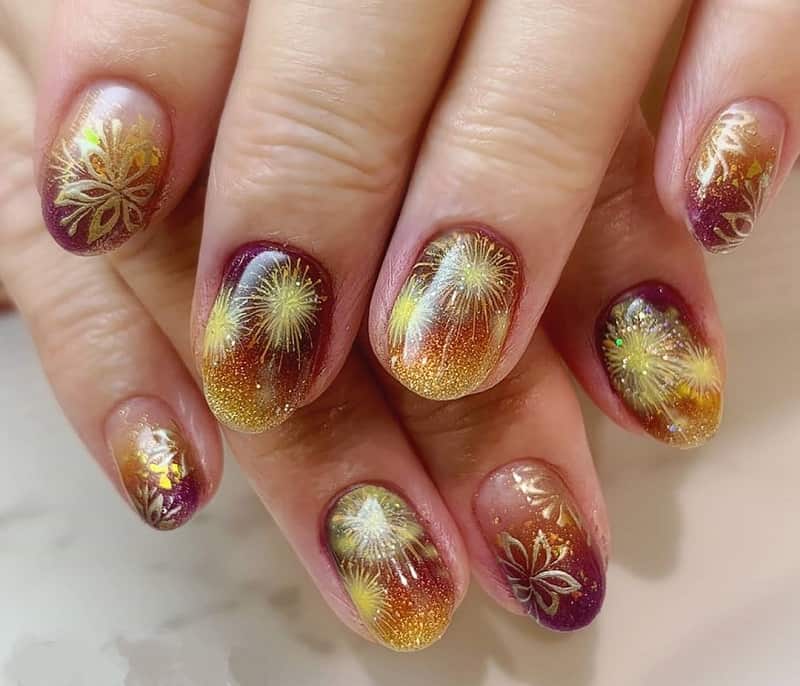 airbrush royal nail design
#11. Gradient Pink Flowers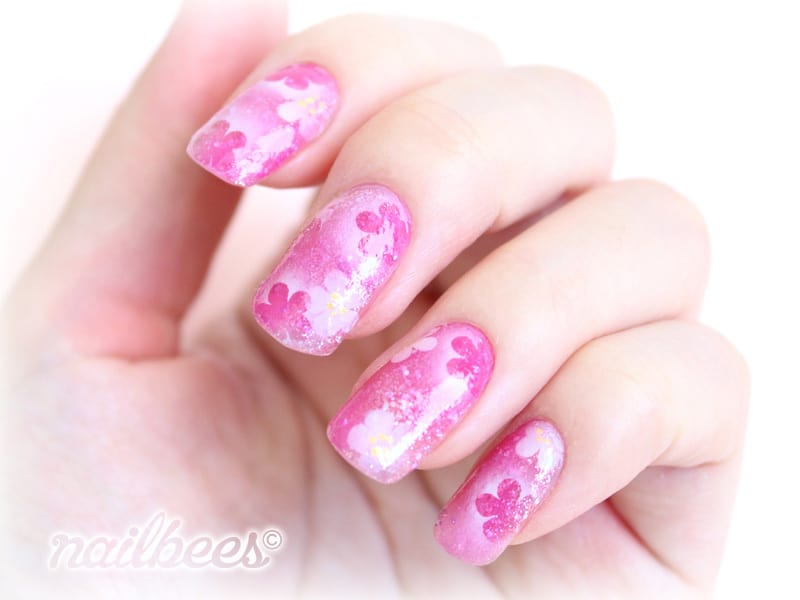 This floral design is so eye-soothing. Your mind will get healed if you look at this glorious airbrush nail art. You can use different shades of pink to paint this design. Use a light color and a deep color together as if they got mixed naturally without any external force. This will give the gradient look to your designs. Paint these pink flowers by using the airbrush and stencils.
Create Stunning Water Marble Designs on Nail

The patterns of Cheetah skin has frequently been used in nail art. You can have them very easily by using an airbrush. First, paint the nails with the nail polish you want to have. Then the Cheetah patterns will be painted on them with the help of Cheetah nail template and airbrush device.
#13. Black Flowers

These black flowers look stunning on the light pink base. At first, fill the surface of your nails with light pink and pure black colors. Then place the stencils on the light pink nails and brush the paint from an airbrush. Your airbrush nail art will be ready within a blink of the eyes.
#14. Speak Your Heart Out

Never back down from saying what you feel deep down your heart. If you love someone and want to let the world know it, this design is for you. Let's say it loud that you love somebody by spraying caviar pink colors on your nails. Spray the colors on the decals, your desired design will be imprinted on the square nails within a minute.
Express Your Personality with Squoval Nail
#15. Radiant Colors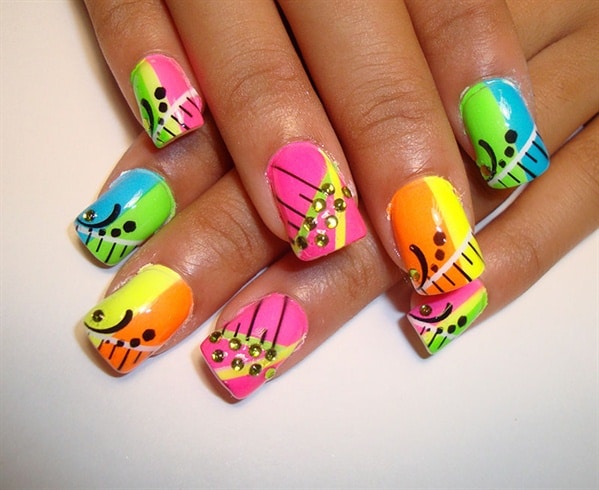 If you are a fan of dazzling colors, you will love this design. At first, paint your nails as you like with radiant colors like orange, lime green, pink, yellow etc. Then spray black color from the airbrush to paint the shapes from your template designs. You can use stones to make it shine.
#16. All About Abstract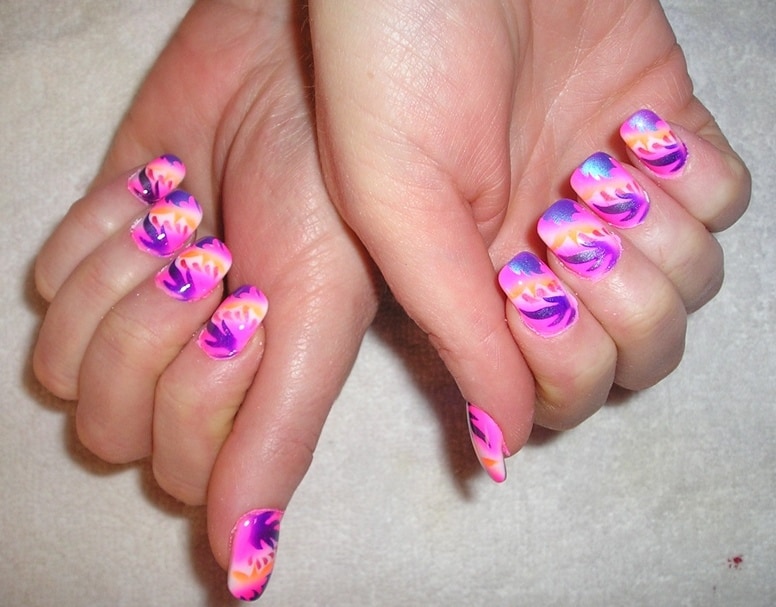 Abstract nail art is something which builds a bridge between the world of imagination and the world of reality. You can give shapes to your imagination by these abstract art. Get the stencils or decals done by using your imagination. Then use airbrush color spray to imprint them on your nails to design airbrush nail art.
#17. Shape of Love
These glittery nails look beautiful as well as they carry a meaning. The shape of love is widely used in nail art. You can have this design by spraying colors from an airbrush on a glittery base coat.
Get Creative with Solar Nail Design
#18. Airbrushed Petals

This design looks so natural as the flowery design seems like the petals are blossoming from the tip of the nails. You can paint this design on nude nails. Choose the color carefully because the right color combination is the secret of this airbrush nail art.
#19. Feel Like  Star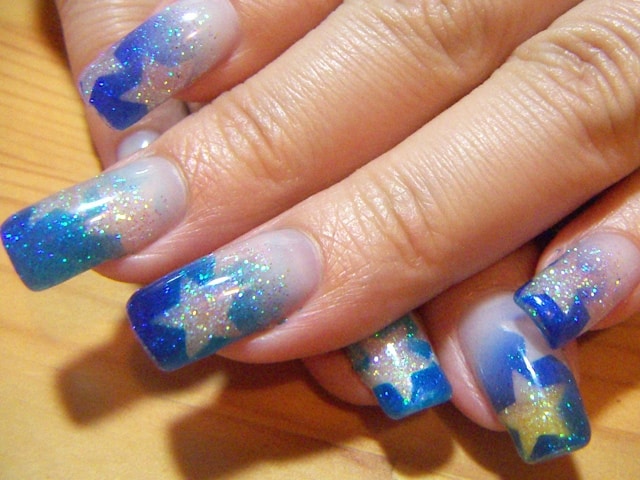 Do you think you are a star in your own world? Yes! This design is for the celebrities of each friend zone. If you want to feel like a star, grab this design. At first draw these stars by spraying blue colors from the airbrush then add silver glitters. Your stardom gets completed with this airbrush nail art.

This design is simple yet gorgeous. Paint the edges of your nails with purple and white and keep the remaining part nude. Then imprint the designs from stencils or decals on your nails by using an airbrush. That's it, your airbrush nail art is ready.
Check out how airbrush nail designs are created in this step by step video
Can't Decide Red or Purple? Try Burgundy Nail
Airbrush nail art is mainly for them who want to design their nails quickly but don't want to compromise the quality of the designs. You can have this nail art done within a very short time and the output will be as great as any other nails. Try out our design and ideas for airbrush nail art. I have discussed 10 designs in this article. Be inspired by them and produce hundreds of designs by using your creativity and our guidance. And don't forget to use the airbrush device carefully, as any machine needs a machinist.