Mustard yellow reminds us of the gorgeous sunset, bringing a lot of positive vibes. Why not capture the vibe with these fascinating mustard-yellow nails? You can wear it to picnics, night outs, parties, office, college, or whatnot.
You can play with the hue as you like, pair it with others, add accessories, or choose various designs. Wondering how? Check out our list of amazing ideas and feel inspired to try them, now only.
Coolest Mustard Nail Color Ideas
Discover the brightest yellow nail color ideas below.
1. Short Golden Nails
When yellow comes your way in life, paint it on your fingertips. These nails in shades of mustard yellow and pistachio green are ideal for spring.
You can wear them with any nail type because they are lustrous nails. They look particularly fantastic on short nails.
2. Dazzling Dots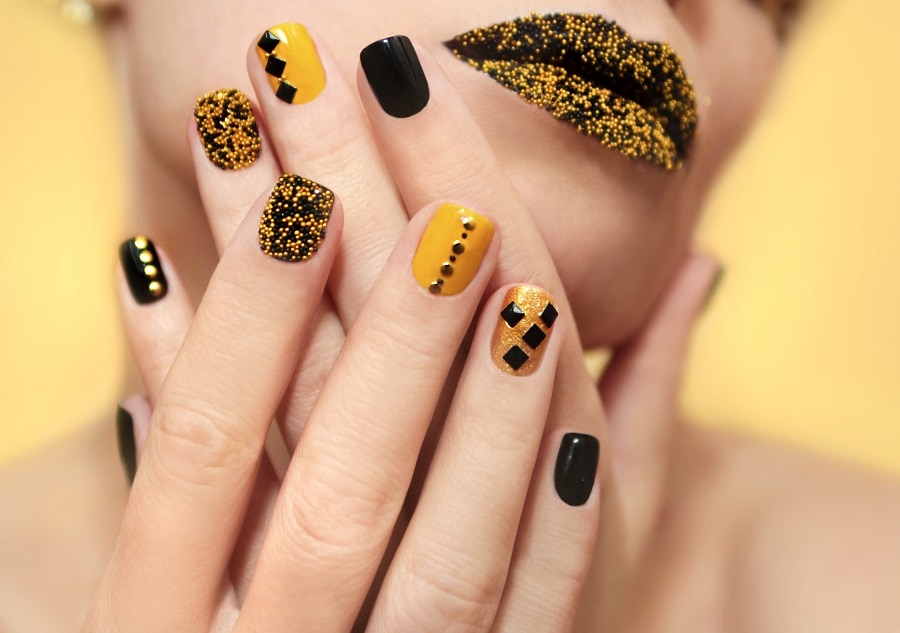 You may have these attractive nails done in your hands easily. You just need to draw dots and patterns on each nail.
For a dazzling appearance, you can add some black and gold rhinestones. Unusual glittered patterns always work magically.
This year, the simplistic designs are really fashionable. It makes a strong remark and is simple to make.
Start by applying yellow and gray nail polish. The zigzag design can then be made with white using a nail art pen.
4. Half-Painted Nails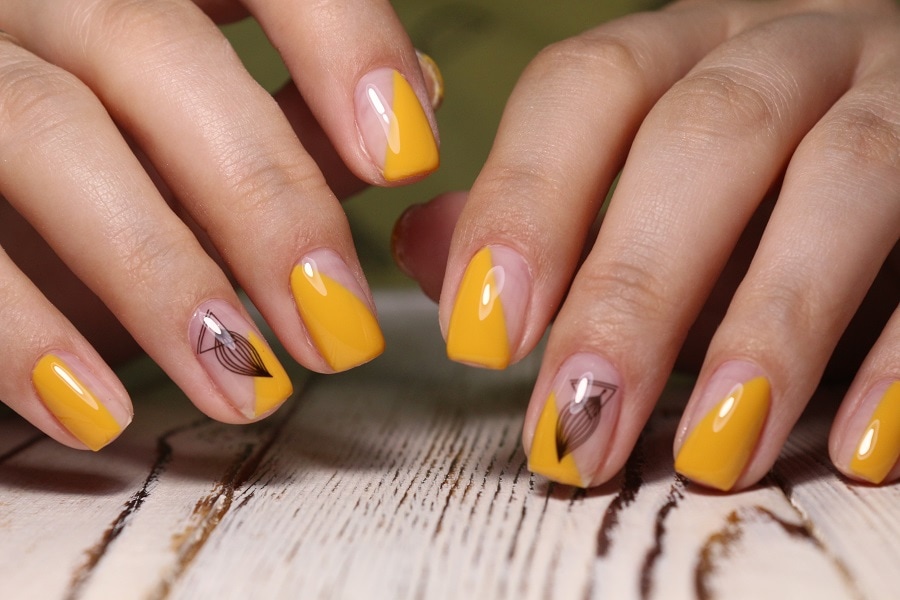 This year's popular nail color is orange and mustard. The base of these short nails is half nude and evolves into a leaf nail design.
These remind me of spring and would be ideal for a casual family lunch.
5. Sunshine Oval Nails
Your mustard nails might be enhanced effectively by doing nothing to them. However, you did read it correctly.
The oval nails will stand out and be highlighted by a plain yellow base. In addition, the simplicity of these nails will undoubtedly enhance their appeal.
6. Pale Matte Nails
Do not think you need to create elaborate nail art to express an opinion, as these nails are already going to strike. One of the most popular styles in the spring is this elusive light mustard yellow matte nail.
7. Gold And Glitters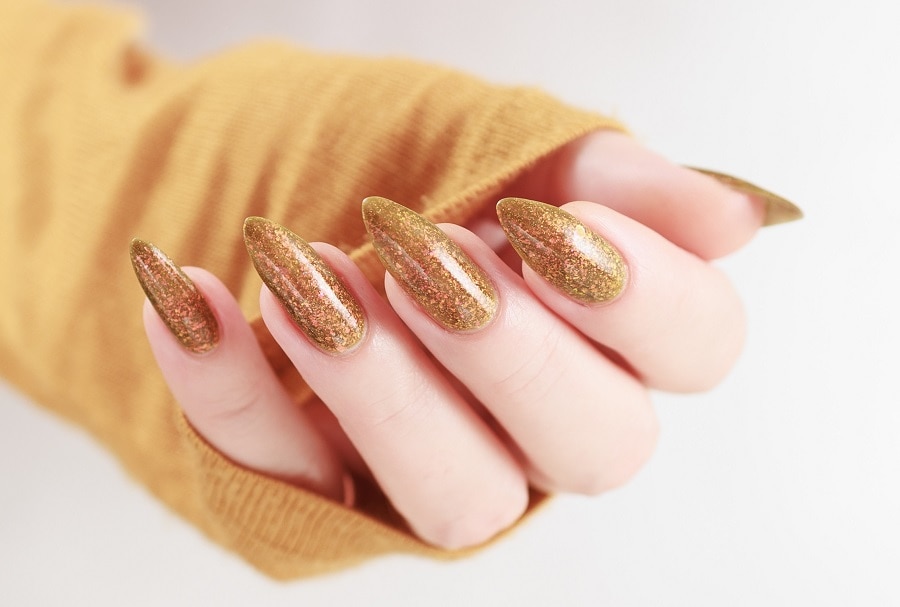 There is no need to look beyond if you want a bright yellow nail design that will draw attention. Instead, choose these glittery long nails in yellow and gold.
We adore how this manicure blends traditional nails to create a stunning appearance. This one would be fantastic for a romantic date or a girl's weekend.
8. Gemstone Nail Art
Check this mustard yellow nail design if your nails are short and you want to add color.
If you want to give your short nails a stylish look, try this brown and yellow matte nail art. To improve the appearance, you can add gemstones to your chosen nails.
9. Shades of Tango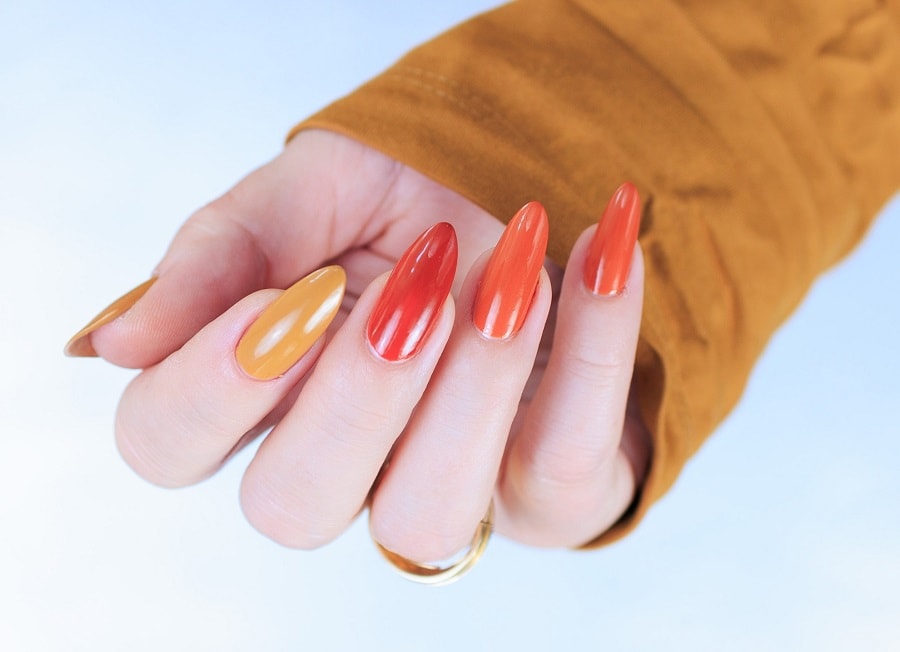 These stylish shellac nails combine a range of yellow, red, and orange colors to create a bold manicure.
Additionally, this manicure includes vibrant, sparkly nails as a playful sign of this craze. Finally, we adore the special bit of glitz that a ring adds to the finger.
10. Gradient Blooms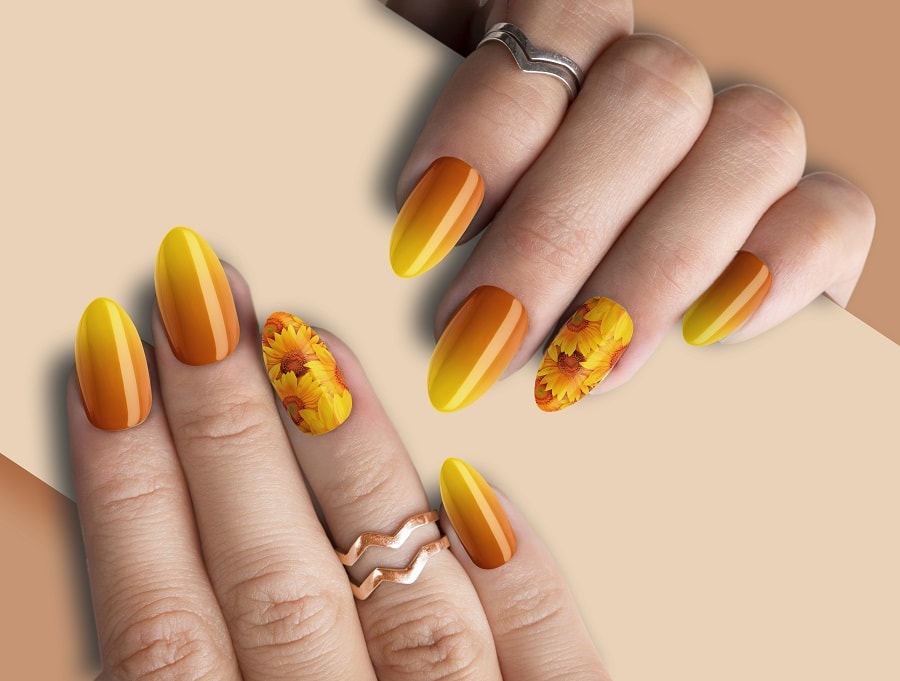 These mustard yellow nails are our favorite: they are simple, pretty, and beautiful. Simple oval gradient nail with sunflowers added to it.
The spring season would be the ideal time to wear these nails. They are balanced and understated.
11. Flirty Toenails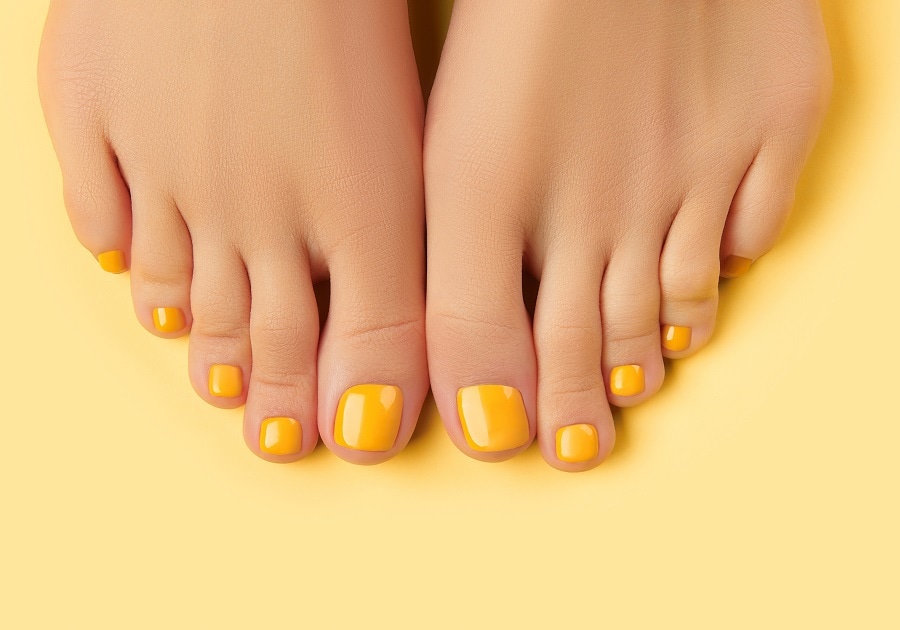 Let's include the beauty of vibrant yellow nails in your toenail art. You've arrived at the right location if you're looking for anything fancy.
You can also wear these simple nail color during the winter. To make your nails match, pair them with stylish sandals.
12. Fall Vibes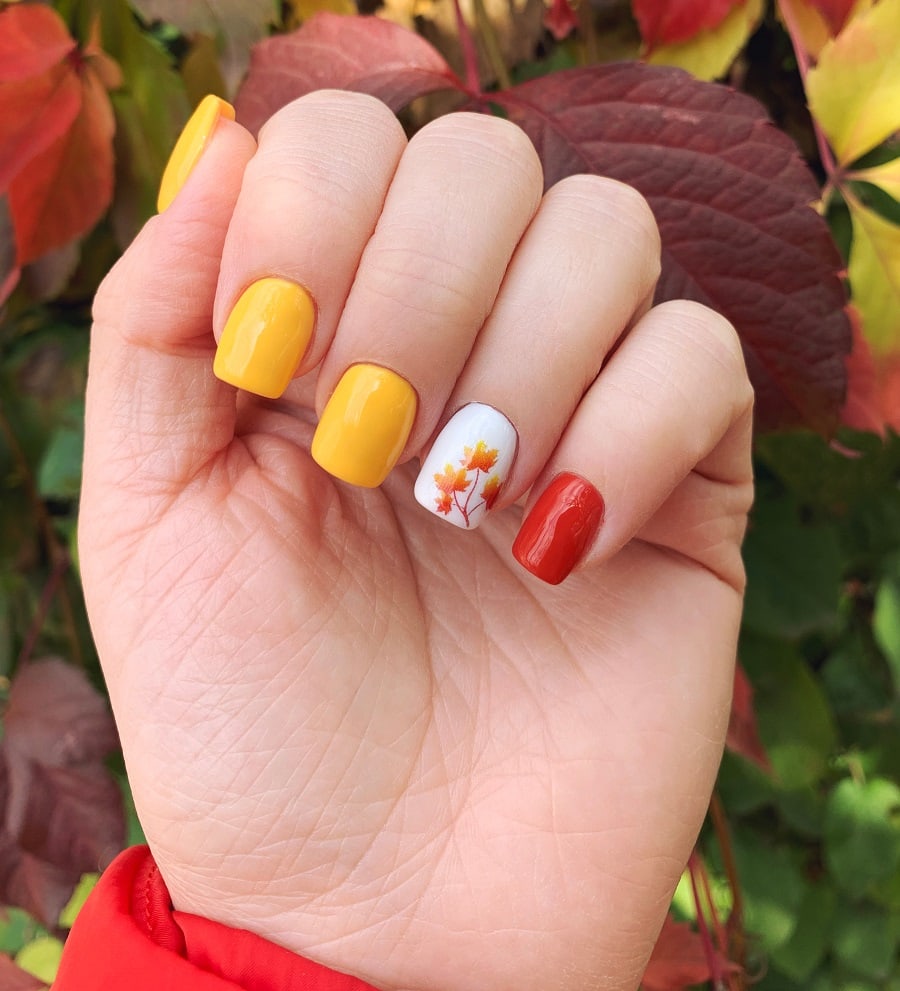 Yellow can also be matched with red, orange, and white because it is such a flexible color.
Actually, it complements almost all colors beautifully. The white square nails have a simple yellow flower drawn on them.
13. Lime Swirls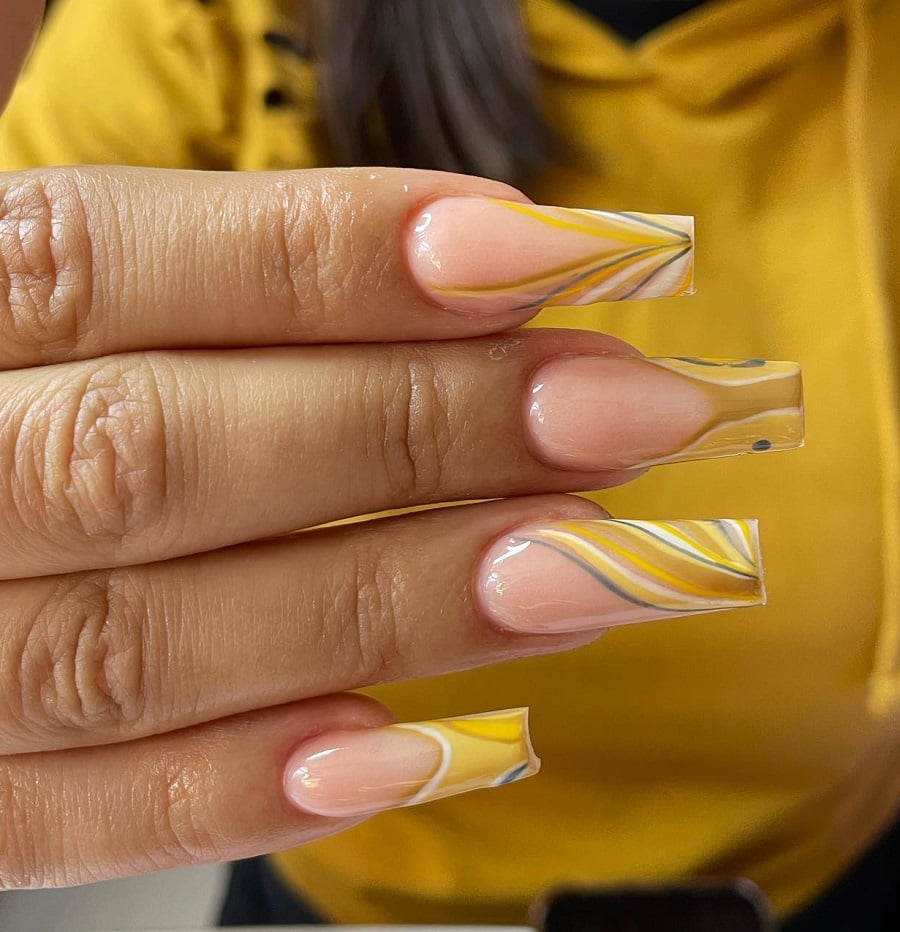 By far, the most popular nail art style this year is geometric. Every shade of color that exists looks fantastic on these creative swirls.
These vibrant yellow and gray acrylic nails are really fascinating. Every way you check over at your manicure, they'll undoubtedly make you smile.
14. Christmas Almond Nails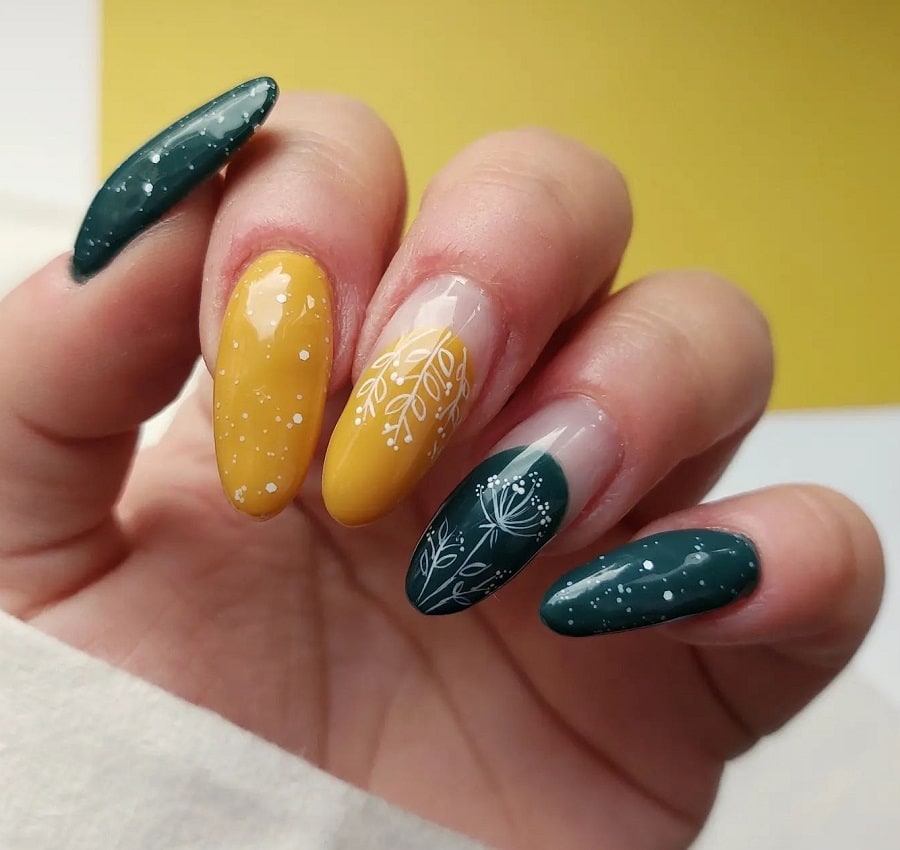 Try this if you want to seem fashionable but don't want to wear anything extravagant. To make this pattern look contemporary, paint some green and white nail polish on yellow nails.
15. Blue Velvety Look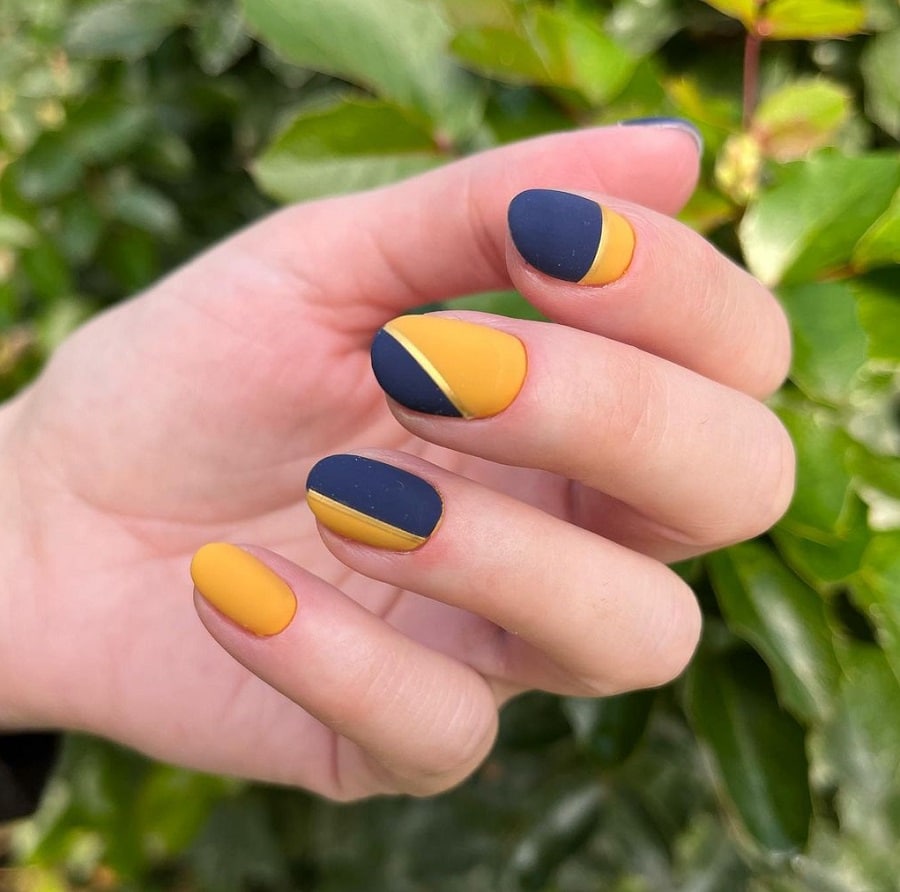 If you desire a deeper undertone, then you ought to experiment with gold and midnight blue on a palette of mustard yellow.
The nicest aspect is that you can mix several hues to give your nails texture and creativity. In the same way as these matte blue nails with a gold line.
16. Tribal Nails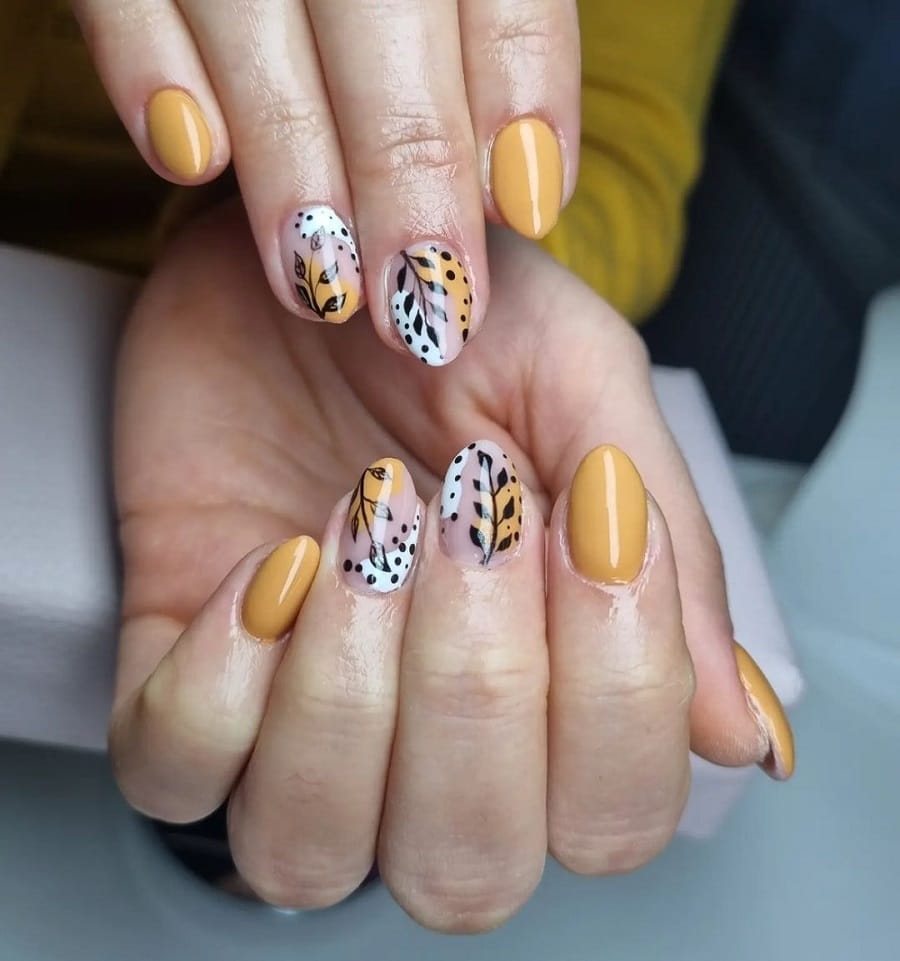 Since light yellow is among spring's biggest nail style inspirations, we had to include it in our list. We adore how it enhances the gorgeous soft yellow with a hint of leafy motifs.
Depending on how effectively you can design the floral pattern, the nails can look amazingly beautiful.
17. Golden Butterfly Coffin Nails
These gold butterfly print coffin nails are so amazing. Animal print nails are constantly in fashion.
We adore how the bird print is limited to just the two fingers on these nails. It is a stunning mustard nail idea for a more worn appearance on a daily basis.
18. Gloss And Shine
The acrylic nails used for the effect are long and fashioned like coffins. To slightly blow up the design, the two metallic accent nails in yellow and brown are added.
These gel-based nails could certainly be completed at a beauty parlor. Yet, they manage to be both simple and elegant.
19. Leafy Patterns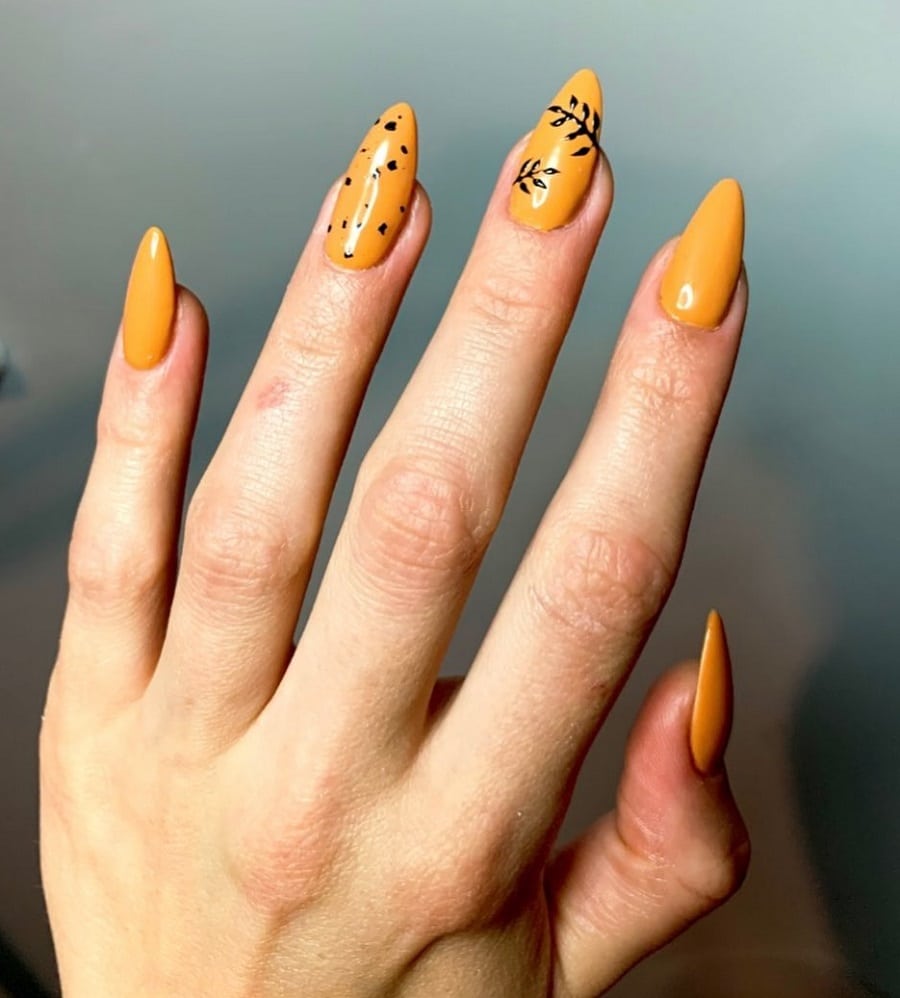 This year, almond-shaped nails are still in style. This mustard nail manicure is the ideal option if you want something striking.
These polka-dot and leaf-adorned yellow almond nails are simply gorgeous. You won't grow tired of wearing them after wearing them repeatedly.
20. Sunset Hues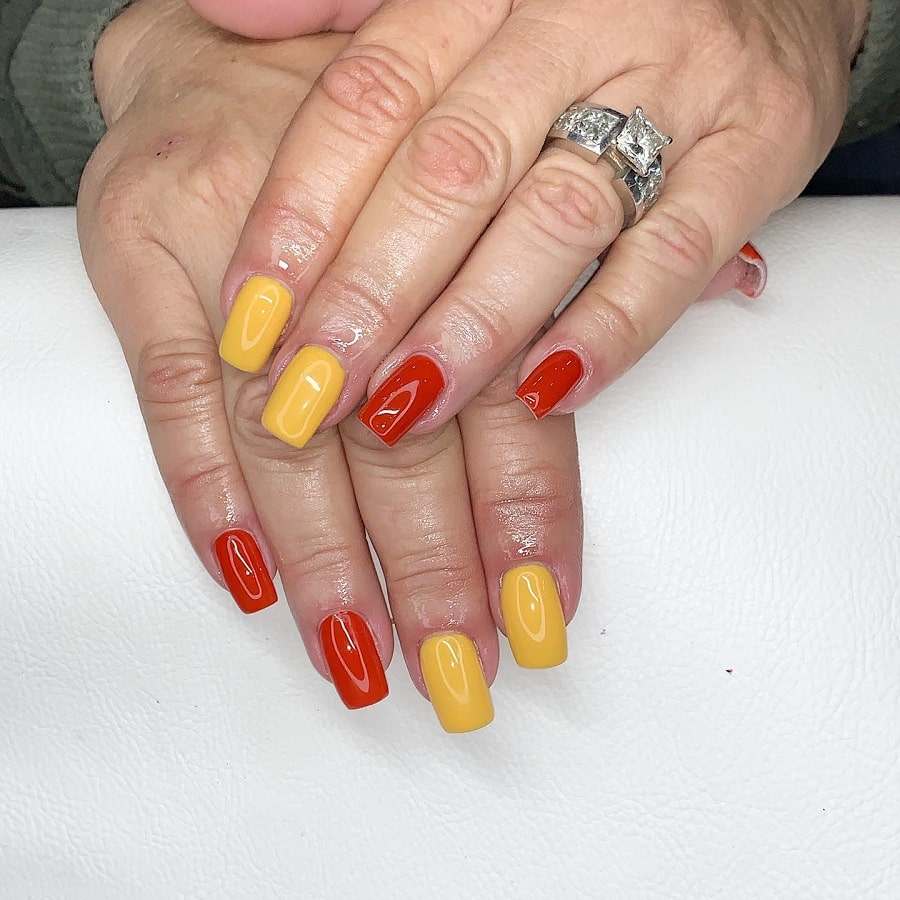 When choosing nail colors, use red and yellow for a brighter effect. This combination can create a powerful appearance.
This will look like the sun rising on your fingernails. These simple but artistic nail art designs feature square shape nails.
21. Starry Nights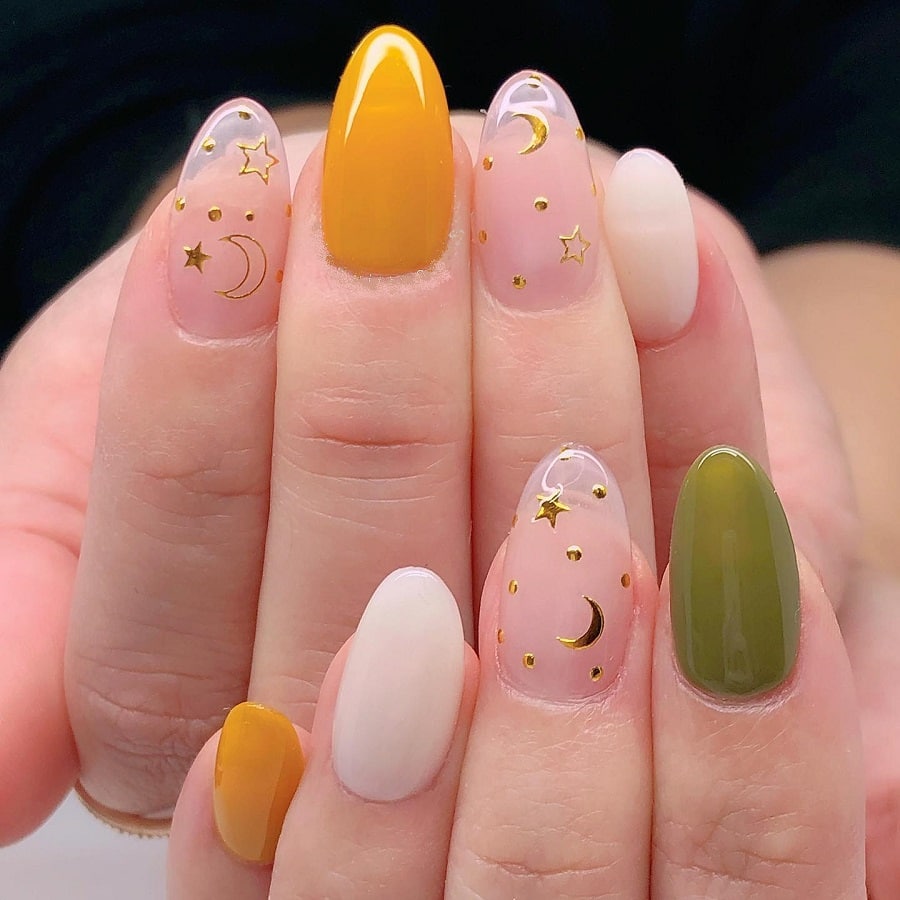 Some patterns are so breathtaking that it's impossible to take your gaze off them. You can have mustard yellow and olive nail art by giving your nails a gold starry theme.
This pattern symbolizes the existence of the moon and stars on nude nails.
22. Triangular Blaze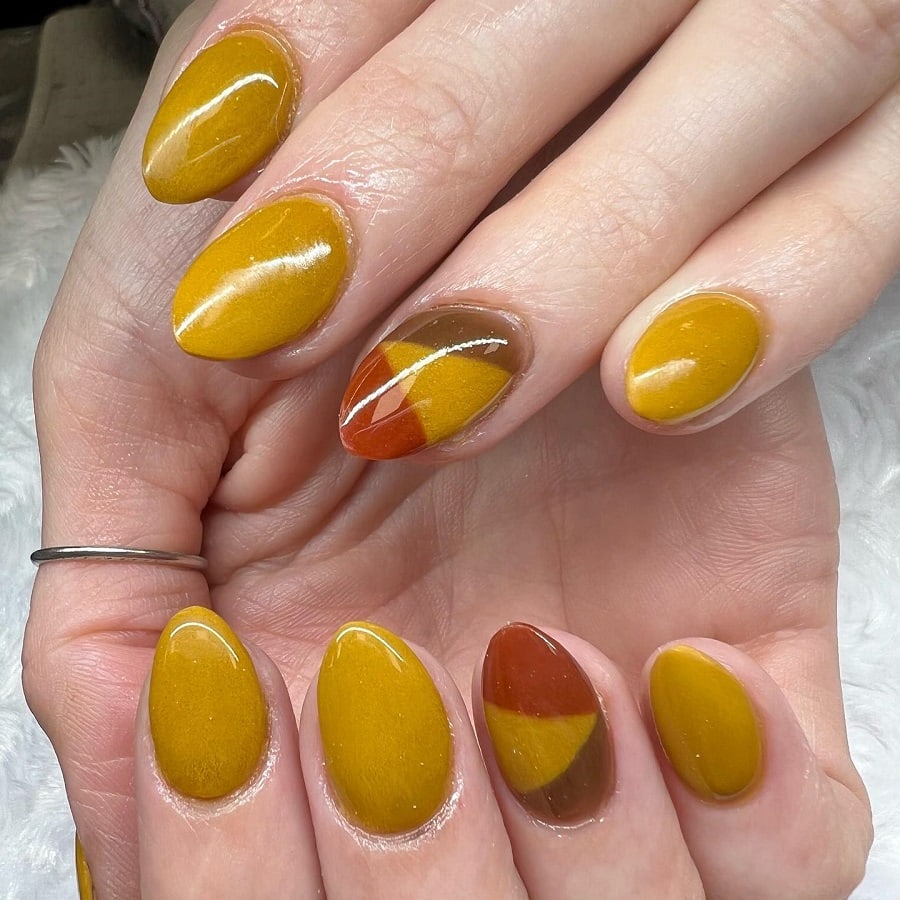 Three solid shades of brown, red, and yellow make up the unusual color scheme on these nails.
It suggests that only one finger on each hand bears a triangle pattern of those colors. You might want to try these easy mustard nail designs if you appreciate elegance.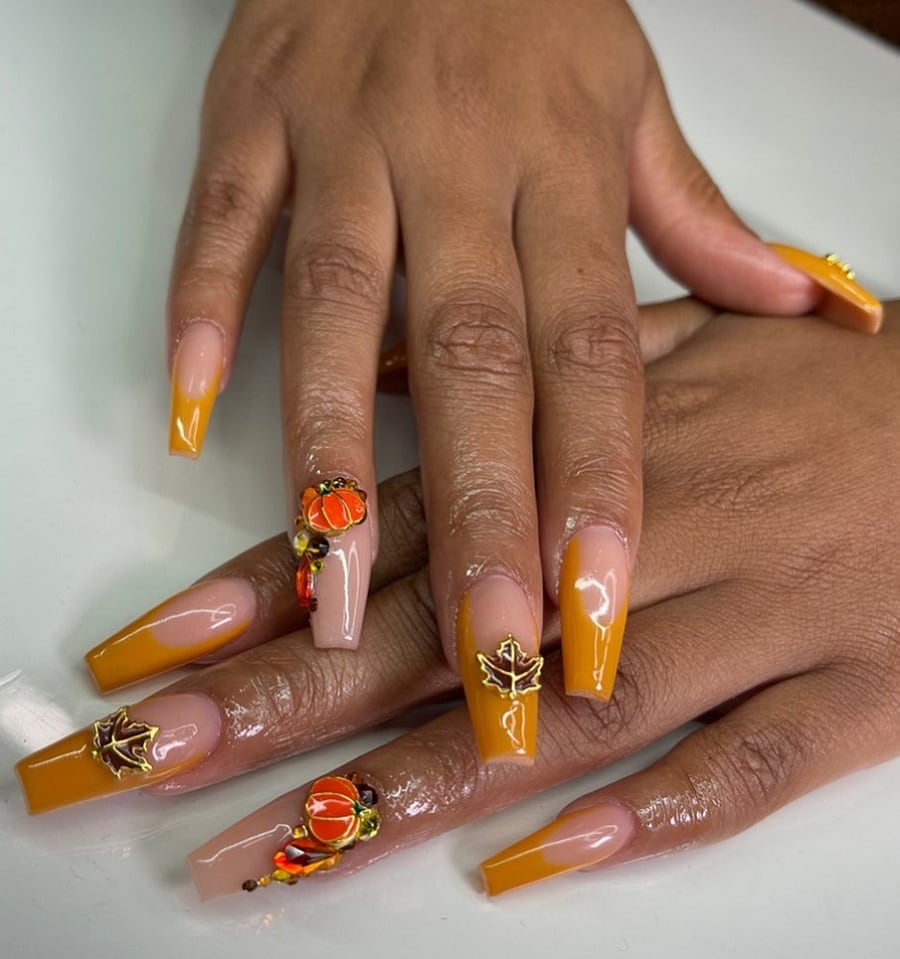 An additional popular trend for this year is leaf nail art. And there are no hints that this style will slow down.
This makes the popularity of these pumpkin and maple nails no mystery. In addition, the rhinestone accents surrounding the few fingers make them extremely lovely.
24. Geometric Nails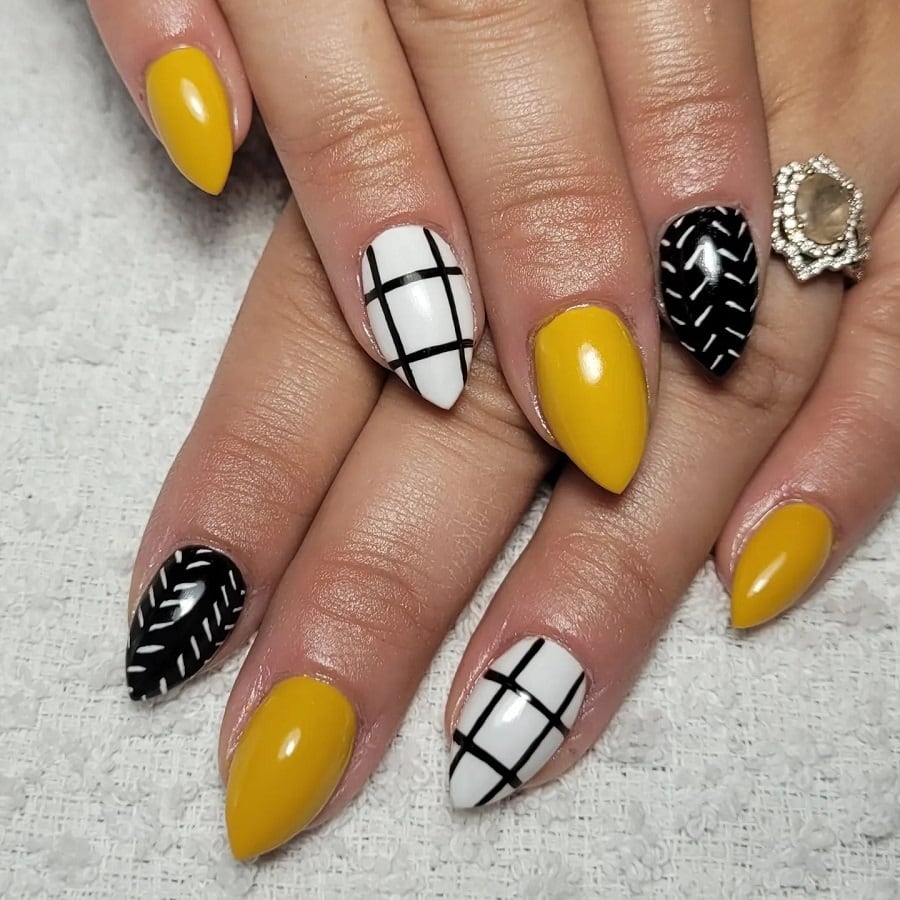 Here is a more skillful approach to yellow nails that is more novel. This geometric nail design has whimsical black-and-white motifs with a yellow finish.
The polish's diverse linear and minimalist patterns make it even more fascinating. So original and cool.
25. Egyptian Tales
There are countless possibilities when it comes to mustard-yellow nails. But this adorable Egyptian-inspired manicure is one of our favorite nail art concepts.
This great look mixes polka dots, stars, and a cute snake nail art pattern for a fun and attractive manicure.
Mustard yellow nails are for those who want to look different from the crowd. It's meant for the queen bees. You can transform your appearance by simply changing the nail color.