There are a number of excellent artifacts aligned with Egypt. They remain applicable to the historical fascination. For example, most Egyptian nail designs are so unique. They almost carry you back in time a few million years. It is great for women who may never have the opportunity to travel abroad to this amazing culture.
We looked around for these 18 outstanding nail patterns. Also, we guarantee that after you've looked over this set. You'll have a newly found love for something traditional.
Try Some Trendy Egyptian Nails ASAP
Prepare your nails for a makeover with these gorgeous designs by scrolling down. So, are you eager to review the collection of Egyptian nails?
1. Azuric Almond Nails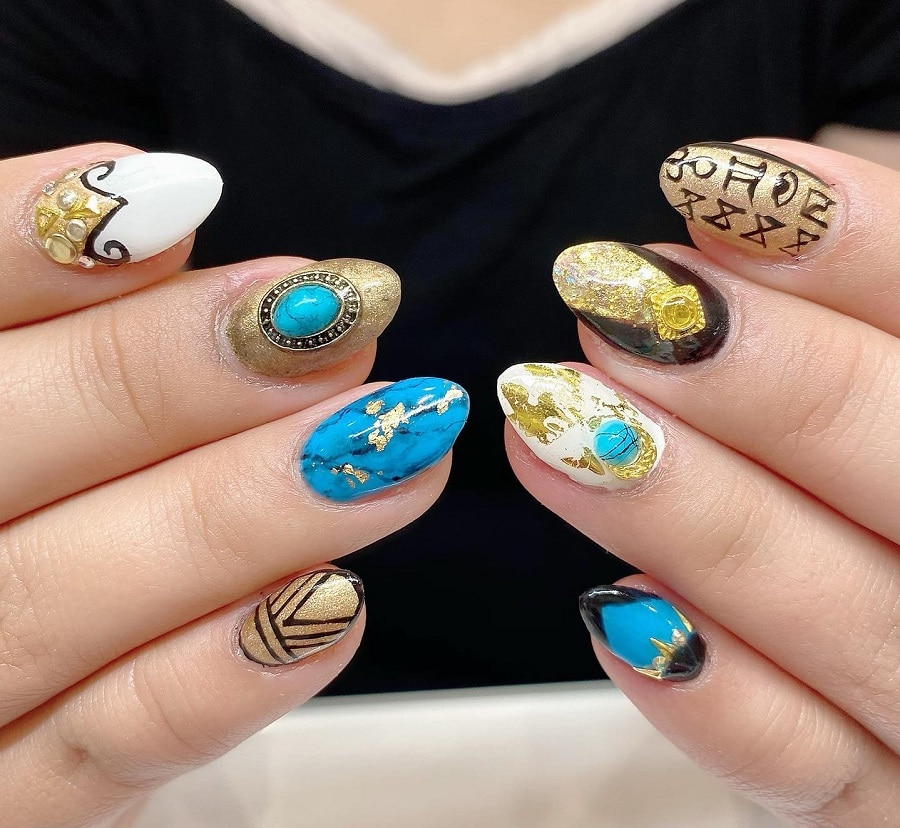 Light blue can resemble the stunning blue azure quite a bit. This is because Egyptian nail designs are drawn on these fingernails in aqua and gold.
The emblems in black and gold will also be recognizable easily. Particularly to those who have witnessed some of the artifacts in historical series.
2. Ancient Egyptian Nails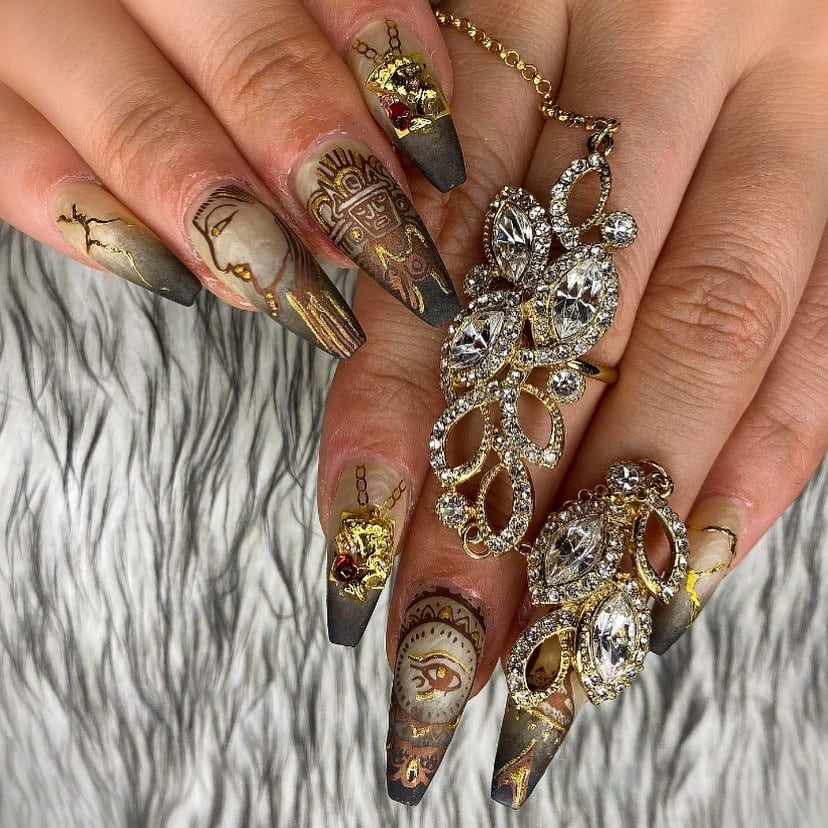 Several bright paints embellished with sparkle, jewels, and more gold. For us, the tiny rhinestones are what make this piece turn complete.
Most likely, these coffin nails are the ones we like most out of the bunch. They are lively enough for a dinner date.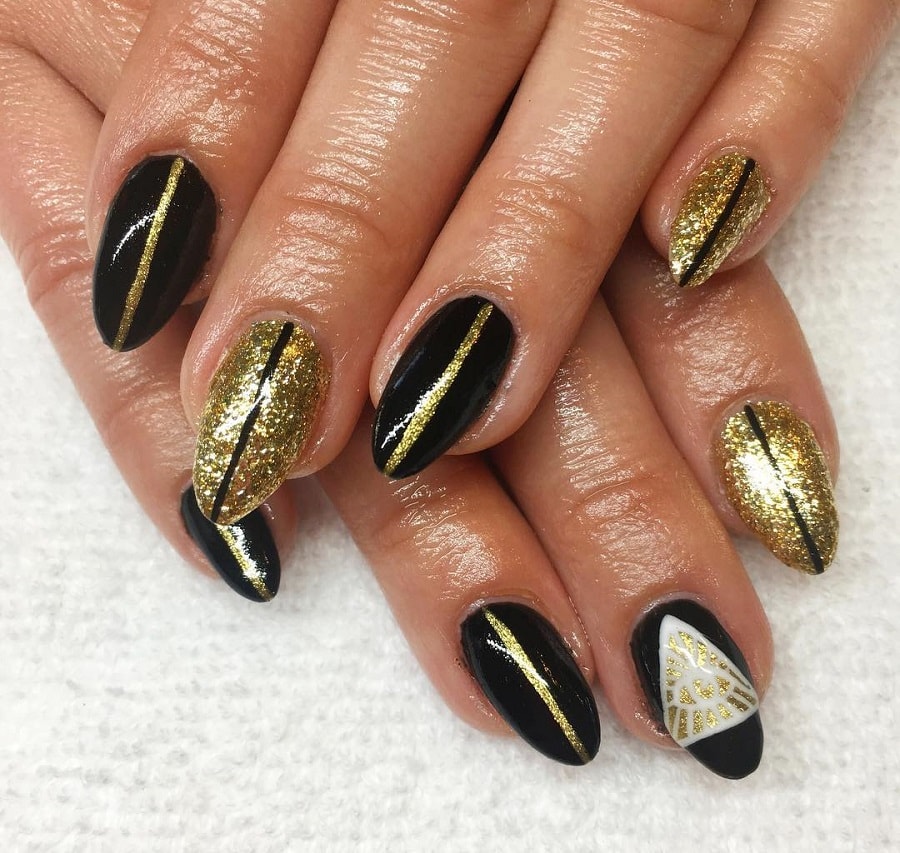 These nails stand up for the abundance of beautiful gold. One that was found when historians uncovered the antique vault of kings.
These gel nails are flawless, and some are black Egyptian nail designs. They have been added beautifully to enhance the appearance of the gold.
4. Linear Stiletto Nails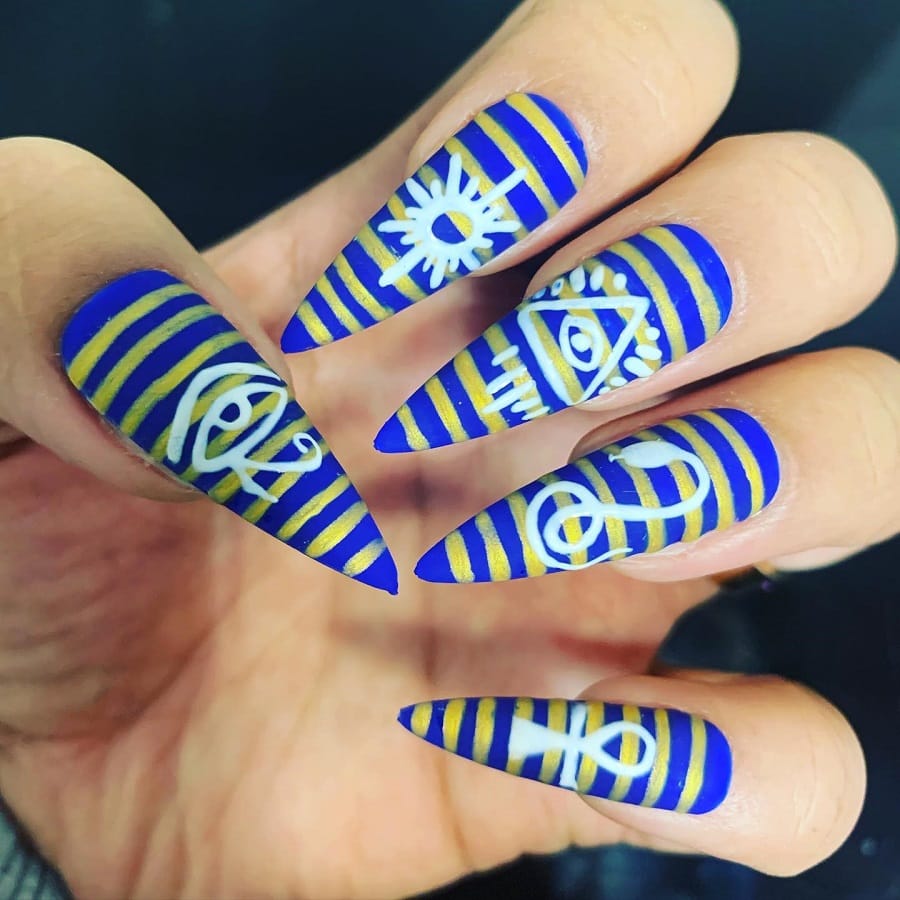 Long nails can appear fantastic when they are properly adorned. These stiletto nails also include vibrant Egyptian scribbles and a few golden linings.
It gives them a truly cool and antique appearance. In addition, the matte nails look better with these timeless embellishments.
5. Monochrome Patterns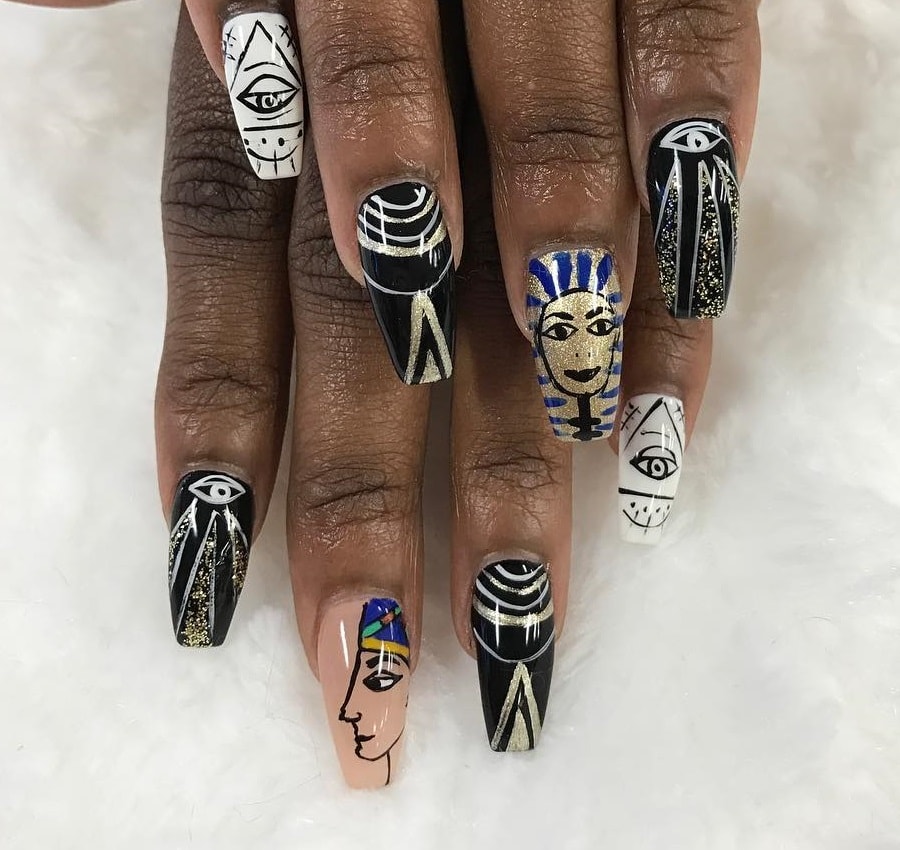 Hieroglyphics can be seen on these black and white nails in the shape of coffins. A woman from the era of the pharaohs is inscribed on the piece.
Particularly made for anybody who has observed historical art in a museum.
6. Pastel Glyphs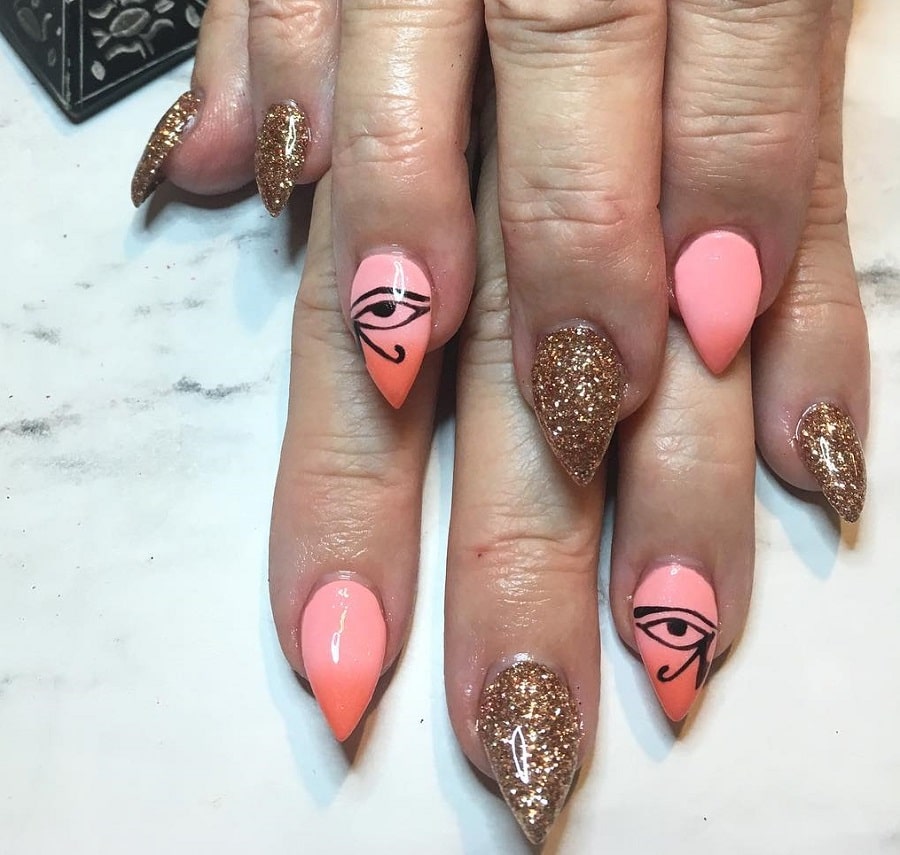 Gold can be painted with a variety of colors. However, these pointy almond nails are coated with a soft pink and gold. Additionally, it highlights the Egyptian signs.
With just three colors, this gel nail manicure is perfection. The features of the eyes are emphasized by the black, gold, and rosy accents.
7. Subtle Monarchies
Egyptian monarchs' glory served as an image for this manicure design. They include bugs, cats with emerald wings, wrapped headpieces, and inscriptions.
This piece is perfect for everyday wear. Keep in mind that you can adjust the colors as necessary.
8. Emerald Elegance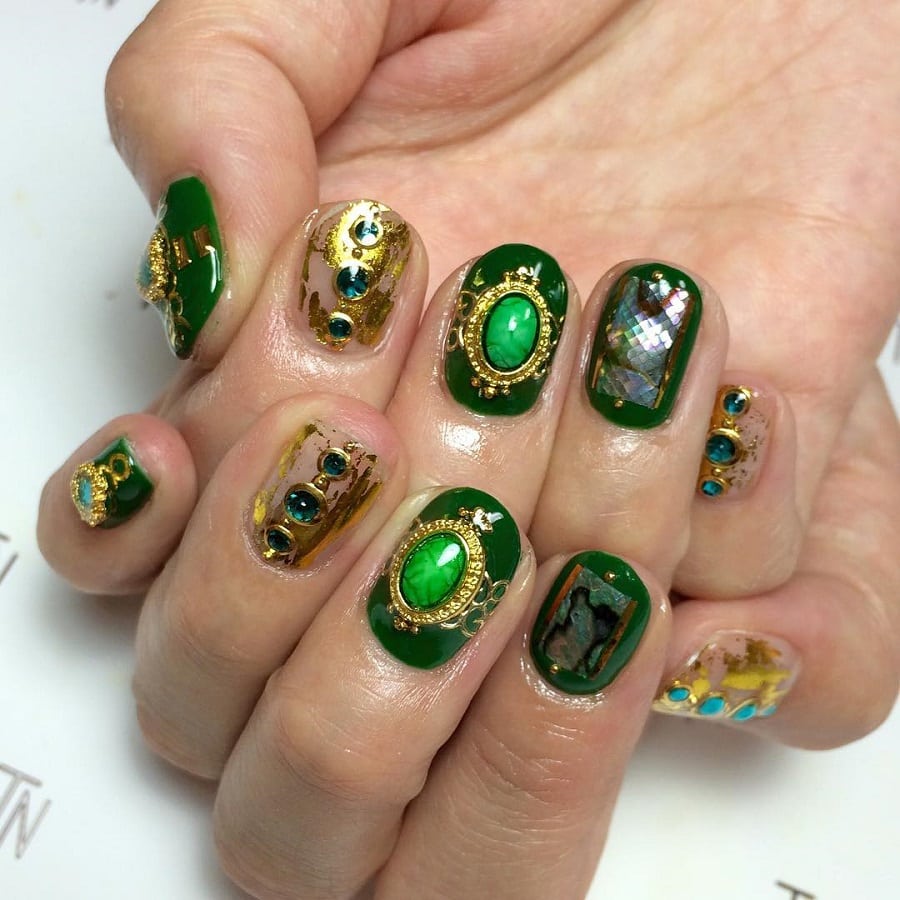 These short oval nails look great with their glossy foundation of gold and emerald. It is the ideal strategy for making them stand out.
Snakeskins, foils, mirrors, jewels, and gemstones are used as embellishments. Every nail size and shape will look great with this basic and fashionable style.
9. Nubian Pattern
Maybe you enjoy neutral colors and monochromatic manicures. The time has come to change things up with trendy nail art.
Your Egyptian nails will have the ideal silky feel owing to a glittery finish. Additionally, these quirky doodles in orange and gold are a nice touch.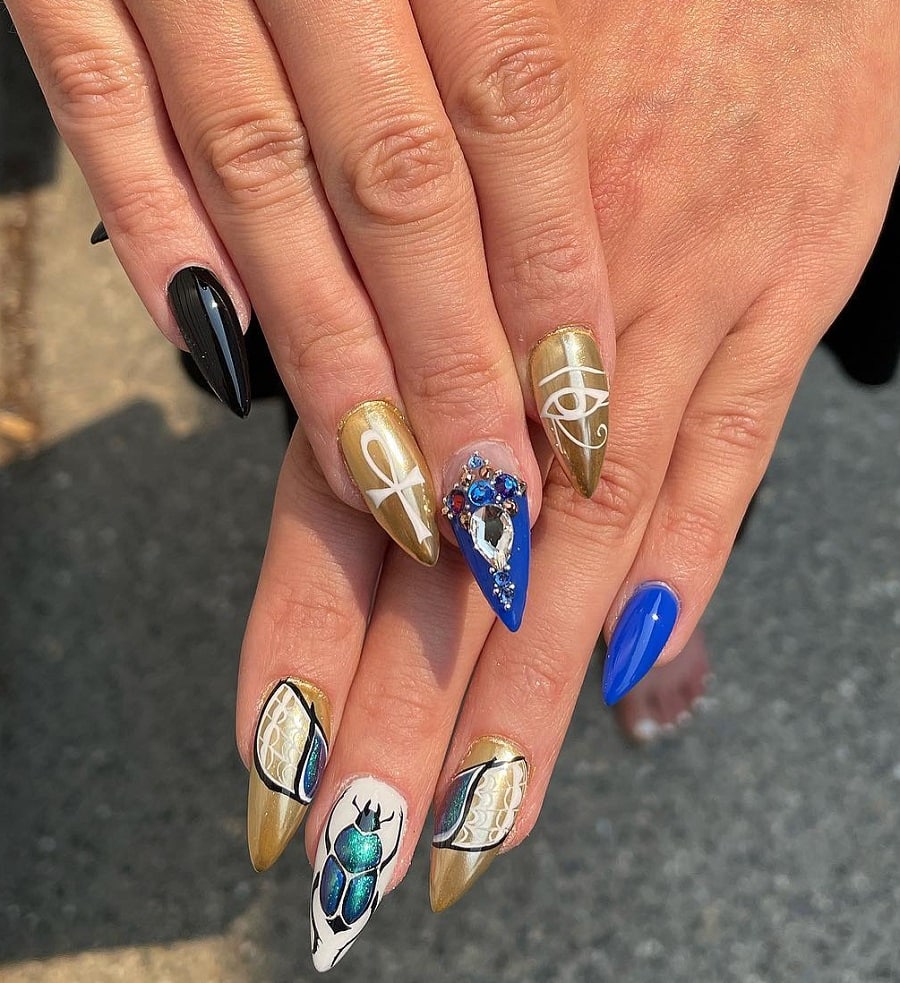 These nails feature various colors and contain the most iconic symbols of Egypt.
Leave the majority of the nails bare. And add more detail with the ancient pattern and rhinestones, as it is another way to experiment with a minimal style.
Gold, green, and orange glitter create this dramatic pattern. However, we adore the way the bright sparkles stand out.
It is against the icy white finish, as displayed above. The pattern works with various nail sizes and types—particularly stilettos.
12. Sparkling Maroon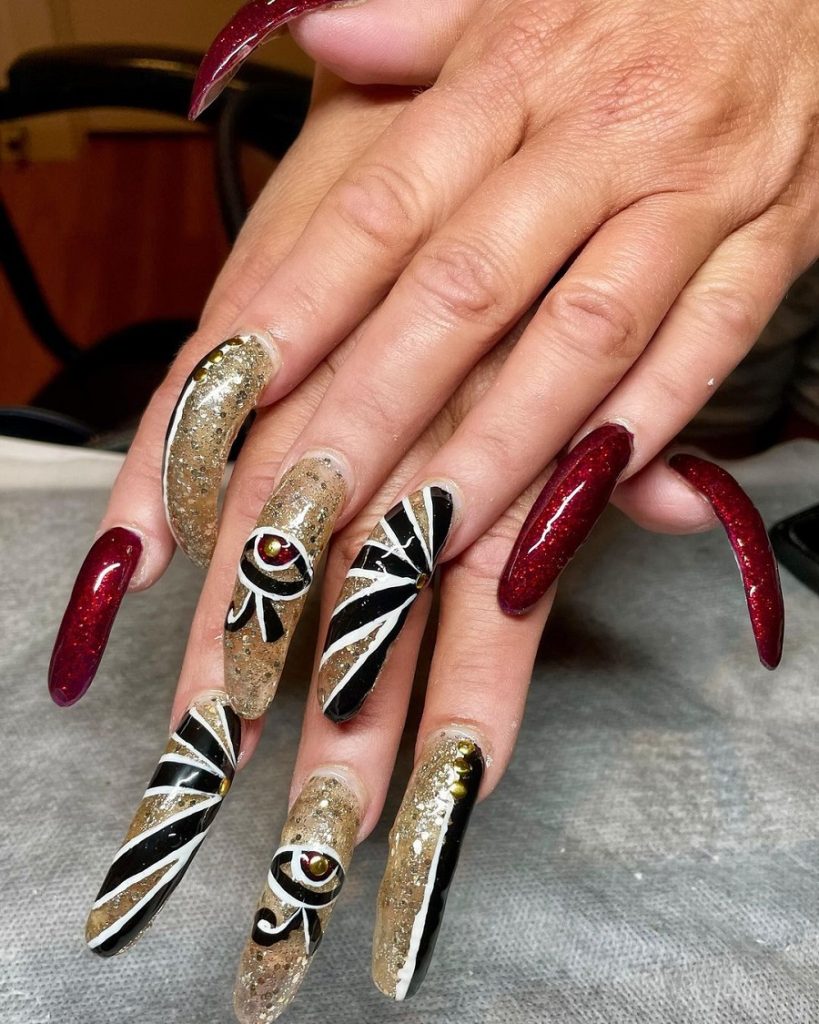 This theme is ideal if you enjoy colors that are a little bit vibrant and loud. Of course, a maroon polish with shine is always attractive.
But this design is made far more attractive by the very long gold Egyptian nails. In addition, black stripes elevate this cool tribal pattern. Add some glittery accents as well, if possible.
13. Mauve and Tribes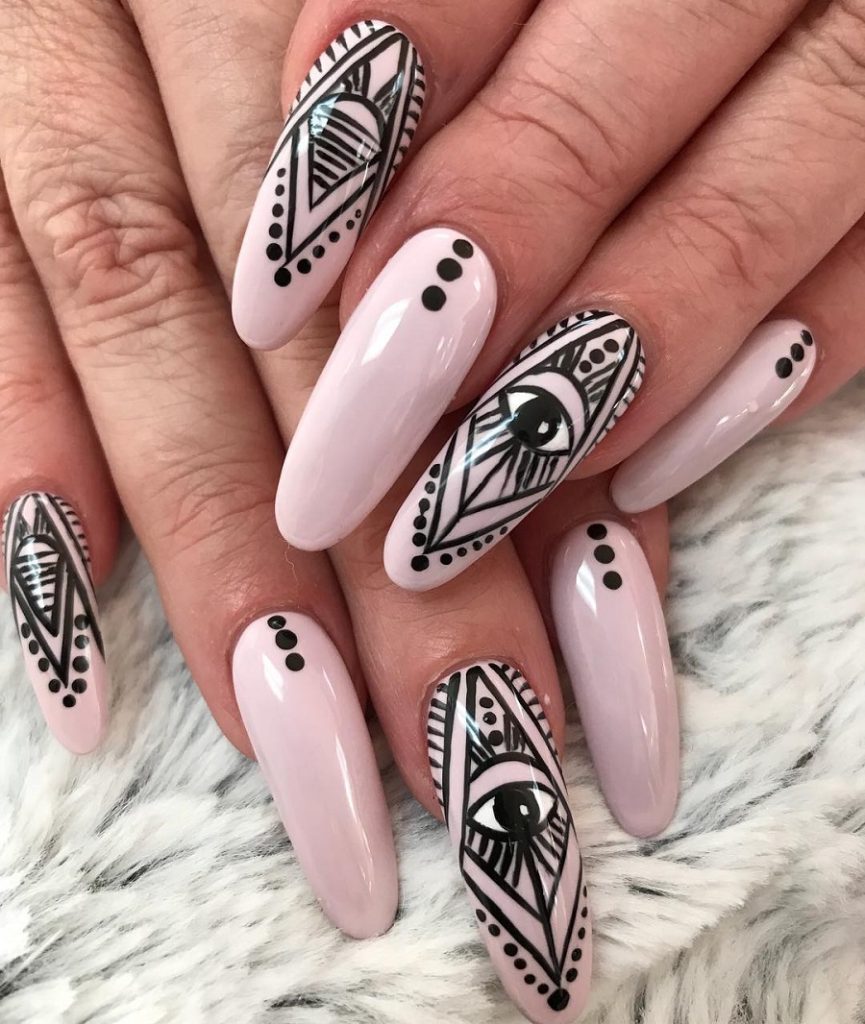 The Eye of Horus is a well-known Egyptian sign. It is present beautifully on these nails. However, they also have a more contemporary feel due to the tribal design.
The black and pink patterns, lines, and other elements look amazing. As black and pastel colors always work well together.
14. Blue And Gold Nails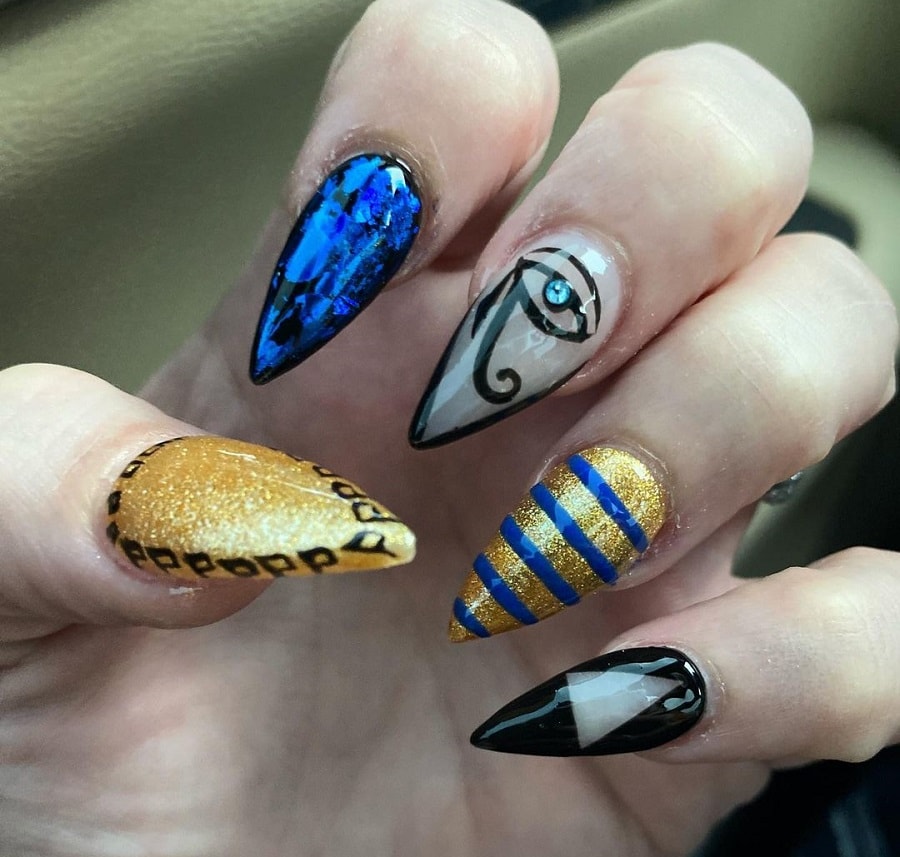 Many more colors may be chosen for nails with Egyptian designs. So why limit yourself to just white or gold?
These traditional acrylic nails have never looked better when worn with the appropriate colors. You just need a final touch with that tiny blue stripes.
15. Rhinestone Affairs
This list is a superb illustration of how dynamic shimmery nails can be. This vibrant, colorful design would be excellent.
However, a bit of glitter in the center makes it look elegant and fashionable. Similar styling is simple to accomplish at home.
16. Long Golden Nails
The absence of elaborate designs is a hallmark of minimalist nails. However, when trying a theme for your gold manicure. Paint the pattern over a simple base.
To improve elegance, add some jewels and rhinestones. The imagery that people typically associate with Egypt has been drawn on these nails.
17. Gradient Historics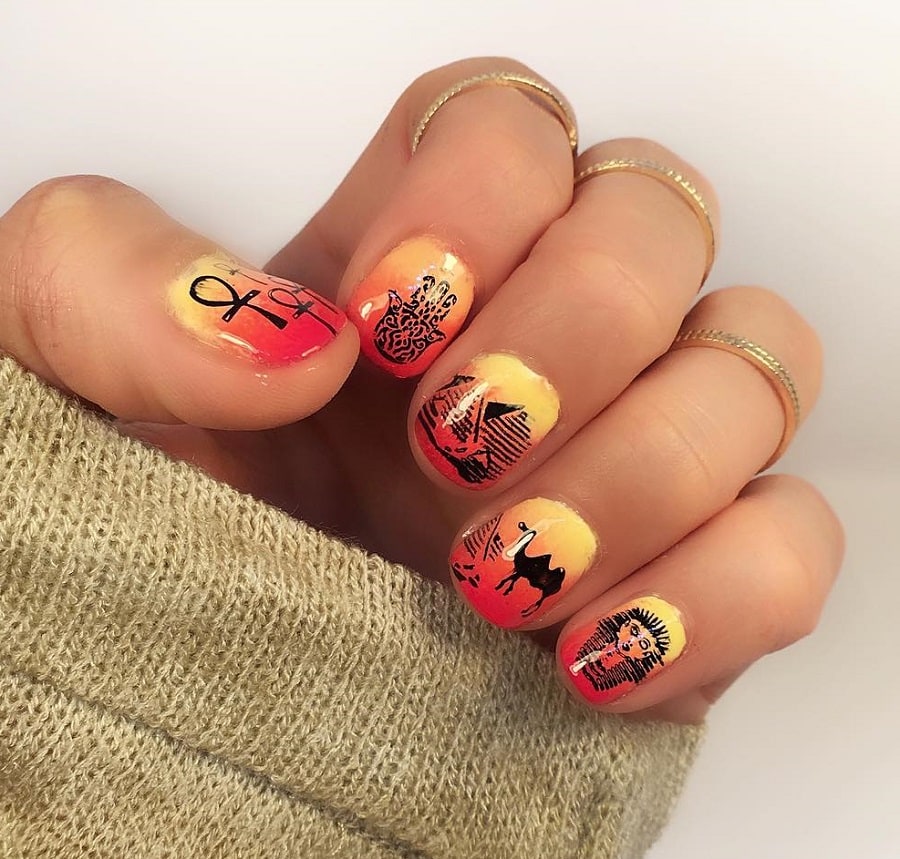 There are only a limited number of colors used for the imagery. These Egyptian ombre nails have camels, pharaohs, and other well-known icons.
Each nail is enhanced with orange, yellow, and black gradation. This kind of manicure is ideal for women who wish to stand out.
18. Starry Stilettos
Another not-too-bare, not-too-gaudy nail art style is this one. Towards a matte background, the black and blue hues stand out firmly.
This Egyptian nail manicure stands out equally on all fingers due to the golden scriptures. We adore the constellations and the vision of Horus in particular.
Here, you will get a vivid illustration of the best Egyptian nail design. There are a lot of great motifs connected to ancient culture. That simplistic pattern is excellent for nail art. These ideas are intended to act as your next manicure inspiration.