Snowflake Nail Designs: 25 Ideas to Celebrate Winter
#21. Snowflake on Polka Dots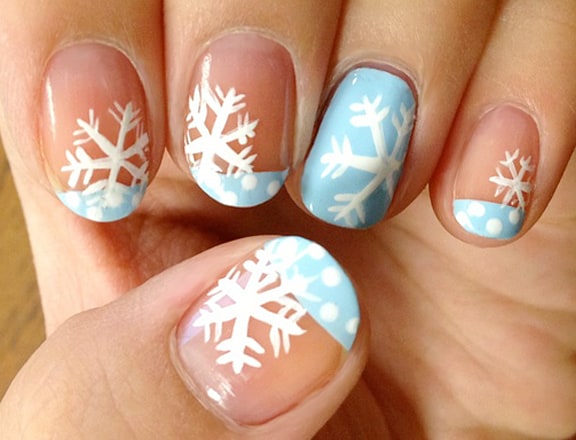 This nail art with polka dot is very simple. Use a thin white brush to create snowflake arts on a nude nail. Use light sky blue as a helping hand in order to enhance the beauty.
#22. All That Glitters
All that glitters is not gold but that surely is golden glitters. Use these glitters to give a shiny look to your snowflake nail designs. Draw golden snowflake designs on white coat base. Fill one or two nails with shiny golden glitters.
#23. Frosty B&W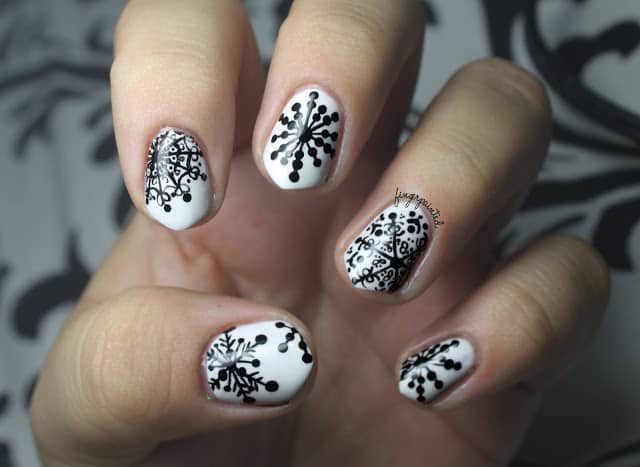 Black and white are used universally for every kind of designs. Snowflake nail arts are no different. You can draw black snowflake patterns on a white surface for this design. A different pattern along with the snowflake will do no harm, so have a go.
#24. Maroon Snowflakes
Maroon is the color of elegance and class. These nails look stunning if designed with proper care. You can have snowflake designs done on these maroon nails. Use silver glitters to give it a luxe and eye-catchy design.
#25. Lightest Pink
Black snowflake designs on light pink matte are the main components of this design. You can use thin silver glitters for an entire nail to have a shiny surface. A black nail, a silver nail and black snowflake designs on light pink base coat will do the trick for this design.
Magnetic Owl Nail Designs to Try
Snowflake nail designs are the best ways to spend a trendy winter. As the pattern is similar in almost every case, you have to experiment with colors to add diversity to this design. Try out our designs and ideas to ignite your innate creativity.