20 Must Try Pedicure Nail Designs for This Summer
Are you a fan of nail pedicures? But let's be real, who isn't? Since we are living in a world where constant changes are happening sometimes we may feel like we are behind the latest trends. But have no fear, because, with us, you will always look stylish, posh, trendy and ready for the summer!
Which Nail Pedicure Is Ideal for Me?
Before we get to the styling and the designing process, you should first inform yourself about all of the top five professional treatments out there, such as:
Regular Pedicure: The most common pedicure in the world which includes a foot soak as well as a foot scrub. You will also get your nails filed and shaped and in the end a calf massage as well as a typical nail polishing procedure.
Spa Pedicure: It is quite the same as the first one, the only difference is in the mud that will be added to your treatment.
Paraffin Pedicure: The same as a regular pedicure only this one includes a paraffin wax which will be used on your feet.
Stone Pedicure: This is an intense pedicure which involves the usage of oils and hot stones.
French Pedicure: A well-known pedicure which is consistent off of the usage of a white nail polish on tips of the nails.
And now you are ready. Make sure to get the best treatment at the salon, since quality is something that you deserve. While getting lightly massaged and pampered look at our 20 amazing nail pedicure creations that you will want to put in the end onto your nails.
#1: Blue Moon
This light blue color with these stunning silver details is so angelic looking. The bright sky full of stars could be perfect for the softer women out there. Lighter details and light base color makes us feel like we are preparing for a honeymoon which will be spent under the stars with our chosen one!
More Toenail Designs for Picky Girls
#2: Pink Me Up
Light pink gel color with the golden and white tone is perfect for little princesses out there. The pink color is the softest one and the most asked for at the beauty salons. This summer wear your hot pink Victoria Secret bikini with these pink and golden nails for the ultimate and perfect nail pedicure design.
Dark blue base with a silver gem detail or two looks like it's been made carefully and precisely for a gracious and elegant queen. Get yourself an appointment at your favorite salon and watch how you transform from a delicate flower to a cruel effortless queen looking beauty.
#4: Congratulations!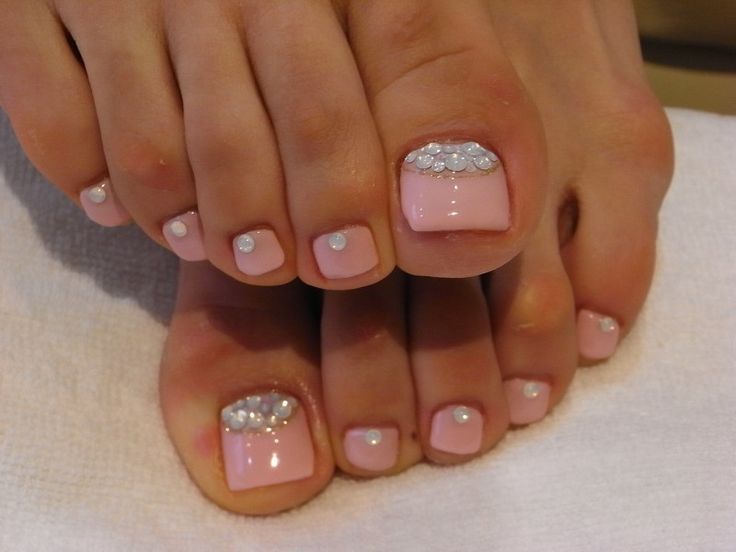 This pedicure nail design looks perfect for your wedding day, in fact, these nails are screaming "Yes I do!" If you are off to a wedding or if you are a bride to be, why not be extra cute and dominate with these? Also, if it is the summer time and you'll be wearing open toe heels, get these and show your nails off!
#5: Purple Mad
Are you a purple color lover? We know we are. This ultimate shiny and glossy purple nail pedicure looks really fun and is perfect for women with darker skin complexions.
#6: Some Matching Actions
White pedicure nail design that's been matched with the white manicure looks like someone knows what they are doing! Since white color is so angelic and innocent looking, these nails will give out positive vibes and they will look the most noticed when worn at the beach.
Try Some White and Gold Nail Design
#7: Jewelry Lover
If you are a huge fan of some jewelry designs, and a pink color fanatic, this nail pedicure design screams your name. As you can see, vibrant pink colors look unbelievable with the darker skin tones and the ring on the toenails looks so ladylike. This summer shine bright like a diamond and don't forget to have fun while doing it!
#8: Spider Web
Spider webs are often considered to be scary looking and are usually freaking women out, but not this time. This precise nail design looks like someone got stuck in this web, but they got stuck on originality, uniqueness, and braveness.
#9: Don't Be Scared
Hey, they don't bite! This red and black little monster nail pedicure is perfect when you want to have a time for yourself and don't feel like talking to boys. Your nails will speak for themselves and you will love that they have that effect on people, and especially for people for who you don't have time!
Flowers are considered to be a representation of appreciation, love, and caring. This time, go for the black and white flower nail pedicure so you'll look maximally cute, relaxed and joyful.
#11: Love Is What We All Need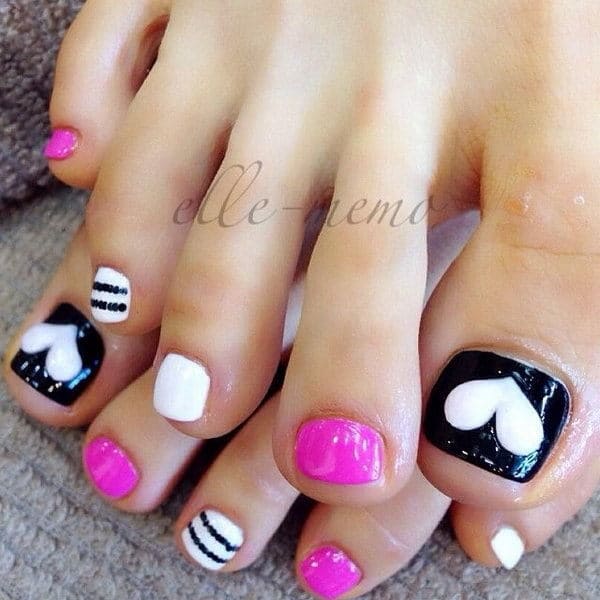 Simple heart shape with a lot of character and colors should be worn with chicness and style. Make sure to go for the gel nail pedicure in order to ensure the long-lasting effect. This nail styling idea is perfect during Valentine's day and throughout the whole month of February.
#12: Tribal And Indian
Ultimate nail goals here! A mix and match here and there and there you have it, originality, cuteness, and style. Women who are bolder often tend to get these nails. Also, women who like to stand out in those open toe heels like this vibrant design.
#13: Orange or Red?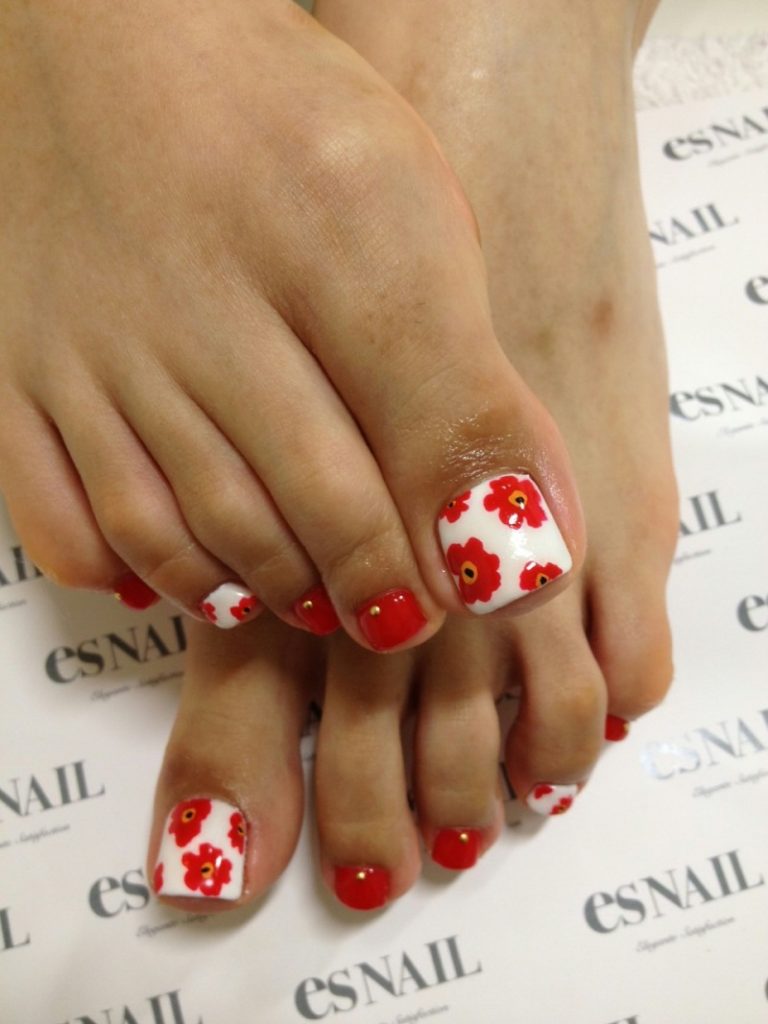 This kind of red or kind vibrant orange pedicure nail design looks super pretty and simple. Not a lot of girls like to stand out and to look too bold with the shine effects, gems, or nail art. This nail design is perfect if you like to stay inside of your comfort zone, and if this range of colors is what you prefer.
#14: There's A Kid Inside Of Me
But for real now, who doesn't like to feel like a child from time to time? We somehow end up on Nickelodeon or Cartoon Network and we love it. This pedicure nail design looks super childish due to the dots and light colors that have been used to achieve this polka dotted nail design. This works perfectly with multicolored bikinis or even one piece swimsuits.
Your little princess Will love These Nails
#15: Hypnotically Beautiful
We will try to hypnotize you with this picture in order for you to get the exact same ones, ready? Close your eyes and count to three, and get these nails at the salon for free! Did it work? Run to the salon in order to find out!
#16: Sun I Like
Beautiful yellow nail pedicure design with the baby pink and baby blue color! These could be worn by younger girls since these nails are so soft and simple. Don't be too hard on your children, sisters, or nephews, and let them have their own spa day at least once a month. We all have to start at some point, right?
#17: Hawaii I Need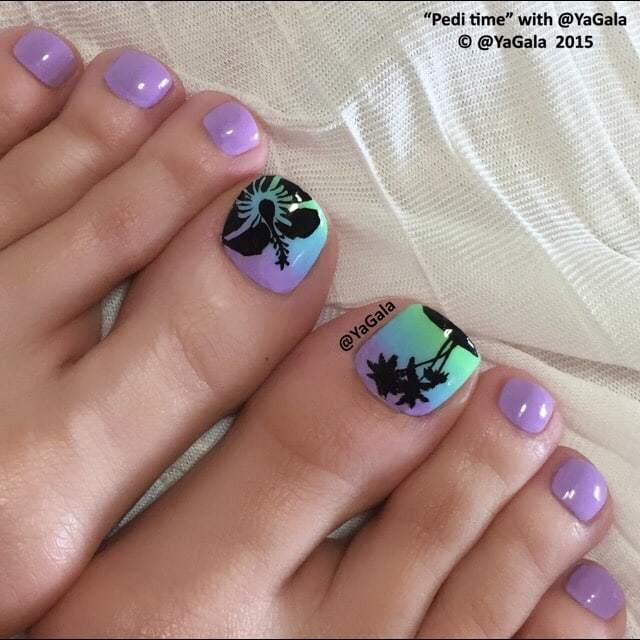 Ready for the perfect tropical getaway with us? Purple base with a print of a palm tree makes us feel like we are already there. Hawaii is beautiful and should be visited at least once in your lifetime. In case that doesn't happen, make your Hawaii moments with us and our pedicure nail design.
#18: When Were You Born?
Was it the 50's, 60's, or the 70's when this polka dot print was a hit? We can't deny the originality and the infinite beauty that these nails have. They will probably be eternal since they've been around for 30 years and are still loved worldwide.
#19: The Unavoidable Red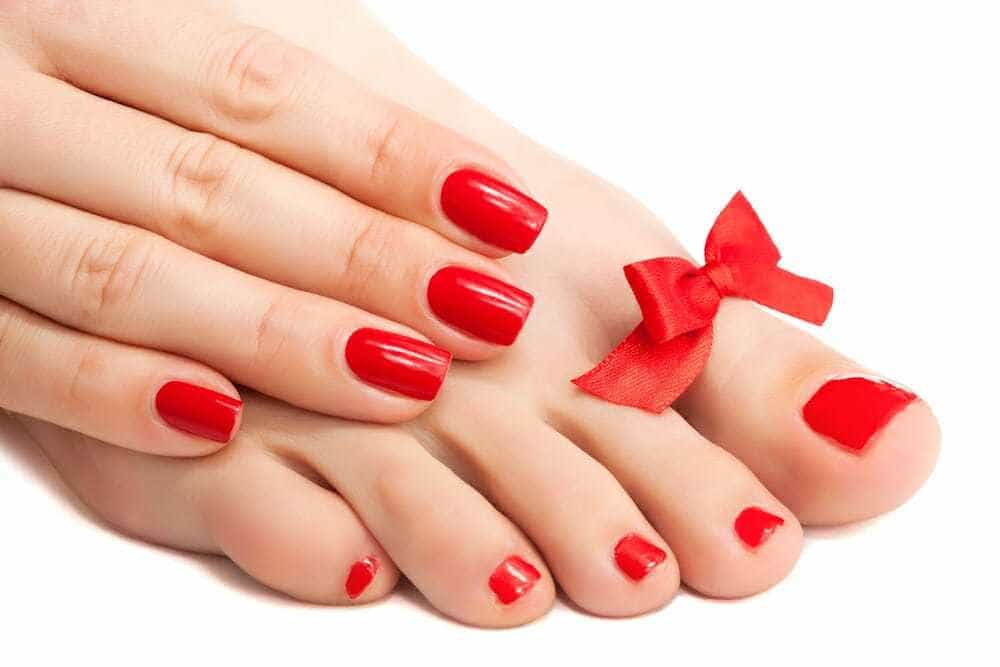 How could the list be complete without the classic red nail design? Match your nail pedicure with your nail manicure and look the sexiest! Red nails are perfect for anything formal or for your meetings. They are giving out that classic 'smart' look that you should go for.
#20: I Like It, Gray
Believe it or not, the gray color is not asked for at all at the salons. But the explanation behind that is pretty logical and understandable. Your nail pedicure design is most shown off at the sea, or in general during the summertime, right? And when you are on a holiday, you tend to get the super vibrant and happy colors because they are the prettiest with your tan complexion. That's why we believe that this nail design is perfect for the Autumn or Winter. The color is stone cold and just right!
Revive Summer Vibe with This incredible Nail Arts
Some Lovely Pedicure Nail Designs for All Ages
Hopefully, you've found something for yourself and maybe you will tell your friend about these nail designs too? You two could go to the spa together and you could dominate with your matched nails. How fun would that be?